Warning: Long Post about Nothing in Particular
I have a confession. I HEART holidays big time. Heart them in a giddy jump-up-and-down annoying Hallmark kind of way. I get excited when Target clears out those back three aisles for the next holiday's tchotchke about to be displayed. I love that an ordinary day is turned into something better, and of course love any excuse to dress up a cute baby and send holiday cards. (Hmmmm….what should she wear for her Veteren's Day photo this year?) So, Easter is no exception, and I love everything…the eggs, the church outfits, the pastel kitchen towels, the ham dinner. I love pretending the Easter Bunny is going to come to our house in front of the boys even though my excessive enthusiasm is met with rolled eyes by all. Okay, Lainey appreciates it. My goal is that at the end of my life, my tombstone will read one thing: "She made it special."
Our "special" included lots from last night's egg decorating to today's family day, but my favorites (in no particular order) are:
1) The way Lainey abandoned her perfectly decorated Easter basket I slaved over this morning for something apparently better…a cardboard shoebox
2) When the boys and I shook in our pews with laughter when we saw an old lady walk into church late this morning (apparently mistaking the contemporary service for the conservative one) right when the band was seriously "rocking it out" and the horrored look on her face that clearly said "This place has gone to hell."
3) Trying to teach Lainey how to write with the sidewalk chalk the Easter bunny brought her
4) Watching Austyn carry Lainey into church without being asked–he just took her out of her carseat and walked with her. So cute.
5.) Going to church. I still like the Church of the Holy Beach, but I miss the real thing too. On list of "Things We Need to Do More" (underneath "Laundry," of course)
Snapshots of our "Special"
Decorating Eggs


Lainey in Her Easter Dress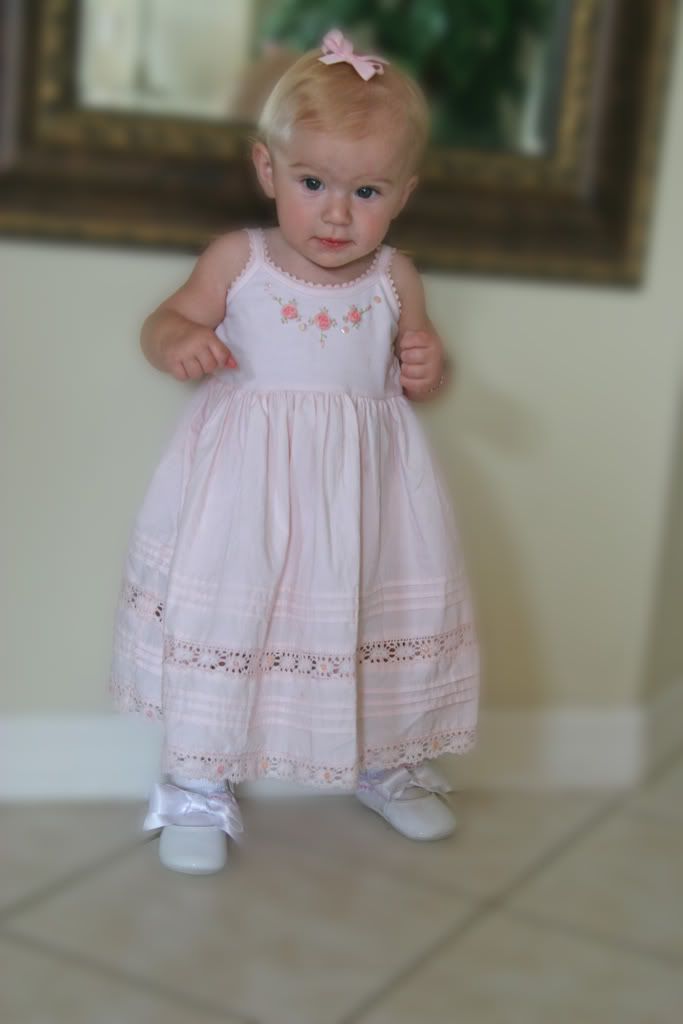 Family Easter Shot

Mommy and her Easter Baby
And, Creating a Masterpiece with Sidewalk Chalk later today…
Almost Done…
THERE!! All Done! Wow….you're brilliant, Lainey!