while many are doing the whole batton-down-the-hatches things for hurricane fay, i'm looking forward to torrential downpours tomorrow consequently associated with a big cozy day…i'll light my autumn spice candles, bake apple muffins, stay in my jammies a little too long, and run my "machines" (sister says a good day is when the bread maker, the crock pot, the washing machine and the dishwasher are all running at the same time). yup…it's gunna be a good day.
in the meantime, i am recently inspired by these quotes by my always-makes-me-feel-good idol, susan branch:
"everything, all joy, all happiness, all sadness comes from inside. keep putting the little moments & the positive thoughts together & they'll turn to contentment."…
"in the wizard of oz, dorothy always had the power to go home in her ruby slippers–she just didn't know it. all of us have the power to go 'home' too–home to our center where peace, faith & spirit reside. there are probably 100 ways to get there, all of them good, & everyone must find their own way."
i feel so at home tonight.

enjoying the small things…
10) her walking. i took 100 of these pictures the other night and can't delete any of them. she's soooo good at walking, and i think it took her so long 'cuz she wanted to make sure she was a master at it before she did it. i could watch her walk all day. she's so, so big now.

9) her dimple. caught it just right with this pic…it's her magic dimple that only appears during magic moments.

8) patting myself on the back for my crafty inspiration today. brett's been bugging me to get lainey a growth chart as it's his 'thing' to measure the kids. i've been wanting this one but thought $60 was completely ridic. so, $10 of canvas at joanns and a couple 99 cent dowel rods later, i created this:


so, tonight was lainey's first measurement…daddy measured her in at 29 inches, and the first little notch on her chart has been made.

7) this crazy dove who lives in our tree outside. either he's blind and can't see us or he has no fear of humans because he lets us get astoundingly close to him. lainey points to "his" tree all the time with a little "uh, uh, uh" now. it's part of the critter walk she and daddy do every night. grandpa brian would be proud of her wildlife appreciation (speaking of…grandpa brian just won MAJOR award for his wildlife photography…image of the year! his photo will be in collector's edition of nature's best magazine next month and his grand prize winning photograph will be on display at the smithsonian museum in washington d.c. for six months. check out his amazing talent here. we're very proud of him!)

6) cinnamon toast mornings. we circulate waffles/eggs/cinnamon toast breakfasts for her, and on cinnamon toast days, we let her eat it on her little table. i love to watch her buttery fingers shove her little quartered toast into her cute little mouth.

5) the out-of-this-world tomatoes dave & charlotte got us hooked on. blood-red, crisp, and taste like they came straight from the garden. tonight, they accompanied buffalo mozzarella, fresh bread and pesto and were…to. die. for.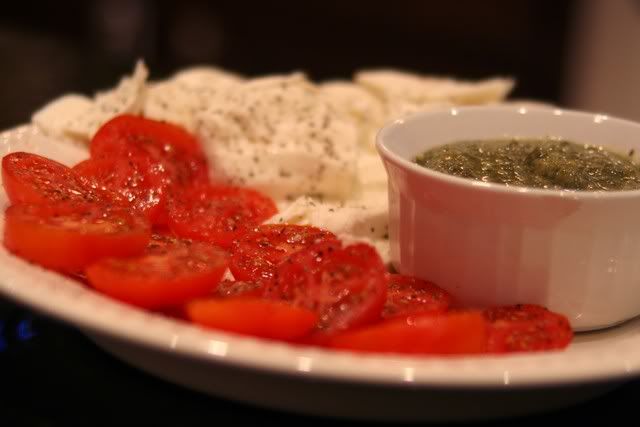 4) her new big-girl dresser. the changing station has been removed. her legs are just too dang hampton-long to lay her down up there as she's kicked the lamp a few too many times. so, diaper changes are now done on the floor and the dresser looks like…i'm sad to say…a little girl's room. …but she's allowed to grow up, and i'm finding so much beauty in that too.

3) watching her try to push the lawn mower after she saw austyn do it. seriously…the wheel is half as big as she is.

2) her 'morning self.' first of all, if you look closely, there is so much dried snot/leftover toast all over her face, but the little natural just-as-she-is-in-the-morning lainey is cuter than any baby gap outfit could ever make her…to me. and every morning, in her jammies, she finds the first hat she can get her hands on and wears it. to breakfast. to play. to anything. girl loves her hats.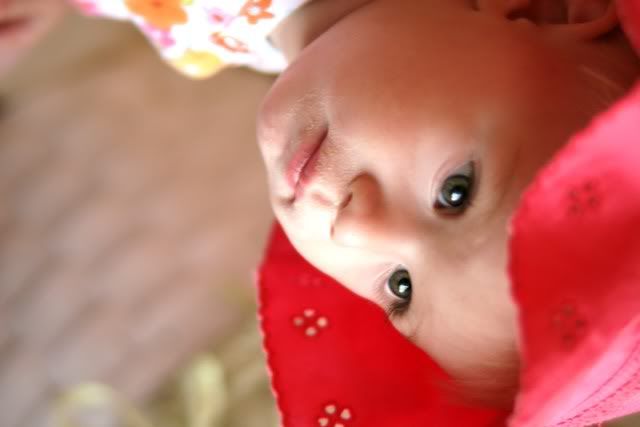 1) my moment tonight. as always, we kissed everyone goodnight and i took her into my bed where we laid in the dark. i realized this may not work as she jibber-jabbered and made every effort to make me laugh. she was just too wound up. but i gave it a shot and started saying our prayers. i barely made it to "thank you for our home…." and i felt her breathing shift. she reached for her lamby's ear and rubbed it between her fingers….and closed her eyes. by the time i made it to "protect our baby tonight…", her breathing had reached its steady in-and-out. she was sound asleep, lulled by words of gratitude for all of our blessings.
…and a few leftovers i couldn't let go to waste: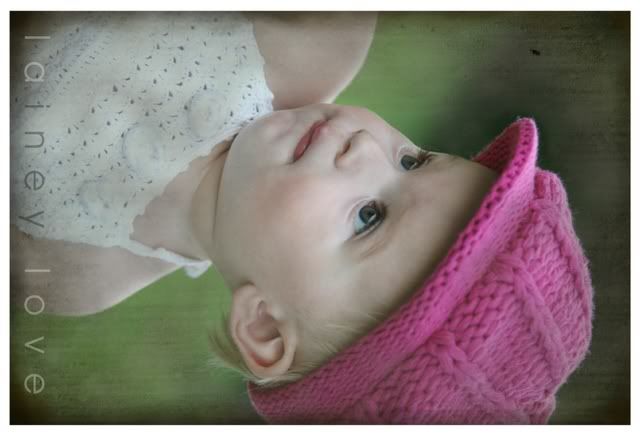 …there's no need to tap the ruby slippers tonight. i'm already home. and happy. even amidst the rain and winds.
…and enjoying the small things. ~k