5) grandma colleen came over last night and brought her a couple presents, one being her own grocery cart. i can't think of a better present for her because if there's one thing she likes better than having something to push around, it's having something to push around that has even more storage room for meaningless crap. it's like she just traded in her coupe (a.k.a. old "baby" walker) for a tricked-out s.u.v.
last night she had it filled with numerous toys, a tupperware dish, a crumpled up piece of paper, and yes, latte on top. plus, this thing has way more horse power and better wheel traction than the old coupe…'cuz you should see her truckin' around the corners with it. girlfriend's gunna get a ticket if she doesn't watch out.
4) ultra cute moment: nurse katie came over from fort lauderdale today to chill with us and got ready at our house for her big date tonight. lainey was all into the primping as she wouldn't leave katie alone in the bathroom and even tried to help give her a pedicure.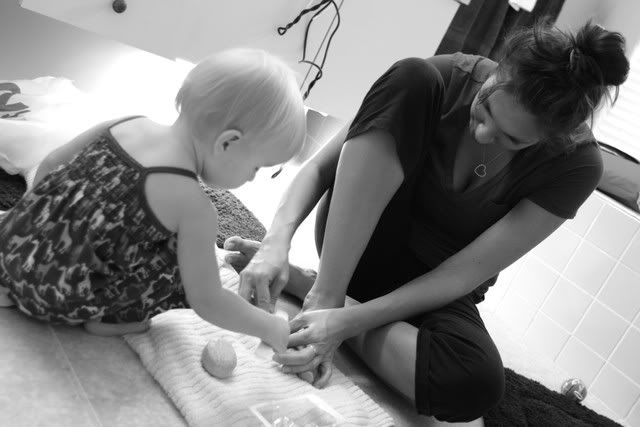 so, we decided to let cubby get her toes done too.
p.s. i have these random moments when katie's around where i just smile at the whole cosmic worlds coliding thing. to think that i didn't even know her until the night we went in to be induced…and after the whole most-magical-moment-in-the-entire-universe with her bringing our baby into the world, it was just fate that she would be a part of our lives. now, when katie walks in the door, lainey smiles so big like…"hey…you're the first face i ever saw…i think i love you." ..and she does…and so do we.
3.) someone has a shoe obsession. okay, so maybe we both do. i'll leave it at that. we're dealing with it.

2.) so, when i was pregnant, all i could think of was how much i couldn't wait for newborn in my arms. swaddled blankets. little breaths. tiny toes. that's as far as my brain could stretch.
little did i know, it gets so much better. 15 months is…the bomb. she is so funny. her little tiny bottom-of-the-growth-chart body is just drenched with personality.
case in point:

1.) feeling incredibly blessed to be her mommy with these new stages. yes, babyhood is slowly fleeting and, although my heart hurts for all that is lost, there is just too much joy in all these new discoveries.
…enjoying the weekend things. ~k