enjoying…
real hide-and-go-seek. she finds a corner, a wall, an object to burrow against…burying her face into her pudgy little hands and squinting her long-lashed eyes while she waits for me to hide. and then a smile and her eager skip to come find me. she gets it.
(and i just love this picture because i was hiding behind a tree and i watched her scan the yard for me and sport this sweet little smile right when she spotted me)
a rainy day…which banished us–in the good kind of way–to the indoors where we shared a day with friends. and coffee. and perfectly toasted sesame bagels smeared with butter and cream cheese. choosing just one wouldn't be fair. oh, but we did manage to escape during a break in the sprinkles for some puddle-splashing pictures.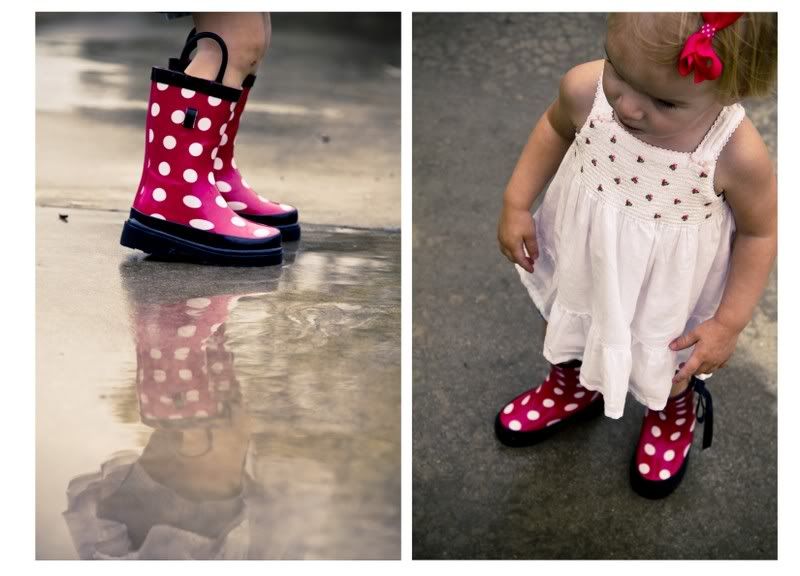 posting this picture right after i stood on a soapbox today and gave a speech on why i hate suckers. however…my photo company slips in a little lolli with every order. and we've been getting daily ups deliveries. and i forget every time that it's in there…until she finds it. and it's a pretty big ordeal after we've managed to pry it from her deathly grip. and today, as the ups man walked up the driveway with the box…she ran and said "num-num." and i couldn't help myself. and i can't not start a sentence with "and."
my proof. see…she really does hold a pencil just right. and draws. tediously. my mom saved the crib sheet of my brother who drew an entire train track on it..perfect little perpendicular lines that repeated themselves across the cotton–when he was two. and then he said "choo choo." and now he's an artist. hmmm….just wonderin'.
short blood-red nails. love 'em…and tonight i actually had a little chunk of time to polish my nails and let them dry without the paint being embedded with cracker crumbs.
(p.s. random thought: would the most fun job ever not be a nail polish color namer?)
weekend plans…two big parties. oh, joy. pics to come.
…and speaking of pics…
i do so love her. …and her little jammied body is snuggled under my covers right now…covers that are begging for me to join her.
…enjoying the every-day-is-grand things. ~k