i have been doing a whole lotta this lately…
and not so much that i am incapable of ungluing myself off the couch, but more so that i am listening to my body…and brett who tells me to chill out and lie down.
this was, of course, achieved with the great help of my best friend heidi who, upon last week's little scare, booked a ticket to come down from michigan to stay with me this week…even though i assured her i was fine. it actually worked out grand as i was not bedridden but rather free to enjoy four days of a teenage sleepover times ten.
we did nothing but drench ourselves in the lazy pleasures of home. we watched movies. we stayed up late. we laid in bed talking about babies and holidays and all the things we wanted to do in life. brett even gave up his spot in bed for some nice quiet nights in the boys' room while we girl-gabbed and fell asleep to the sound of chick flicks…and lainey snuggled between us.
and heidi cooked every night…sausage and perogies with cabbage, homemade lasagna, lentil soup…
…except i did chip in for a cherry pie…
…that looked like butt (multiplied by the ugly glow of the oven light) when it was finished because i didn't have enough pie dough for a proper fluted edge. that and i wasted it on cherry doo-dads for the top…which, if i had to choose between a proper flute and doo-dads, i'd skip the flute again.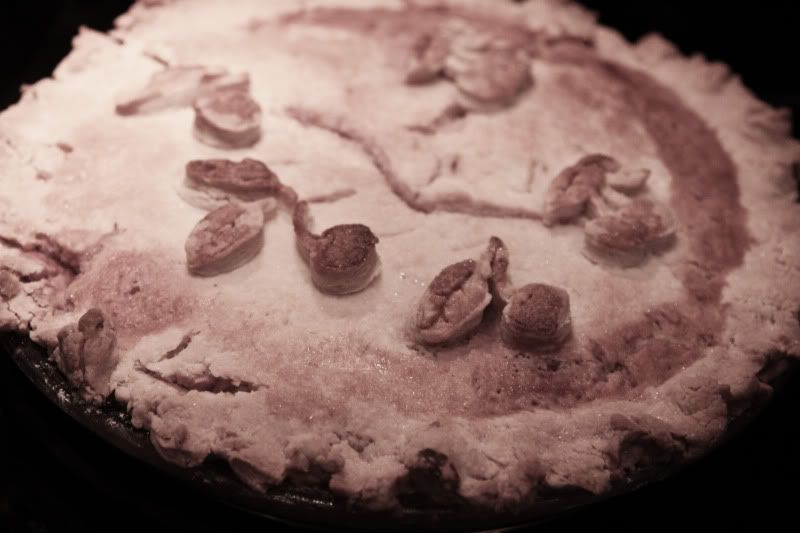 bottom line is…my soul is rejuvinated to effervescent proportions thanks to four days of friendship and truly being able to relax…with no guilt.
and in photography world…
picking up some more work after trying to take a break…and beginning to map out the holiday schedule. searching for some new locations and super excited about a rigged bridal practice shoot coming up with a borrowed designer dress and a gorgeous model…more to come.
in the meantime, i'm working on some new products to offer this holiday, a new affordable album…and have finally splurged on a bunch of packaging materials as i'm a sucker for pretty packaging. i always love when people share their finds and am all about payin' it forward. so, to anyone who's into packaging for whatever reason, i found wonderful boxes available in a trillion sizes (including a shallow one just bigger than an 8×10 to package 8x10s, any smaller prints and cards/announcements) and several colors from this company. after looking at several photography packaging companies, i found this regular box place and was very happy with the quality–uber thick, stiff and a nice glossy black. then to joanns and walmart where i filled my cart with fun ribbons and damask print tissue paper. tie on business card and…voila. something a bit more professional to hand to clients.
and saving the best for last…
something happened. her loveliness just multiplied into fireworks, and i am daily amazed at this girl who happens to be mine.
she talks. finally. like crazy talks. things like…
let's go, mom.
i wanna eat.
i did it.
manatee.
no nap, please.
that's yellow, mom. (she spots anything yellow).
i love you, gaga.
help, please (a long time coming after numerous fits from getting her head stuck in arm holes from all the clothes she sneaks off to try on during the day).
…and repeats anything and everything we want her to say. and don't want her to say.
my dad reminded me the other day that lainey's way of doing things has always been to wait…figure it out in her head…perfect it…but dare not show anyone what she's capable of until she knows she can do it right. like my late walker who practically moonwalked when she finally gave us her first steps. and pottytraining. and talking. when she does somethin'…it's gunna be all the way. go big or go home, right?

she doesn't watch t.v. we don't really care and don't make a big deal about it, but she's never been interested except clifford in the car, watching football with brett in the fall, or catching a song/dance/musical number from the oompa loompas. however, she has, two days in a row, become entranced with the martha stewart show. she sat in this chair intently taking in how to make a great rissoto and cut tissue paper into flowers. i love it.
and in true lainey style, she will probably stew over this for quite some time until we come home one day to find a world-class rissoto dinner garnished with a vase of tissue paper flowers from our girl.
and then there's the fact that she can take a shower, wash her own hair, dry herself…all by herself. won't let us help her even if we wanted to. literally, from the time she walks into the shower to drying off and putting her clothes on, it's all done by her and her alone. i don't know when this all happened. …but i am amazed.
finally…she is officially in love with the dogs and spends a good few hours a day playing by herself with them. she'll carry latte like a baby for over half an hour at a time and does it so gently. the so gently part isn't exactly observed when she later shoves her into a small purse, totes her around the house and violently crams her head back in the hole lest she attempts to, god forbid, come up for air.
but mostly, it's so gently.

i always knew i wanted my kids to grow up with dogs, but it took a long time coming for their love-hate relationship to blossom into something less volatile. now, it's purely precious.
at least once a day, she takes latte into her bedroom, shuts the door and stays in there for a good fifteen minutes. she gets mad when we peek in on her but, from the times we have, she's sitting on the floor reading books to a dog who has obviously been forced to sit in a small rocking chair…and knows, for her own good, not to budge.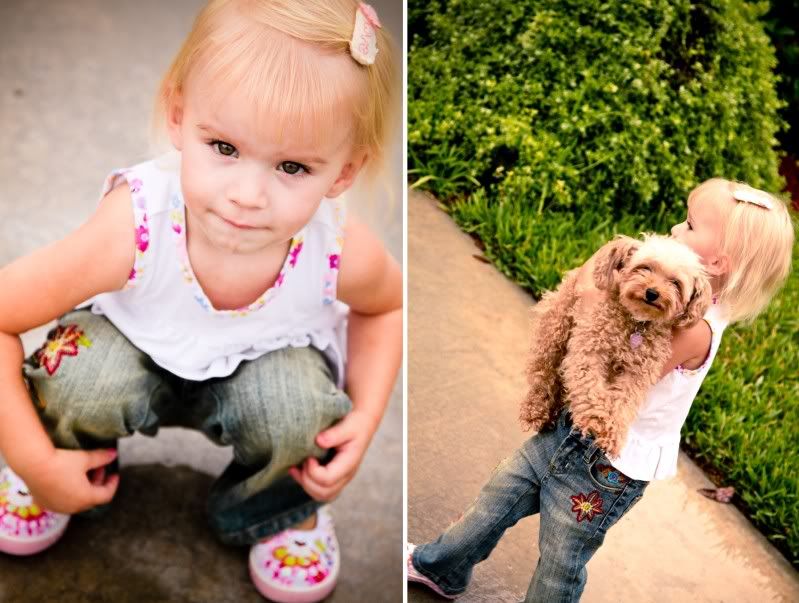 and latte always totes along with lainey for all our bike rides.
speaking of, brett called from the garage tonight to see if i wanted to go for a bike ride.
i hollered back, "i'm already in my jammies!"
and smarty girl ran in, grabbed my hand, dragged me into the bedroom where she whipped open my drawer and handed me a pair of jeans. on her own. without a word. like i said….amazed.
so we rode our bikes in the dark and the air was cool and smelled like barbecue smoke. and i purposely steered my tires into every puddle i could find from the heavy rain this afternoon…and the cold spray it splattered over my flip-flops felt good. like summer. i haven't exactly enjoyed this summer like i thought i was going to, but it has been every bit as wonderful in a different way. i will paint our bedroom. have a cook-out. rearrange the living room. but not today.
hey, i made a cherry pie. that's pretty good.
(oh, and for the record…i drove heidi to the airport at 6am this morning going 70 on i 75 with a bag over my head throwing up…all simultaneously. hello, mother of the year. i want my trophy.)



(hey look…the daddy!)

…enjoying the small things. ~k
oh, and i have to say once again…thank you for your comments, e-mails, calls on the last post. wow. i love you little blog readers, and have never been so comforted by not only new friends, old friends, family…but by strangers. that aren't really strangers. thank you, thank you, my friends. everything is good…and we are graduating to pants with stretchy panels. oh, yay.