I'd like to start this post with a confession: I didn't know bunnies were so extraordinary. As in, I didn't know they can poop at a rate of like, 30 pellets per minute or, in more technical terms, 30 PPM.
But, you have no idea how much she loves this bunny.
We did something big today. Or, at least big for me.
When Nella was born and I first started to talk/write about it, it was hard to hear things like "family" or "community" or "club." I didn't know at the time how wonderful this magical mix of people gifted with a child with special needs was and, although I don't exactly think I was bitter, I was scared. I didn't want to be part of the club. I didn't want to be part of the family. I had my old family and I felt out of place with the new one. Like a teenager at the annual far-fetched-relative reunion when the thrice-removed aunts you've never met come running to hug you and pinch your cheeks and pin you against their perfume-drenched bosoms, welcoming you to the fam and hey, why don't you go introduce yourself to Cousin Jimmy. And you think Cousin Jimmy is strange and you're embarrassed to even be here and ticked that your mom and dad made you come when you really wanted to be having a sleepover with the cool popular chick down the block. Yeah, that's how I felt. I wanted to run and be separate and pretend I wasn't part of this group…because I certainly didn't ask to be.
But that was Stage One, and a valid stage that had to be part of the journey, I guess. And (oh dear, here comes the analogies…hang on), although I sulked a bit in the beginning, I secretly watched Cousin Jimmy and as much as I tried to convince myself that he was strange, I noticed myself smiling because Jimmy made me laugh. Jimmy was cool. And the crazy aunts that smelled like cheap perfume and smooshed me with their bosoms and pinched my cheeks? Well, now that I've spent a couple nights with them, I have to tell you they're a riot. They're fun and real and tell beautiful stories. In fact, I don't want to leave this reunion because I've realized this family is awesome…way cooler than the popular chick down the street. I've realized that right here and right now is exactly where I want to be.
I'm happy to be part of this family. I'm thrilled to begin a journey filled with amazing people I will meet. People who have known pain and have grown with it. People who have, perhaps against their will, thrown out "perfection" and accepted the new face of reality where not everything is glossy and Hollywood. No, it's better. It's real and deep and beautiful.
So, what did I do?
I had a blind date. With another mama. And as I walked into Calistoga, I looked to find her and landed on a happy, genuine smiling mama with a two-year-old in one hand and a car seat in the other. And, in that car seat a little body was snuggled. A little body with a tuft of blonde hair, cherubic cheeks and almond eyes. Almond eyes that looked just like Nella's. And she was born just two days before our bunny. And she was beautiful.
I knew this must be her.
Holly seemed like a pro. With three kids already under her belt, she handled this fourth little angel with ease, guiding a two-year-old through the restaurant, simultaneously slinging a diaper bag and purse over one shoulder and lugging the carseat gracefully with the other. Me? I stumbled over my own feet as I turned to look for Lainey, simultaneously swinging the car seat which knocked over a huge sign advertising a roast beef on rye to the floor. I swung to see the damage (and almost knocked out Lainey while doing so) only to see Holly already on the floor picking up after me.
Oh, this chick could be so good for me.
And can I just say car seats belong in cars? Whoever had this idea of handles and portability must never have tried to dangle one from the crook of a right elbow while corralling a toddler with the left. My right arm is permanently limp. And my baby's only all of 8 pounds. These women tote these things with little bubbas and carry groceries at the same time. I feel like my adequacy as a parent is solely judged right now on my ability to gracefully manage the mobility of an infant car seat, and it's not looking pretty.
We settled our older littles into booths with plastic lemonade cups while we situated car seats and waited for sandwiches and, all the while, I wanted to shout out "How did you handle the news?" but it seemed a little awkward. Like starting a first date with "So, how many kids do you want?"
So I waited just a bit. But not for long.
Within minutes, we were deep in conversation, synchronously nursing babies and distracting our toddlers with play-doh and books. And we talked about the day we found out, the tears we shed, the fears we share, but mostly? We laughed at our ignorance before all this and bragged about this new found place of peace and acceptance and realization that this is okay. So what if they don't walk 'til two? Isn't that actually kind of cool? Like I just added another year window before I have to worry about baby-proofing the coffee table again. And all the other stuff that comes along? We can handle it. Why is it people think this is so the end of the world? Because it's not. It's the beginning.
Holly told me all sorts of things I didn't know. I've been slow to dig for information, and I know I'll never be that girl whose "D" and "S" keys are sticky because they've been pecked into the google bar a trillion times, but I am slowly becoming more comfortable with information, knowing that some may or may not pertain to my girl. Holly told me Jamie Fox's little sister has D.S. and that there's special colleges just for people with D.S., and she knows the technical names for all the cute little specialties our kids have. And then we talked about kids in general and how the phone always rings during dinner and how, after a few kids, you don't really care if the car seat straps are crusted with old milk.
All this time I thought this "family" was something so different from my old one, but it's not. We were just two mamas with two kids out to lunch. Nothin' special. And I liked it that way.
And, although Nella doesn't look so happy here, I know she was thrilled to meet her new friend, Brooke.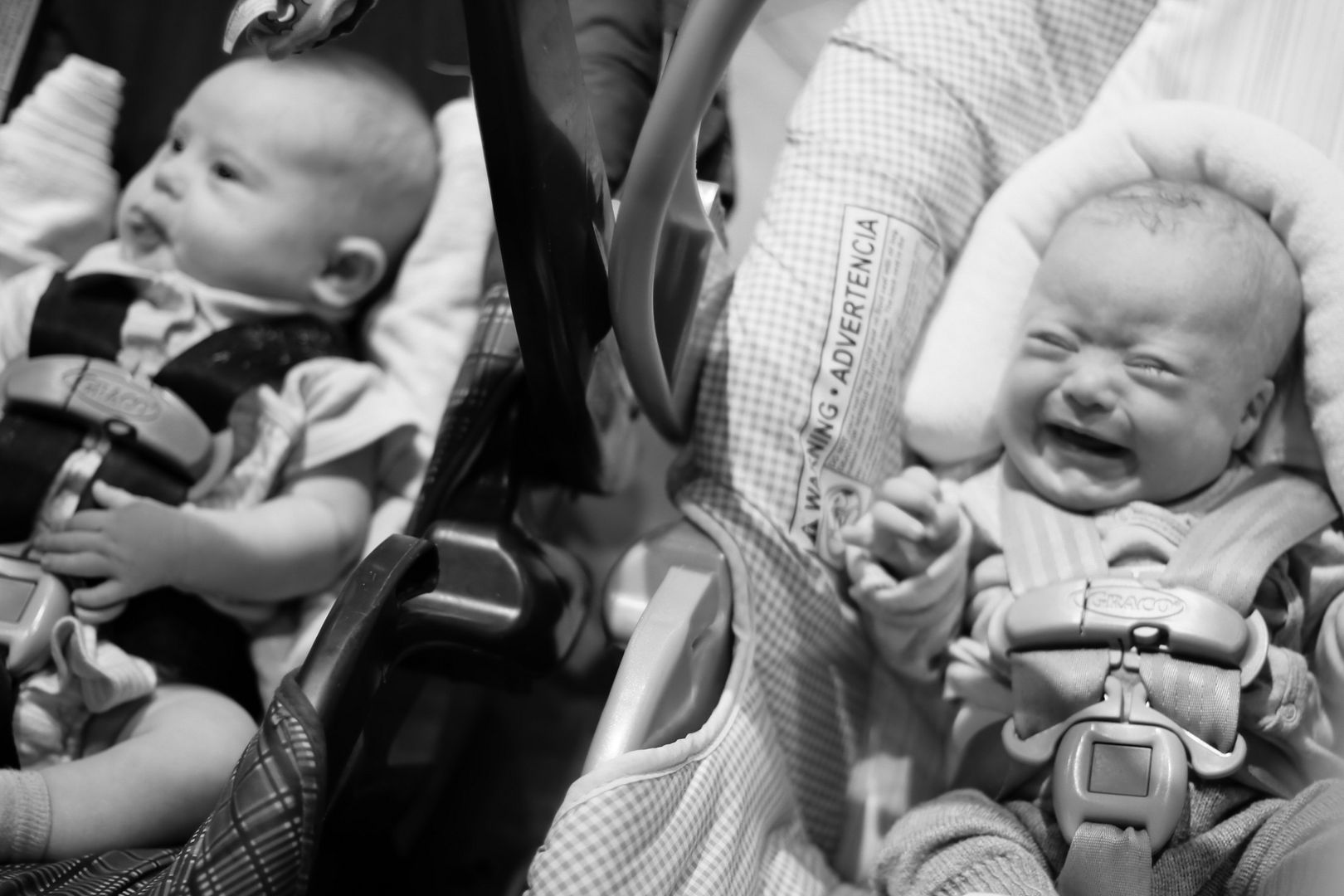 *******************************************
And a few little things we're enjoying:
* Breakfast outside with friends at this quaint little cafe hidden on a side street downtown. We sat in heavy ice cream parlor chairs and loved on babies. Poured syrup over luscious heaps of french toast. Sipped steamy coffee and talked about life. And the last time I was here, I rubbed a big belly and talked about how soon, we would meet our girl.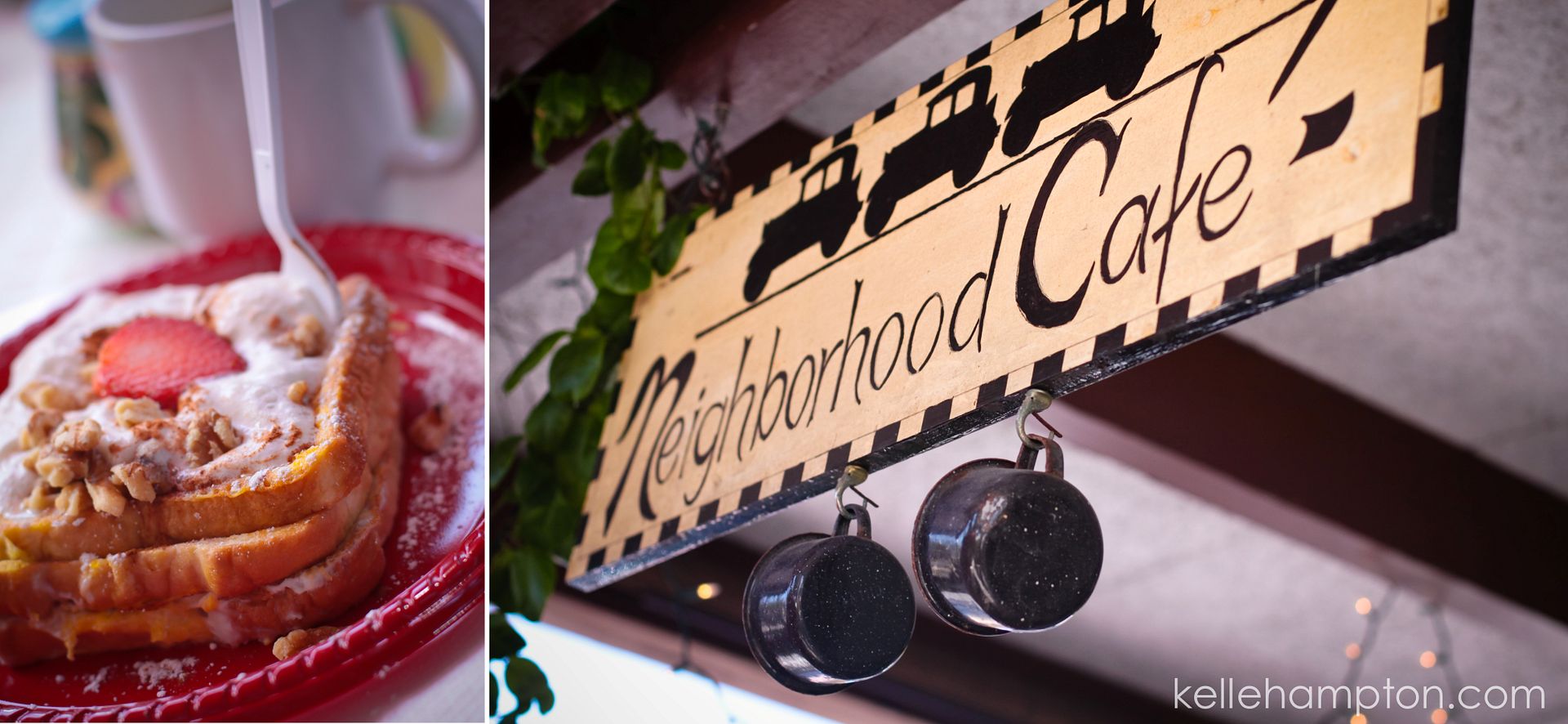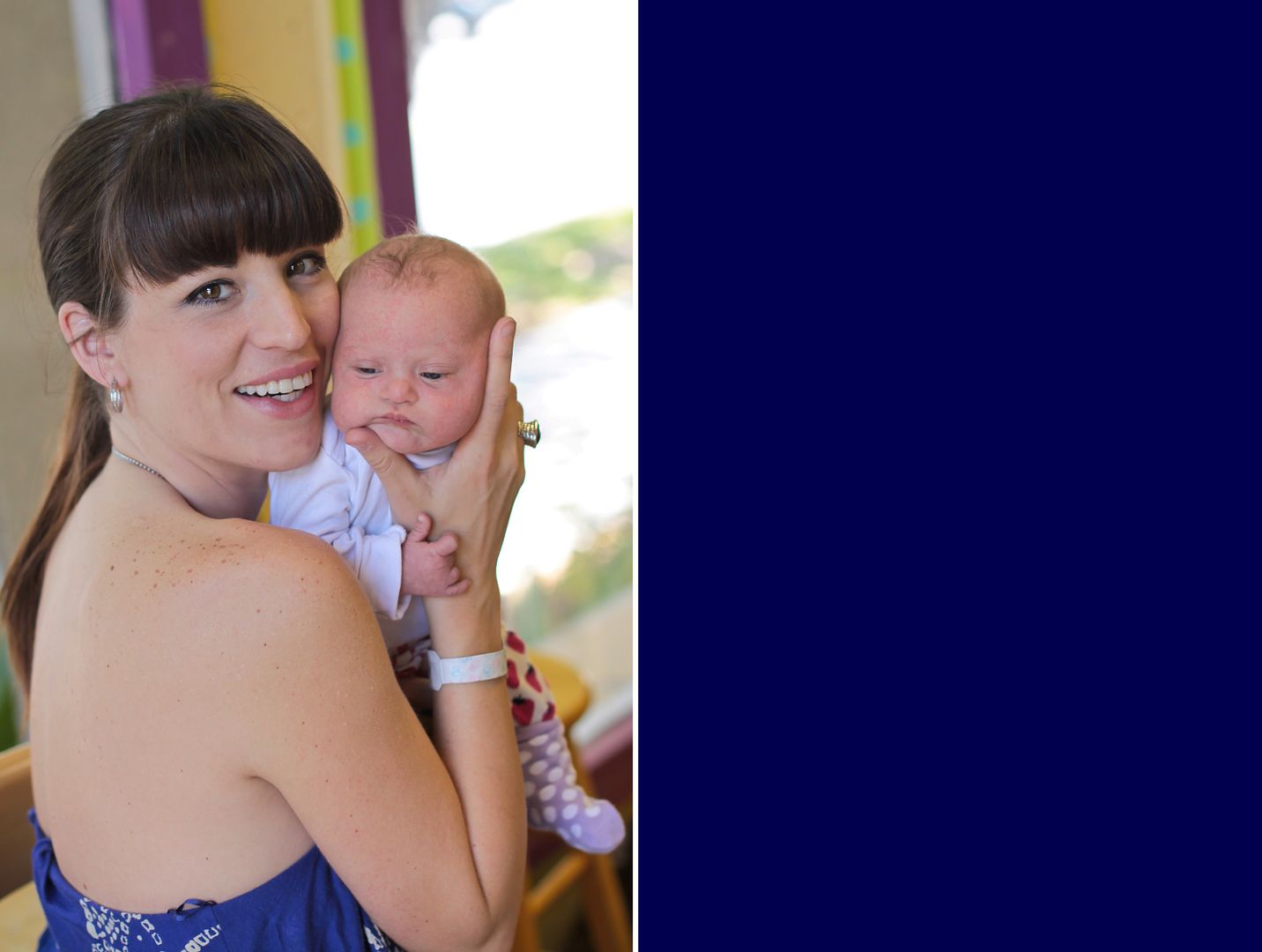 * Afternoon escapes. I've been busy working in the house a lot — editing, writing, phone calls, e-mails, laundry, pick-ups, nose wipes, diaper changes… whenever it gets to be too much, no matter what we're doing or what has to be done, we just stop. Get your shoes, we're going outside. And Nella gets nestled into a sling while Lainey and I draw bodies with sidewalk chalk or blow bubbles. Sometimes, I simply sink into a beach chair in the driveway and say nothing…just watch her play. The fresh air is therapeutic and the time with my girls, no matter how little, is completely redemptive. Yesterday, she pulled Nella in the wagon while I followed.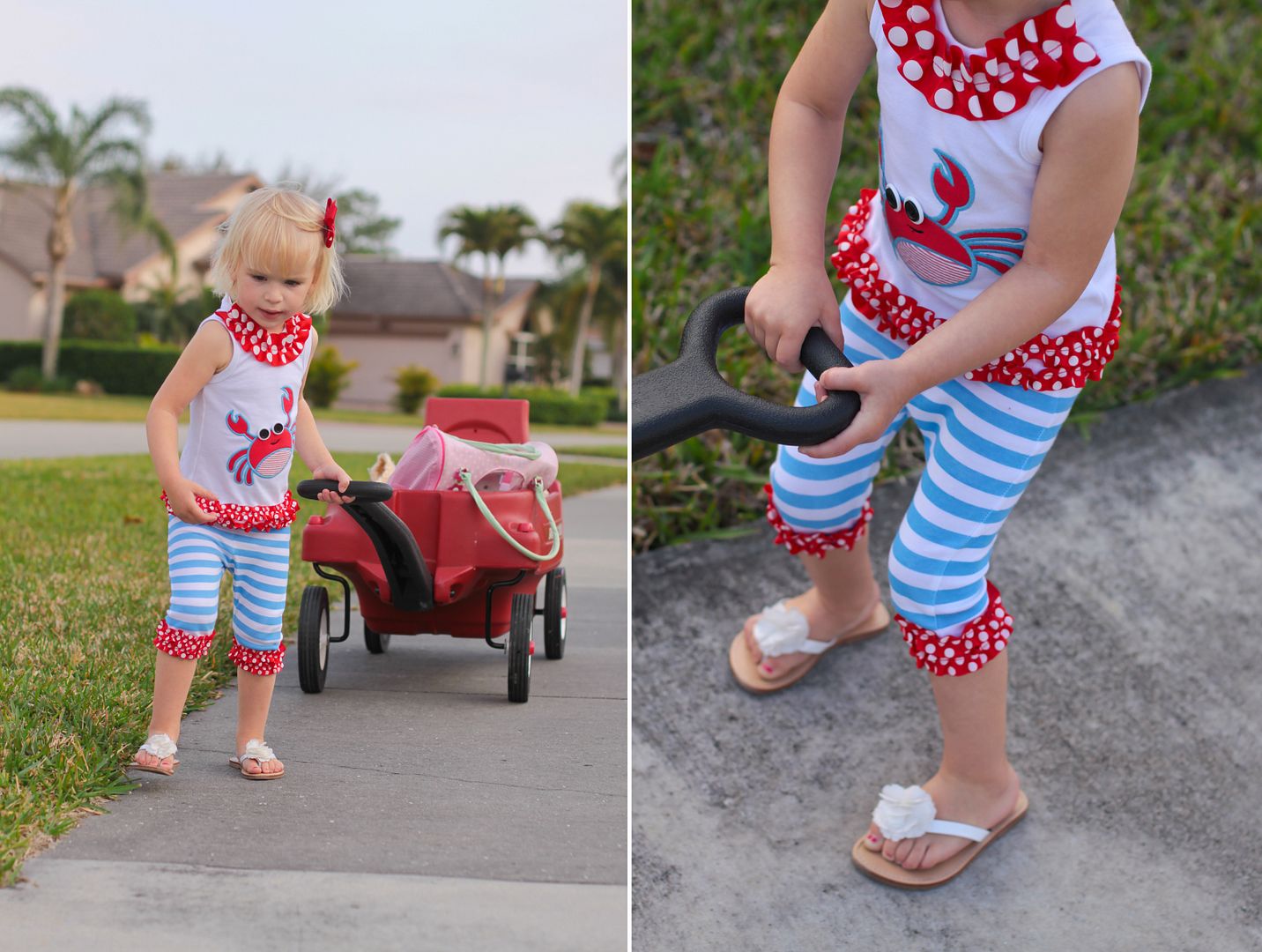 (and, for the record, the bunny was tucked away in that pink purse)
* My friend got me the coolest gift. It's so very me.
Lookey…a new camera strap.
Me likey.
**************************************************
This little blog here reached its millionth hit today. And the day before Nella was born, it hovered just above 100,000. That was seven weeks ago today. And in the exhausted state I'm in, with the way this hospital bracelet is grazing the edge of the keyboard as I type and the breathy sounds of our bunny humming in the moses basket behind me…well, tears to say the least. With everything going on, I continually return to the beautiful realization that pain has so quickly turned into joy, and the story of a tiny life has impacted so many.
I remember the song my sister shared with me in the hospital. We hovered around the laptop to listen to it and 6 pounds of heaven laid before us, promising us so much more.
Redemption comes in strange places, small spaces, calling out the best of who we are. I want to add to the beauty…to tell a better story. …This is grace. …an invitation to be beautiful. (Sarah Groves, "Add to the Beauty")
Next Sunday, March 21, is World Down Syndrome Awareness Day. I didn't know this day existed and, had I not been invited into this beautiful new world, I probably never would have. Next Sunday evening, we will gather with our friends and family on the beach. We will light candles when we kiss the sun goodnight. We will huddle around our new girl as we dedicate her life to finding new beauty, to sharing more love. Next Sunday, our bunny will wear the soft white gown her grandma made, the same one her sister wore on that very same beach. She will be held by her Poppa as her sister and brothers hold hands around her. Next Sunday, I will bury my head into Brett's chest and cry happy tears as I fiddle with the plastic band around my wrist that still connects me to that day. Next Sunday is a special day.
I'm so glad I know about this day. I'm so glad we will celebrate it. I'm so glad we have our family, our beautiful Lainey and our sweet, sweet Nellabean.
Have a beautiful, perfect weekend. ~k