It's late. My big girl is curled up in our bed waiting for me. My little girl is snuggled in her Moses basket next to me as my outstretched leg rocks the cradle it stands on just enough to keep her steady breathing from awakening.
It's been a very good couple of days where, on reflective evenings like tonight, my soul settles into its grateful place…a very good place to be.
And grateful places need good rest. But before good rest comes our acknowledgement of good things.
With no further ado…
We are enjoying…
Our Tulips.
Our third bouquet this spring…and as those perfect purple cups open wide with their last hoorah, I can't help but think they are celebrating something.
I forgot how full of life spring really is.
Responsive Smiles.
All the time. She drinks in our faces, our coos, our eyes…like a drug. And just when your heart's about to bust, it comes…this tiny grin and squinty eyes and sometimes, if you're lucky…a gkooooo. I've been waiting for this…and it feels amazing.
I love my kids to the moon and back and ask for nothing in return, but when they love me back and I feel it…oh, it's heaven.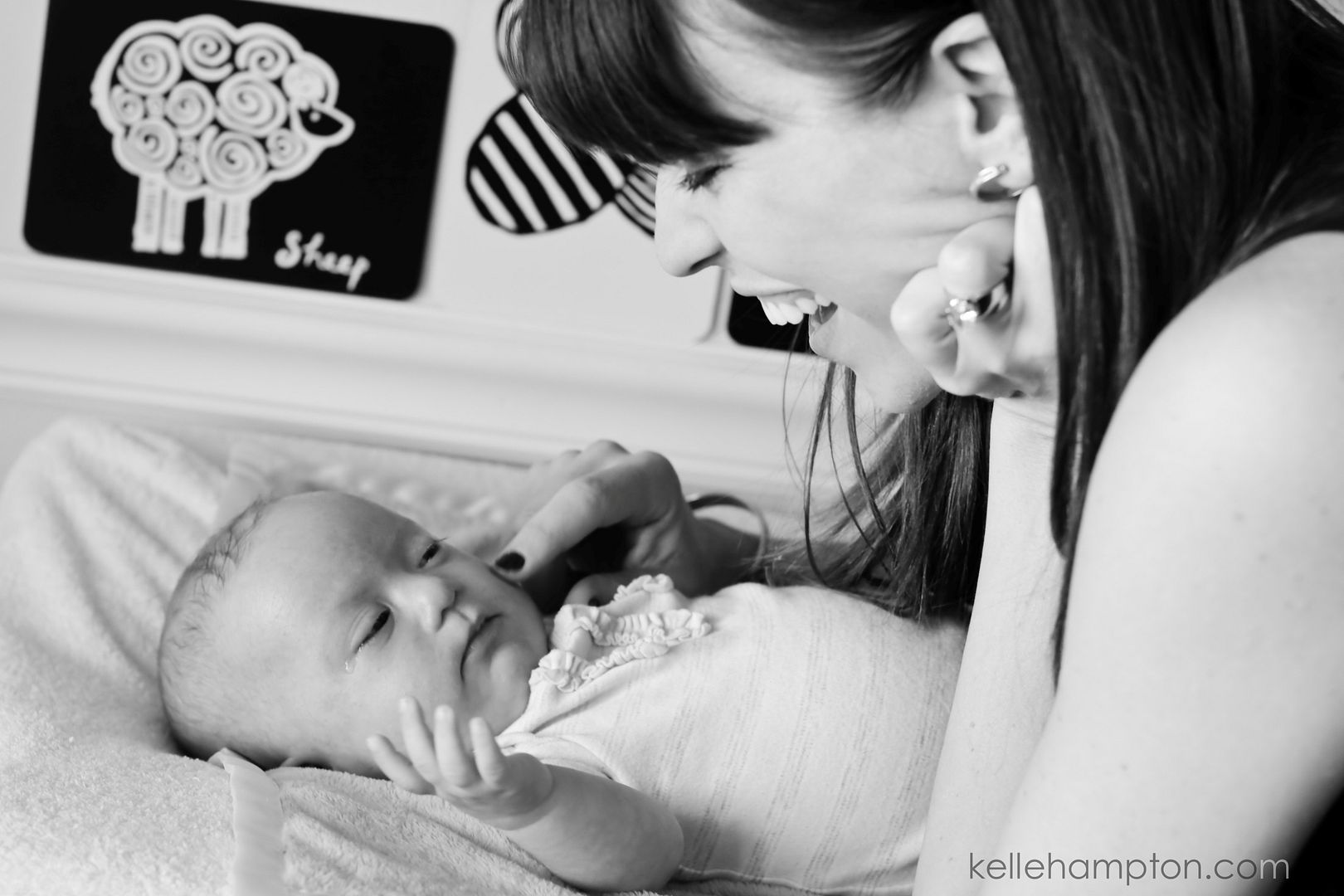 I've been blessed to have some amazing people brought into my life this past year. And, while I don't have a 'little black book', I do have a rich blend of beautiful souls that have been poured into my life for good reason. I love my village of kindred spirits.
With that said…California Chick, you rock.
Sunflowers-to-be
Lainey's pots have been transplanted, and we are enjoying watching our green friends stretch their stems a little higher each day, growing layers of broad leaves and promising happy blossoms to come. In the meantime, she learns the joy of watering and watching and knowing amazing things can start with the smallest of seeds. The smallest of ideas. The smallest of souls.
Her Creative Heart
I never tire of hearing her ask to color. to paint. to create. Or of watching her, all tongue-hanging-out and shy-smiling as she swirls her brush to make beauty.
Continued Party Plans
Planning my girl's birthday makes my heart happy, and I can't wait to see her take it all in on the day we celebrate the magical day she was born.
These can be found in the dollar bins at Joanns…and, with some tiny funnels and an array of shimmer dusts, our party guests can create their own layered fairy dusts in these sweet little bottles. Add some ribbon and a cool tag and voila…super cool party craft, not to mention a great take-home treat for little girls to lure fairies and ensure some sweet dreams.
Watch Dog
She may be little, but she is mighty. Latte takes the role of watchdog seriously as she oversees the sleeping babe. Dude. Don't mess with a poodle.
My Second Mama
She knows my soul. She lives across the street. She holds and hugs my babies like they're her own. She's our Nana Kate, and she is special.
She asked tonight if she could have Nella forever. I said "no," but we settled on a custody agreement of Friday mornings so I can have some alone time with the big sister.
And Nana Kate's grandkids are here for spring break and consequently, my girls' love-ometer is off the charts.
Friends
It's magic to behold. The enchantment of little souls interacting. Smiling. Taking each other in. Oh to be little and to have friends.
Knowing what my village of kindred spirits brings me…what a joy it is to see her build hers…soul by precious soul.
Sock Monkeys
Ours come with lots of love from Aunt E. And Nella just got her own today. We think she likeys. Thank you, Aunt E.
My First Girl
I had a radio interview the other morning. And as I smoothly retold the night of Nella's birth, I felt it happening again. The lump in my throat, the hot tears pooling, and the beautiful heartache of love as I neared the part where my beautiful girl taught me how to love. She teaches me more than that every day, but to her I am ever grateful…just for being her.
Oh, you little willow. You blonde little sprite. I love you.
Our Street
For it's a happy place. There are kind souls that live in the houses that line our street…and that makes it the Boardwalk of our Monopoly. Prime location. And not for what its worth in dollars. No. Prime for its worth in friendly faces that smile and wave and run to see how big the girls have gotten when we walk by. For its driveway firepits on Saturday nights and doors that I knock on Sunday mornings because I'm out of coffee cream again. For its mess of bikes and trikes and wheeled thing-a-mabobs that end up in our yard every weekend, but that only means there's kids inside. For its borrowed mamas and grandmas that fill in when mine are far away. And, tonight, for the happy huddle of souls that lined our friends' driveway as we watched fireworks for no good reason but to celebrate togetherness.
And, as I watched as kids danced in cloudy smoke and friends swaddled my baby, I was reminded again that life is very good, we are very blessed and the good always, always outweighs the bad.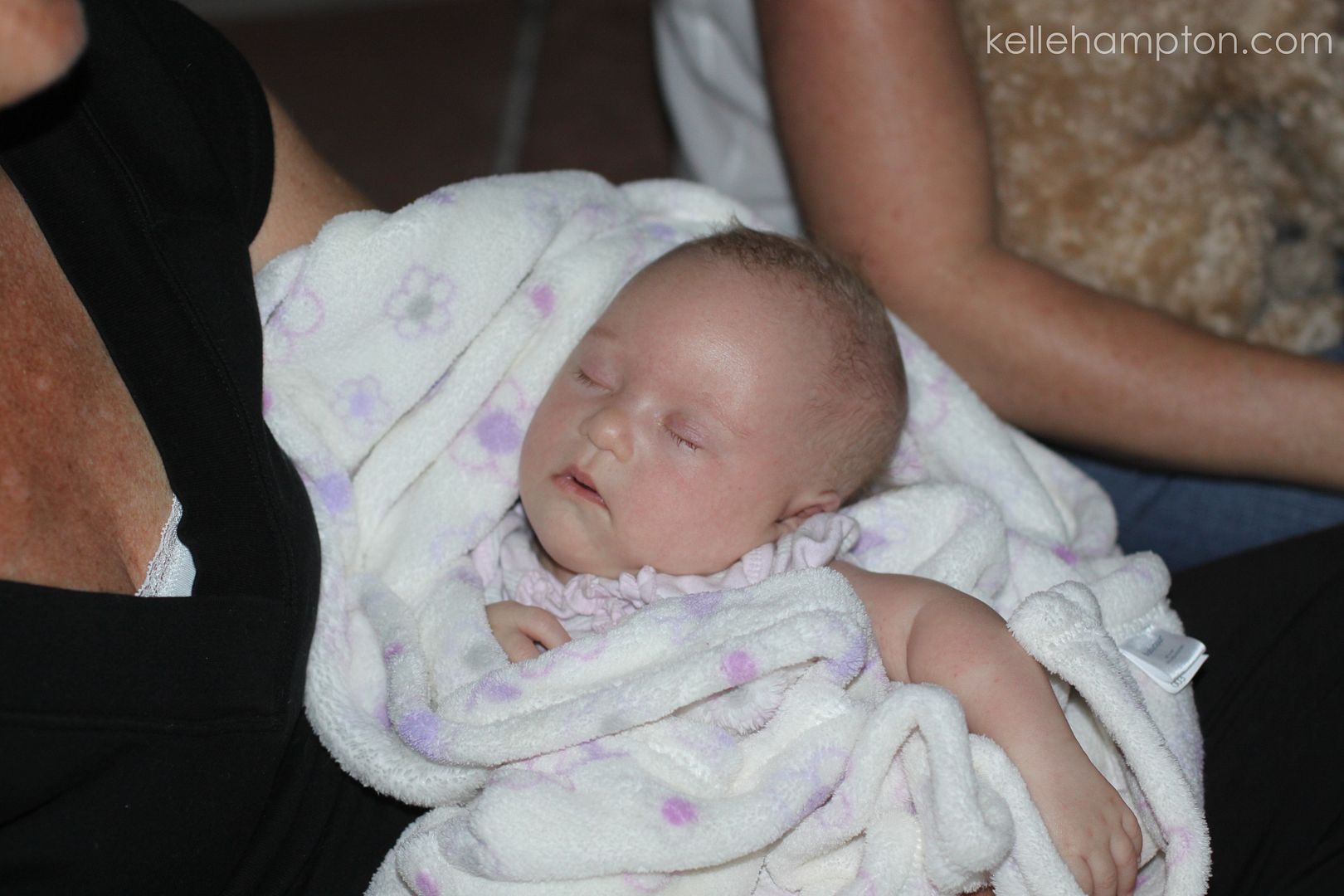 Hey, tomorrow's Friday…and that's always good. Celebrate life this weekend. There's lots of it.