The day began delightful. Like the kind of delightful where you think, for a minute, that you're out of coffee cream but then you find a brand new pint behind the pickle jar. And you dance a little happy dance right there in the kitchen, in your pajamas, with a baby in one arm and your new found cream in the other. Because sometimes, there is nothing sweeter than starting your morning finding cream when you thought you had none.
And, of course, cream that almost wasn't is the creamiest of creams. Consequently, coffee made with that cream is the best tasting coffee your lips have ever sipped. And, I guess the argument follows that any reading material you enjoy while drinking that coffee is more interesting, any baby you hold while reading is more lovable, and any morning from which you drank that coffee, read that magazine, held that baby…is delicious.
You follow?
I suppose that's all suffice to say…'twas a happy Wednesday…and Nella agrees.
Lainey's sunflowers have finally bloomed their happy golden heads.
And it's all I can do not to drag my Sharpie marker out there to draw happy faces on all of them. Because I see faces on sunflowers. Like the kid in The Sixth Sense saw dead people. I really do.

(no plants were harmed in the enhancement of this photo…ha ha. do I really have to say that?)

And if finding lost cream and discovering sunflower faces wasn't enough…
we got a package from Grandma Krissy today.
My mom is amazing.
She likes European shoes, vintage baby dolls and scoring Italian yarn lots on Ebay. Put these likes together and you have the coolest grandma who gives amazing gifts that have included European shoes, vintage baby dolls and beautiful things made with Italian yarn.
So when I opened the box to find two complete matching outfits for my girls, perfectly detailed from hand-crocheted sweaters to the trim she added to the socks, I totally cried.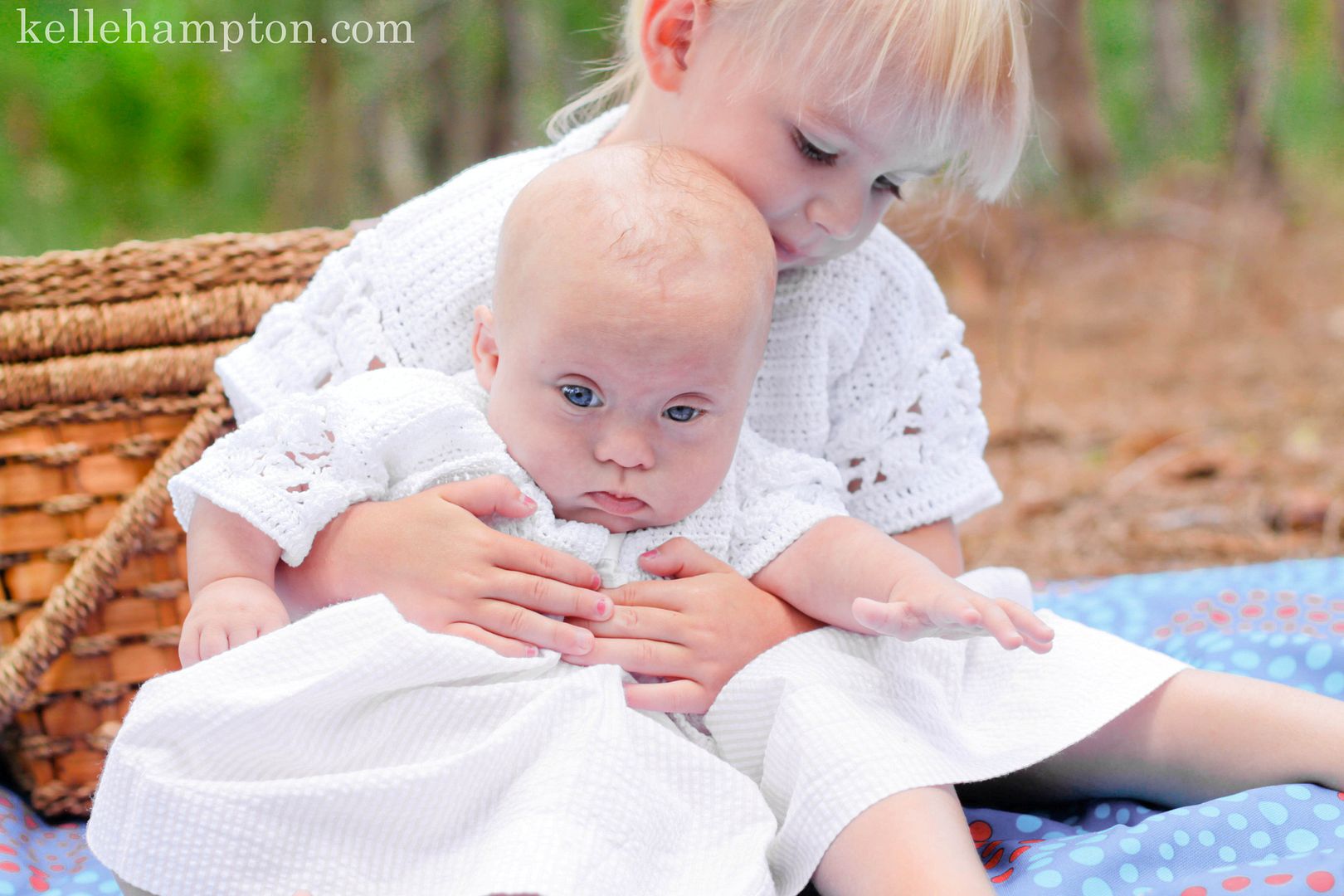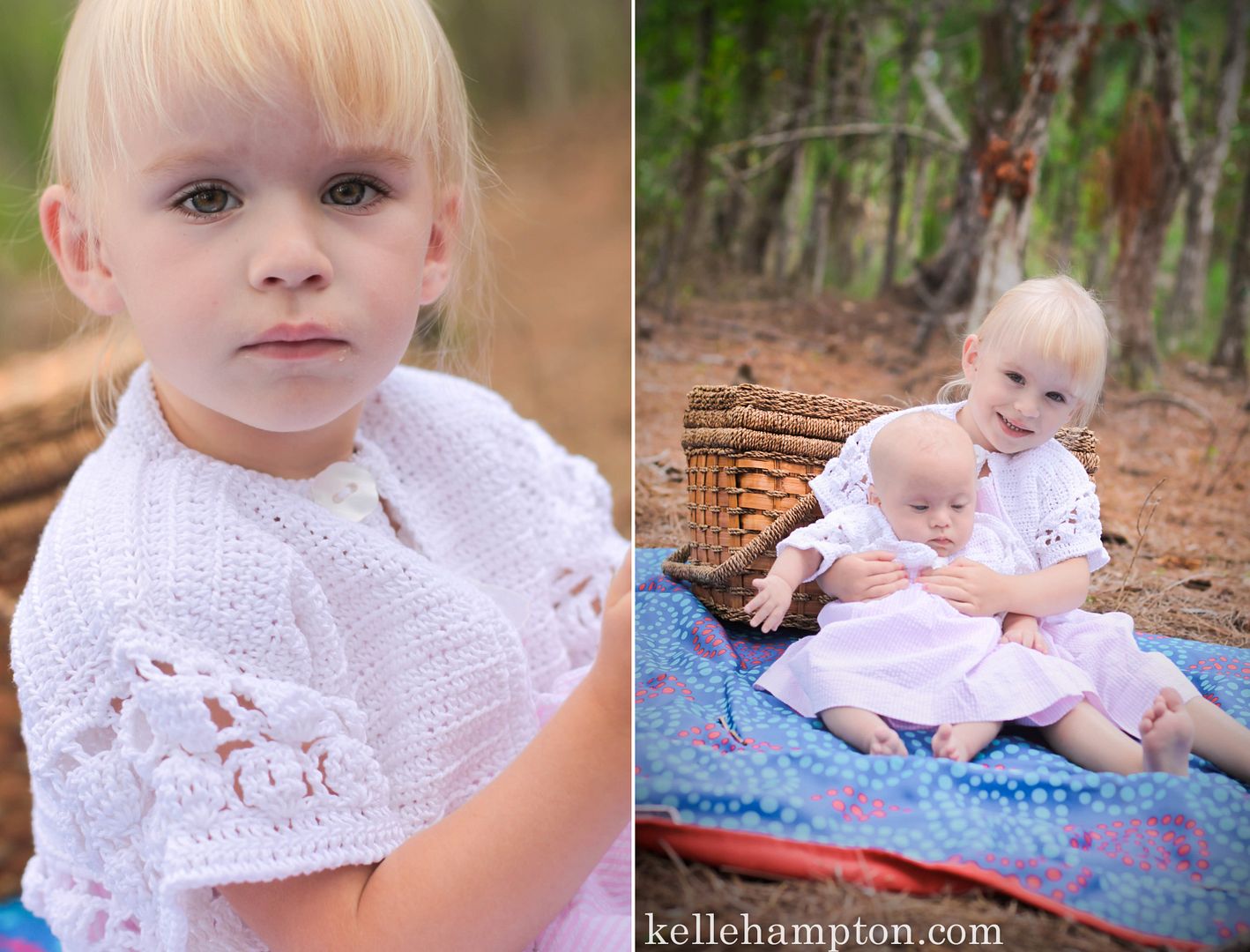 And the shoes. Oh, the shoes. My mama knows how to pick 'em. Soft and supple leather. No frills. No bells. No flashy lights or sequins. Just plain Dick and Jane t-straps and maryjanes. Me likey.
********************************************************************************
Lainey has mastered the mouse and computer time has just become her favorite reward. It's still strange to me to see a three year old maneuvering a mouse, double clicking and properly responding to prompts from the screen. Not sure what I think about it, but, used moderately, I'm quite assured that pretty mess of fun plus educational can be nothing but beneficial.
*********************************************************************************
One of the cool things living in Florida gives us? The Sonic Boom. With the space program ending soon, we won't be hearing them anymore so we made a big deal of today's, the last of Atlantis.
Boom Boom.
***********************************************************************************
Celebration of Summer continues with picnic in the woods where we ate grapes and cheese and graham crackers with frosting from the comfort of our blanket…
Other than that, I could tell you that I left the clothes in the washer overnight again so they smell like a public bathroom. I could tell you that I found another moldy cucumber in my vegetable drawer. I could tell you that I wiped Lainey's mouth with my sleeve six times today, that Brett and I had a silly argument walking into Costco that, I'm sure, made us look like the worst married people alive to anyone watching or that I had a sunblock reaction that turned my boob into something so leprous-looking, I actually photoshopped it out on the last photo in this post. I could tell you all that because that is life too. And delicious Wednesdays will always come with a few bitter bites, but really? At the end of the day, all I remember are the good ones. The pudding-filled bites. The butter-drenched ones. The sweet, succulent drips of a really good day.
Screw rank laundry and rashy boobs. I'll take my glass-is-half-full, thank you very much.
We dance.
And we celebrate.
And that's life.