Sometimes, when I awake long before the babies and the sky is still dark and the coffee is brewing, I'll randomly click on an old, old post…to see my babies tinier, to remember something grand, to see how far I've come.
And this morning, I came to this one.
It was back in the day–just months ago–when my soul had only begun its stretching, when Holland and Italy were still grappling for my perspective's destination. And I remember saying that, although "Holland" was wonderful, the part of the poem that says the pain of never landing in Italy will never, ever, ever, ever go away (yes, I think there are three 'ever's) really got to me. Because I don't like being told I'll never get to do something. And then when you go and add a never ever ever, well–Hell, No.
With all that said, it dawned on me today…I haven't thought about that poem in months. Because I don't feel at all like I've landed in someplace I wouldn't want to be. In fact, it's been nothing but Roman cathedrals and quaint side-street cafes so far. I've got the best of both worlds for, while the windmills of Holland may enlighten parts of me that need to grow–say, when Nella straggles a bit behind in milestones or when we have an extra worry here and there–the vast beauty of Italian landscape still bewitches me every day with her smiles and her almond eyes and the way she kneads my skin with her grasp when she's trying to fall asleep. If you told me I haven't had Italy thus far, I'd tell ya you're crazy. Because I have both.
Italy pics compliments of my friend Laura, who just returned from her vacation
Hello, Little Italy.
And sometimes, I wonder if maybe my glasses are just too rosey. And, so I take them off and look at it all again– what we have, what we don't have, the present, the future…and I'll blink my eyes and refocus, taking it in without the glasses, and…yup…still looks good. I'm aware of what the future holds. I'm aware that raising children isn't easy. I'm aware that Lainey will think I'm a bitch someday and will call her friends complaining about me…that my heart will drop to the bottom of my soul when she gets a license and steers her car onto roads that hold drivers that text and drink and run red lights. I'm aware that both of my kids will get made fun of…for being different, for being the same, for being too smart, not-enough smart, short, tall, fat, skinny, funny, nerdy, cautious, daring, compassionate, or what have you. I'm aware that birthing children means forever I will worry that I'll lose them. That the pain of watching them hurt or struggle or be sad will consume me until I'm eaten alive. I'm aware that it is very likely, at some point, Nella will stop making the incredible advances she's been making. That she will talk different or look different or struggle to make achievements we hope she will make. I've gone there–I have to go there–just to taste it for a second to make sure I can deal. And it might not taste like creme brulee', no. But, that's okay. If I have to go there, when I get there, my taste buds will be that of a sophistated epicurean–aware of all the hiddent hints of season and flavors many don't appreciate.
But for now…there's Italy. And, it's a shame to walk through cobblestone streets surrounded by beauty and culture and wonder and not drink it up.
I have two passports to uncharted lands…what joy they've brought me so far. What joy they will bring me.
Ha. Wasn't expecting to write that tonight, but had to get it off my chest. Like writing it somehow proves to myself that yes, I know I could be sad if I wanted to. Sometimes, just to play devil's advocate with myself–because Lord knows how fun that is–I'll actually try to switch my paradigm for just a moment…to see what it's like. I'll try to wear the shoes of the sad girl, the mad girl, the this-isn't-fair girl. And those damn shoes just don't fit. Like when you try to make yourself cry and you close your eyes and think of something sad and play sad music and force yourself into tears like some sort of emotional laxitive–and you realize half way into it, you're tryin' way too hard. I'll think for a second I've tapped into it and then I'll laugh. Nope. I'm too far down this road of a better perspective to go back. And it's not just about Nella. No. It's about Life. This whole Nella thing is such a small part of a greater lesson–a lesson I am slowly applying in so many other areas.
And, for Heaven's sake, would the preacher get off the damn pulpit and call it a day? I'm done, I'm done…I really am.
In lighter-hearted news…
Yesterday was Brett's birthday. And, without really talking about it, we've kind of started this thing where, for birthdays and Father's Day and Mother's Day and what have you, we skip the presents to save the money and instead let the celebrated one choose something to do…a trip to the beach, Isle of Capri, a family swim, a picnic, some sort of outing, etc.
Brett was easy. He wanted a trip to the beach because, I've come to believe, he was a merman in a previous life. Not really, but his blood could very well be part sea salt because my man speaks Ocean very well. A storm was brewing so we didn't stay long, but we did get an hour of making our girls very happy–which is a birthday present in itself for Brett.
And Nella's working on her sea legs…
And his only birthday request? He wanted me to take Lainey to the dollar store and let her pick out what she thought Brett should have for his birthday. And he was adamant about it. Even called me in the store and said, "You're not helping, right? You're letting her pick it out all by herself?" And I answered, "Dude, I'm holding a sombrero, a bike horn and a poly-resin horse…what do you think?"
And watching her in that dollar store? My cheeks were sore from smiling. Pure joy. Besides the fact the carpet smells a little bit like cat pee and the end caps are full of expired Cracker Jacks, we had so much fun on our little shopping spree. She meandered through each aisle, holding a growing pile of crap and I can't count how many times she said, "Him gonna be so excited. Him gonna lub 'dis."
And when we returned home, she wrapped every gift all by herself. Cutting a ski-jawed edge along cheap puppy paper, pulling long stretches of Scotch tape that got twisted and stuck to her fingers, rolling up the edges of the wrapped mess and attempting to close it shut in some sort of presentable manner.
And when Brett opened each present, she beamed so proudly. Of course he made over the poly-resin horse with all sorts of "oohs" and "ahhs." And he loved the grandpa reading glasses she chose for him. And the water gun. And the beer coolie (okay, she pegged him there). And, once again, I was reminded how much the little things matter so very much.
And we've got the horse to prove it.
And the best part? The beautiful card she chose for her daddy. It had a kitten on it. And it was pink. And, in lovely scrolled writing, it said…"For a Special Granddaughter."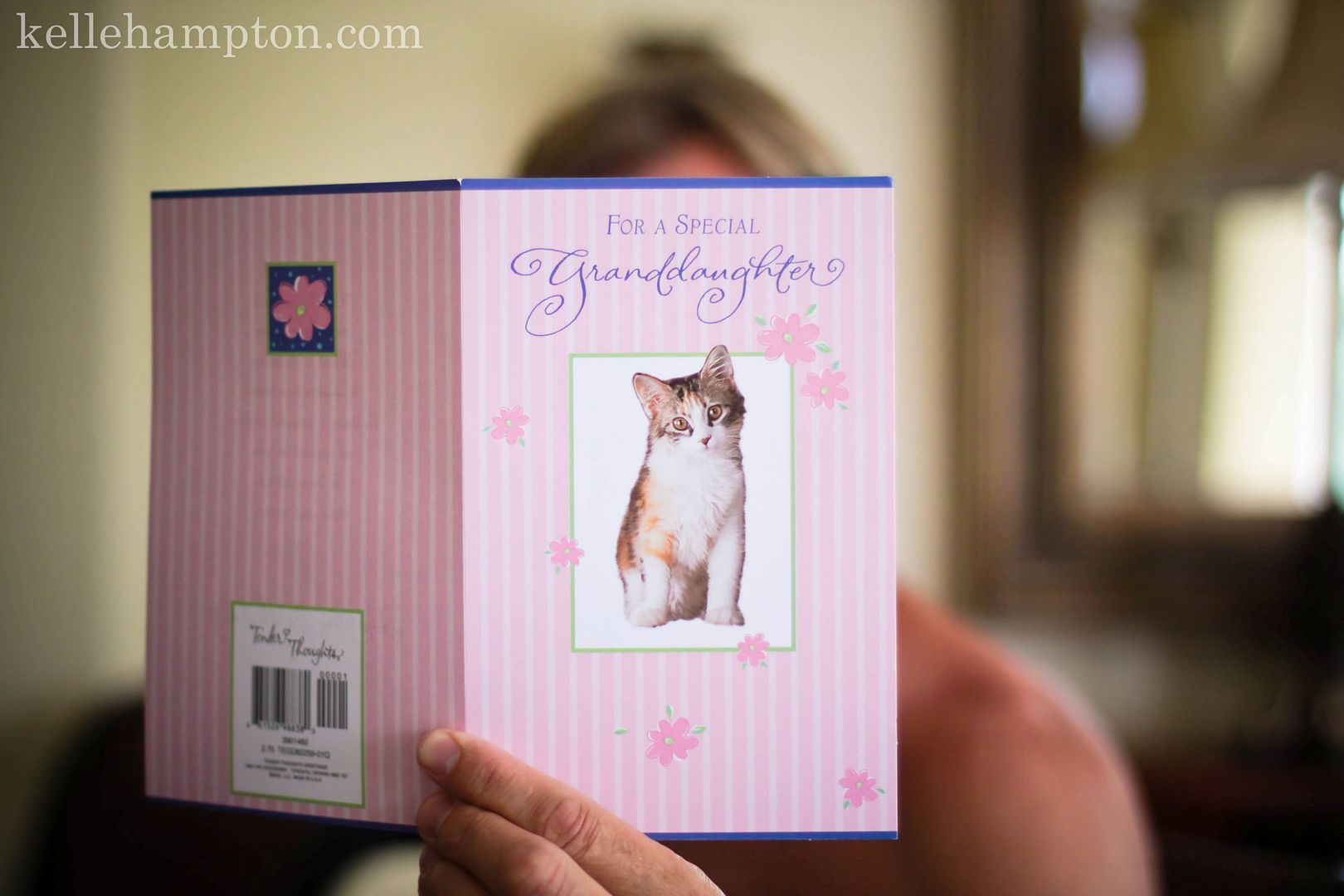 Dude, we do birthdays up right.
A dinner at Brett's mama's put the cherry on top where, once again, we sang a round of "Happy Birthday", dimmed the lights and watched as one of our blessed souls thanked their blessings for another year and made pretty wishes for the next.
Happy Birthday, Daddy. Even though you're right behind me reading this while I type.
As for the rest of the week…
Note to Self: Before you wear cheap sunglasses and pass them off as hip, maybe remember removing the $5 sticker. I'm just sayin'. Because after running errands a couple places, I returned to my car in the parking lot, shot a glance toward the rear view mirror to confirm that yes, my new sunglasses were as hot as I thought they were and…um, yes. They're hot alright.
So, the moral of this post can be summarized by something like this: Birthdays are cool. Dollar store crap is cool. And being told I landed in Holland when I was expecting Italy only lasted for a little while before I was bitch-slapped by the beautiful reality that life has a trillion trials, but it also has the potential for sheer wonderfulness and happiness and go-out-and-get-it grandeur. And my two little beauties can take me anywhere they want to go from the windmill-speckled spaces of Holland to the gondola-strewn streams of Italy.
Amen! Preach it, Sistah!
Oh, church ain't out yet, so just mind your pew there for one more second.
First, our happy place here has been nominated for the 2010 BlogLuxe Award. So please vote if you can. We're in three different categories, so make sure you check Enjoying the Small Things for all three categories: Best Eye Candy, Blogs You've Learned the Most From, and Most Inspiring. Thank you so much for the nomination. Click on the button below to vote, and I'll be putting the button on the sidebar here too (soon).
Thank you, thank you!
And finally, we haven't had a giveaway in awhile so how 'bout THREE things to giveaway?!
I'll choose (random.org generated) three comments to win one of the following prizes…
One of the sun bonnets Nicole makes for my girls…


(Winner can choose any bonnet from her shop, and if you order one this week, she'll refund your shipping if you mention in a note to seller, you saw her bonnet here)

And two other winners will win hand-embellished flip-flops from my friend, Suzanne's Snappy Soles.
Lainey's been wearing her flippies since she was a baby, and I just got new ones last week.
Love me some nice beach feet.
One winner will receive a skull & crossbones pair and one will receive a child's ribbon bling pair. Winners will be announced next post.
Oh, we've got a nice rest of the week ahead. A quiet wedding on the beach tomorrow night for my friend, Poppa comes in, and Brett and I will set out on the first date in a long time Thursday for our anniversary. Sounds like Italy to me. Or maybe it was Holland. Regardless…it's all good.
(Her Cabbage Patch smile…love it)