Bonnie was a total dud. And by Bonnie, I mean Tropical Storm Bonnie.
She was nice, delivering only enough showers to keep me huddled up during naptime, scouring the Internet for the cool hypothetical luggage I will be taking on my cool, hypothetical vacation which, let me add, would be a two week stay at a lodge in the middle of the mountains in Colorado where every last member of my family would be present. And it would be snowing, and there would be stone fireplaces. And we'd skip skiing just to huddle together in some big common room where we would wear fuzzy slippers and be served hot chocolate. And babies would be passed and kids would be laughing and we'd drink buttered rum and stay up 'til God-awful hours of the night, trading stories, crying, laughing, rigging up some make-shift family version of karaoke where my sister and I would deliver interpretive dance moves to I Will Survive and my brother would chime in on the chorus, stealing our hairbrush mikes and finishing the chorus to applause and encores. And, mark my words, this will happen in the next five years and when it does, I will nearly hyperventilate with joy that cannot be contained. I'm just sayin'. In the meantime, I have a product review coming up for something I've always wanted. It has nothing to do with cabins in the woods but has everything to do with things that are fabulous and red and can be worn out dancing. So…yes, to come.
Back to Bonnie. While Brett yearns for some weather drama (he thinks power outages, lighting candles, huddling under blankets in the closet and battening down the hatches is fun), Bonnie gave us nothing but some uneventful rains.
Not that we didn't make an event out of it. A couple pairs of rainboots, some cool umbrellas and a few welcoming puddles and we were set.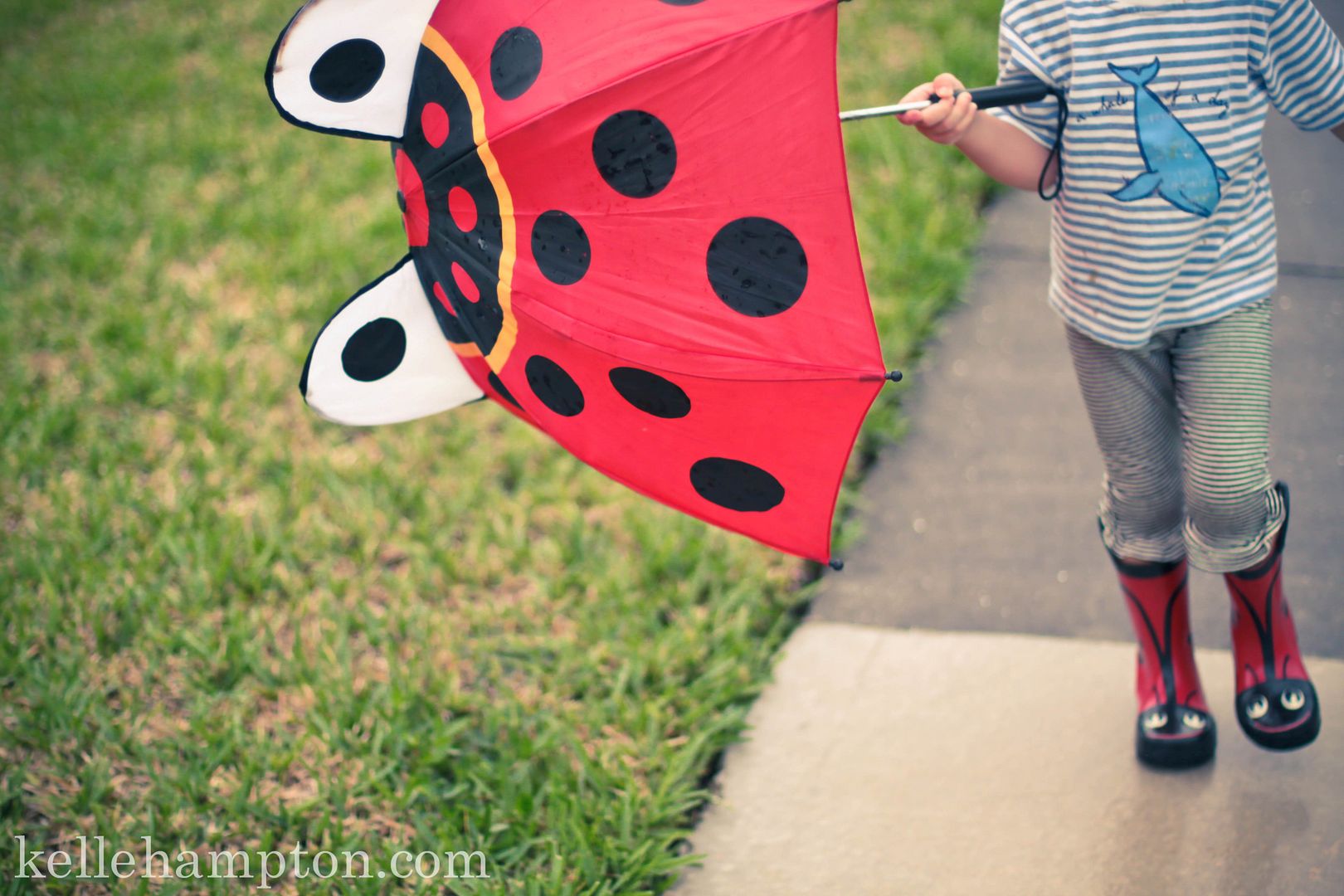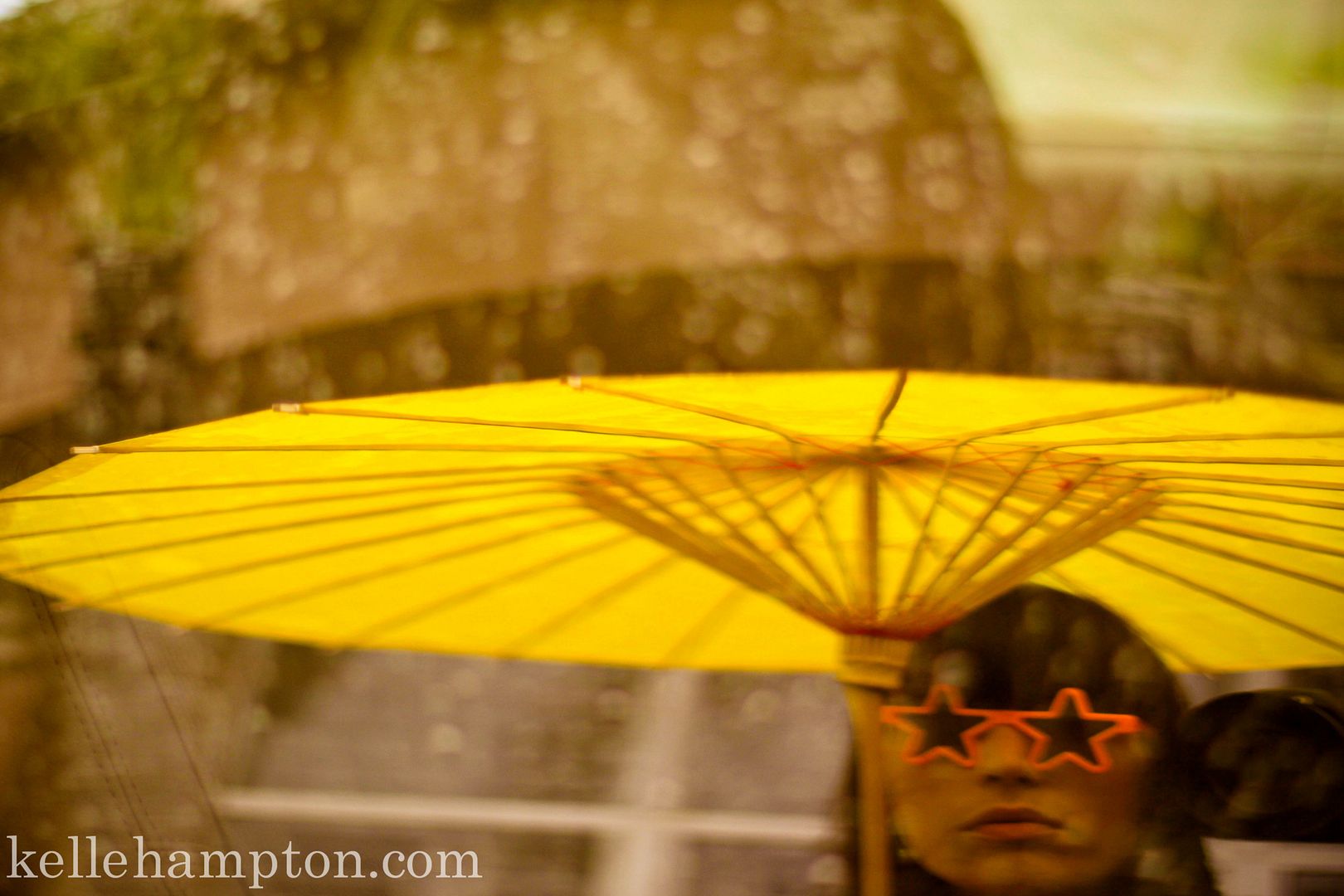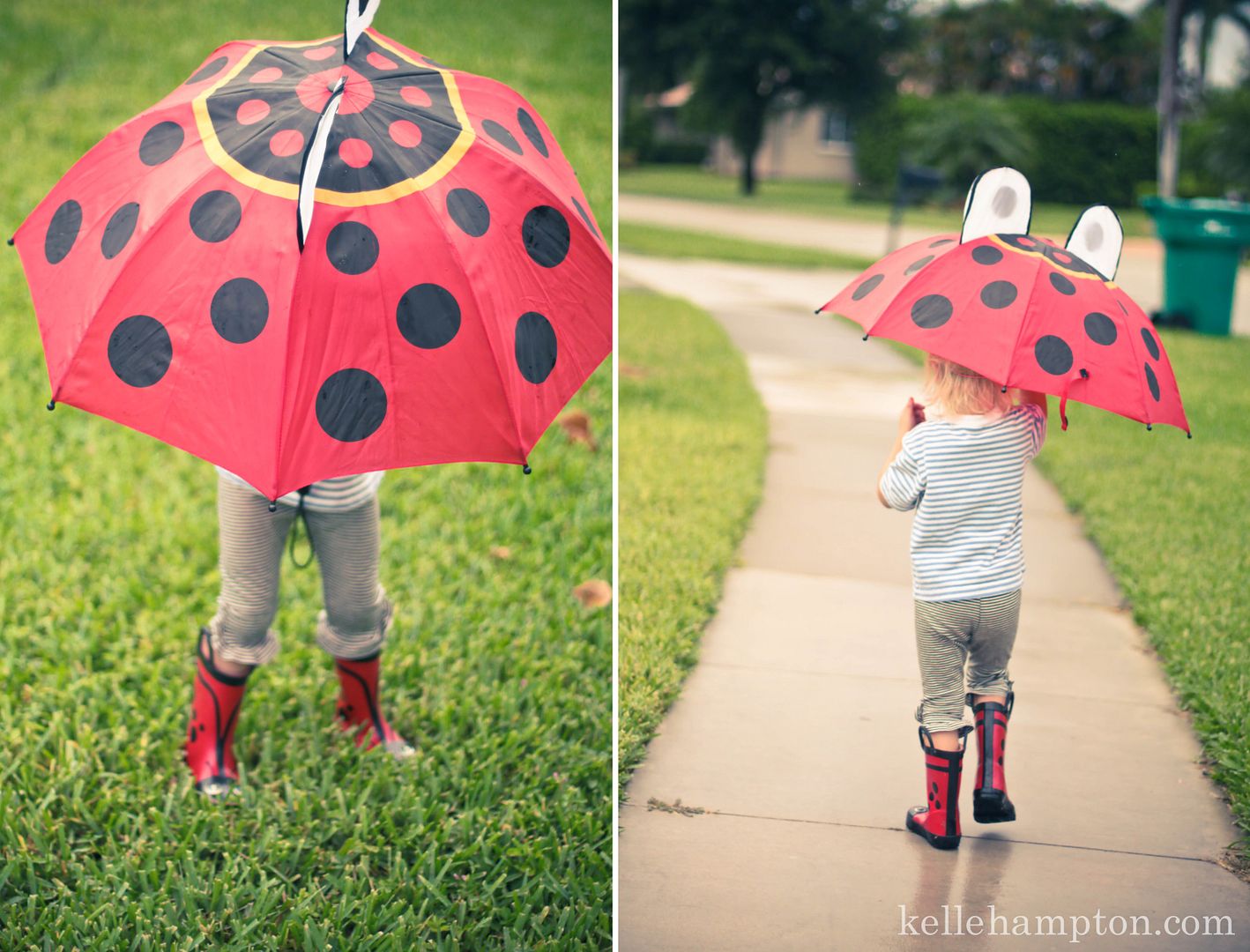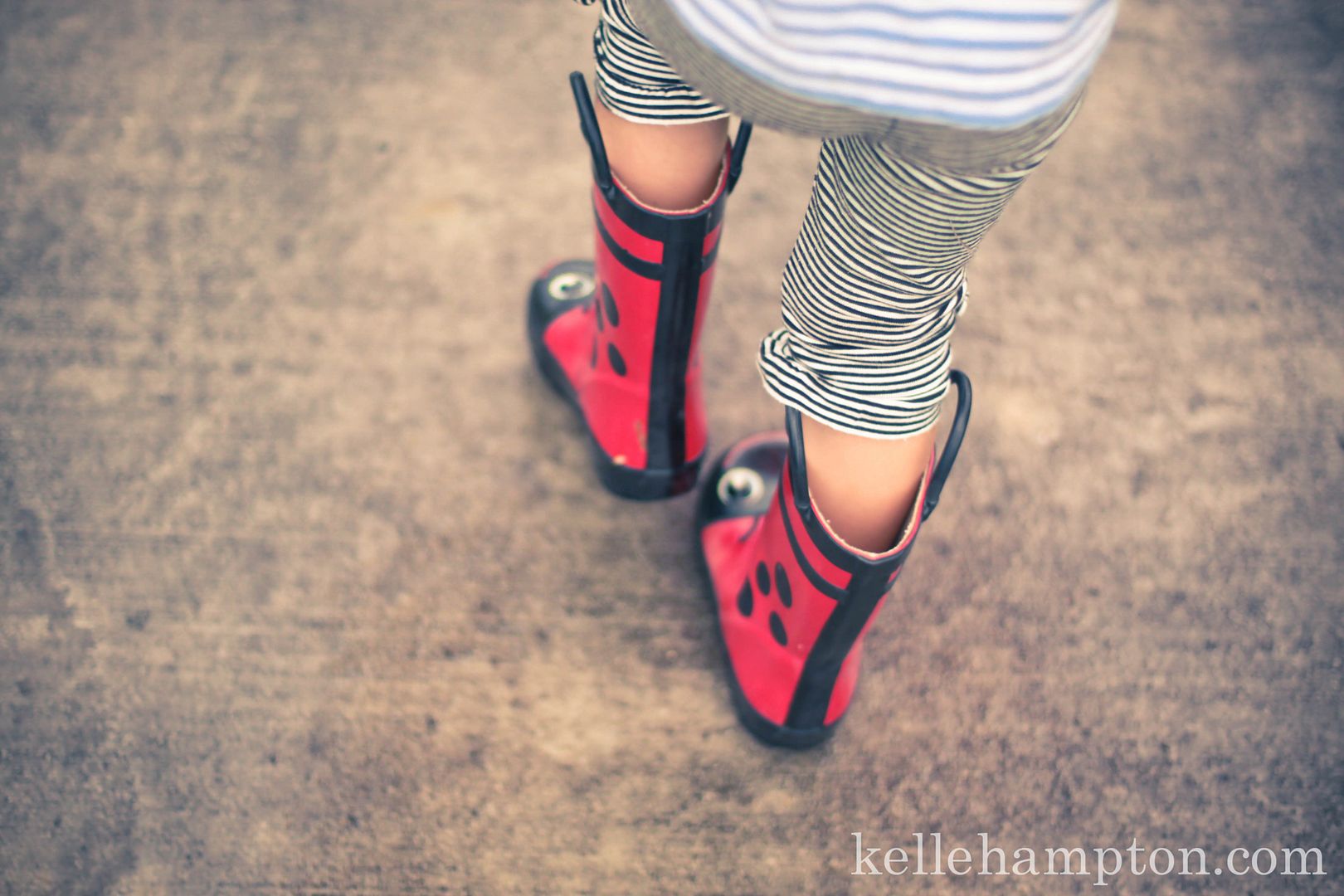 And, when all else fails, you whip your boots off and let the cold splash of dirty rain pools cool your bare feet. And you dance and you kick and you teach your kid Singin' in the Rain. Because that's what you're supposed to do when it rains.
*************************************************************************************
It's been awhile since I've bought something for our house. And I enjoy feathering my nest–even if it's something as simple as new dish towels or scented tea lights. Which is why I was very happy indeed to switch out some store-bought art above my tub for real art…a picture of my girls all sudsy and smiling. I love it. So now, when I tip my head back all cock-eyed to rinse my shampoo, I'll have something far better than painted palm trees to look up at.
*************************************************************************************
Huge news in the house this week: the goo-goos are gone. Pacifiers, that is. And yeah, they should have been out of here a long time ago, but we're just not those parents. The ones that do everything when they're supposed to. We talked about it a lot–when we would do it, how we would it it, and how exactly our girl would respond because they've been a part of her for so long. She loves them.
So, this week we colored and stickered and painted up a package for the Goo-goo Fairies. We collected every last pacifier we could find in the house and packed them up. Walked them down to the mailbox and closed the door. "The fairies will take your goo-goos to all the babies who need them tonight…and in their place, they will leave you with presents," we told her. "Lots of little presents for you to keep because you're a very big girl now."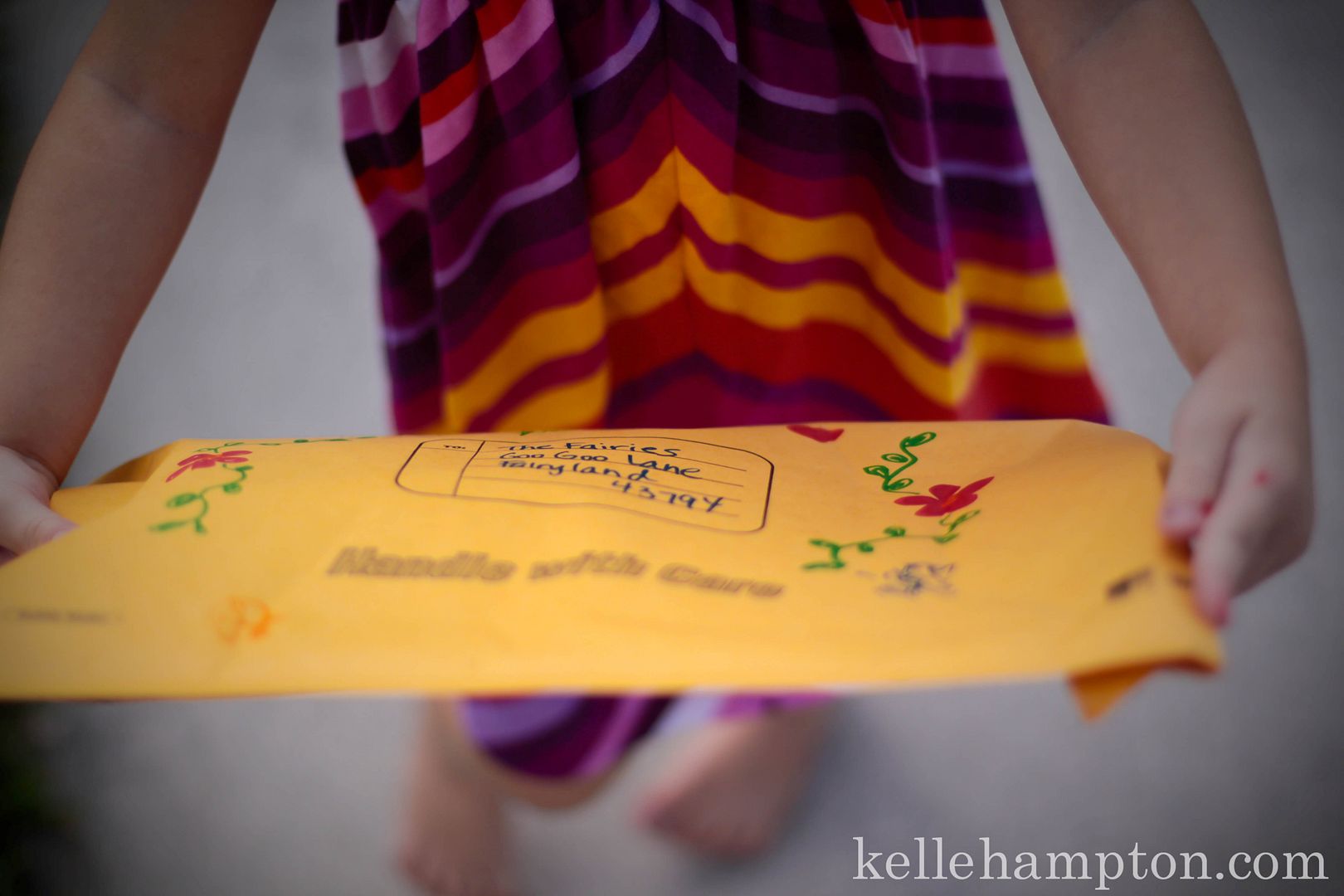 And it was a long night, that first one. She had tears the size of raisins that fell hot and hard on her cheeks as she fell asleep. And the worst part? She buried her head into her pillow at one point and lost it. "Please tell the fair-wies to save just one." At that point, I had tears too. And I realized I was probably more broken-hearted than she was. And, while it's been five days now with no goo-goos and she is moving on, Brett and I have realized it's we that are having a harder time. It was her last bit of babyhood. A silly little thing, yes, but monumental at the same time. She's big now. And there's a few shreds of glitter from the fairy dust pile those pixies left to prove it.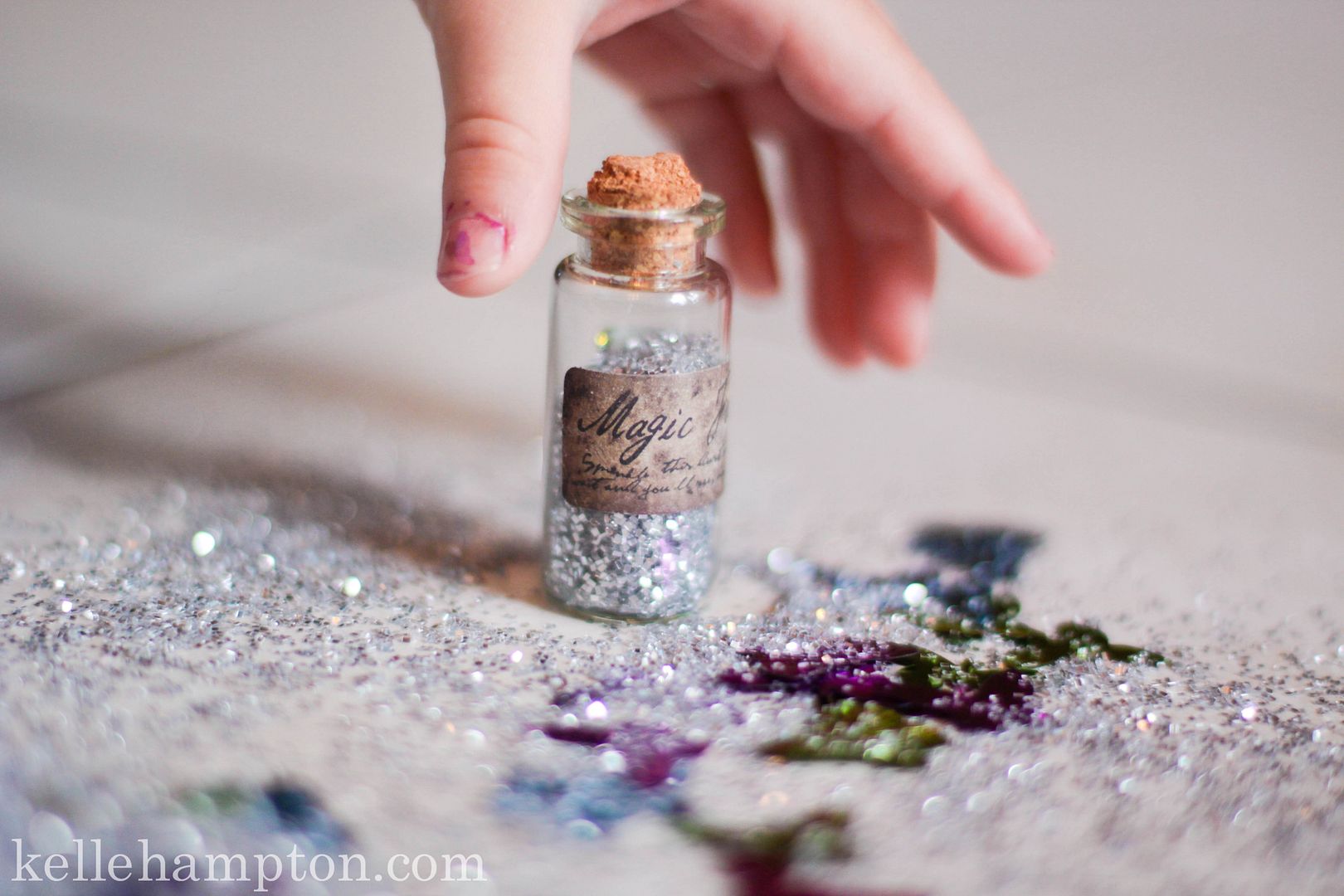 *************************************************************************************
Nella's obsessed with this twirly toy. She spins it like the Price is Right wheel and does this little cough-giggle every time it lands on the bird and goes Caw! Caw!
And she loves Cash & Rocco and they love her. I like the way Cash is holding her leg like, "Don't worry…I gotcha, Babe."
They like to lie on the big blanket in the playroom and have a stare down. Rocco's always out first because he can't not smile.
And Lainey is the best little feeder in town. She's gentle and patient and scrapes green pea residue off Nella's chin like a pro.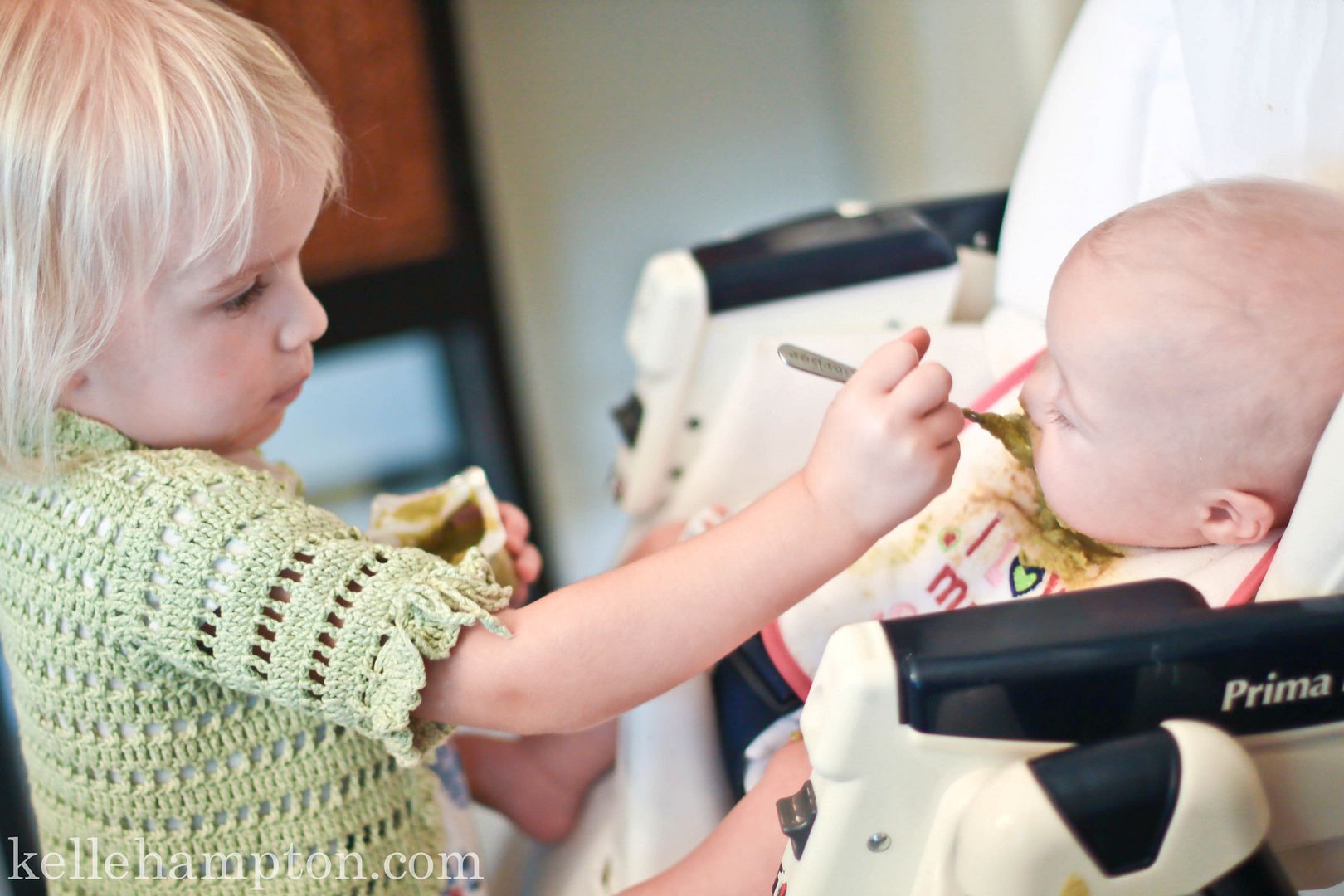 *************************************************************************************
And finally…today. Sweet today. I've been going a lot it seems lately and I've been craving settling down a bit. My girls needed some good one-on-one time. And I needed one-on-them time. So, to the bookstore we went. Lying across the carpet with a sprawl of books in front of us and we lie there, thumbing through Fox in Socks and Three Little Pigs.
Lainey makes up words to her own stories now, and I love it.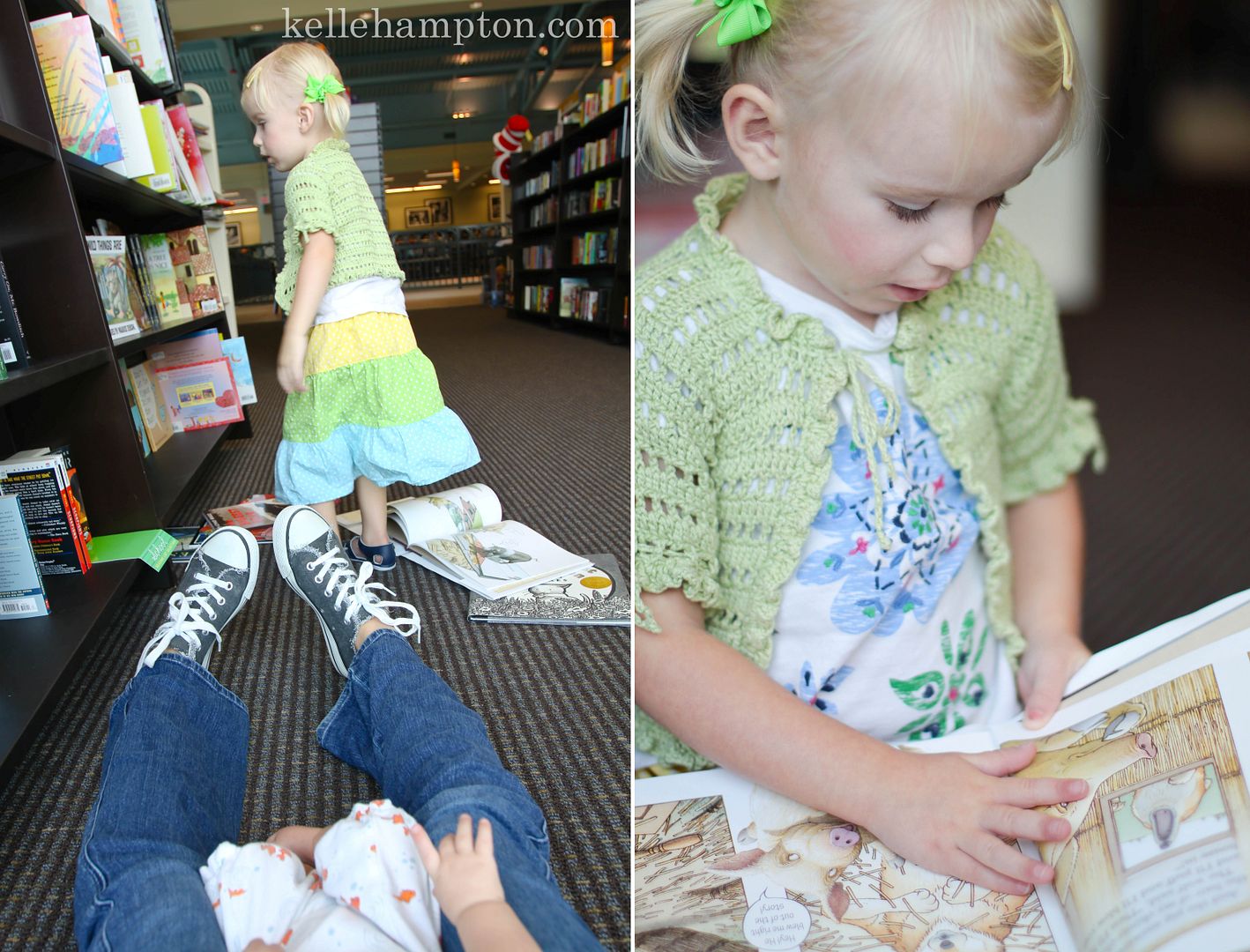 And there's more…but the dress-up trunk has just been opened. And I'm being beckoned.
Tutus and click-click shoes await.
Happy Week.