Enjoying…
Evening Writing Sessions.
I have my beloved $10 Craigslist desk out in the open where I can work during the day and still be with the girls. Where a bookshelf stacked with puzzles and paper dolls replaces cubicle walls and I can, at any given moment, slide off my red chair to lie on the floor for a game of Memory. I love that space. But, I am finding that sometimes I need to be alone. I need a cubicle maybe just once a week. So, Brett rigged up this jankety card table with some crappy polyester table cloth in our bedroom. And though I sit on a rusted folding chair and am surrounded by a pile of bills and sippy cups that have managed to accumulate on the home's newest catch-all, it's perfect for me. It's quiet. And right about 6:00, the sun gives a recital every night…just dances there in that vast space of glass door stretched before me and curtsies behind that mess of trees.
Bravo.
Halloween Candy.
I'm going to quit eating it pretty soon, I am.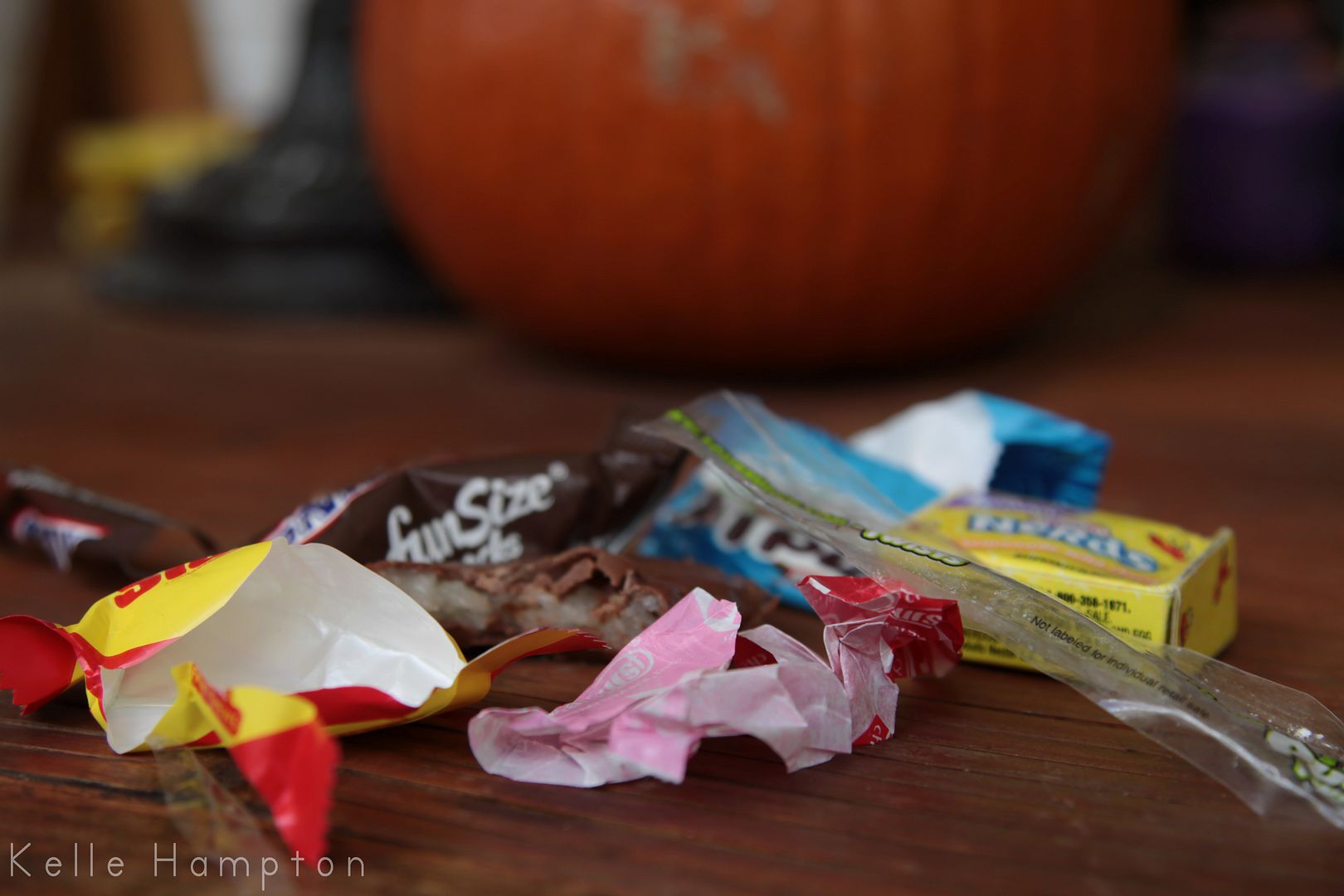 We hid it in Austyn's room, in the third drawer down in his dresser, to keep Lainey from seing it. But, then I find myself sneaking into his room in the dark while he's sleeping and pulling out the drawer to stuff a stash of mini Twizzlers and jolly ranchers into my nightgown. Our neighbor came over last night and, ten minutes into conversation, he goes, "You okay? You seem really hyper."
It's called trial-sized Almond Joys, Dude.
Playing Pretend.
Three-and-a-half is magic with Imagination peaking at this blessed Peter-Pan-ish place where everything is just so…childhood. Little voices and tiny plays performed with bath toys and trinkets and lots of asking for "let's play pretend." We run for cover in the afternoon, under blankets and pillows, hiding from pretend storms that shake the house and we tightrope across cracks in the sidewalk lest we fall in the shark-infested waters of the deep cement.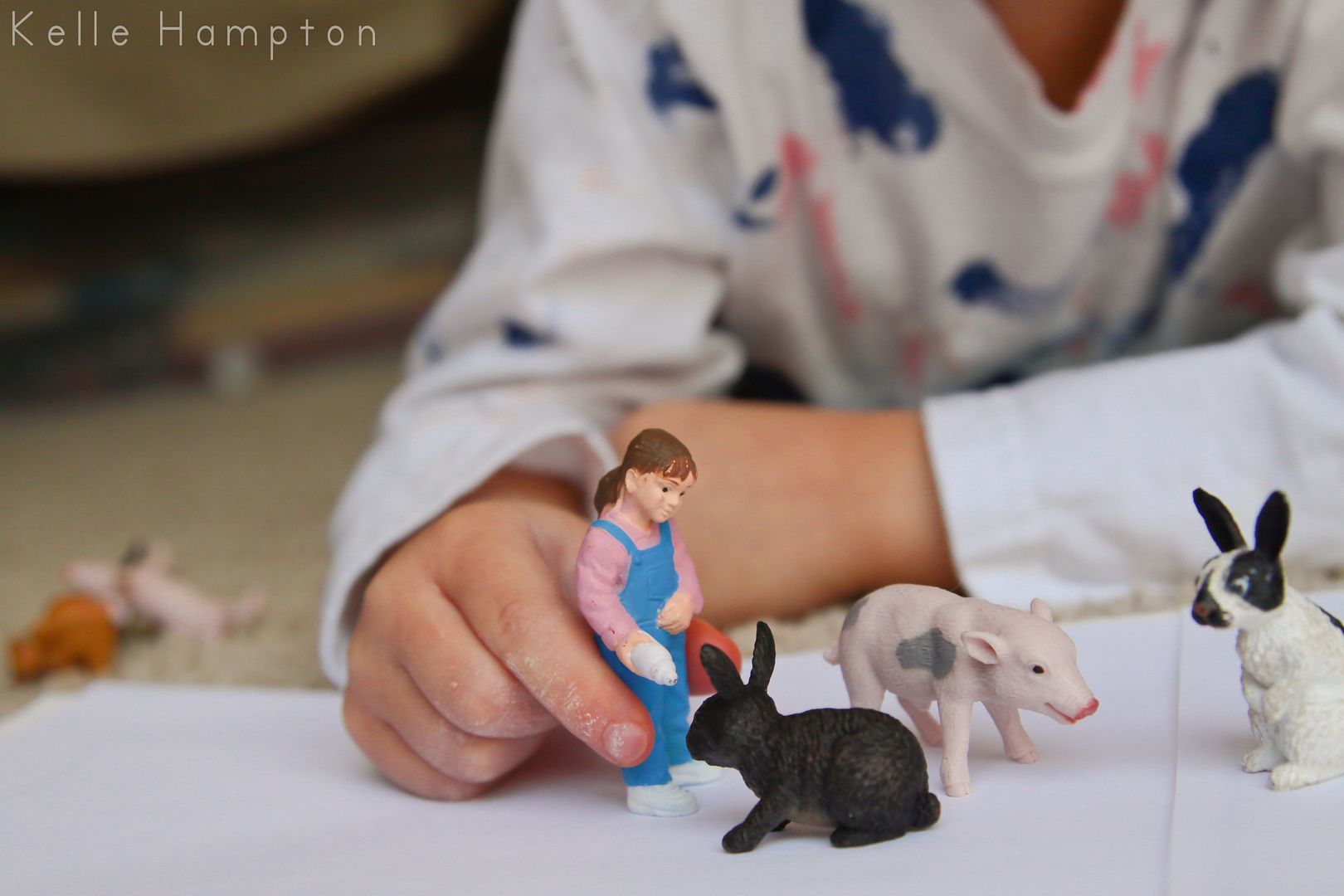 I used to want to be a child forever. Now, in loving this place, I want to have a child forever. And, believe me, it is in moments like this that I find comfort in the fact that the magic of the extra chromosome just might let Peter stay in Neverland a little longer for our family. And that's perfectly alright.
Gingham Things.
Happy little checks, they are.
Fallish Things.
Like wheat-colored stars in the back yard.
Or pretty little embellishments that take all the color of crisp, fallen leaves and up the ante on a plain tank.

Flower Clip, Lilian Eve.
Sock Feet.
And Bare Feet in October.
Having a lot on my plate, but dropping it all for moments like these…
Free Things.
So, I've already expressed my love for the lillebaby EveryWear Organic carrier which I use with Nella all the time and without, could not have trekked across four states and three layovers with two kids last month. So, when Scandinavian Child offered to send me a diaper bag by the same brand, I was thrilled. I'm constantly swapping bags between the few cheap pocket-less ones I've managed to collect, but they all end up lying somewhere with a wad of gum, a few tubes of capless lipstick and a mess of crumpled receipts.
No longer, my friends.
Totally loving my lillebaby Oslo bag which is chocked full of cool pockets and zippers making life so much easier. It attaches perfectly to my stroller with these great snap straps. And, hello…it comes in red.
You too can rock out an organized diaper bag! One random commenter on this post will win a lillebaby Oslo diaper bag courtesy of Scandinavian Child.
So, yay.
Winner will be announced Friday evening.
Happy Mid-week!