There are two kind of moments in life…Filler and Fueling.
I write about the fueling a lot. The Isle of Capris, the putting up the Christmas trees, the gathering of friends to sip wine, watch a sunset, kiss each others' babies.
But, then there are the filler. Like scrubbing the toilet, crying on a shoulder, a bad night of sleep and waking up to take care of babies with nothing but a big fat "I can rally" to get you through the day.
Today was a bit of the latter. Nothing outstanding, nothing horrible, just filler. And, after a tired rallying-through-it day, come late afternoon, I tripped over a play cash register and landed on the couch where I burrowed between two cushions to feed my hungry girl. Somewhere between her chorus of breathe, suck and swallow and watching Lainey try to wear three skirts at once, I felt the burning desire to find my fuel.
And so I chose to run. Again. As filler would have it, I couldn't find my tennis shoes. I dug through the deep piles of crap in the abyss I call a closet only to scratch my arm on a broken hanger and come up empty handed.
But, I did find an old pair of weird crossovers that look like men's bowling shoes. They feel like bricks on my feet and look really funny with ankle socks and running shorts, but they do the job. In that charlie-horse-bad-arch-support kind of way.
The filler has its place. It is the reality of life. We work, pay bills, clean house and wipe runny noses. We lose our patience, say things we don't mean and feel inadequate for what we don't accomplish.
Sometimes we cry, say sorry, regret things or wish we could escape *this* moment.
Oh, but the Fueling. I live for the fueling. And when it doesn't come soon enough on its own, I bring it.
I brought it tonight. I felt it on my run. Breathing deep, timing my feet appropriately with my steady pulse, aware of nothing more than that very moment and the anthem that was driving my motivation.
And, in that short run, I sorted it all out…to the point where I wanted to jump out in the middle of the street, stopping traffic in my man-ish shoes and singing something loud and crazy…crazy enough where people would climb out of their cars and sing with me because it was that good.
Yeah, it was fueling.
Upon my return…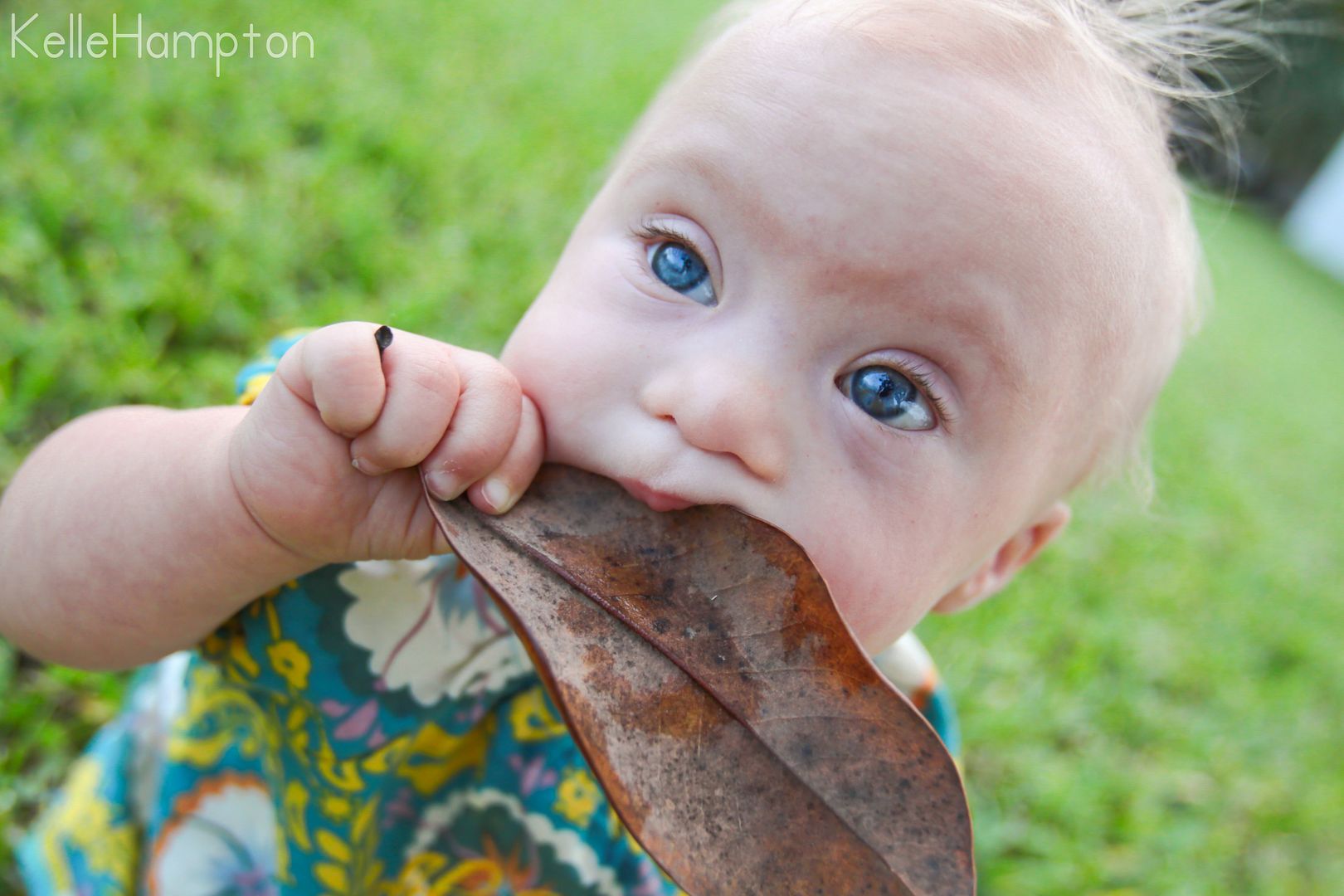 yes, I let my kid chew on leaves.
Tonight, while I folded laundry from the couch and fired off bedtime routine commands, I was also planning where the Christmas tree is going to go this year. I decided colored lights instead of clear. And I made a mental note to buy firewood because the first fire of the season is going to be here before we know it.
There's a cold front coming. And a huge box full of Michigan leaves shipped out today. You know what that means?
Fueling Moments.

In the meantime, all that filler? Sometimes, if you look hard enough, you'll realize it's not just filler.
No, there's so much fuel there too.
In anticipation of what I know will be an incredible fueling moment this weekend with our Buddy Walk, I'd like to thank you again for your support in everything you, as readers, have done since January to support Down syndrome awareness. We finally have a fundraising page up for Nella's Rockstars. (and button to the right) We are so appreciative of your support.
Check out our story among the many other beautiful ones as well on My Great Story at NDSS (Look for "Transformation" in the Family category).
I think a lot about the fueling moments. The thought alone of them is what carries me through the thickest filler, knowing that just around the corner there will soon be a night when candles flicker and music echoes and I pat the back of a sleeping baby over my shoulder in a lively kitchen where friends are gathered. There are tears and there is laughter and there is that moment when I think to myself, "This? This right here? This is fuel." We create our own fuel, you know. And I am off to find mine. It's in the everyday.