Oh boy…here we go.
Brett has this theory (among many) that when you have a moment of deja vu, it means you are exactly where you are supposed to be in life; that, somehow, if you feel like you've lived through a moment in life before, it has to mean the universe is letting you know you should be living that moment. And, I guess that's how I'd have to summarize this weekend.
I just felt like I belonged, like it was exactly where we were supposed to be.
Sometimes I feel selfish. Like why didn't I do these things before Nella? Why did it take my world being quaked to make me jump aboard this ship and would I have done it if it hadn't? Up until this point, I have done it because every day, I peer into soulful almond eyes that belong to a child that is mine. And I love her with a painful, throbbing love that makes me want to change the world for her. I want to speak fearlessly and change stereotypes and possibly stretch hearts and minds to accept my baby more because she is mine and that's what mamas do for the ones we love. We move mountains.
I consider myself a selfless person. I volunteer when I can. I give a dollar or three or four when the check-out lady asks me if I want to add a donation for diabetes or the homeless shelter or breast cancer research to my grocery bill. I cry when I read stories about children who are hurting, and sometimes I lie in bed at night forcing myself to think of how bad it would hurt to be one of those moms. And yet sometimes it disappoints me that it took opening my arms to the tiny slippery body of my baby–the one with almond eyes and little peanut ears–to make me want to look deeply into the almond eyes of the girl that sometimes bags my groceries at Publix. To make me want to hug her and tell her I think her blond hair looks beautiful tucked behind her ears or that I appreciate how she always bags the bread separately so that it doesn't get smooshed. Because, to me, she is Nella.
And I wonder if that's selfish–having to have a personal connection to make me feel it. But then, I remember that everything we learn in life goes back to connections and emotions and knowing someone who knows someone that something has happened to. We teach our kids to treat people how they want to be treated, and the suggestion of bringing it back to ourselves is selfish in itself…but it's how we learn.
It's how I've learned. Knowing what it feels like to love someone so desperately that has that extra chromosome and to slowly let that feeling seep in deeply until it goes beyond just my child…it makes me so very passionate.
And, I guess with all that said, I felt that Saturday. I felt connected. I felt like I was walking for every blessed soul with designer genes. I felt like, even if we didn't have Nella, I would have wanted to be there.
And yet, the love still bleeds most deeply for my own girls…and I'm okay with that.
So, I walked with a few names in my pocket of babies whose mamas aren't quite ready to walk yet. And I walked for all those on the path before us, all those on the path behind us.
And I walked for my girl. My beautiful blue-eyed kitten who rocks out a studded hat like nobody's business.
I say I love adjectives but words fail me now.
It was…beautiful.
I thought of what I wanted it to be in my mind. I wanted happy. I wanted dancing. I wanted a crazy celebration. I wanted to rock it out.
And, well.
I cried a little bit when the choir sang the national anthem, but I cry at that before a big game too. And I cried when I huddled with our friends after the walk to tell them how much I love them, but that's nothing new either. Other than that, it felt like a big freaking party where life is celebrated and the future is welcomed.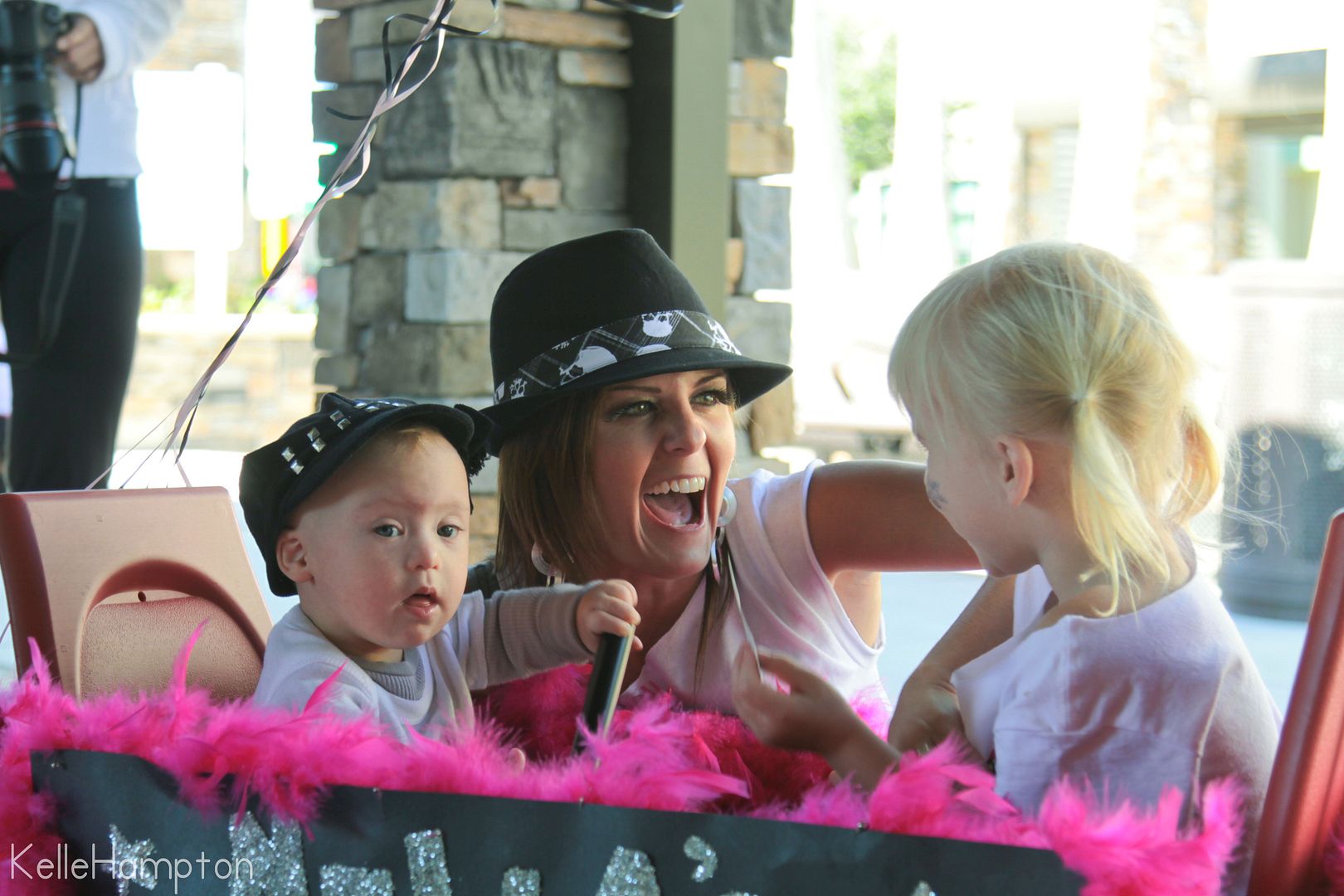 Also helped that we brought a boom box loaded with rock anthems, and my dad hoisted it over his head for the entire 2-mile walk.
And I didn't know walking across Florida boardwalks just post-sunrise with friends, celebrating the magic of the 47th and jammin' to the Black Eyed Peas was on my Bucket List, but it is now…followed by a big fat CHECK.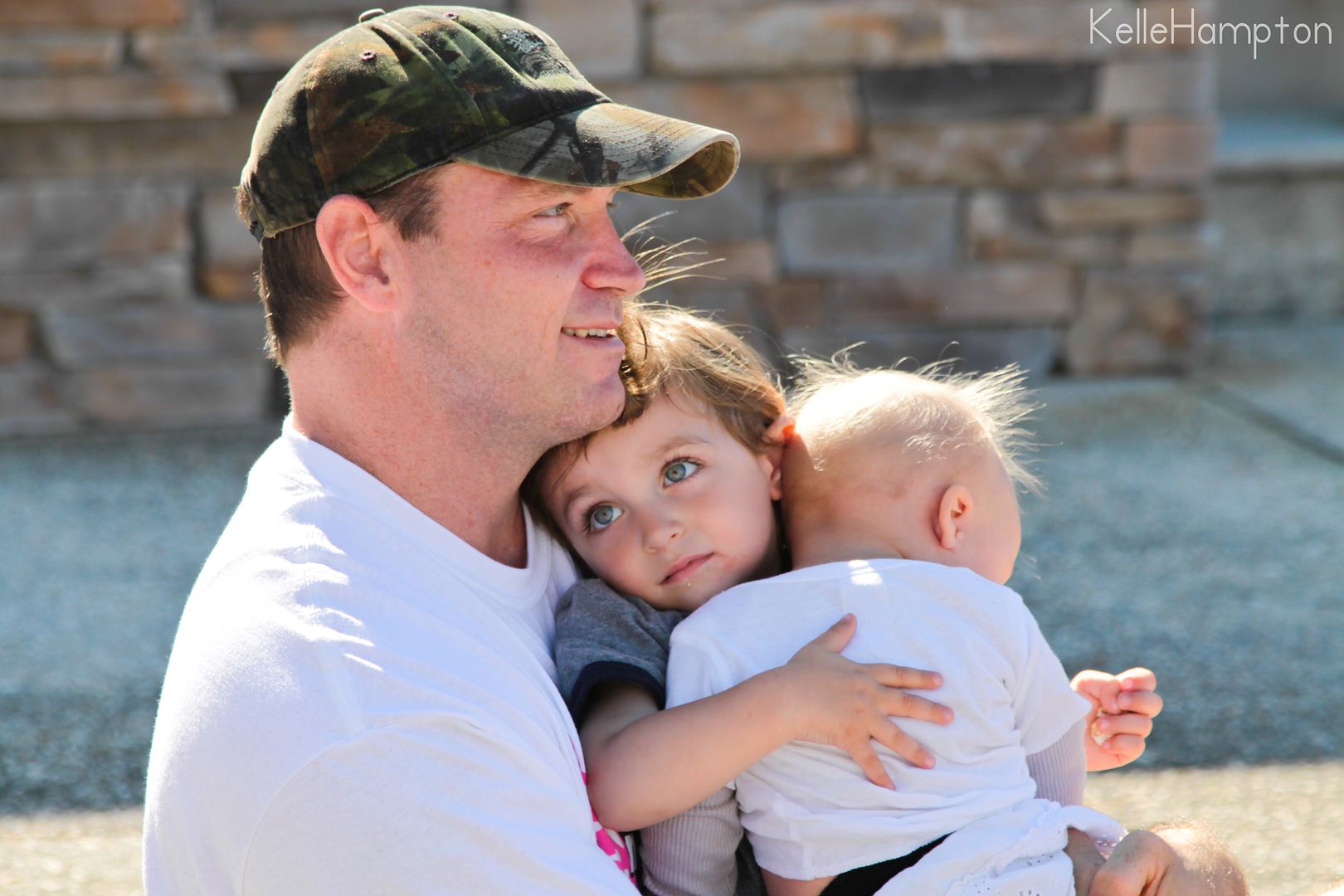 Nella's P.T. Jonah, his son, and the little rockstar herself.


The tiniest rockstar representin'…Baby Grady, just seven days old.
It was Naples' first year hosting, and our town delivered. We might be small, but we are mighty.
Thank you to everyone who came out to support. Three cheers for the Village.
Total craziness here. Coming up for air soon. But, there's good stuff this week.
Hint-hint:
We drove two hours to get the best make-shift Michigan we could find, and Bradenton, Florida delivered pretty nicely today, I gotta say.
But, that's for later.
We gotsa giveaway.
Winner (generated by Random.org) of the Vintage Pearl $75 gift certificate: Commenter #1271, Suzanne who's loving: 1. Our 3 children already jumped into those leaves last night after supper…I raked a maze for them first!, 2. A "White Chocolate" coffee flavor I found for $4.99 today and drinking it right now in my fun insulated Halloween Cup., 3. Listened to Ingrid Michaelson as I drove down the winding roads of small town Wisconsin.
There's lots of love right now!
Suzanne, please e-mail me your information to kellehamptonblog@comcast.net
And, I'm happy to announce The Vintage Pearl as a new sponsor this month. Their hand-stamped, sterling silver comes in eye-catching unique designs and makes for memorable conversation pieces and beautiful gifts. Use discount kelle10 at check-out for 10% off this week. Discount ends this Friday.
And I think that's it. Or did I already say that? Whoa, Deja vu. Or maybe, I am just right where I'm supposed to be.