Happiness is…
…making sure to jump up and tap every reachable branch above you on an afternoon run. And then screaming "YES!" after you do it.
Happiness is…
…the "I trust you" face that prefaces the stomach-flipping delight of a daddy toss.
Happiness is…
…spring driveway car washes. Preferably when the cars are small and plastic and passed down from big brothers who used to Flinstone-pedal down this same driveway years ago.
Happiness is…
…the heart-swelling feeling of "she belongs to me."

Earrings, Miss Scarlet from Linkel Designs.

Happiness is…
…a Friday afternoon ballet recital, enthusiastically performed in our living room by Dot the Great and Lainey.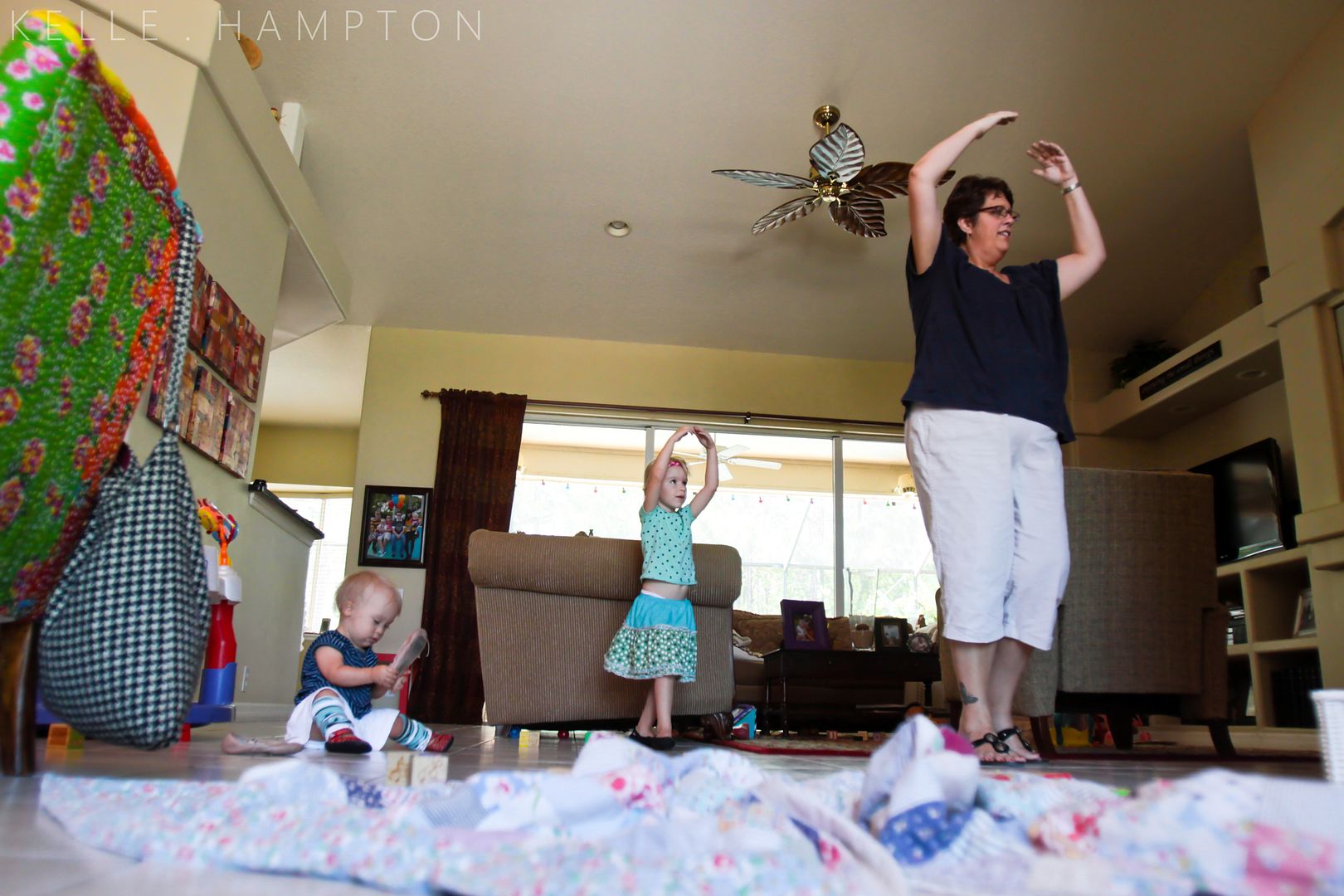 Happiness is…
…my soon-to-be stepfather who took a detour from his Orlando trip to come visit us. Yup, stepdad. Remember the EHarmony story? Well, my mom and George are happy and in love and later this spring, we will be driving to Michigan where my brother and sister and I will be giving my mom away. And that makes me happy. Because he makes her happy. And that will give my kids a fifth grandpa which is just plain cool.
Happiness is…
…four kids, two moms, and one overpriced bag of cotton candy at the Collier County Fair.
Happiness is…
…laughing at my girl who begged to ride the hamster wheel but just sat all shy and quiet in it during the entire ten minute ride.
Happiness is…
…being a kid again.
Happiness is…
…coming home with dirty feet and clothes that smelled like grease and cows and corndogs but, even better, a conked-out kid who would awaken with stories. Of rides and animals and cotton fluff that melted into sugary puddles on her tongue.
Happiness is…
…her "front gate" teeth. Crooked little pearls that make me smile.
Happiness is…
…tiny french braids. She is still and quiet as I braid, and I am careful to weave her hair as gently as I can so she continues to agree to this new braiding ritual. It makes me happy in that I-dreamed-of-this-when-I-was-twelve way. Because I always wanted a little girl who'd let me braid her hair ever since our old neighbor, April Shea, braided mine. She was in high school, she was cool, and she did the best french braids–no bumps. Because, God, there was nothing worse than going to school with bumpy braids. And I liked the way she used the wrong end of the comb to split my hair into the world's straightest part…and the way I shivered when the comb hit the nape of my neck. I'm gonna perfect April Shea's method, I am.
Happiness is…
…this.
Happiness is…
…cool contests.
I would like to announce a photo contest for my friends in the Down syndrome community. Conny Wenk and I provided photos for the book Diagnosis to Delivery: A Pregnant Mother's Guide to Down Syndrome. DownSyndromePregnancy.org is moving on to other projects, which includes several booklets as well as Spanish translations. It will take some time to complete each of these projects, and quality photography will be an important part of each of them.
If you have a quality photo of your child with Down syndrome, you can submit it to me at kellehamptonblog@comcast.net. Please title your subject line PHOTO CONTEST. Your photo may be selected to be a part of DownSyndromePregnancy's future projects, or appear on its blog.
While all photos are welcome, photography which features extended family, and photography showing fathers are of particular importance. Also, photos reflecting ethnic diversity are being sought as well. Please provide a sentence or two which identifies the individuals in the photo and their relationship to the person with Down syndrome, as well as ethnicity if important.
In order for photography to be used, the following criteria must be met:
1) You must own the copyright;
2) You must agree to full license for use by DownSyndromePregnancy.org.
3) Photos must be submitted in .tiff or .jpg files
There will be no financial payment for the use of such photos.
The text of the first booklet, "Your Loved One is Having a Baby with Down Syndrome" is complete. Photos, and funding for the design work is all that is needed to have a wonderful resource for the extended family and friends of parents learning of a diagnosis of Down syndrome.
I look forward to seeing all of those beautiful faces!
Giveaway Winner for the Bambaroos gift certificate: Comment #16, Tabitha: Thanks for sharing this today…it was good to hear and made me reminisce about my own childhood memories. also beautiful pictures and what pretty oranges!
Tabitha, please e-mail your info to kellehamptonblog@comcast.net, and some pretties will hit your mailbox soon!
Have a happy weekend. It's a good weekend for dancing.
Happiness is…
…present.
Find it.