I had a great preface to this little story in my head this morning. It was eloquent. But now it's late afternoon, I have to get ready for a birthday party, and I'm going to write thoughtlessly…but heartfelt.
I was in the bedroom last night for just a moment while the girls tore through a pile of toys in the playroom and Brett kept an eye on my potatoes in the oven. And in the five seconds I was out of sight, I heard a mild little crash and waited for a cry. Instead, I heard Brett excitedly call out, "Mama, we need you" followed by an urgent and escalating, "Code Red, Code RED, CODE RED!"
Of course, a mama comes running.
Except, instead of the tragic scene I was expecting, I sprinted to meet my husband, beaming. He was pointing. At Nella.
And I turned to see my girl. Standing at the coffee table.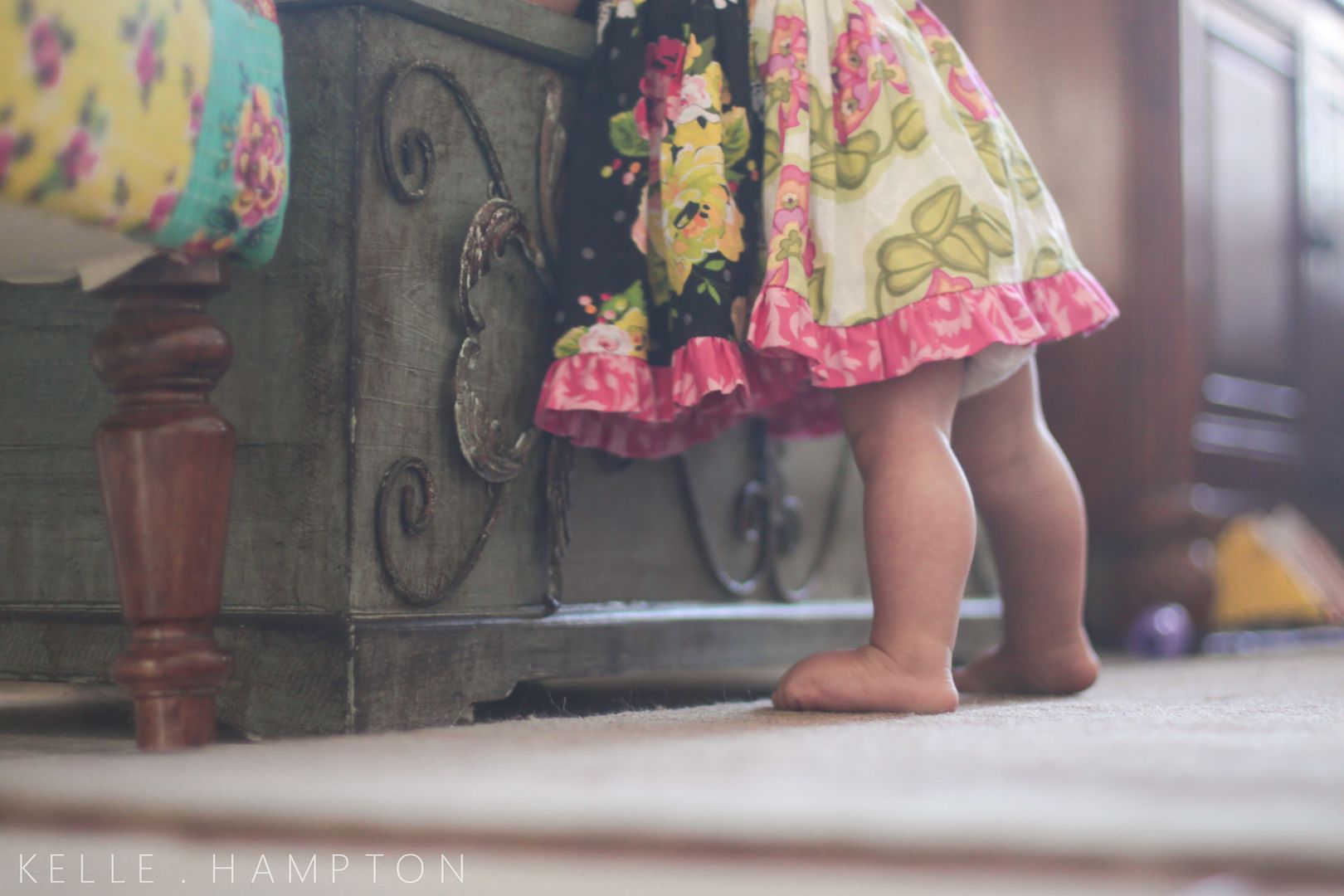 You might think standing at the coffee table isn't a big deal.
But it is.
My girl proudly pulled herself up, with no help, and stood. Because she is strong.
I remember the day Lainey took her first steps. And how we clapped and cried, celebrating another page turned in the epic novel of life. It was a very big deal, indeed.
And I remember the day we heard the words "delayed milestones" and how we thought that would be very, very hard.
I hardly ever think about "delayed milestones." I like the way she skids her belly across the floor to crawl, the way her body forms like putty in my arms. And though every once in awhile, I wonder if she knows she can't quite keep up like the other kids–and that question alone saddens me–it is fleeting, turned off with a powerful switch I control. But, you know when I think most about delayed milestones?
…when she nails them.
It is beautiful. The depth of her proud smile, the reberverating echo of clapping, the way her sister runs to pat her on the back and sweetly chirps "Good job, Nella" or that tiny little second I share with Brett…when our eyes meet and smile and blink back a tear or two because we share the fact that she is ours, and she is growing.
When they tell you your child will have delayed milestones, it means less that you will struggle and ache for those events to come but more that when they do come, your heart will leap, your soul will celebrate and your arms will stretch to hold and kiss the growing one that forever surprises you.
Yesterday, we celebrated standing at a coffee table like it was walking first steps. And in a way, it was. She knows she's strong now. She's aware of her capabilities. And we will continue to encourage that awareness, applauding and praising the ever present gifts our beloved littles possess.
And, in this moment, I am reminded of some of the best advice I've received this past year.
"Put the Down syndrome books away. They'll be there when you need them. Instead, go out and buy a copy of a book you'll find more useful. Dr. Seuss' Oh, the Places You Will Go."
My sweet girls. You are capable, you are loved, you are celebrated.
And oh, the places you will go.