This kid is going to walk soon.
Yesterday, I swore it was going to happen. She got up on sturdy legs, stood there for over a minute, smiling, and I told myself, "She's going to take a step and you're going to cry." It didn't happen, but it's close and I'm realizing just how much I've loved having her little for so long. First Steps is the bridge out of babyhood. You know going into this special needs thing that your baby will most likely walk late and while for some that is difficult, for some not so bad–first steps seem to turn the page toward the next chapter. The first chapter has been so good and it's felt incredible to sit back and enjoy it. I will miss her crawl and yet I will applaud her moving forward.
You walk when you're good and ready, Sister.
*****
After waking early yesterday morning, we dropped off some goodies to teacher friends where I used to work. Nella, still dressed in her jams, sat at the reading table and neatly shoved powdered sugar donuts in her mouth with just a trace of powdered mess that followed.
Yes, that's a hundred in her hand. Someone owed someone money, slapped it on the table and Swiper took it because she knows a good thing when she sees it.

The Queen and the Sceptre

*****
We're working on Halloween costumes this weekend–turning an old wrinkled dress into Little Bo Peep and a onesie and a hat into a sweet little sheep. More to come.
*****
The week closes with the stomach-dropping rush of a good swing push and the squeals that follow.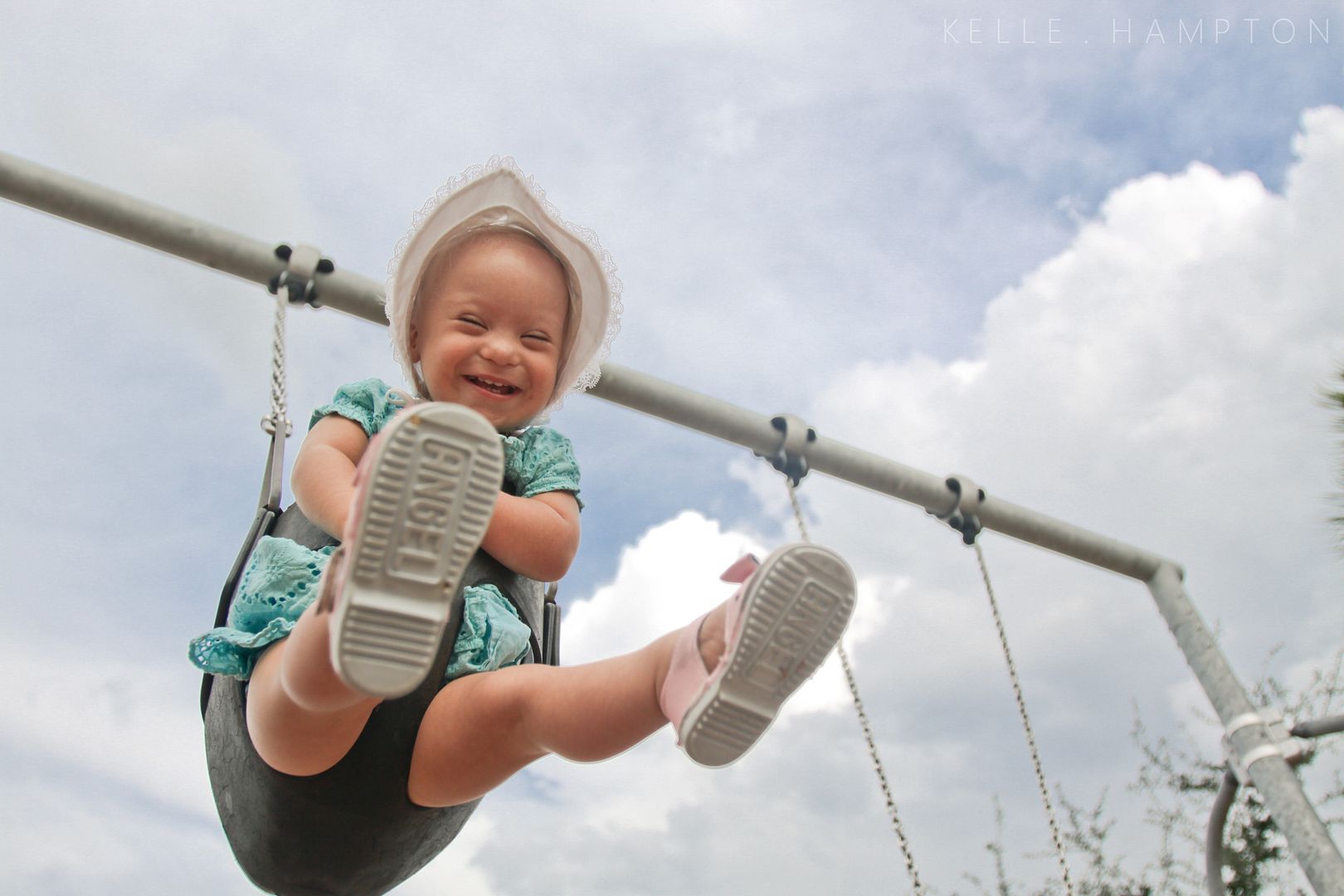 I miss old-fashioned parks with old-fashioned swings and wooden bridges and merry-go-rounds and climby things that don't look like space-age contraptions. Other than the swings and slides at this park, we kind of just stare at everything, wondering how you're supposed to use it. Which is exactly what I do whenever I go to the gym (which is never). I'm afraid I'll start pulling something with my arms that's meant to be pushed with my feet, and some hot guy will come over and tell me I'm using it wrong. This has happened. And it's funny, but what is funnier is that I'm talking about the gym like it's a part of my life right now when my exercise comes in the form of following these girls toward the places they go.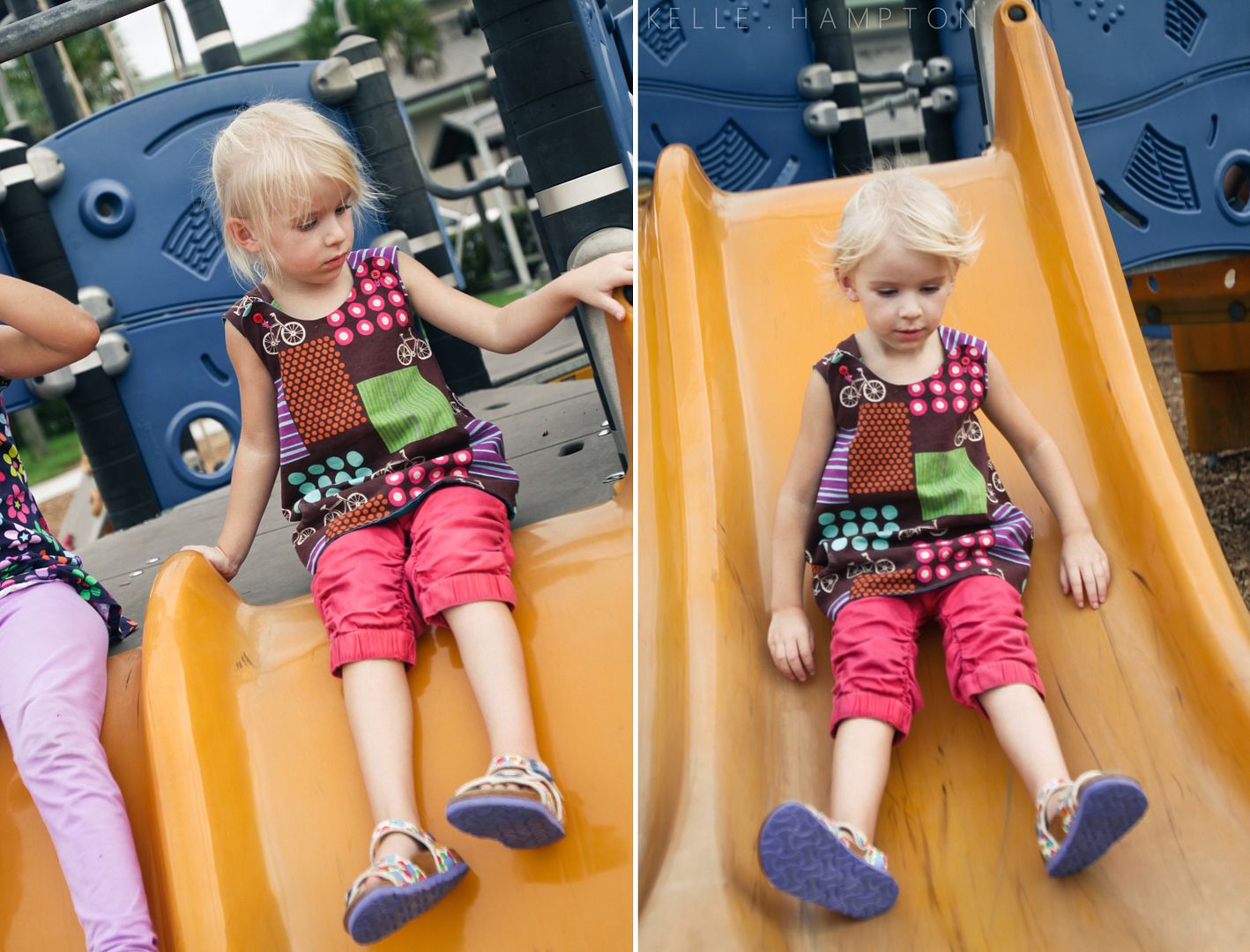 Lainey's shirt (also works as Nella's dress) from the amazing, talented Kiki at The Measure
Those places led us on a boardwalk path last night–around a lake, through tall cypress trees and straight into long rays of sunshine that cast tall shadows.
I have a girl in cleats and shin guards waiting for her first practice tonight, and I will smile until my cheeks hurt.
Happy happy Friday.
*****
Friday Phone Dump:

Third row, last picture: Nella fell asleep in the Target cart

And two I had to pull out of the collage because I loved them too much to downsize:
Friday Phone Dump photos are taken on the Instagram Iphone app (free) and dropped into a 12×12 collage. I am etst on Instragram if you want to follow the feed.
*****
Listening to THIS (thanks, Meg) and THIS this week.
*****
Spark Energy drink giveaway winners are:
Comment #219, carrie: Fall is my favorite time of year. Cooler weather and the upcoming holidays around the corner
and
Comment #21, Christine Gottemoller: I love your use of "fall freak flag." Makes me laugh. And honestly, your girls are some of the best dressed cuties I have ever seen.
Ladies, please e-mail your contact info to kellehamptonblog@comcast.net with the subject line GIVEAWAY WINNER. Thank you!
*****
Tomorrow is October. I want to find a cornucopia, climb up in it and never come out. Fall Freak Flag–Find it, unfurl it, wave it high. And have a happy weekend.