"Your dad's on Hampton Time again," I muttered to Austyn as we waited for Brett from the car. I honked two quick taps of the horn, convincing myself two quick taps was several notches below the rudeness of a steady honk. Actually, I wasn't worried about rudeness. I was worried about annoying the neighbors because what I really wanted to do was lay on the horn until Brett walked out, and then I wanted to follow up with a bitchy "What took you so long? We're going to be late." But I didn't.
While we waited, I looked down to study my shoes, a pair I hadn't worn since my teaching days. "These are ugly," I thought. "I look like a pilgrim." For some reason, though, our annual Christmas photo propels me to experiment with forsaken looks in my closet. And new hair styles. Which explains why I felt the need to pull out the Bump-It last night—that T.V. commercial gadget that wedges against your scalp and hikes your hair up all Bridget Bardot.
"I'm hot," Lainey cried.
"Who said you could wear my shoes?" Austyn snapped at Brandyn.
"Oh my Gosh! Your dress!" In a moment of panic, I lunged to fix the crisp cotton I had ironed an hour earlier that was now folded and crammed beneath Lainey's car seat straps.
And then Nella reached up and pulled one ponytail out. And I honked again.
This is how it goes every year and honestly, it's completely ironic in that the annual family Christmas card photo is intended to epitomize all the love and peace-out vibes we cherish and yet, any fragments of Miserable Bitch that secretly dwell within me have a habit of rearing their ugly head come family photo shoot. I have this vision that during one of our normal beautiful family moments, when we're all lounging around the living room and golden light is streaming through our front windows, a photographer will miraculously knock on our door and ask to take our picture. That's my dream card—real life, good back light and a whole lot 'o love. I am magnetically drawn to the charm of candid shots—of mismatched clothes and wrinkled noses, heads tipped in laughter, and the comfort that comes from not realizing there's a camera in your face. Yet I fall into the trap, every year, of obsessively planning that one perfect shot and doing anything and everything to make sure it happens.
It's in my blood, though. Both of my grandpas were photographers. In fact, I have an eight-year gallery worth of Cryderman Family Christmas cards framed in my hallway like a shrine, and, no doubt, some of these captured moments included scenes much like ours last night. Except my grandma would never, ever have honked.
Take 1957, for example:
You think my dad didn't complain about having to wear a suit and bow tie for that shot? You think my Uncle Dale enjoyed "nonchalantly" holding that log over the fire for fifteen minutes until someone wasn't blinking?
Or try 1955:
As if letter tiles conveniently lined up on the carpet to spell the family name were just an ordinary part of every day.
I'll let 1948 speak for itself: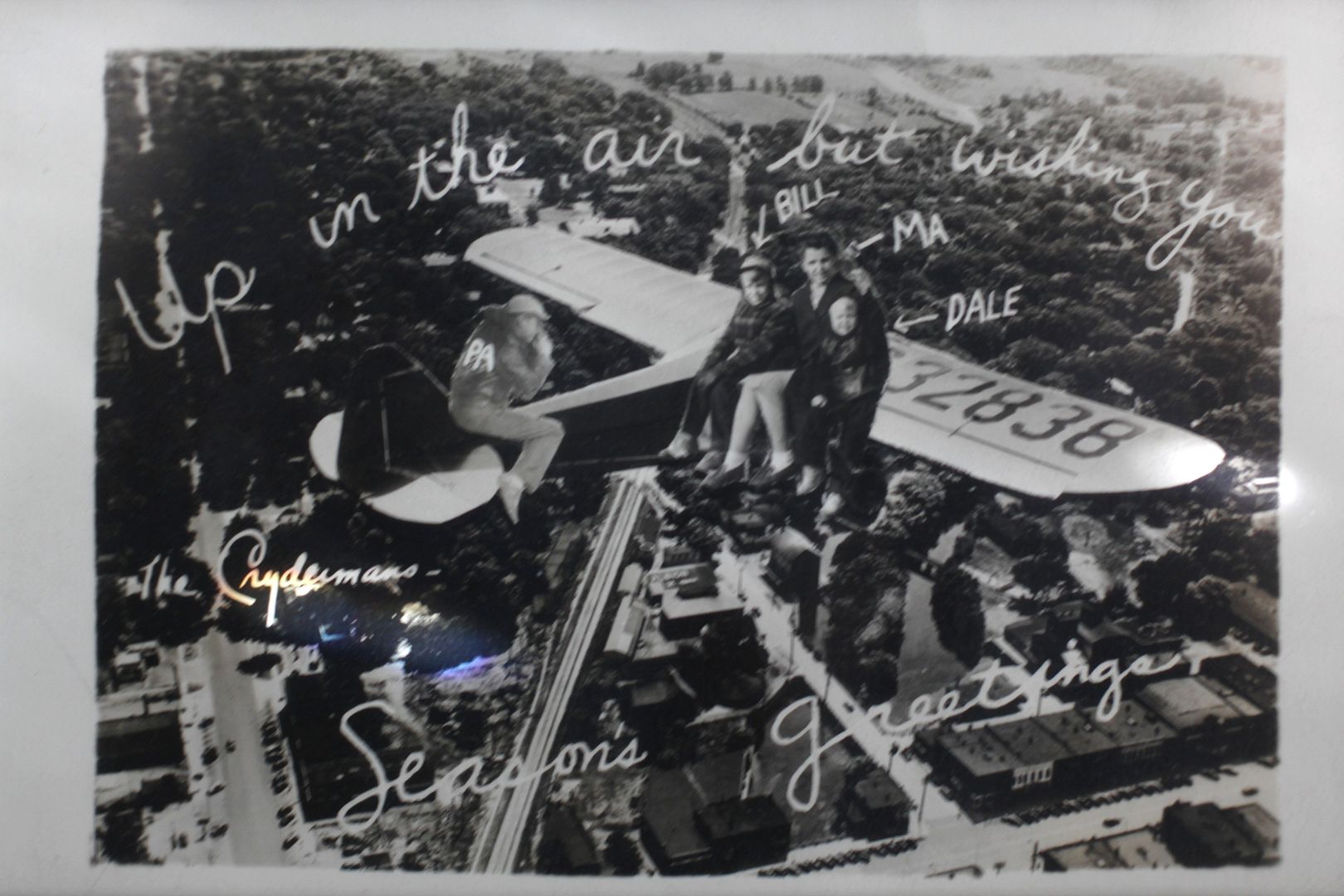 That one was not posed. Swear.

One of my favorite Christmas photos from our own family was taken when I was about seven. That oh-this-happens-everyday vibe we were going for? We almost pulled it off. It was brilliant: Christmas tree magically glowing in the background, the perfect colored-light bokeh, kids in pajamas, my dad's Bible open on his lap with the tiny print of "Luke 2" barely visible from the pages. And our family arranged in a slightly imperfect semicircle around him, our expressions manifesting that we were simply riveted with the story of No Room at the Inn. Except, in the background, you notice someone failed to remember to turn the T.V. off before the camera clicked. The jig is up. We were captivated by MTV, not Luke 2.
Brett made it to the car last night, and the hour that followed was full of wild chaos that included flying rocks (don't ask), gawking strangers, and commands to "straighten your shirt," "stop squinting," and, I'm sorry to say, "God, can't you stand more natural?" Family Christmas card shoots don't exactly bring out the best in me, and I'm not proud of it. Brett begged to never wear the jeans I made him wear again ("I can't breathe!") and I actually had to cut slits in Austyn's sleeves to fit his biceps (a fact, I'm sure, he'll be sharing with as many girls as possible). Although the night might be summarized with the simple phrase "We'll Photoshop it out," we did it. With a head swap or two, I can say we got "the shot."
This morning though, I browsed back through the folder of images from last night, sipping my coffee and making note of the obvious disconnection of this moment, right now, and the forced perfection in our photos. I love them–I do. But, for a second, I had half a notion to ditch them all. To start new this year with effortless candid shots in a card that would represent my favorite moments with our family—the raw and real life ones that aren't so color coordinated and certainly don't involve hauling kitchen stools to hotels where we sit in a strategic symmetric huddle and smile. Un-posed is far more us and far more endearing.
But, you know what? This is us too. Once a year.
We've been doing this for a long time, and someday we will look back and laugh, retelling stories of cut sleeves and too-tight jeans and the wife who rudely honked in the driveway. Someday, our cards might be framed in grandchildren's hallways, and they will laugh at our ugly shoes and my Bump-It bouffant and our color coordinates. But they will love them.
Who we really are is made up the well represented moments of imperfection that happen in our home every day—where we don't stop to smooth out the wrinkles. We've captured so many of them.

Nella's not feeling well today. She doesn't want to be put down, and she doesn't want to let go of her tissue.
But that once-a-year occasion where we Photoshop stains and stray hairs and snap at our kids to stop squinting and "act natural"—it's part of who we are too.
It's tradition, and I love me some holiday tradition.
*****
Congratulations to winners of the $25 gift certificate, courtesy of The Adorned Adobe:
Comment #178, Michelle: Your photos with quilts get me every time. XOXO, Missy from Indiana
Comment #36, Lovely Love: loved this post! you are too funny! i totally pictured you cartwheeling and dancing in my head lol! the pic of lainey on the beach with her "glass of wine" i loved! she looked so pretty and sophisticated and it gives you a glimpse of the amazing woman she will be one day. i needed this. i had a tough week last week, tough weekend, and today kinda sucked too. thank you 🙂

Michelle an Lovely Love, please e-mail your contact info to kellehamptonblog@comcast.net to redeem your gift certificates! Thanks.

*****

This week Dashing Bee joins us as a new sponsor. Dashing Bee provides a great online source where you can shop for inexpensive consignment children's clothing, gear, toys and more. For anyone who loves shopping consignment, you know how great it is to score unique items that cost you less. I found some great items from Dashing Bee that satisfied my stripe obsession. Plus, I love that Lainey had this same sweater when she was little, and it's always been one of my favorites.
Each month, Dashing Bee selects a charity benefiting children that receives a portion of their proceeds. Use Code ENJOY5 for 5% off your consignment order. Happy Shopping!
*****
And now, I leave you one blurry sneak peek–the reward of our efforts.
Any funny holiday card stories? Family photo traditions you love? Do tell.