It's
still
Christmas, we are saying–because I need to say that to stave off the blasted decrescendo of post-Christmas let-down. When I was little, I think every year on the night of my birthday, I curled up into a pathetic sulking half-moon on my bed and cried that it was over–all the festivities I had anticipated for so long. Nothing to show for them but some crumpled gift bags, a few deflated "Happy Birthday" balloons and a wilted Christmas tree that only reminded me I had to wait an entire year to feel it again.
And I realize now how silly I was.
There are so many special and celebratory moments and events that are evenly woven into more quiet months, and I'm excited for what a new year will hold for our family. I'm excited about moving forward.
Not quite yet though. Still lingering a little longer right here.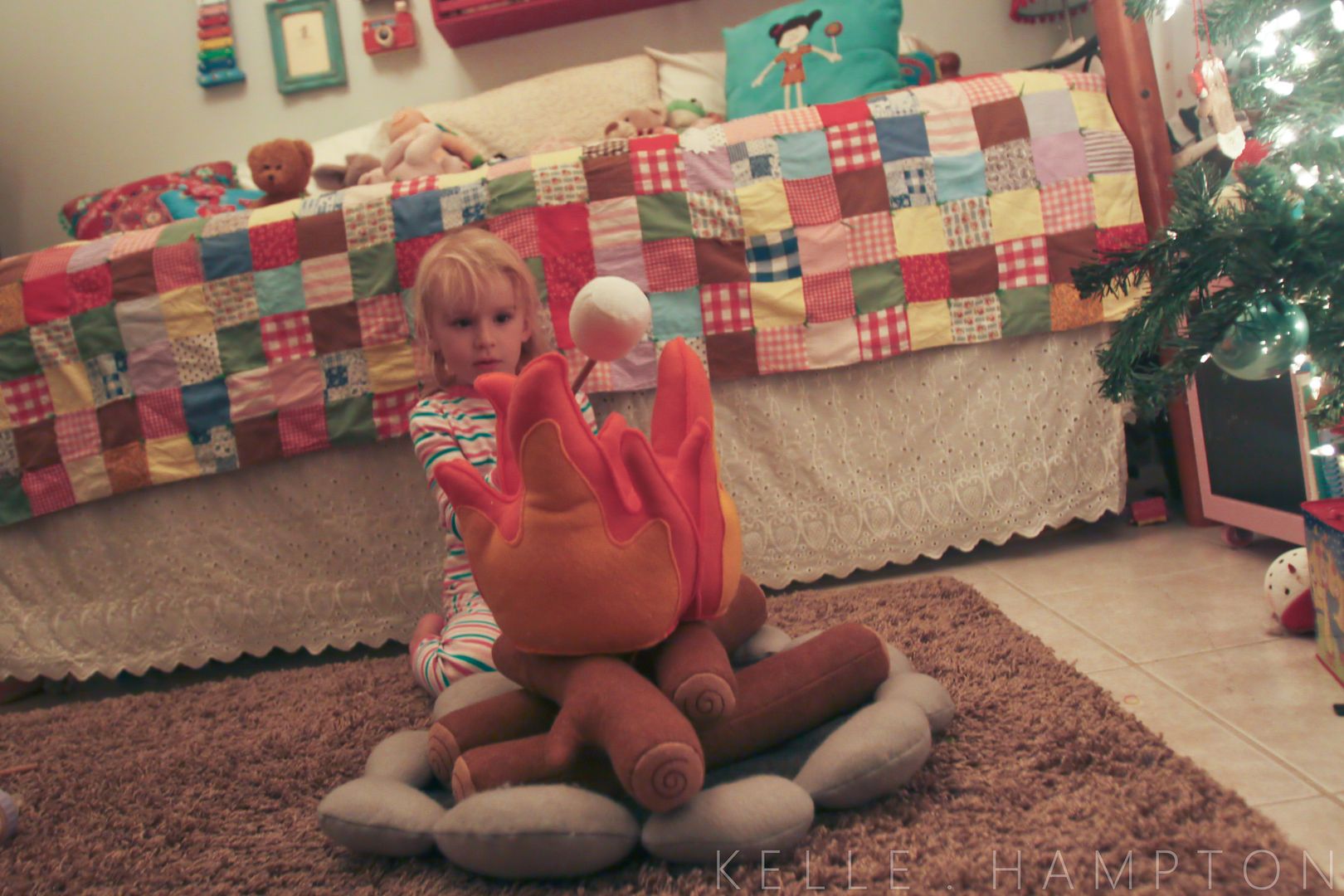 Brett's parents got Lainey this campfire. It's the bomb–so much I've played with it myself…without the kids.

We excitedly scurried Christmas Eve, tying up loose ends, taping up the last gifts, and stocking up on good cheese, red wine, and little treats we wouldn't ordinarily splurge on. Like maraschino cherries and bleu cheese stuffed olives.
Lainey wanted to make cookies that spelled out Santa's name. I went through all the trouble of tediously whittling a butter knife through dough that kept falling apart, and then I burned them later and threw them out. Thankfully, Lainey forgot.
Christmas Eve night? Dreamy, dreamy. Lainey's excitement emanated from her smile, her breathless fast talk, her eyes that got big when she listened to our play-by-play of just what would happen that night.
We left this little doll next to the reindeer food so the reindeer could have "something to play with while Santa's inside," as Lainey brilliantly schemed.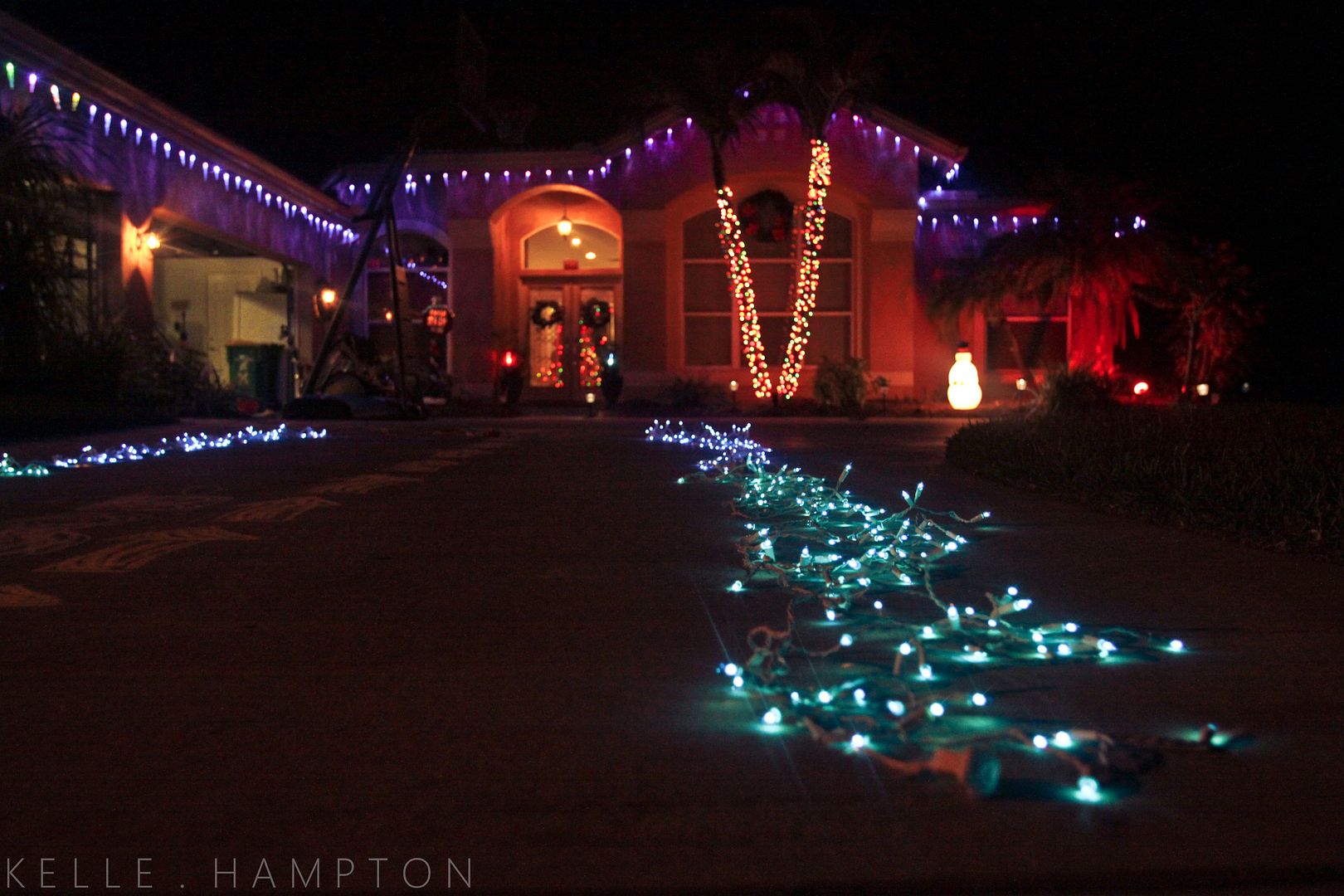 Sleigh Runway, courtesy of Daddy
I wish I could say this candle thing has some deep ceremonious meaning. You can make one up as you see fit. Really, my kid just likes candles and every special event in our home (birthdays, anniversaries, tossing a shirt and having it land in the laundry basket on the first try) includes some kind of lights-turned-off/candles lit/made-up song ceremony.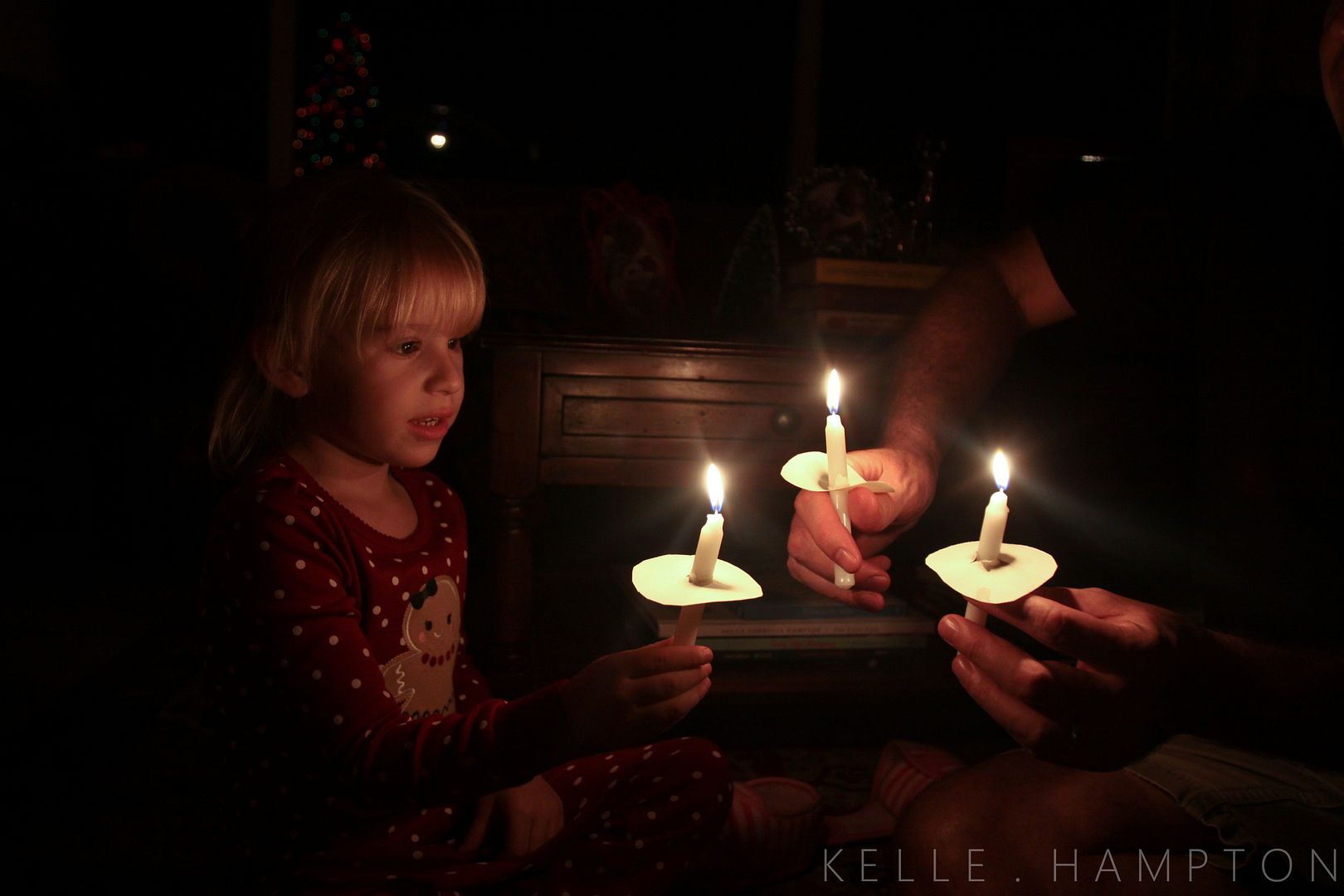 This year, we swayed our candles back and forth while Lainey commanded us to repeat after her. Like "Happy Christmas, I love you, Reindeer are coming in the sky, Nella don't touch my candle."
It was beautiful funny.
I stayed up far too late Christmas Eve–wrapping, rolling dough, making sure everything was just right. And it was so entirely worth it when I finally slipped into bed and kept my eyes open just long enough to take it all in–the twinkly lights above our head board, the babies next to us, the silence in the darkness and the gratitude that engraved a little deeper within. Amidst my exhaustion, I felt content.
The boys arrived late Christmas Eve and come morning, when Nella was the first to welcome Christmas with her fingers curled over the edge of the crib and her whipered "Hi" to wake me, everything fell into place like snow on fir branches.
I quietly snuck Nella out to keep her from waking everyone else up, but she spotted the baby stroller next to the tree, and Sister could not be contained.
So we went and woke up the entire house so we could get on with it.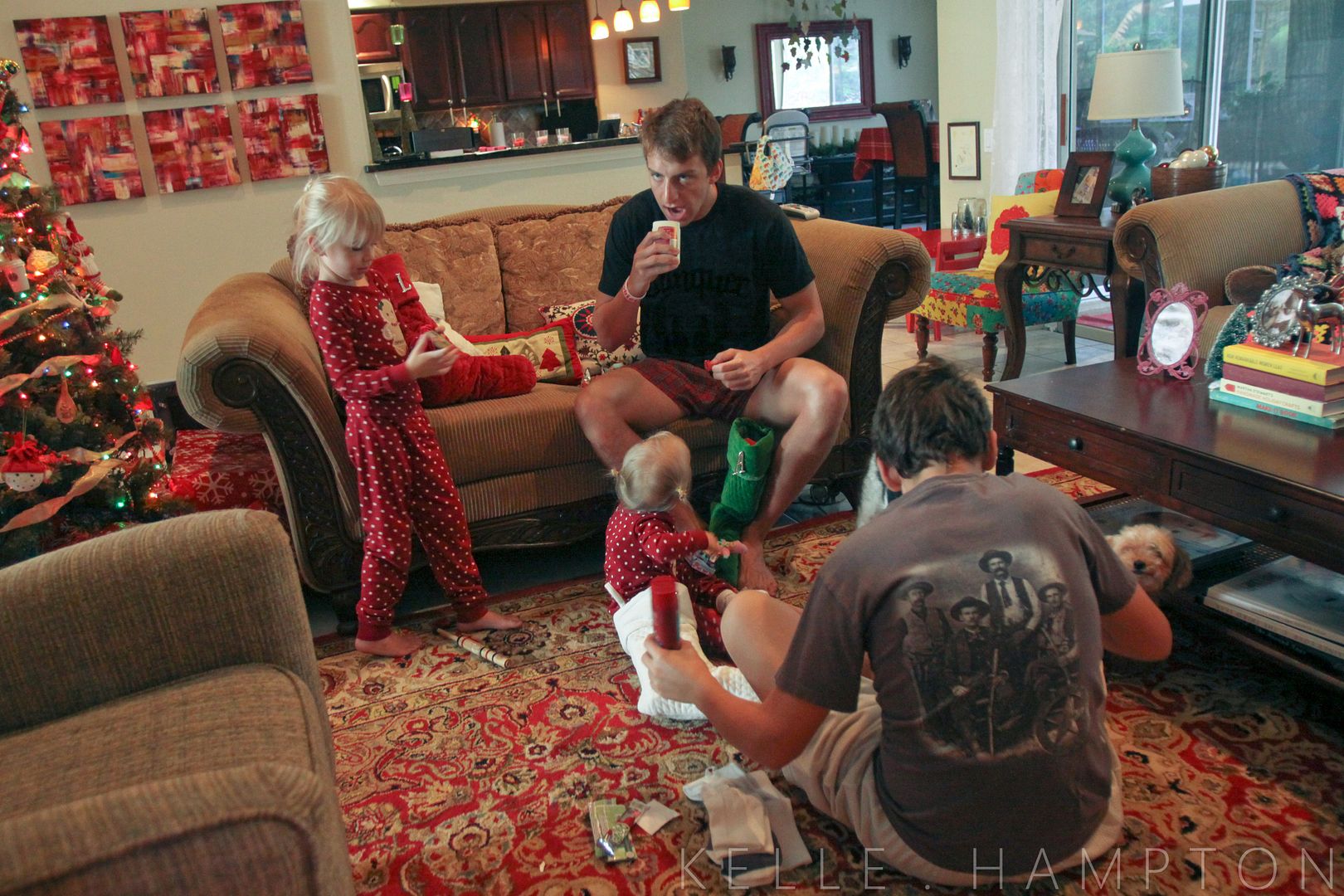 Sister was more interested in helping Austyn with his stocking than digging through her own

Santa brought her "real pretend" glasses.

Austyn wanted a unicycle, a decision that pretty much made my Christmas. After almost putting a hole in our drywall, he moved his practice from the hallway to the driveway. It's a work in progress, but once he has it down I'm sure he'll be picking up chicks with it. Well, not literally–only one seat.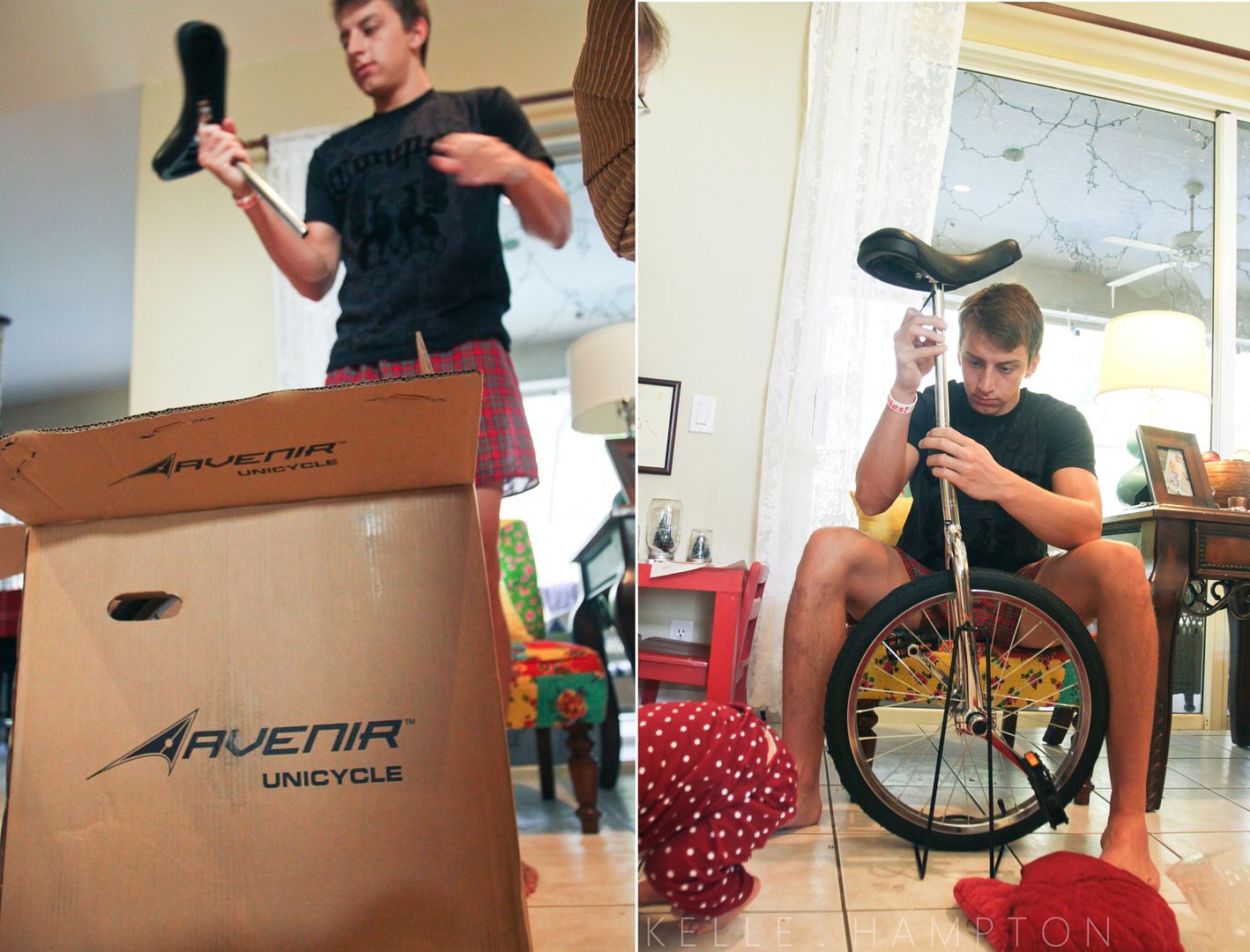 Our childhood Chrismases were highlighted by the string tradition–following a string that trailed throughout the house, in and out of bedrooms, up and down staircases until it ended at "the big gift"–the most memorable being Buffy, our childhood Cocker Spaniel. This year's string led to a seat for two because our seat for one was causing too many sister arguments.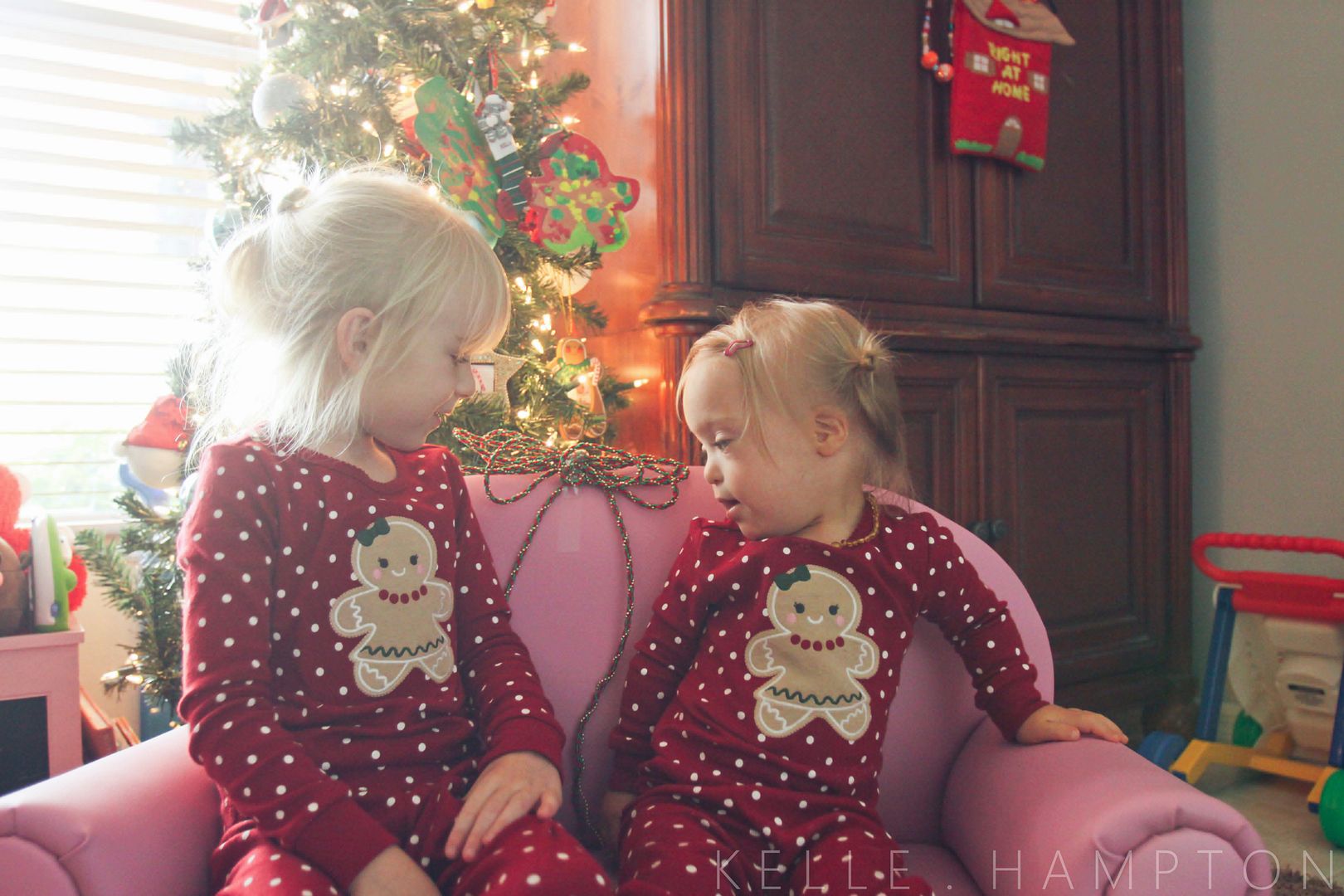 And I always love the way those little gifts become favorites. Like the big girl journal with a feather pen and a real lock. She opened to the first page, prepared her pen to write and asked, "Mom, how do you spell 'NO. This is Lainey's Lock Book.'?"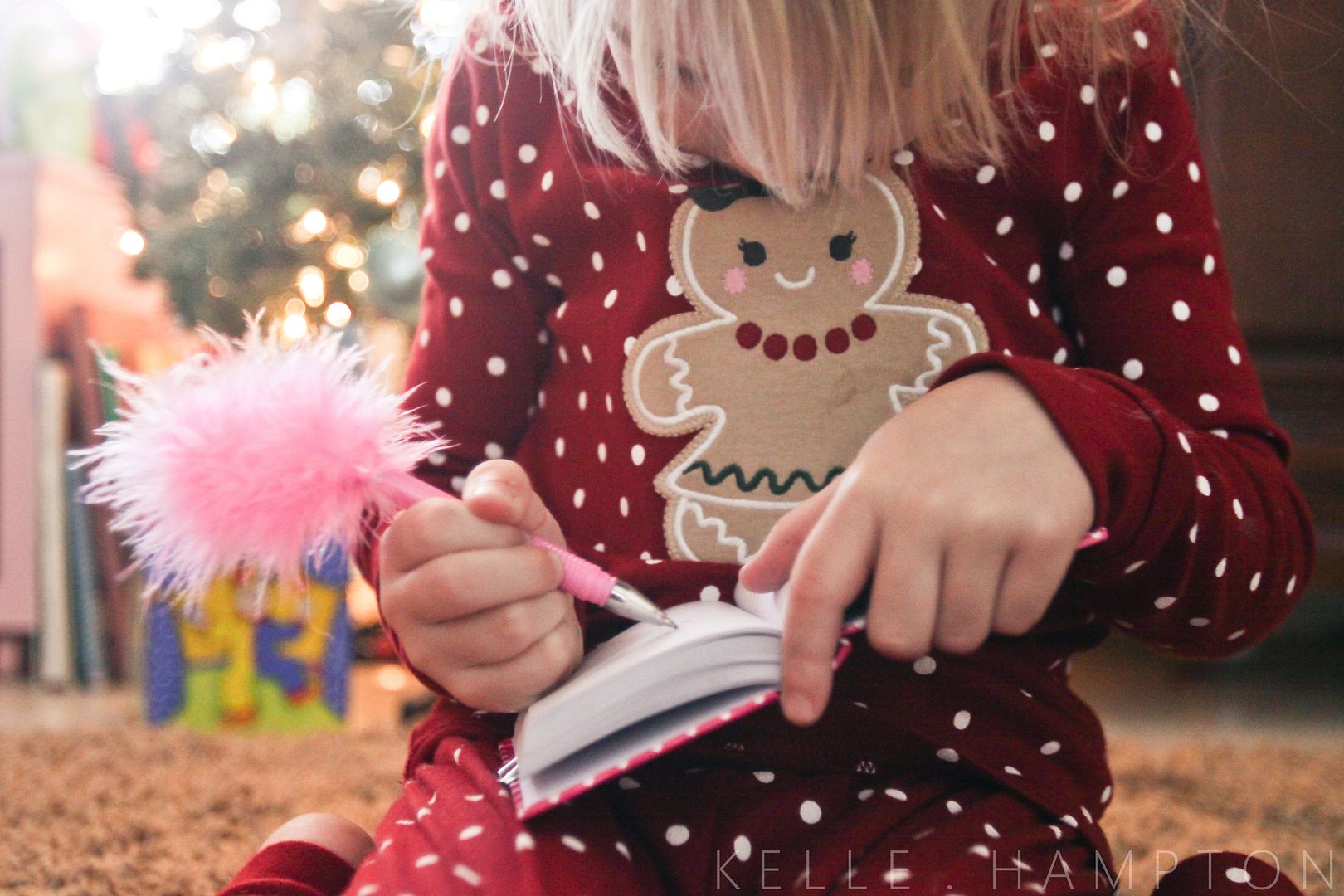 My heart is happy. The most important priorites in our life have bubbled to the surface the past few days and are holding steady with no competing interruptions.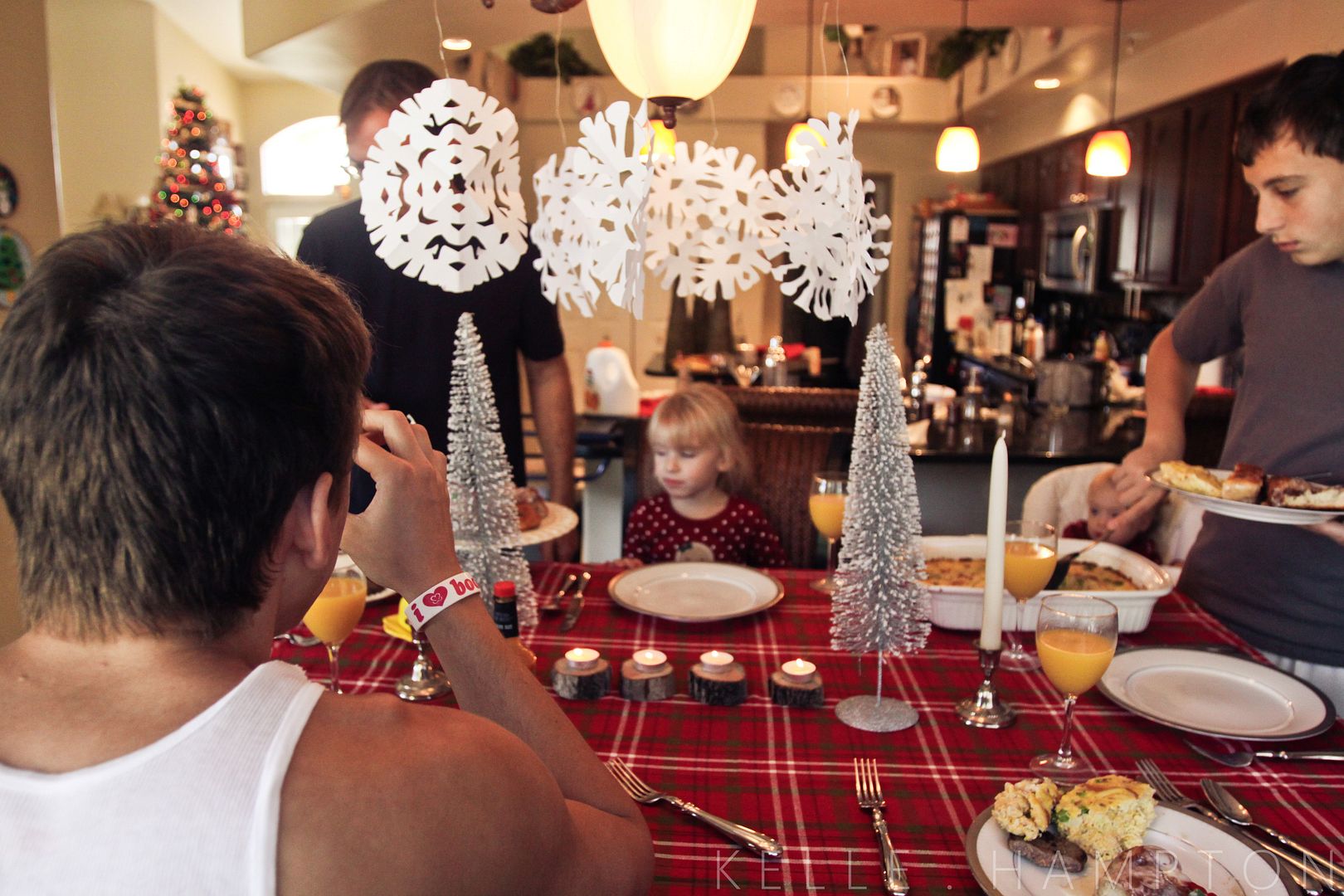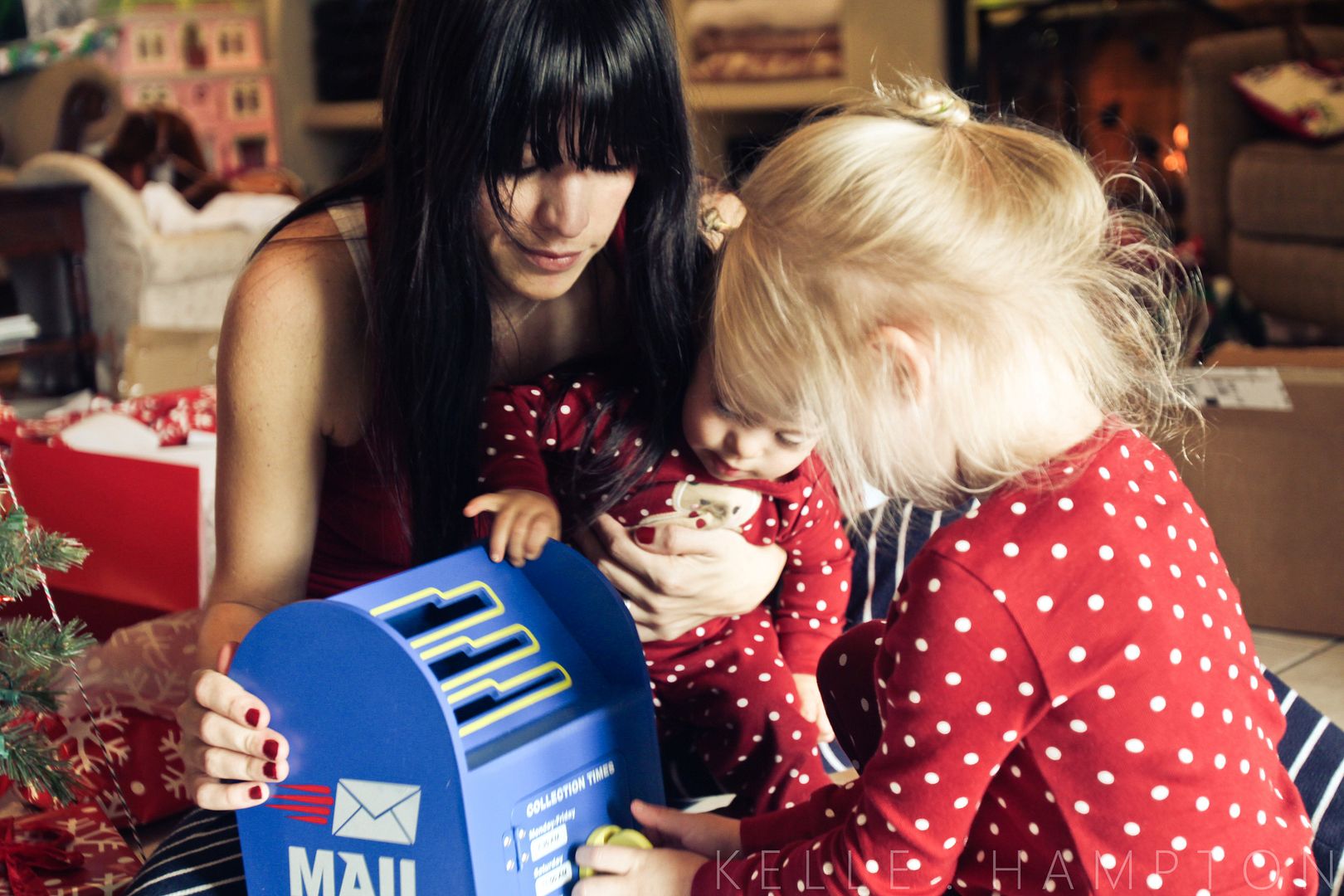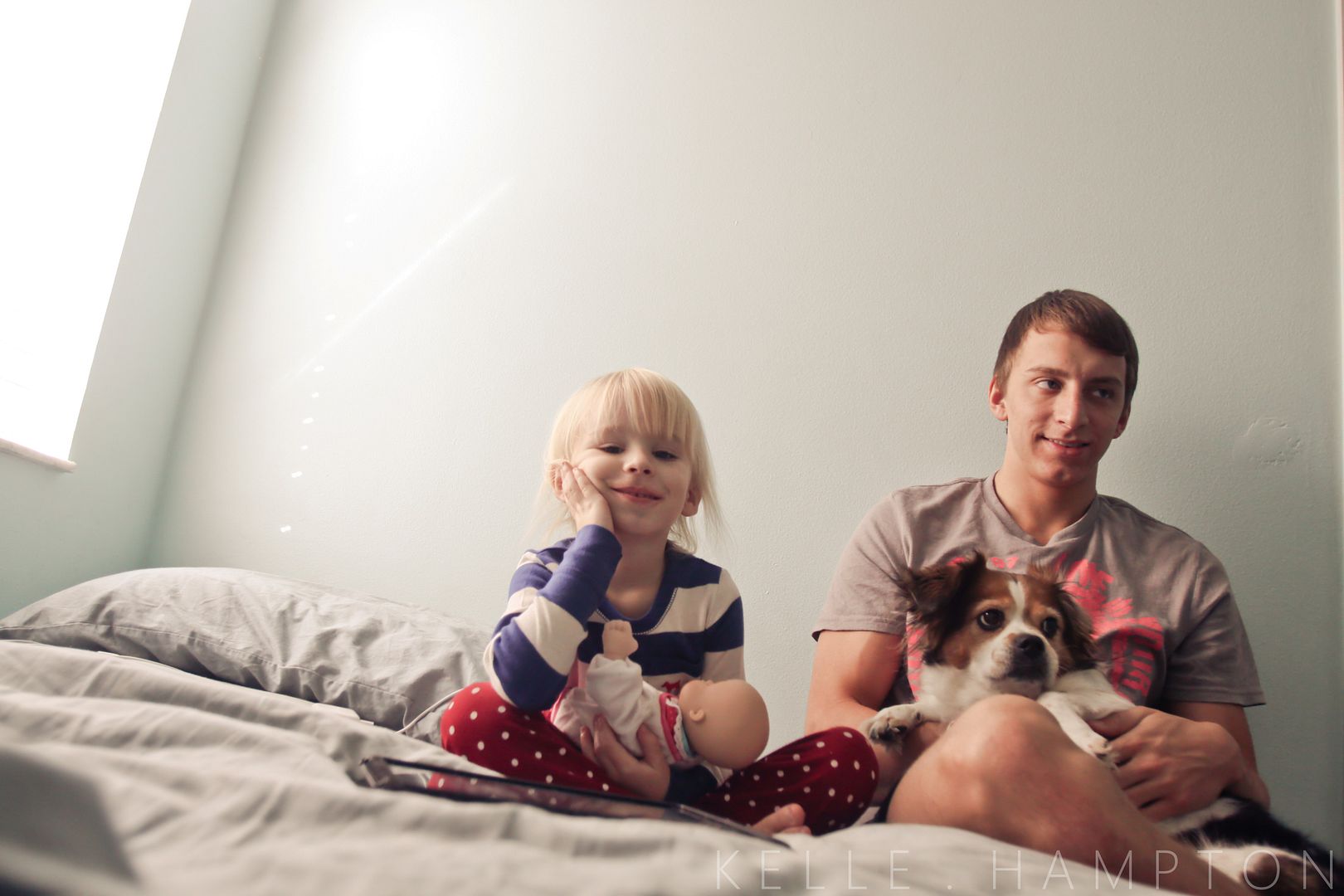 I could go on, but I have an entire week of reflection coming. I do a whole lot of "where have we been, where are we going?" this time of year, and I am loving the sentiments that follow.
But tonight, it's still Christmas. Light a candle…or a pretend campfire. It ain't over yet.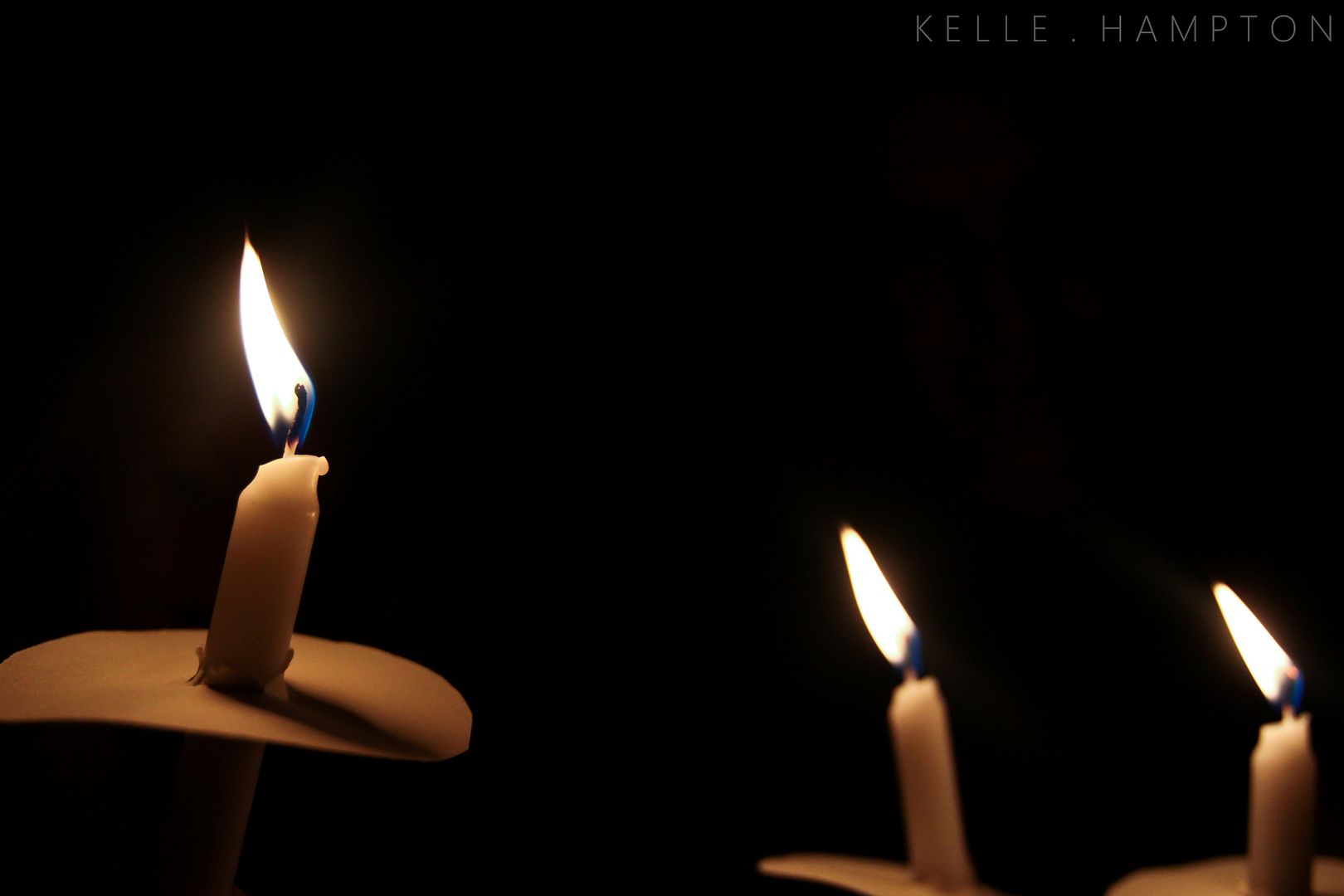 Merry, merry.