Our family has a great big e-mail chain. Four brothers, thirteen grandchildren and thirty-one great-grandchildren, all connected. We get e-mails almost every day–happenings of the great-grandchildren, band concert moments, college interviews, 25th anniversaries, funny memories, sad memories, things that keep my grandma and grandpa very much alive. And random happenings.
It is the random happenings that make me smile the most.
Out of the hundreds of e-mails, there is one I will never forget. It was a couple years ago, and my cousin's little boy was young. Maybe six. He had a reputation for stacking some great Cryderman e-mail history one-liners, and this one was no different. My cousin relayed to the family that her son had announced he had his life plan figured out.
"I want to be a pastor," he told her, "…and a karate teacher on Tuesdays."
As much as we laughed at our funny little cousin, I couldn't help but think this kid had hit on something very important.
Wanting more than one thing out of life.
Wanting way more than one thing out of life.
*****
This weekend, it was both cold and warm.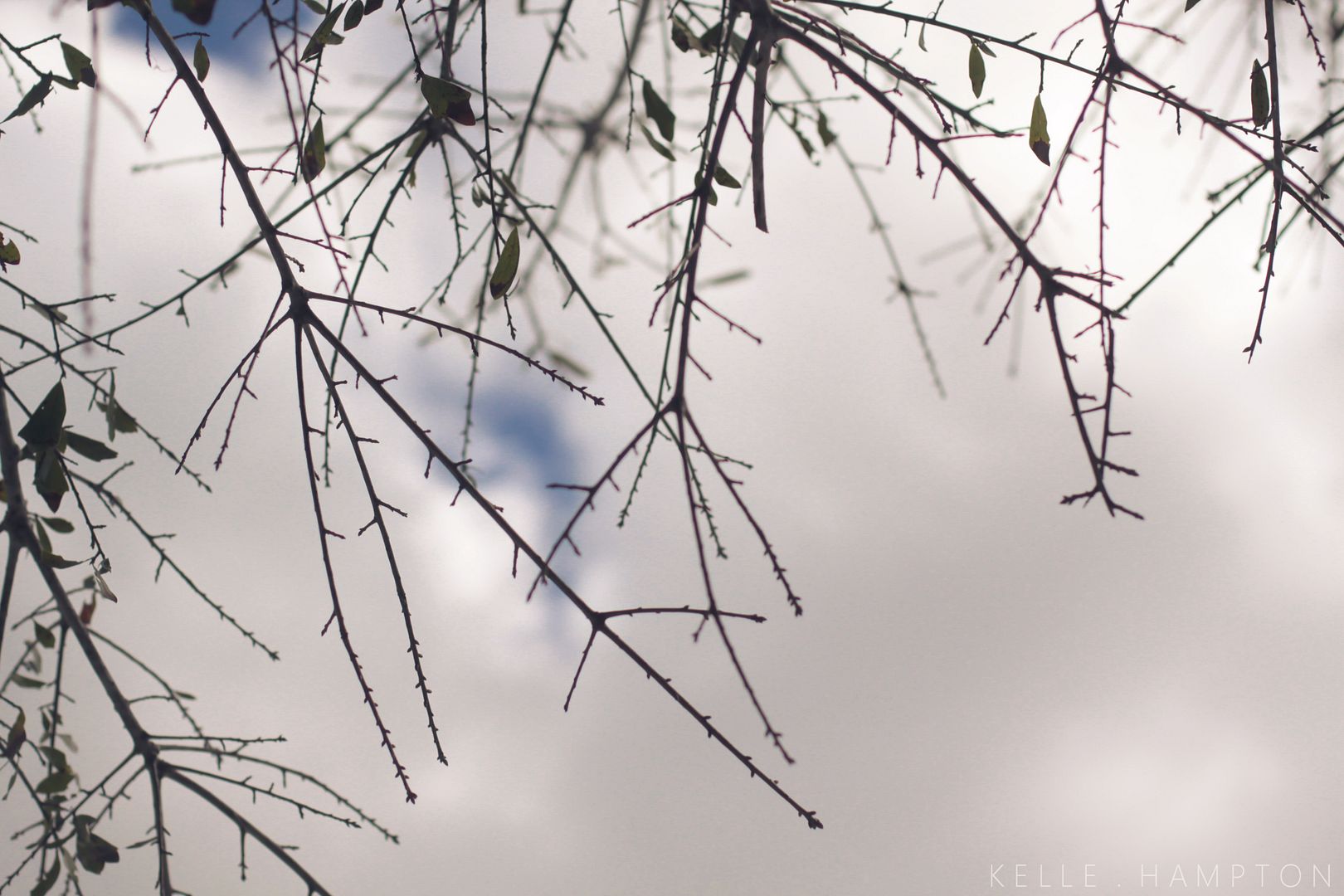 I welcomed the cold snap, delighted to talk about sweaters and blankets and firewood.

Brett and Lainey, searching the woods for fallen branches

We used the space heater at night. Wore fleece pajamas. Drank more coffee than usual.

Friday night, first fireplace fire in a while

Saturday evening neighborhood party
By Sunday afternoon, the weekend had warmed up comfortably, and sunny blue skies called us outside.

Nella's Matisse onesie, the best little retro Etsy shop, Lee Marie


I loved the sunshine–taking my socks off, letting Lainey run barefoot in the driveway, peeling layers of clothing off a sweaty Nella.
I also loved the cold gray skies that came again last night–wearing sweaters, making sure my babies' ears were covered, hearing the space heater click on in the middle of the night and feeling the room warm up with its red glow.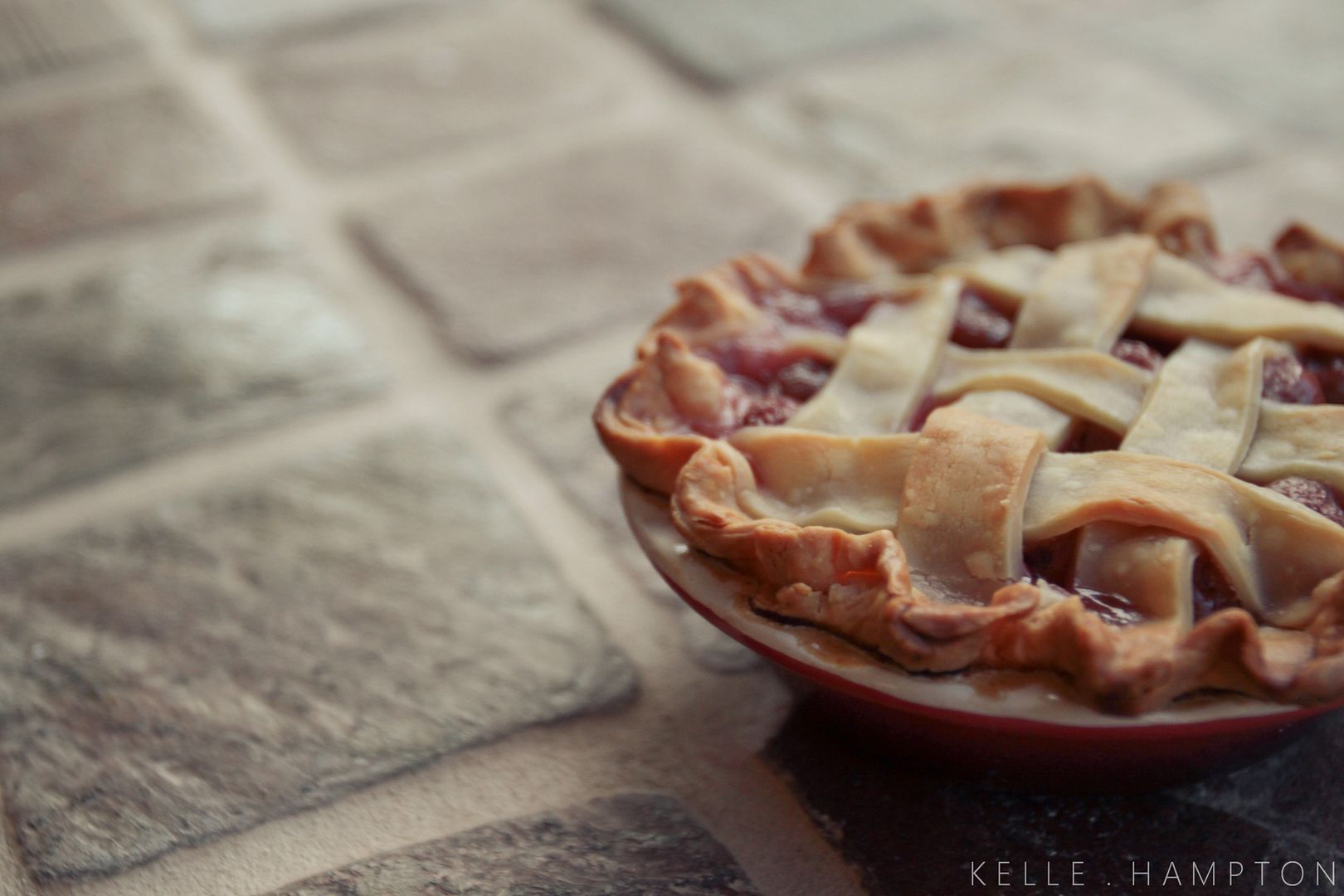 Our mini cherry pie we baked today

*****
I took a nap with Nella yesterday. Laid down just to get her to sleep but soon felt myself getting more and more relaxed to that place I hardly ever let myself go in the middle of the day where I'm breathing slower and slower and finally so relaxed, I'm practically not even breathing. Somewhere in my subconcious nap phase, I was awake enough to hear Brett walk in and stand over us. I felt him standing there, probably shocked I was sleeping, and I willed myself not to smile or open my eyes or twitch even a little bit but to play dead long enough he'd just walk away. He did, closing the door quietly, and I was left to settle in that bed…in the darkness…in the silence. I wanted to sleep and let go and at the same time, I was writing a piece in my brain and I couldn't not think. "Sleep," I told myself. "Create," I argued. "Let go," I convinced myself. "Get up, write something, do something," I argued. I was excited. I was sleepy.
I closed my eyes for fifteen quiet needful minutes, and then I slipped out of the room to go write.
*****
Brett watched the girls a lot this weekend while I snuck away to be alone. To the bookstore where I purused magazines and paperbacks and finally whittled my tall stack of to-buys down to one book and one magazine. I sat alone at a table in the middle of a crowded cafe and people-watched while I ate a blueberry scone and sipped cinnamon tea. It felt good, replenishing. I walked upstairs where I kind of fell into a book event–some readings, a crowd, a couple authors. An elderly man gave me his card and told me about the books he was writing and I smiled while I clutched the books I was going to buy, listening to him passionately talk about writing, vistiting past presidents, teaching his grandkids about grabbing life by the horns. I watched the authors speaking and made note of the way they captured their audience of children, the way they made them ask questions about writing and reading and pursuing their passions.
Sunday morning, I enjoyed breakfast with Margaret Cardillo, author of my current favorite children's book, Just Being Audrey.

Signing the sweetest inscription in my girls' book, definitely a keepsake.

We talked about heartache, laughter, success, failure, the creative process, friends. We hit it off.
And then I came home and wanted nothing more than to spend the rest of the day with my girls. Because as much as I love to be alone, with friends, pursuing that part within me that thirsts for knowledge and connection and reading and writing, there is an even more passionate need to be their mama.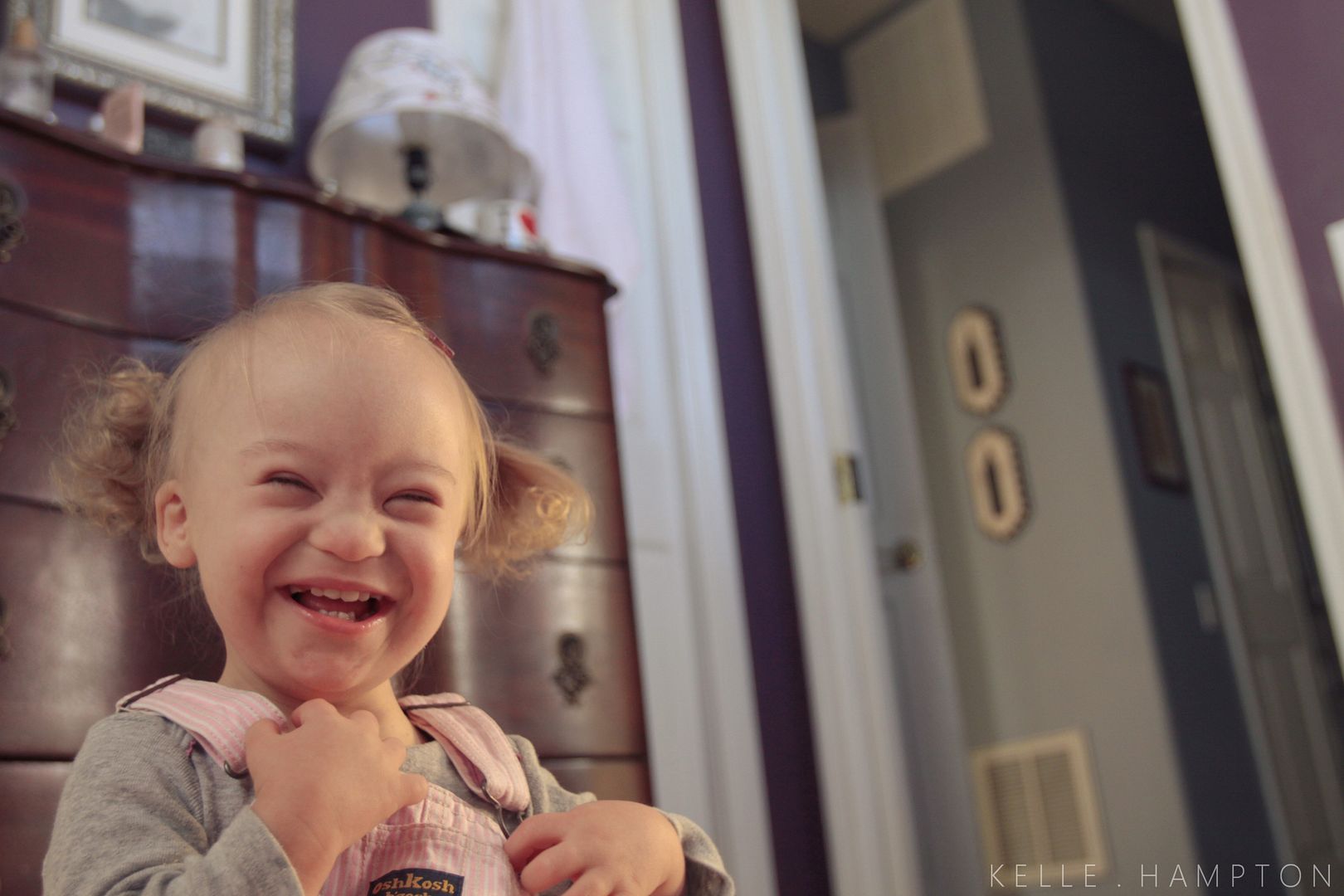 To ignore the rest of the world while we play baby dolls and craft and I trace the frame of their faces, memorizing every little thing about them, knowing they will change tomorrow.

Lainey's retro shirt, also Lee Marie

I love to be alone. I love to read, I love to write, I love to unleash those imaginative bits of my mind that are all tied up and need attention.
But I also want to dive so deep into motherhood that I forget to come up for air. My heart beats in synch with my girls', and just an afternoon without them has me craving their smiles.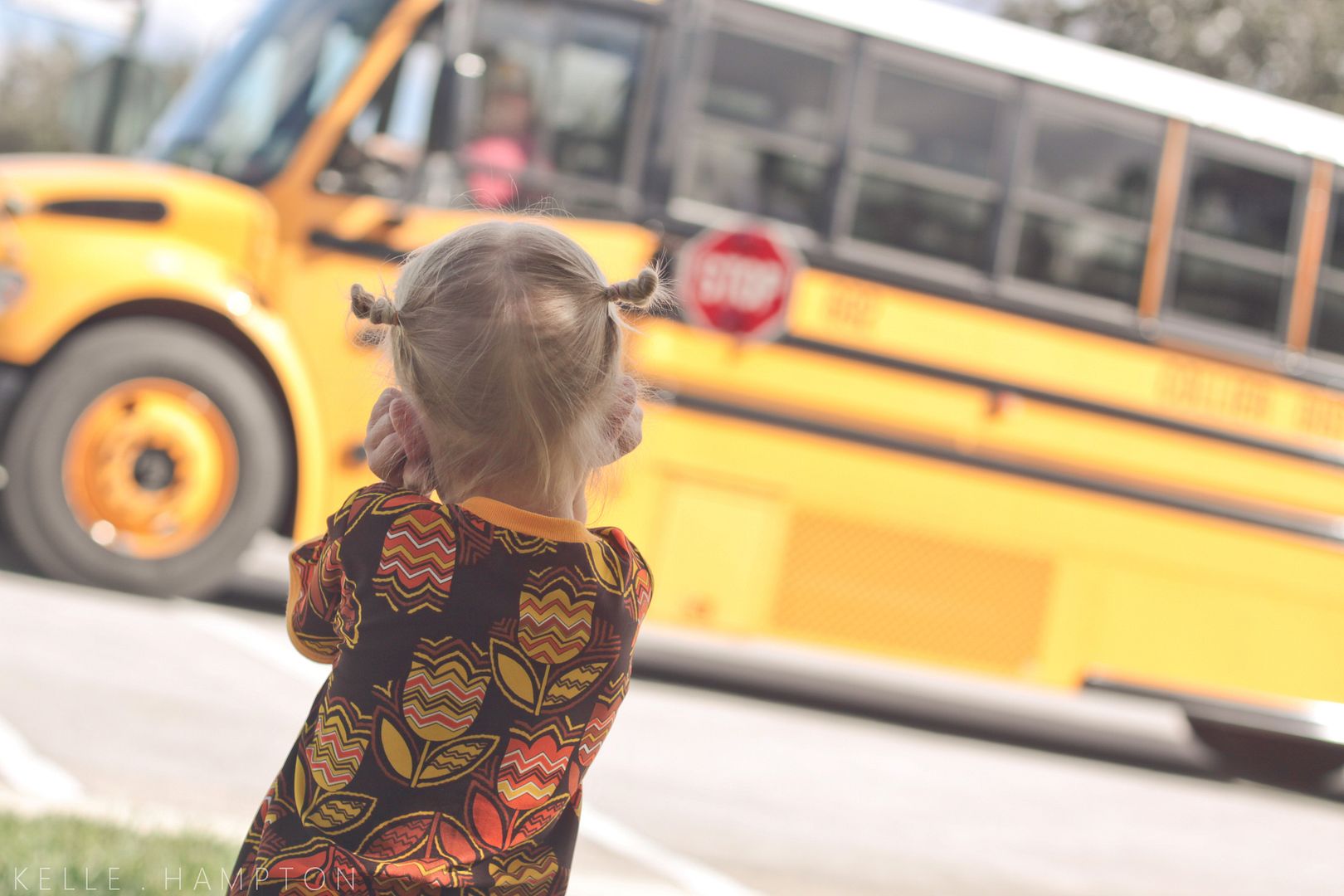 She plugs her ears because she says school buses are too loud.

*****
We made homemade Valentine presents today. Brett cut some fallen branches, and I painted Lainey's thumbs so she could print little hearts onto wood pendants for her friends.
I had plans to cut paper and glue lace and ribbons, but Brett called me while I was at the grocery store and asked me to pick up a box of Valentines for Lainey.
"We're making them," I answered. "I already have the stuff."
"Oh, come on," he argued, "you know how much fun it is for kids to pick out those traditional little cards? I love those memories. My boys love those memories. Let her pick out some Barbie Valentines, Kelle."
"How 'bout both, Babe? We can buy some and make some?"
I could feel his smile through the phone. "Perfect."
Lainey beamed as she took seven whole minutes in a Target aisle to choose between Mickey Mouse, Winnie the Pooh and some plain 'ol Puppy & Kitty Valentines. She chose the latter, and as soon as we made it to the car, she had torn the box open and perforated every single 3-D Valentine.
I love the drawn-out process of making homemade Valentines. I like the lace remnants, the glue drips, the way Lainey's crayon-scrawled name looks against brown paper.
Brett likes tradition, simplicity, the way his girl beams when she buys a box of plain 'ol store-bought cards.
We compromise.
*****
Some pastors are karate teachers on Tuesdays.
Some moms want more than one thing out of life.
Contradiction? Hardly. More like different melodies that blend together to make one really beautiful 4-part harmony.
And I think that life is rich when it is full with much to be enjoyed. When you always want way more than just one thing.
*****
Returning sponsor Dashing Bee is back with its wonderful selection of consignment goods including clothing, accessories and baby gear.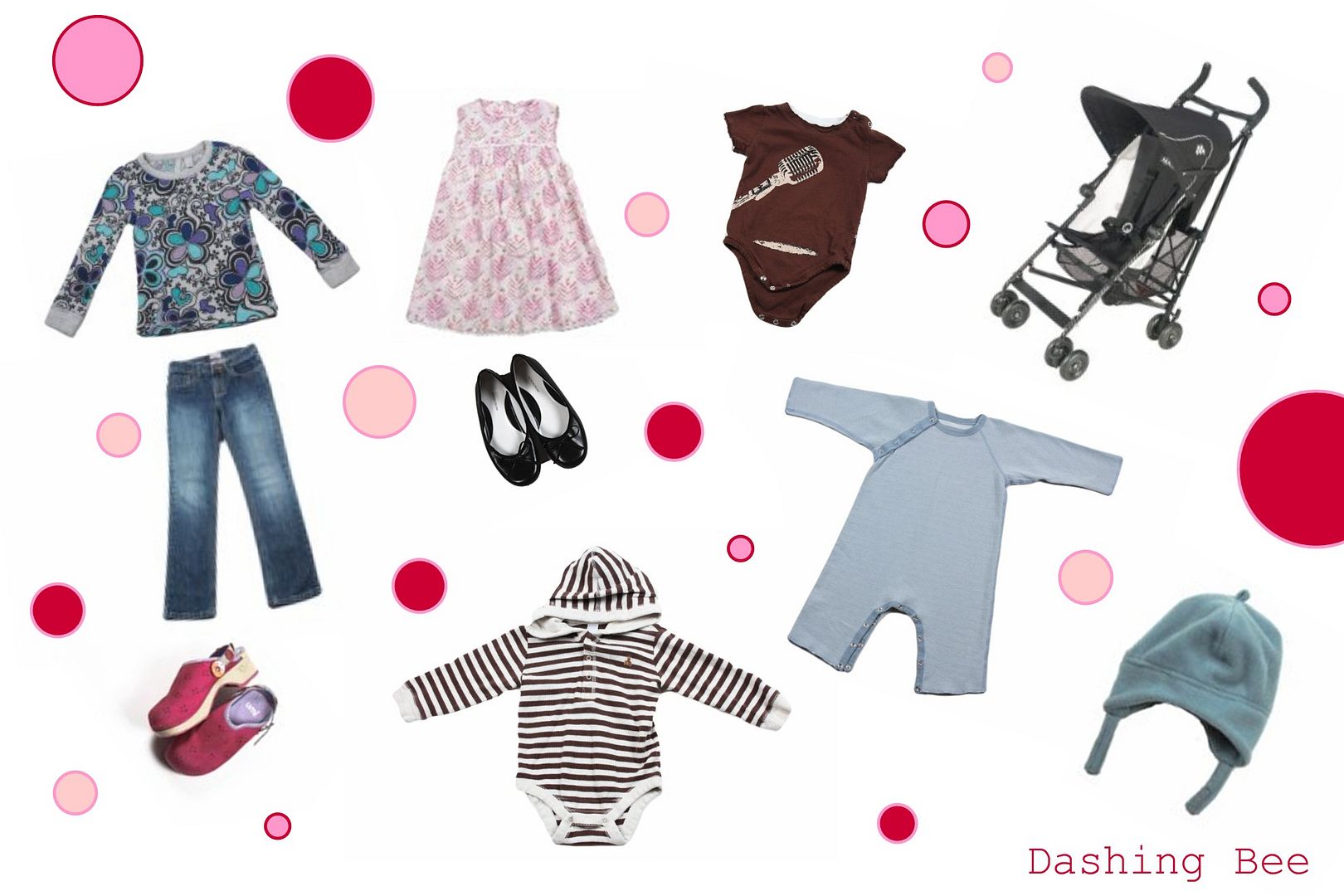 Dashing Bee continually updates their shop with new goods and features a fantastic variety of quality brand names–available to you inexpensively. And get 50% off all winter clothing and shoes with coupon code WINTER50. Check them out! (photos represent merchandise currently available on their site)
*****
Finally, two inspiring updates for the special needs community:
1: I am so proud to be part of the Down Syndrome Pregnancy team and downsyndromepregnancy.org's efforts in Down syndrome awareness advocacy. They now have a beautiful resource available for families: Your Loved One is Having a Baby with Down Syndrome. This booklet is available for free download, and it is full of important information families and friends might need in supporting loved ones facing a new diagnosis. It is factual and yet heart-warming, full of beautiful photos (provided by you!).
2: March 21, World Down Syndrome Awareness Day, is approaching, and the NDSS is encouraging friends and families to grab this button and show your support for this important day. Friends and families are encouraged to post this button as well as share their support for promoting the value, acceptance and inclusion of those with an extra 21st chromosome (you can check out their full list of ideas and ways to get involved here).
*****
So maybe I painted my nails pink glitter today in honor of love.
I'll be back Tuesday afternoon for a post I'm excited about.
Until then…
Happy Valentine's Day.