'Tis very late February (please pause to celebrate the occasional use of 'tis, cousin to another archaic abbreviation of likewise importance–'twas) that I get the itch. A good itch. More of a high, really. On pastels, on Peeps, on pink and lace and tulips; clean sheets, open windows, flowy skirts and bows. Little birds. Things with little birds on them. Mint green. Okay, I'm done. Wait, one more–skipping.
My internal celebratory clock does its thing every year. I just give in to it because there is no use fighting.
Hence (okay, pause for a good hence too) the new herb pots on my window.
The jars of pink tulips placed in almost every room in the house.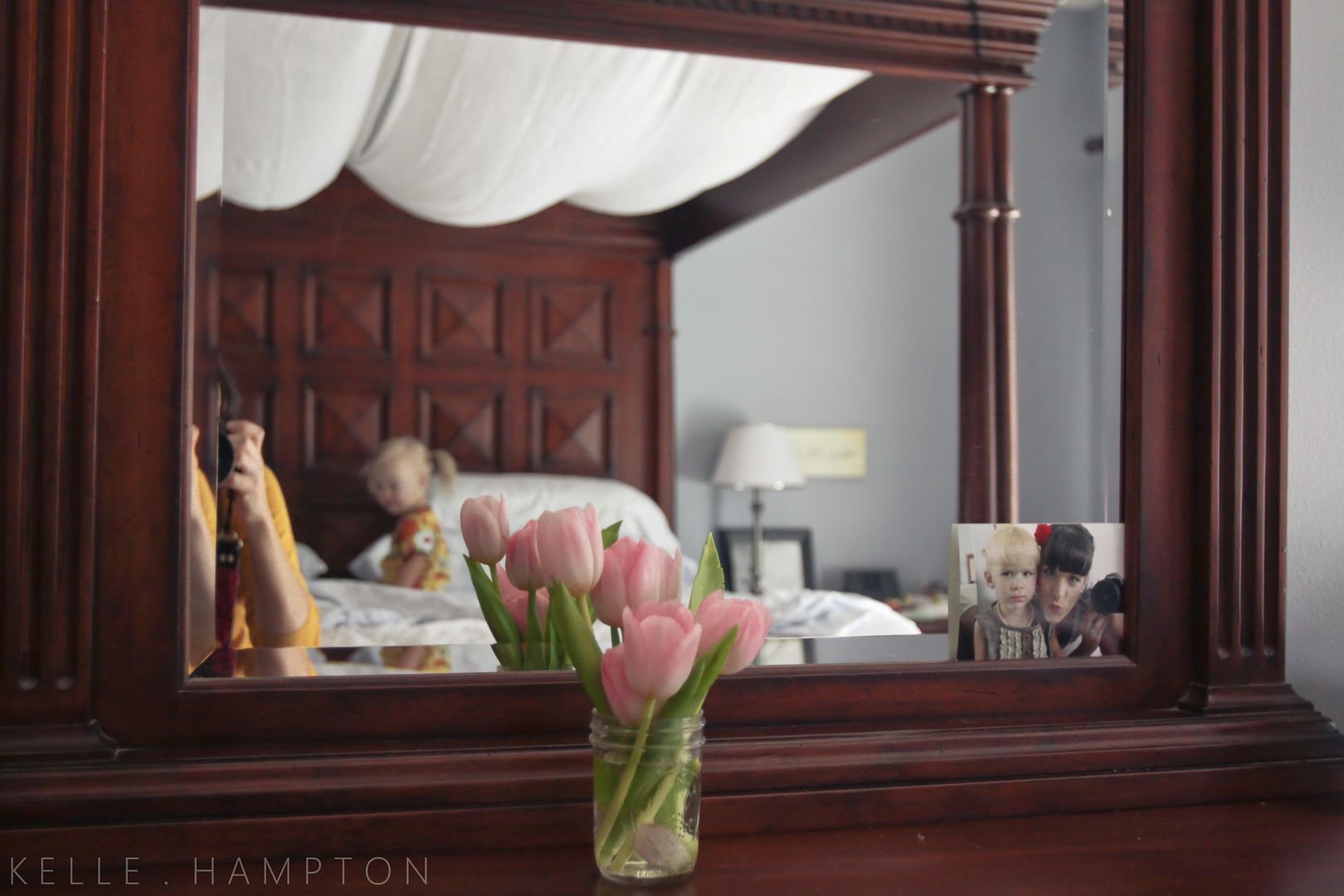 The new spring sheets that haven't stopped feeding my happiness quota since I bought them.

Golden Disco Onesie from the funky, retro Etsy shop, La Marie
And I'm not going to hide the fact that I make very literal interpretations of holidays and seasons in my style choices. Valentine's Day? Oh God, I showed up for Lainey's ballet class looking like a cross between a Whitman's chocolate sampler and a rose bouquet…by choice. So, these days basically I open my closet door and whisper "Wherefore art thou, Spring?" and it answers back in pink and ruffles and floral prints.
Alright, alright, enough with spring optimism.
Our weekend:
Lazy, lazy Saturday.
I cleaned the house, drank tea, browsed stacks of catalogues and watched the girls drag baby dolls across the driveway while the ends of their pony tails lifted and fluttered with the weekend breeze.
Lainey got picked up by a friend to go to the zoo Saturday afternoon. I watched her standing against the front door waiting for her ride, proudly wearing her backpack which was stashed with snacks, her camera and her favorite water bottle.
Her girlishness emanated from her smile–those Chicklet teeth, that dimple. She wanted little to do with the farewell as we buckled her in her friend's car, so I downplayed my kiss goodbye and my "Have fun!" before I watched them drive away. She is growing, and it makes my heart ache and soar at the same time.
Nella once got picked up for a playdate with Lainey to give me some time to work, and Sister has never forgotten it. She missed me. So, when people roll in our driveway, she stays glued to the front door and says "No." Sister is funny.
And if I was Billy Crystal, I'd transition into this next part with some jazzy song and dance that'd tie it all together. Alas (damn, pause for alas too), I am not.
Yes, I'm going to talk about the Oscars.
Nevermind the fact that this was our 7th Annual Pajama Glam-a Oscar Party. The rules are simple: wear your pajamas, bling it out, have a party.
Heidi and I do it every year. And most years, it's mainly about the red carpet. I love the dresses (that big giant bow on Emma Stone's red dress? Don't even get me started. I want it. ) and the hair and pretending like we have some sort of fashion clout to judge when seriously, we're huddled on our couch in Target pajamas and Claire's rhinestone earrings.

Dogs like Oscars. Dogs like Bling.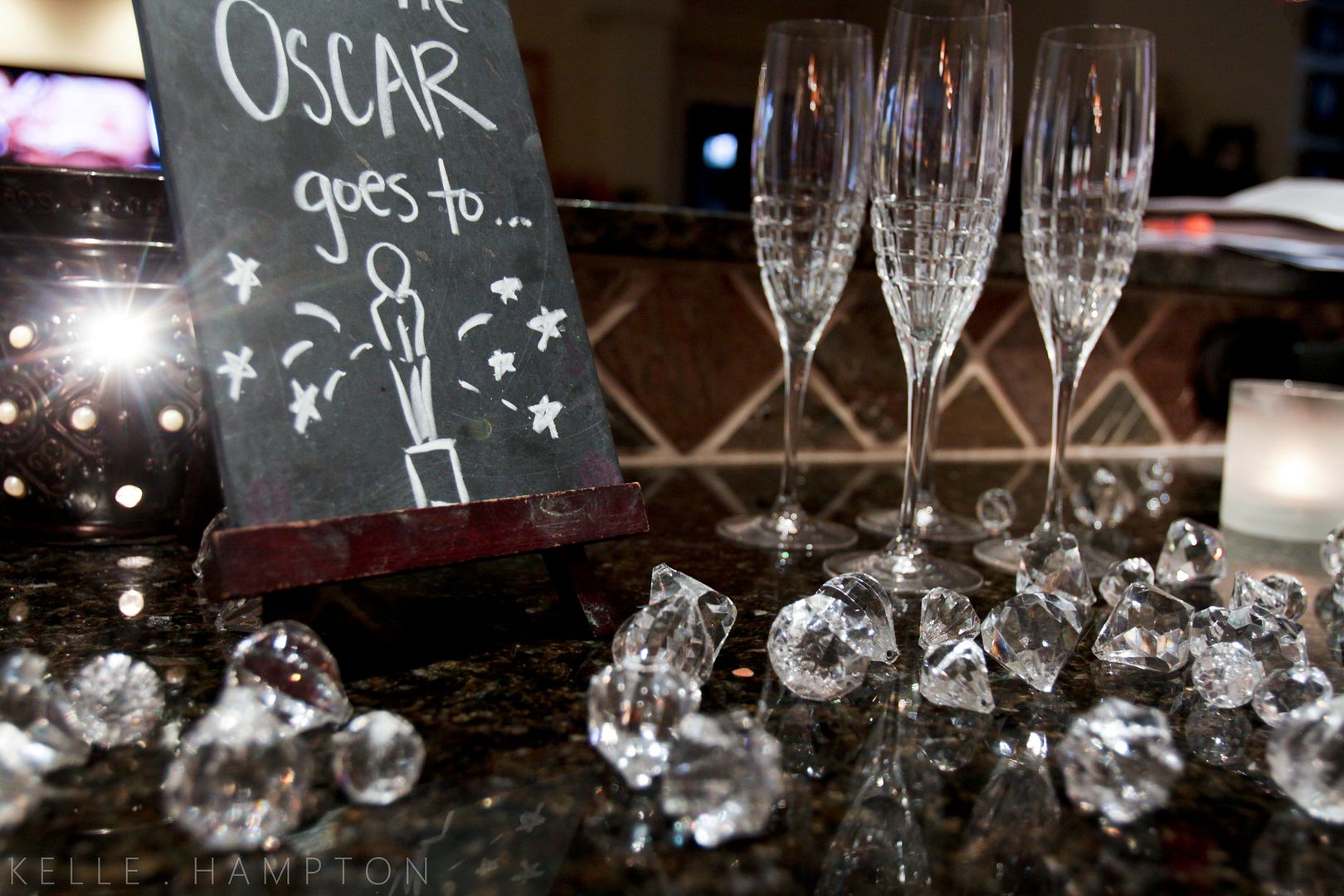 This year was different though. I was so inspired by the whole idea that movies are another form of art. Each movie's creator and everyone involved so passionately represent their film–films that started with one person's idea. I loved the vignettes of actors they showed this year–thoughts about how movies move us, how they shape our culture, how they take us to a different time and place, how they teach us, how they start with dreamers.
Creativity was deservingly celebrated, and I'll always toast to that. (Oh, that Esperanza Spalding performance gave me chills. And I saw her front in center from a little lawn in East Lansing when I was pregnant with Nella).
Moral of the story? Find more ways to celebrate. Things to get dressed up for. Occassions to invite your friends and make big nights of it all. And the other moral of the story is–Ben & Jerry's Banana Cream Pie Ice Cream–Dude. RUN. TO. YOUR. LOCAL. GROCERY. STORE. That is all. That and a couple more happy pictures of weekending.
*****
Introducing new sponsor:
Rachel Baxter (her blog) is an Independent Consultant for Norwex, a mindful company that offers products that improve your quality of life while reducing our global footprint. They are well known for their antibacterial reusable cleaning cloths that reduce the need for chemicals in your house. We received a pack of Norwex's best cleaning cloths last week, a nice incentive for our spring cleaning weekend. My favorites? The window cloth (no smears on my mirrors!) and the antibacterial cleaning mit from the kids cloth packet that allows Lainey to help with chores without being exposed to harmful chemicals. And plenty more products Norwex offers that help make your everyday home routines safer and more meaningful for your family and the planet.
Another reason to shop? You'll be supporting a cause near to my heart. All of Rachel's profits between now and April 8 will be given to a fund to bring Arnold, a Reece's Rainbow orphan, home to his forever family.
One commenter on this post will win a free Norwex Enviro and Window cloth package
*****
Celebrating a healthy two-year check-up today. Grateful for health and growth and milestones…I never take it for granted.
Finally, I promised a while ago I'd be bringing some photo tips to the blog. I'm happy to finally be able to reveal these as Disney's baby site Babyzone.com has just relaunched, and it's bigger, better, and more beautiful, incorporating more real-life mom photos, stories, and helpful advice. I'll be sharing a series of easy photo tip slideshows that will offer simple advice on capturing interesting, meaningful photos of your children. The first two are already up. Check out Capturing Childhood and The Power of Suggestion.
I'll be back tomorrow for another Hallmark post. A fabulous week to you!