There are a few things in life of which I am certain, based on repetition of circumstances. I am quite certain Lainey will ask to go to the bathroom the minute we've left the house. I am quite certain the item which I've been pining for will go on sale the day after I paid full price for it. And I am quite certain that after any given flight, my bags will be the very last ones to appear on the conveyer belt. The last one proved true when I arrived in New York last week and met up with the driver who was taking me to my hotel only to stand at Baggage Claim Station 5 with him twenty-five minutes later, watching every other brown suitcase except mine fall onto the belt and go for a spin.
"You sure it's brown?" he asked.
"Yep, it's brown," I answered, "—with a dent in the side and a broken zipper. But it's brown."
"This one?," he pointed out.
"Nope, I'll tell you when I see it."
"This one?" he asked again, pointing to a different brown suitcase—not dented, not mine—and clearly not getting it.
"Nope. Not that one either. I'll let you know when I see it," I told him.
Another brown suitcase was spit out on the conveyer belt, and my driver turned and waited for my signal.
"Not that one either. Listen, trust me. It's going to be the last one. It always is."
Sure enough, seven hundred suitcases later, my brown dented suitcase came rolling around the bend and I jumped and clapped and hollered "That's mine! There it is! That's my suitcase!" while I waited for my driver, half-sleeping now, to reach and pull it off the belt.
So you can imagine my surprise when, late Thursday night, I arrived in Fort Myers, walked down to baggage claim and saw my suitcase, already slowly revolving around the carousel like strawberry pie on a dessert turntable.
Three minutes later, I was cruising south on 75, home to my babies when Heidi called. She was there with our friend Laura, at the airport, waiting for my arrival with posters and flowers and smiles.
There's another thing of which I am certain: When friends go out of their way to surprise me, I am quite certain I will blow it.
Heidi and Laura share my love for making the best of things. So they celebrated with random strangers at Southwest Florida Regional Airport.
*****
My dad followed our tracks when he flew in to the same airport in the middle of the night late on Thursday, just in time for my first book signing at our Naples Barnes and Noble Friday night.
I wasn't sure what to expect, but I was thrilled and humbled by the outpouring of love from both our community and readers that traveled to be there.
I decided to read a passage just fifteen minutes before the event, and so I huddled in an office next to the children's department, skimming chapters for something that wouldn't make me cry. And something that wouldn't involve skinny dipping and champagne. I settled on the last pages of chapter 12, the story of Jeremy, the dear man who taught me something important almost two years ago.
It still made me cry.
Thank you to everyone who came Friday night to support the book, to say hi, to wave your flag of "living this big, purposeful life" with ours. Community is an awesome thing, and we felt it Friday night.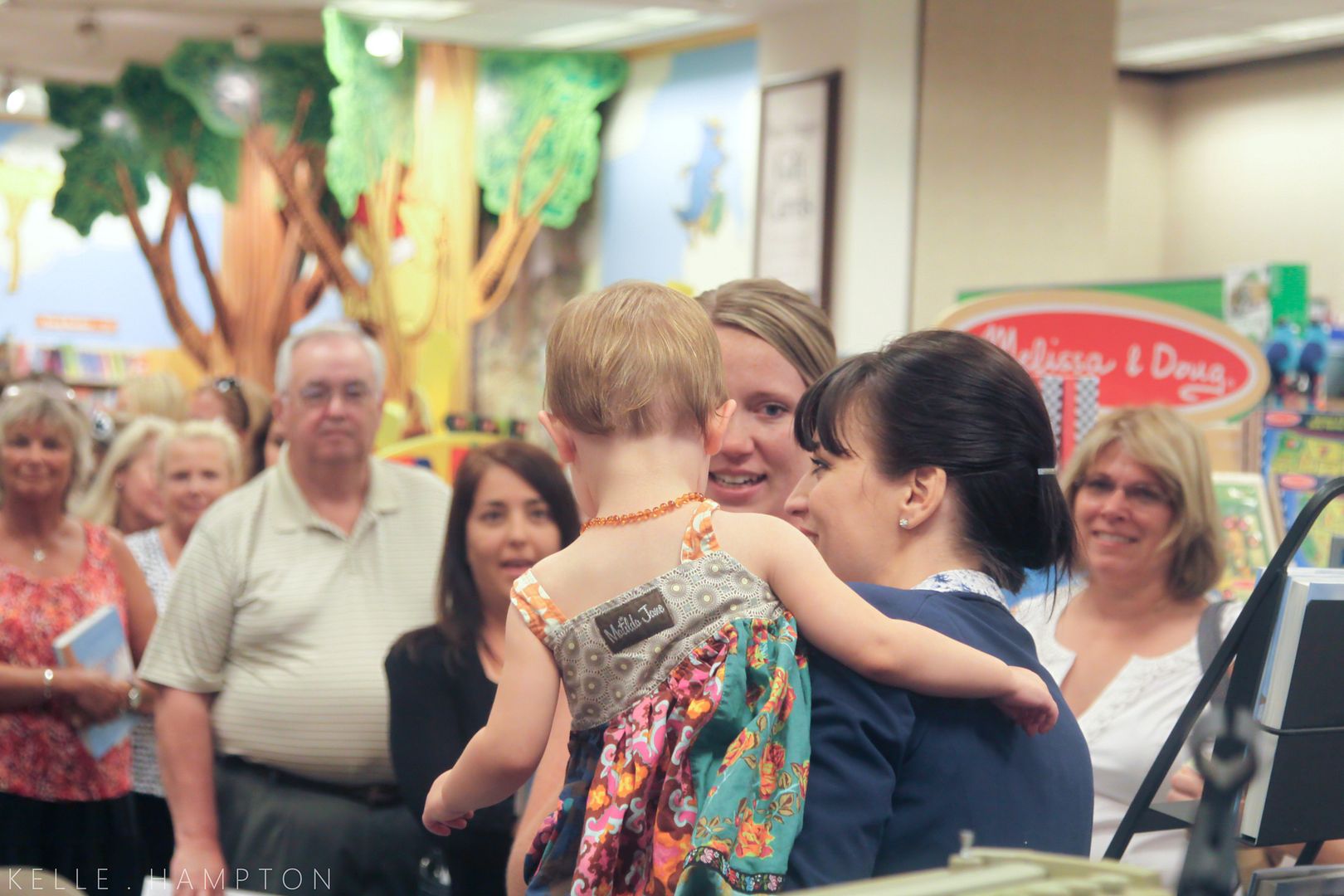 *****
By Saturday morning, the high energy of the week had been subtly and appropriately replaced with good calm energy, apparent from the very first sleepy smile that emerged from the crib and continuing with coffee refills, a big French toast breakfast and my dad's initiation of the Hampton House Feng Shui.
He does it every time he comes, really, and maybe it's just a nice way of saying "please, get your shit together." Like when I lived with my grandma in college and she was so disturbed by my overflowing laundry basket but didn't want to offend me by actually doing my laundry for me, so she'd "pretend" she was doing her own load and just needed "a few" more things to make it complete. And by a few, I mean a full load of my stuff. Swear, she used to tap on my door and sweetly say, "I'm doing a load of laundry and have a bit more room. Do you have two or three or twenty-six things I can throw in with it?" And I would smile and hand her my basket and know it made her happy both to do something nice for me and to give her one lone sock some company in the washing machine.
Likewise my dad did a lot of "hey, this laundry basket would look a lot better if I emptied it," or my personal favorite—"Seriously, why do you even have a dresser?" which led to moving the bookcase, sliding the toy trunk, opening up the living room furniture and rearranging, reordering, and reigniting the energy in our home.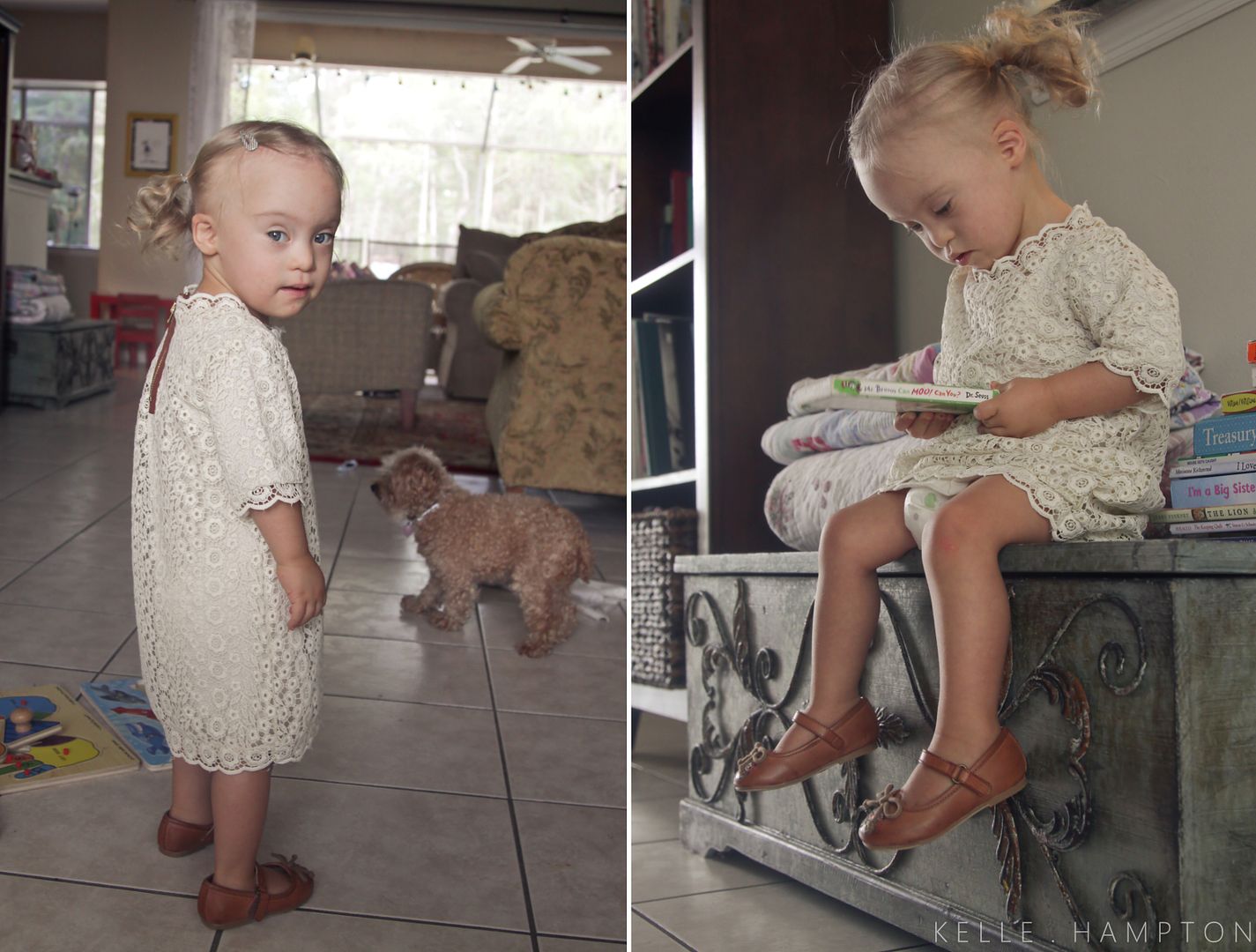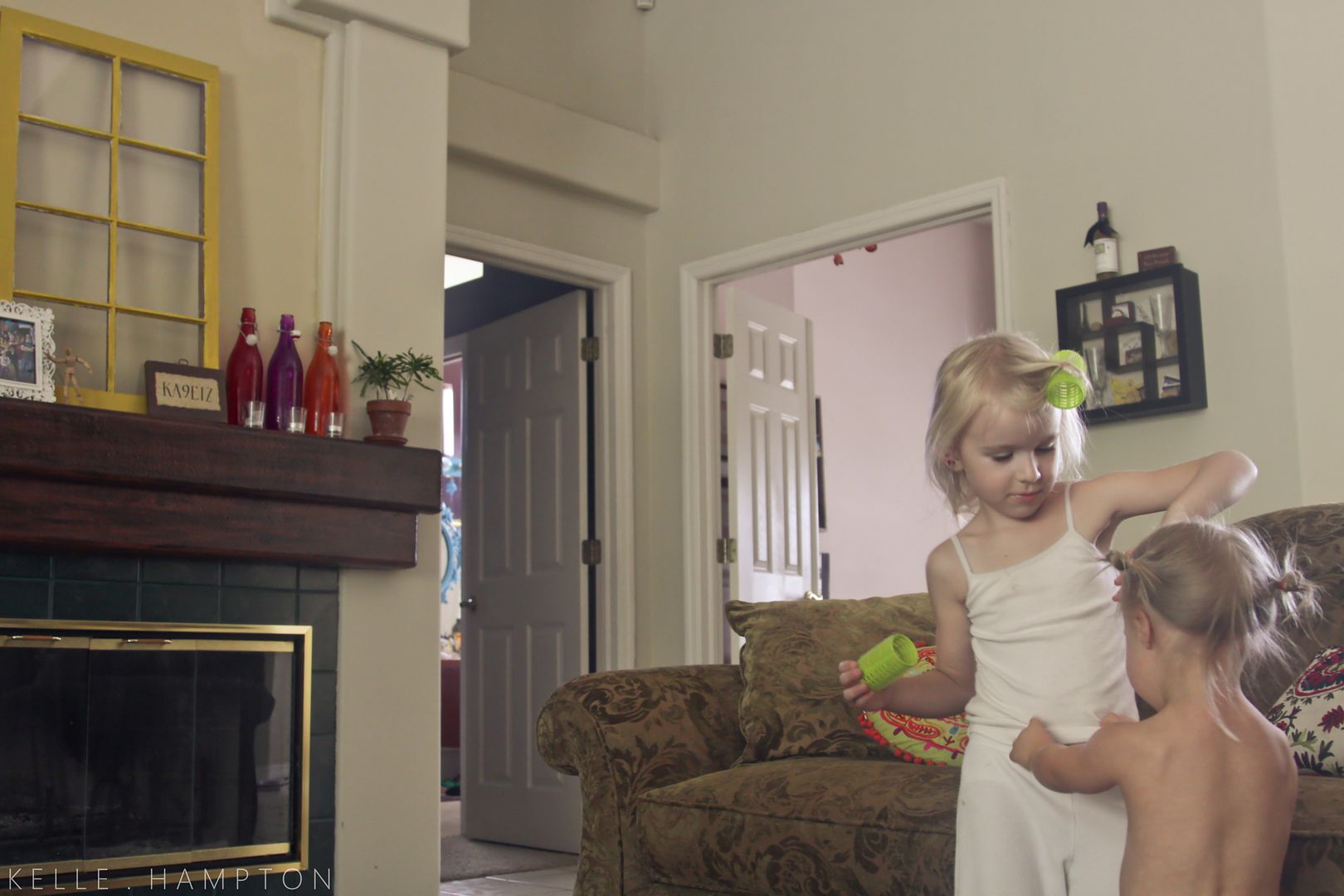 Lainey puts curlers in Nella's hair

Feng shui. Periodically, we all need it, not just in our homes but also in our routines and perspectives. This weekend, we switched things up. We got creative. We moved things around in our home, creating more light where clutter once dwelled and restoring peace and order where laundry baskets sat too long.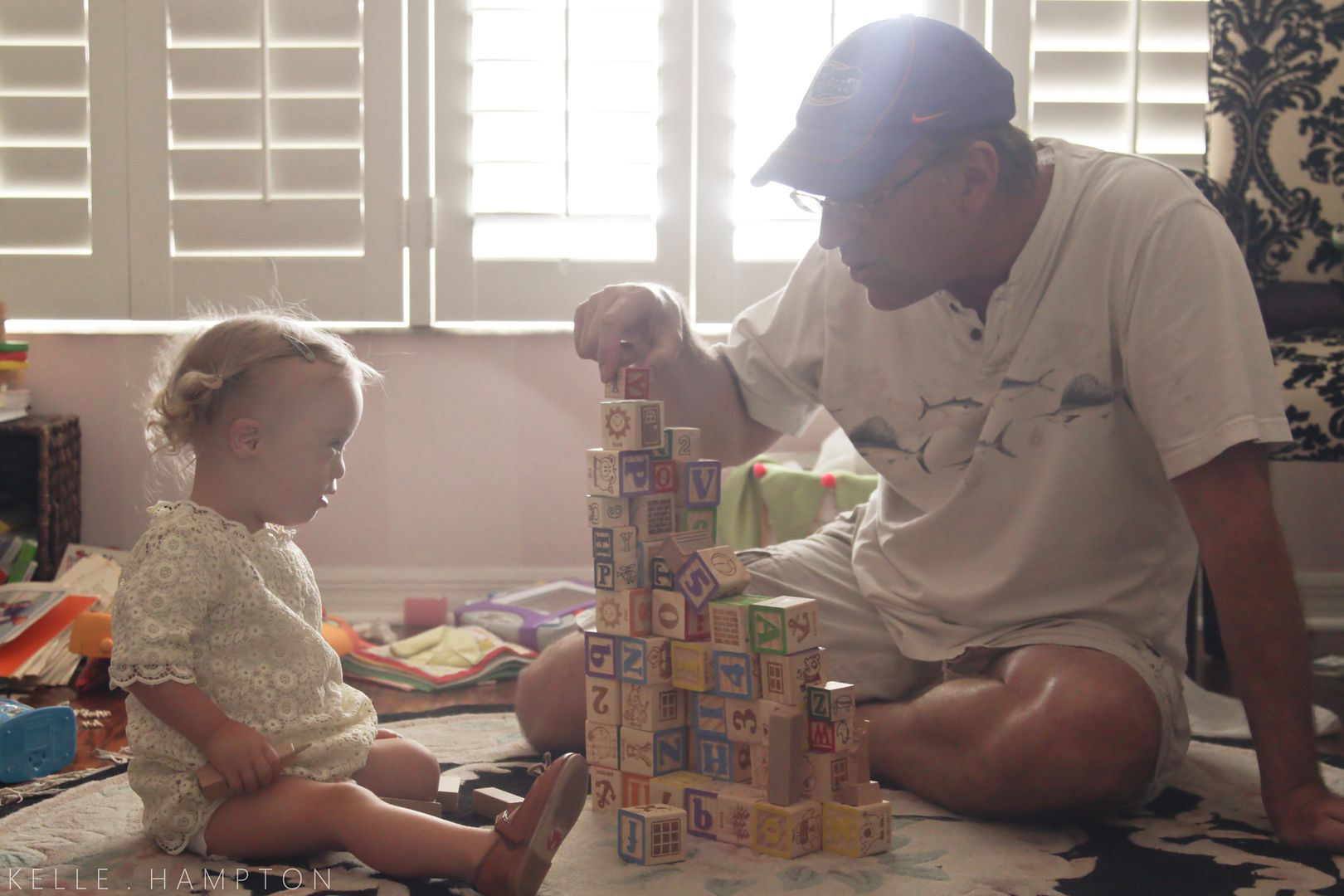 Motivated by an energetic week, we made efforts to reinstate dinner table traditions, barefoot walks outside and trips to the hot tub.
And I feel energized on this Monday evening, eager to find more ways to make little changes in our routines, simple renovations in our home to create more peace, more focus…good chi.
A friend recently asked me, "So, what's changed since all of this?"–all of this indicative of a couple crazy busy weeks, a book, a dream of continuing to do what I love and connect with people in a really big way.
What's changed? A few inevitable things, but really life's the same.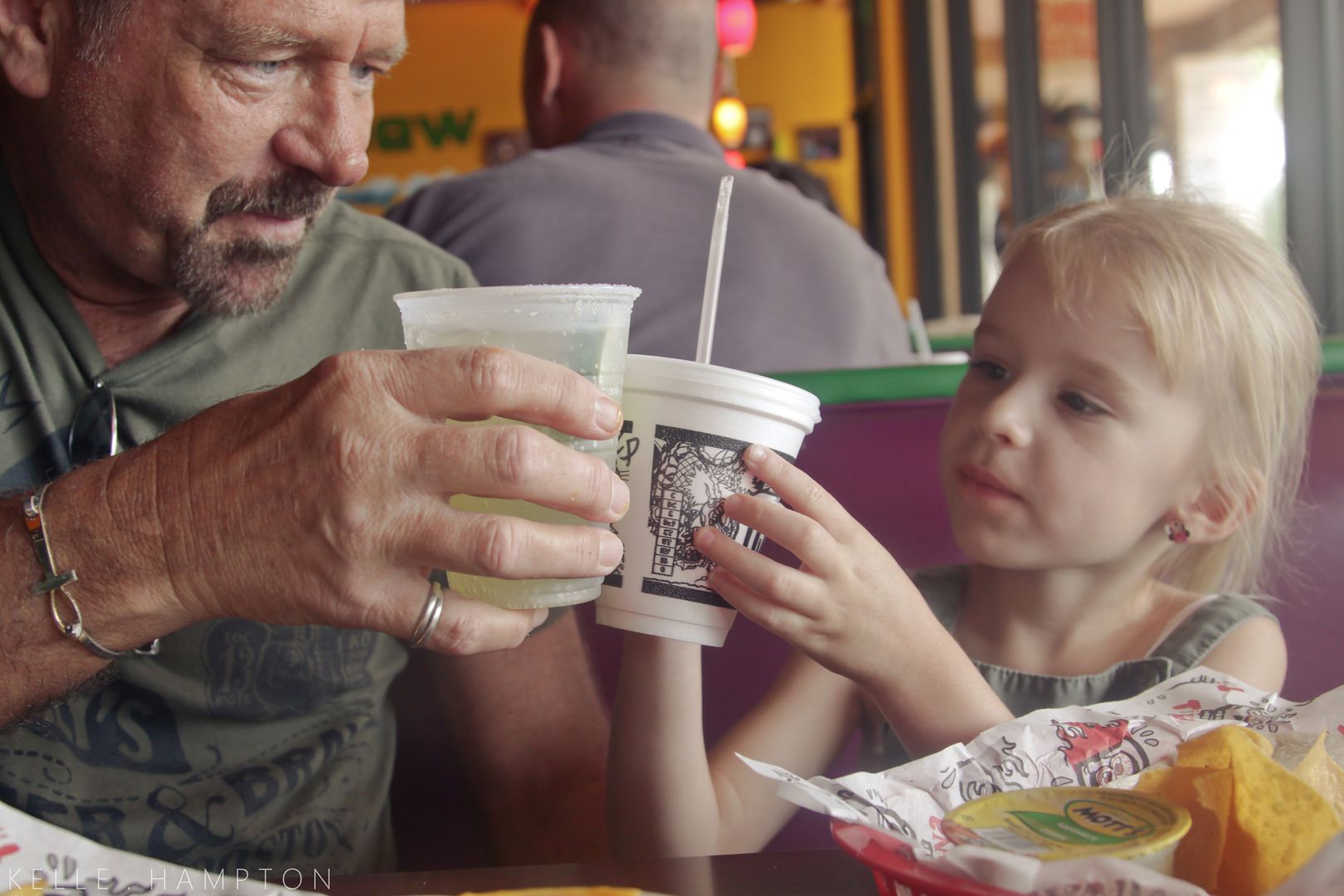 Dancing with P.T. Jonah this week

We wake up every day, look around and make note of what we have. We smile and say thank you in every way imaginable. When things aren't so great, we do what we can to make them better. And we make it a very important priority not to let life get stale.
We feng shui.

Lainey and her new dog, Chocolate Chip, for whom I stood in the longest line at the NYC American Girl Store to buy. It was worth it. This dog hasn't left my girl's arms. She's even given her two baths.
****
Friday Phone Dump from last week:

Friday Phone Dump photos are taken on the Instagram iPhone app (free) and dropped into a 12×12 collage using a photo editing software (Photoshop Elements works). I am @etst (enjoying the small things) on Instagram if you want to follow the feed.
*****
We are happy to welcome back a blast-from-the-past sponsor, an old favorite, Linkel Designs. Featuring colorful, handmade jewelry and an impressively stocked shop, Linkel is sure to have something for everyone. I love the vintage-inspired pieces and the whimsical details.
My new favorites? My red Large Statement Byzantine Earrings (lots of comments on Instagram). All of Linkel Design's jewelry is modestly priced, so pick out a few for yourself and some extras for those you love.
Use Coupon Code KELLE for 10% off your order.
One comment on this post will be randomly selected to win a $50 gift certificate, courtesy of Linkel Designs.
If so inclined, please share some ways in which you can "feng shui" this week–what little changes can you do this week in your home and/or in your routine that can reignite good energy?
*****
Also, Target.com is offering another generous promotion for Bloom: 10% off Bloom and 10% off of one non-clearance baby apparel item, when purchased together. Use Code TGTCTVHV for promotion, valid until April 30, 2012 11:59 EST.
Spend $50 at Target.com, and Bloom ships free! And, when you use your Target REDcard, the book ships for free (plus an additional 5% off).
*****
Have a great week!