I have a whole lotta catching up with friends to do. It started in the driveway the night we rolled in from our trip and continues tonight in–oh, about twenty minutes when I get picked up to go out.
So a little enjoying today.
Enjoying:
Debby Does Naples.
And by that I mean, of course, Debby the Tropical Storm who rolled in to our beaches with her crazy wind and her big waves.
When we know it's not too dangerous, we always try to hit the beach before or after storms because it really is spectacular. In 2004, before Hurricane Charley and certainly before the boys were old enough to understand what qualifies as "My parents embarrass me," we actually went to the beach as a family in–wait for it–orange plastic parkas. Kid you not. Made fake weather update videos and took pictures of surfers. It was a real blast.
Not-Your-Grandma's Spoonrack.
Okay, maybe it's still a grandma spoonrack, but that just makes it sweeter because seeing it makes me remember the exact one my grandma had hanging over the barstools, right above the cookie jar with the Fig Newtons. The dark wood rack was full of spoons she collected on mission trips. I found one at an antique shop in Michigan–brought it home, gave it a bath, fed it some cookies, painted it yellow, and now it's happy. And so am I.
Friends with Benefits.
And by benefits I, of course, mean felt teepees.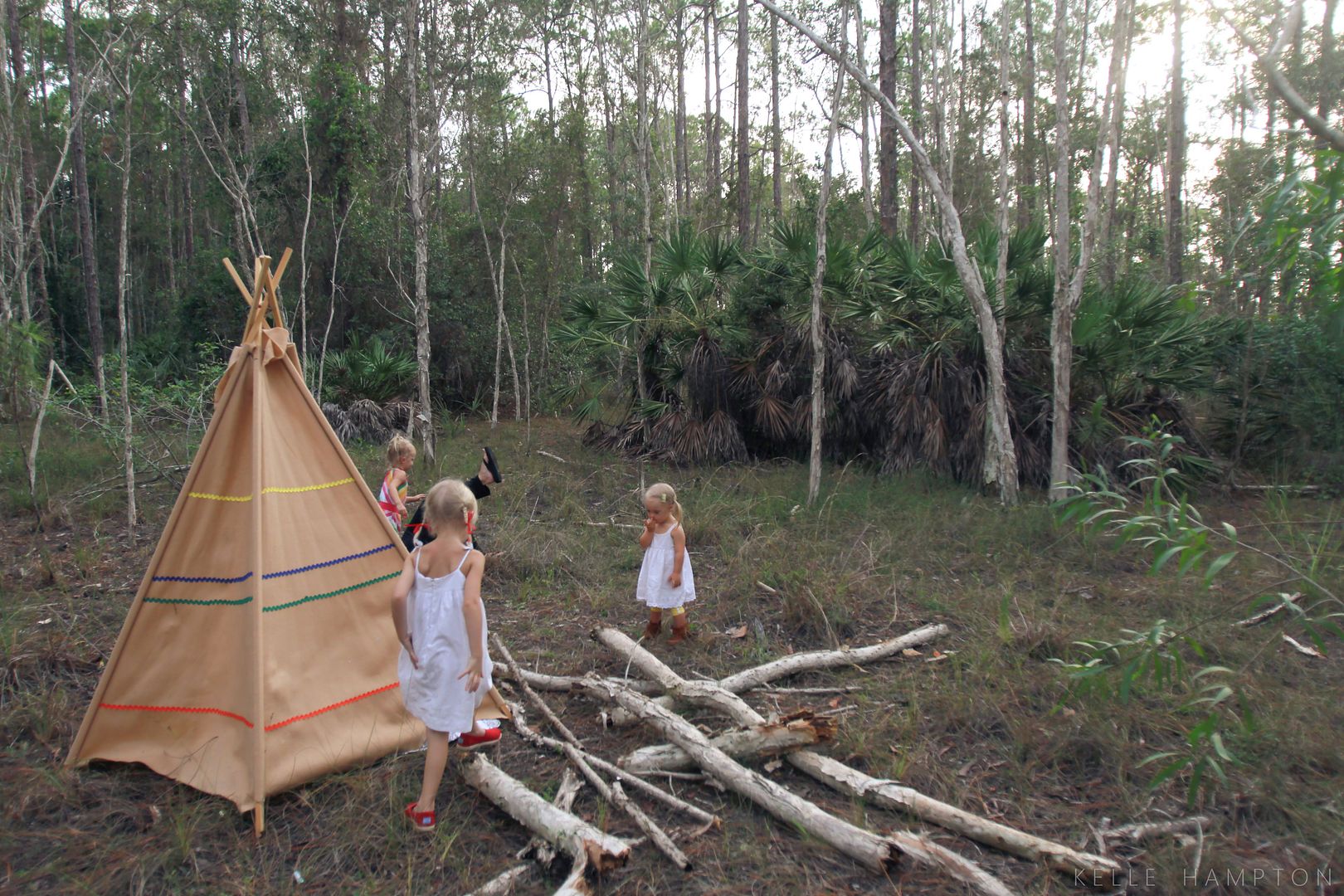 My friend Rebecca has a felt teepee, and if you knew Rebecca, you'd understand why I didn't even flinch when I arrived to the park the other day to find her holding her kid's hand in one hand and a giant teepee, folded up in a mess of 6-foot sticks and wadded felt, in the other. We hauled the teepee over half a mile of boardwalk to our supersecretspot in the woods–the one where the gnomes live. It felt very summer camp adventurous–especially that part where the rat snake slithered across our walking path.
You know that part in Parent Trap where Hayley Mills scares the bears away? Yeah.
Dogs Who Photobomb
What I was trying to take a picture of:
Birthday Traditions
In keeping with good traditions, I took Lainey to the dollar store today to pick out ten things for Brett. The rule (per Brett) is simple: I butt out of all gift decisions. She intently scoured every inch of Dollar Tree and settled on a pair of new scissors, some rope ("to make crafts"), two car wash sponges–one pink, one blue ("so we can wash the cars together"), two packs of flower seeds ("so we can plant together"), a roll of paper towel ("so you can clean"), a cheap pair of outdated craplastic sunglasses and a card that inside reads "Time to cough up a big thank you" This whole ordeal makes Brett's birthday one of my favorite times of the year. I can't stop smiling.
Lainey enjoyed it immensely.
Hope you all are enjoying your week as well.
So sad to hear of Nora Ephron's death. I ordered I Feel Bad About my Neck today in honor of her. I've been wanting to read it for a while now.
I love her quote: "Above all, be the heroine of your life, not the victim."
*****

Congratulations to the giveaway winner of the Piper and Paisley hat:

Comment #17, figwittage: I love that the sun pours in my bedroom windows in the morning and I can see stars and airplanes at night. There's no place like home… past and present. xx

Figwittage (I recognize you from Instagram!), please e-mail your contact info to kellehamptonblog@comcast.net with the subject line PIPER AND PAISLEY GIVEAWAY, and your next bad hair day will be all taken care of.

*****
Happy Thursday!