Cleaning up some blog stuff today and tidying the space. Nesting here too, I guess.
A quick V-Day craft and a few sponsor shout-outs before their pretty side buttons are put away.
Instructions:
1. Measure around your child's head and cut lace trim a little longer than this size (need overlap to fasten Velcro).
2. Attach Velcro strips to ends of trim so that it securely fastens as a headband. Set aside.
3. Choose 4-5 white feathers (stiffer feathers take paint/glitter and stand up better). Paint just the ends of feathers pink and/or red.
4. White paint is wet, sprinkle corresponding color glitter on painted ends. Let dry.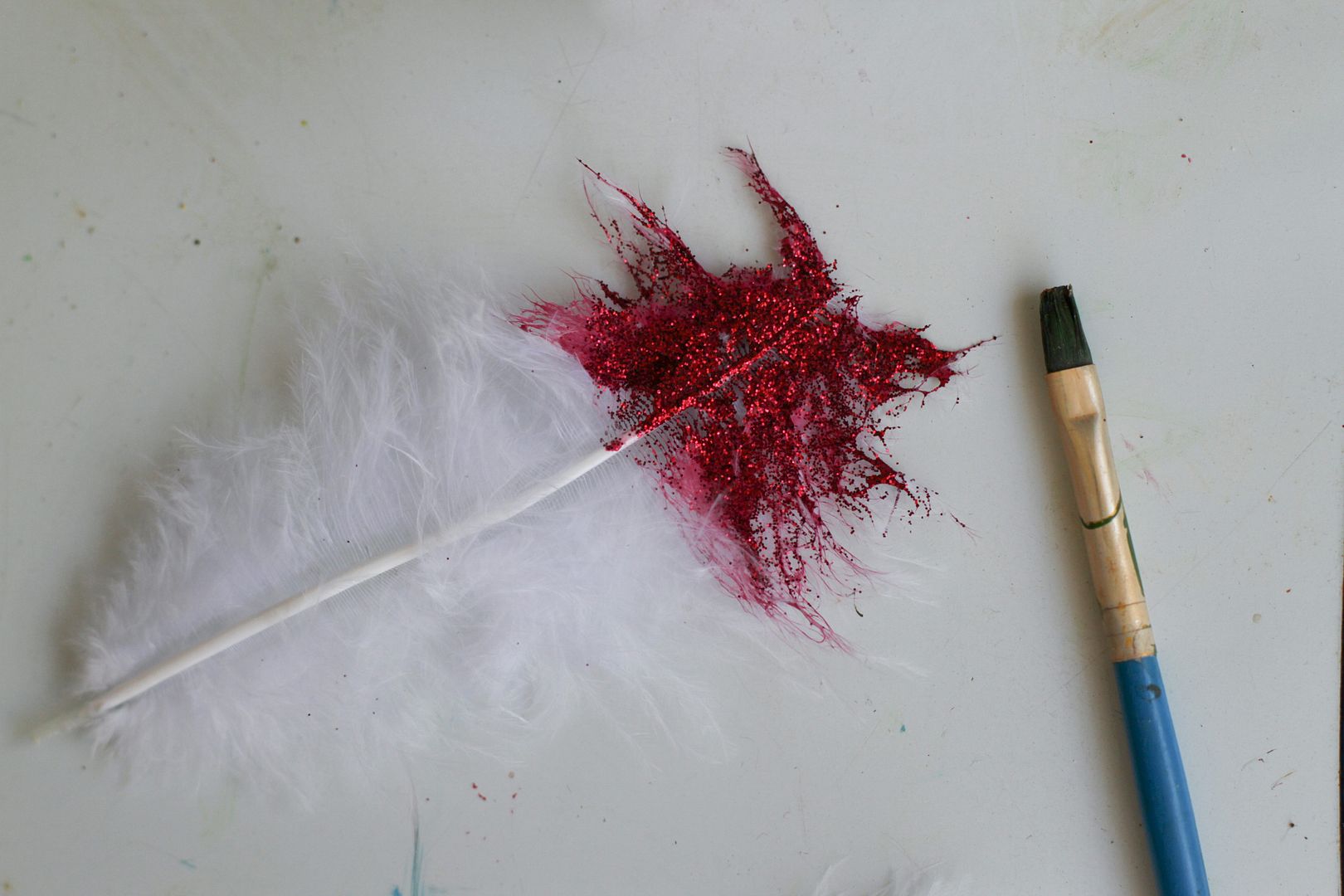 5. Hot glue ends of feathers to the inside of headband. Let dry.
6. Voila. Bribe your kid to let you put the headband on her and smile. Cute, huh?
A few of our holiday sponsors are ending, and I wanted to give a big thank you to these great businesses who help make frequently contributing on this blog possible.
*****
MARIA DISMONDY, Children's Author of these beautiful books that incorporate important morals with entertaining stories. We have each of these, and I love the discussions that arise after reading them.

*****
LEVITICUS JEWELRY: Artist Tara Levitin combines art and fashion to create her memorable pieces composed of mixed metals and stones. Her site is full of unique and beautiful finds.

*****
SWEET SEAT: Washable, portable and durable booster seats and bibs in a range of retro, vintage and classic patterns.

*****
HAPPY CAMPER STUDIO: Affordable, soft, hand-dyed dresses and t-shirts for your littles. Check out the Valentine's Day dipped dress.

*****
HOLDEN ON BABY: Lauren Isobel shares her style and adventures with her little boy, Holden, on this blog. I've found so many cute baby boy products and shops through Isobel, and I love peeking in on her beautiful photos and great style tips.

*****
THE ALBUMS: Watch this video and sign up for the premiere of a new way of sharing your family and photos, in a boutique setting. If blogging hasn't worked for you, and you're looking for an easier, streamlined way of sharing photos, vacations and family experiences, be sure to check The Albums out.
*****
Happy Day.