I'm out of town today but I'm excited to introduce a new sponsor, The Vintage Pearl, and a generous giveaway owner Erin Edwards is offering. The Vintage Pearl offers meaningful hand-stamped jewelry and gifts, incorporating raw silver, leather, freshwater pearls and birthstone crystals in their creations.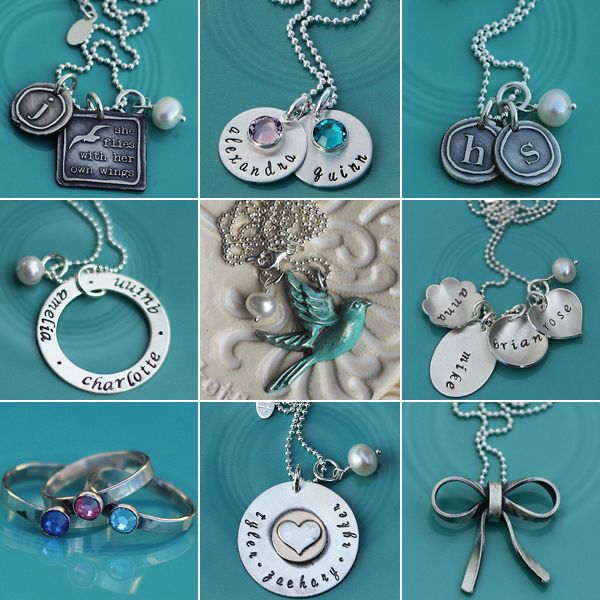 Learn more about this mama of four and her inspiration and drive in my Behind the Business interview with her.
1.) How did your business get started? I started making jewelry as a creative outlet while staying home with our kids. My sister-in-law and I were home raising children the same age and she began sewing and selling her designs on eBay and Etsy. I couldn't sew, so I started making jewelry to match her outfits. I taught myself how–first with beading and soldering charms and then hand-stamping, and I quickly fell in love with it. After about a year and a half on my own I started needing help, so friends started jumping in to help me answer e-mails, ship packages and eventually make the jewelry with me!
2.) Where/How do you get inspiration for your ideas? EVERYWHERE! A quote, my kids, a song, nature… inspiration is all around us and can hit at anytime–especially in church!
3.) What is your favorite part about operating The Vintage Pearl? I have several— I LOVE designing meaningful jewelry and keepsakes, and I LOVE getting to work with some of my closest friends everyday–we have a lot of fun! It's also incredibly rewarding receiving a note or e-mail from someone telling us how much the piece they have means to them. And I also love how much we are able to give when our business is successful; it makes the pressures and stress worth it knowing we are helping people in need!
4.) Any tips on balancing personal life/business life? My word of the year was "balance" because this is hard for me. I love to work, I'm very motivated and self driven and sometimes I find it hard to turn off work mode and be the mom/wife that my family needs. Thankfully, my family enjoys many aspects of the business (my husband is actually most of the business brains behind it all) and the kids like hanging out at the studio. They like to make jewelry too! I know looking back, though, I don't want to regret not spending more time with them, so I make efforts to take them out for bowling, movies, game nights, picnics at the park, the girls and I get our nails done together–fun things like that. We spend a lot of time together as a family, and I never miss their games (and our kids play lots of sports!) So, I guess my best tip would be no matter how busy you are, make a big effort to make quality time and memories with your family–after all, they are what's most important, and you'll never regret it!
I love learning more about the different ways women create, are inspired and accomplish the complex task of balancing work and family. Check out The Vintage Pearl and their beautiful collection of meaningful gifts and keepsakes.

From L to R: Chunky Message Ring, Vintage Peas in a Pod, Love My State Necklace, Personalized Silver Baby Spoons, Wrap Ring
Erin is offering a giveaway of a $50 gift certificate to TWO commenters on this post (winner comments generated through random.org).
And since we're talking inspiration and businesses, here's a fun question: If you were given the funds to start and/or continue any business, what would that dream venture be? If you're already doing it, congrats and please share!