Thrilled to share another woman chasing her dreams and transforming her talents and loves into making a living:
Welcome to Bloomies Handmade, ETST new sponsor. Bloomies Handmade offers an impressive variety of handmade hair accessories–felt bows, flower clips, head bands and more. Bloomies Handmade offers 6 types of felt flowers, 3 styles of felt bows and over 35 colors to choose from.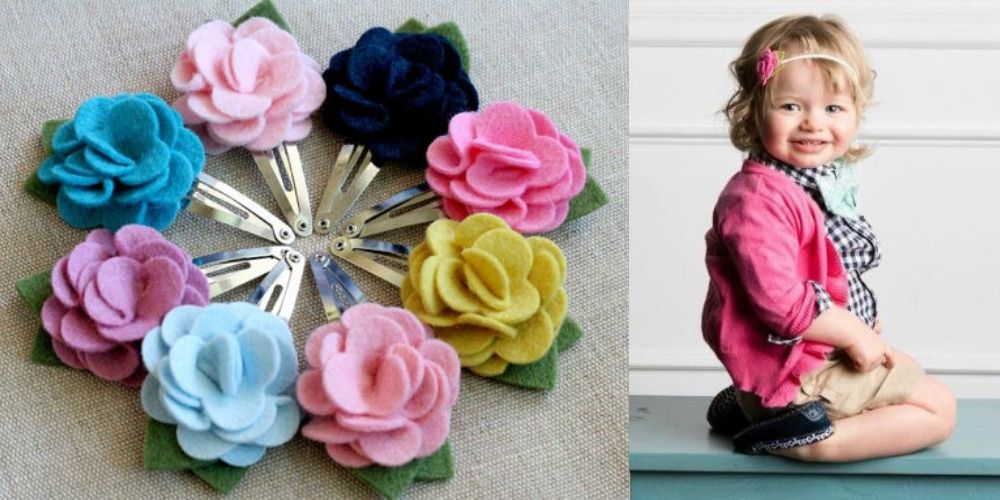 Their tiny bows are perfect for newborns, and one tiny drop of their Girlie Glue (100% all natural, made out of agave nectar) will hold a bow in place all day.
You can find Bloomies Handmade on IG at @bloomieshandmade and on Facebook here.
Bloomies Handmade is offering the generous discount of 30% off all shop orders using code SMALLTHINGS for the month of April.
A little more about Jennifer, the talent and motivation behind the Bloomies business:

1. You attribute your creative handmade gene to your mama. Tell me about how she influenced your business and the satisfaction of making a living on handmade goods.
I'm very lucky to have the mother that I do. My mother inspired my career by showing me how important it is to take on passion projects and really run with them if they are a good fit. She always showed passion and drive in any project she took on, big or small. Having a strong, driven, multi-talented woman in my surroundings has shaped me in so many ways, and I am so grateful. Never in my life would I ever have imagined that I would be able to run a successful business from home. I am so thankful I am able to make handmade accessories from my home. It is such a blessing to do something I truly love and make a living from it.
2. You quit your job last year to run Bloomies full time. How did you decide to take that risk and how has the business grown since then?
When I first started Bloomies I figured it would just be something small I did on the side to make a few extra dollars for my family. My husband and I always talked about how nice it would be for me to quit my job as a full time server and work from home, but we never thought it would actually happen. Almost a year after starting my (small) business I was getting really frustrated with my serving job and talked to my husband about quitting. My husband was a little apprehensive at first, so I decided to wait a few more months before throwing in the towel. Well, I couldn't wait so a few weeks later I quit my serving job. Although I was making a decent amount of money from my business, I was still really nervous about quitting. I was nervous about failing, I didn't want to let my husband down. What if it didn't work out? Well, to my surprise (and my husband's) my business did better than we ever could have imagined and that year I tripled what I made as a server! Taking this risk was scary but SO worth it.
3. Describe a short typical day-in-the-life of being a hair accessory business owner. Where do you make your products? Do you have employees who help?
Oh goodness, well, there never is a "short" day, haha . I wake up at 6am every morning and start work at 7am. I have to make a long exhausting commute from my bed to my living room everyday! Haha. I know, you feel bad for me! My commute is horrible! Anyway, I work 7am-10pm Monday thru Friday. Of course I take breaks every now and then but from the minute I wake up to the minute I fall asleep I am usually working. Right now, since my business is still very small I have to be in charge of every little detail. A normal day I would print invoices, respond to e-mails, send out lots of packages, take pictures of my products, buy supplies and find new ways to advertise. I have one full time employee who comes to my home every day and helps me package orders and two part-time employees who make my flowers from their home. I make some of my products but most are made by my two part time employees. Just in case you were wondering we do not have any children yet, hopefully soon.
4. Bloomies is successfully growing (deservedly so!). Why do you think Bloomies has done so well? (and I see it's your goal to open a Bloomies boutique and expand into retail stores–think it will happen soon? Congrats!)
I believe Bloomies has done so well because our products are unique and very affordable. We truly care about our customers and want to do everything in our power to make them happy. We have had to overcome several obstacles to get to where we are now and our customers have been so supportive and patient with us. We have the best customers and are so thankful for each and every one of them. We would LOVE to open a Bloomies boutique, hopefully within the next few years. We are currently working on getting our products into retail stores.
*****
I'm excited to share Jennifer's talents with readers today! Don't forget to use code SMALLTHINGS for 30% off your Bloomies order.