So I just deleted an entire four paragraphs because I realized at the end of that fourth paragraph that what I was writing wasn't really fun to write anymore. It was all "motherhood is so hard" (said like a five-year-old throwing a dramatic fit), and you know what? It is hard. Saturday proved that for me, and I could write every awful thing that happened–who was crying and how I dealt–and it would be funny. It would be relatable. You might have even thought to leave a comment that said "thanks for keepin' it real."
Truth is, I write here about what feels good to write about and today, after earning my stripes in the Hot Mess Mom Club, I'm not going to write that motherhood is so hard post. Because I'm kind of over it this morning.
Alright, I'll share just a little bit from Saturday's craziness because I went to the trouble of drawing a picture for the story.
After picking up my wallet from a restaurant where I left it for the second time this week (yes, same restaurant, two separate times), Heidi and I took the kids downtown Saturday for some fun. Let's just say every kid was crying, I didn't have enough arms to help, and when we finally got to an outdoor restaurant to collect our thoughts, I said to our super hot waiter when he saw all the kids, "I know what you're thinking–table from hell. Promise we'll take it easy on y–." Except I couldn't even finish the sentence before Nella's stroller flipped backwards. With her in it. Yep, boots in the air again. Super Hot Waiter had to save her while everything that was in the stroller including an orange juice, my purse and a wet diaper flipped out and I sat helpless, Dash crying in my lap, from the other side of the table. Whew.
So here, a picture: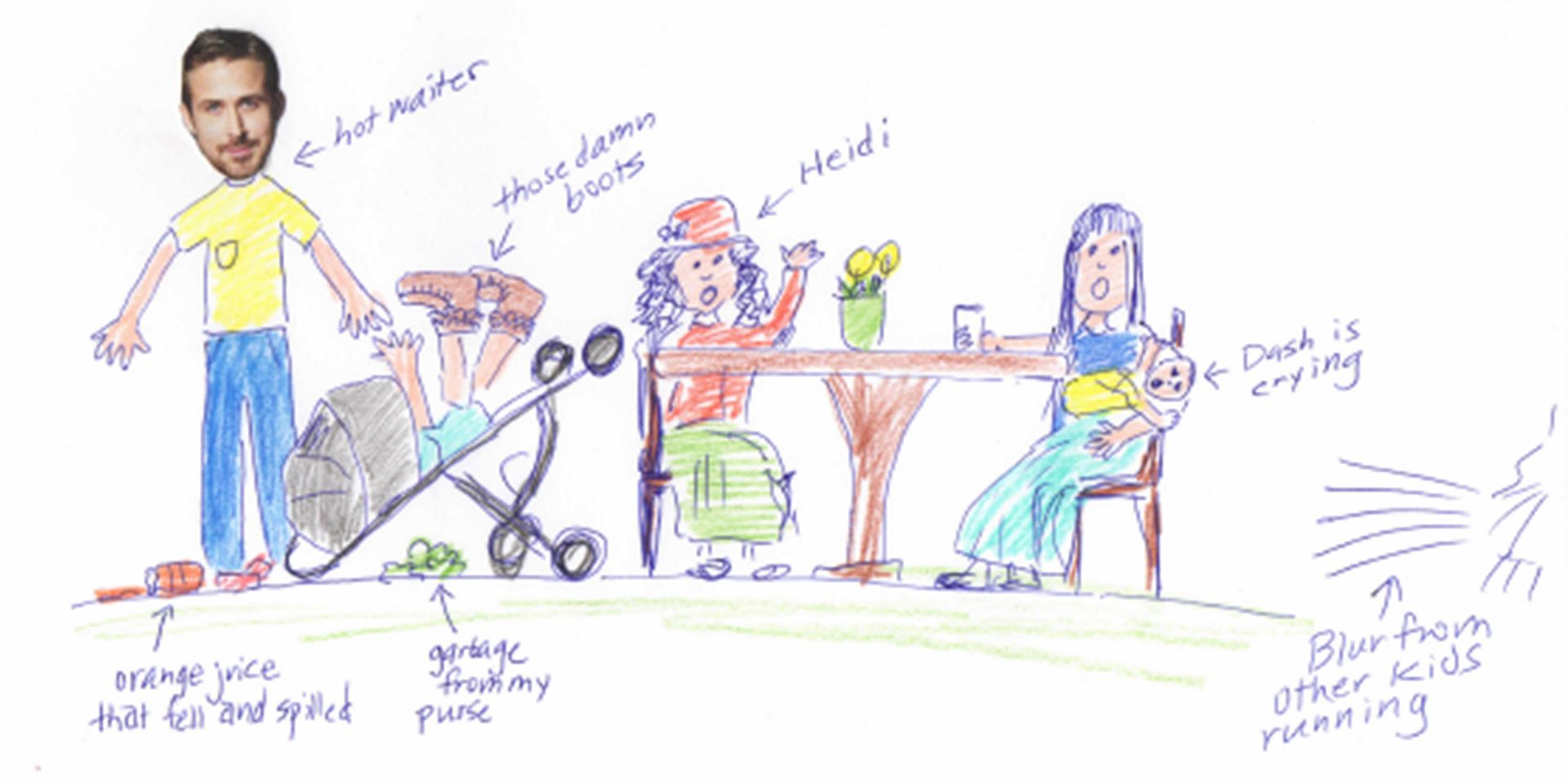 And by the way, Heidi says this is all part of the naturally orchestrated universe because Seven Week Meltdown post third kid is a given. She's been telling me this for an entire year, and funny Saturday should land exactly seven weeks and two days past giving birth.
*****
It's funny how trained I've become as a woman to think that the "I'm failing" stories make me more likeable. I tend to be a bit of a people pleaser, so I'm easily trained on these things. Tell them that you lost your cool, that your kids have massive fits, that you can't lose the pregnancy weight and they'll like you better. You know what I say when anyone tells me I look good after having a baby? I have it memorized. I fire it back without even thinking: "Oh there's some Pillsbury skin underneath the shirt, don't worry." And I breathe a sigh of relief as if suddenly I was forgiven, "let in" after being proven.
I realize there is truth to why we're trained this way. We naturally accept our own imperfections a little more when we find them in others too, and that's okay. Power in numbers, comfort in a like-minded group. I've totally been guilty of saying "Thank God" when I discover my outwardly put-together friends have junk drawers, messy closets and laundry piles the size of landfills. But I also don't want to need to hear these things in order to be okay with my own shortcomings. And I certainly don't want to base my likability of someone on the presence of faults like mine.
We share our weaknesses not to be liked but because the community that's built in the process helps create a kinder force to accept these imperfections and a stronger force to overcome them. But we must make lots of room in between to celebrate each others' strengths, high-five for the days well played, and recognize in our own lives where things are very good indeed.
And good Lord, one of these days I will learn that when someone tells me I seem put together, I don't have to make sure they know my house is a mess. "You look great" doesn't need to be followed by a description of my stomach dough, and a rave review of something I cooked does not call for "it's the only thing I know how to make." Compliments don't need to be softened by backing them up with disclaimers; sometimes you just need to own them.
With that said, this weekend had far more good moments than challenging ones.
Like Family Pool Parties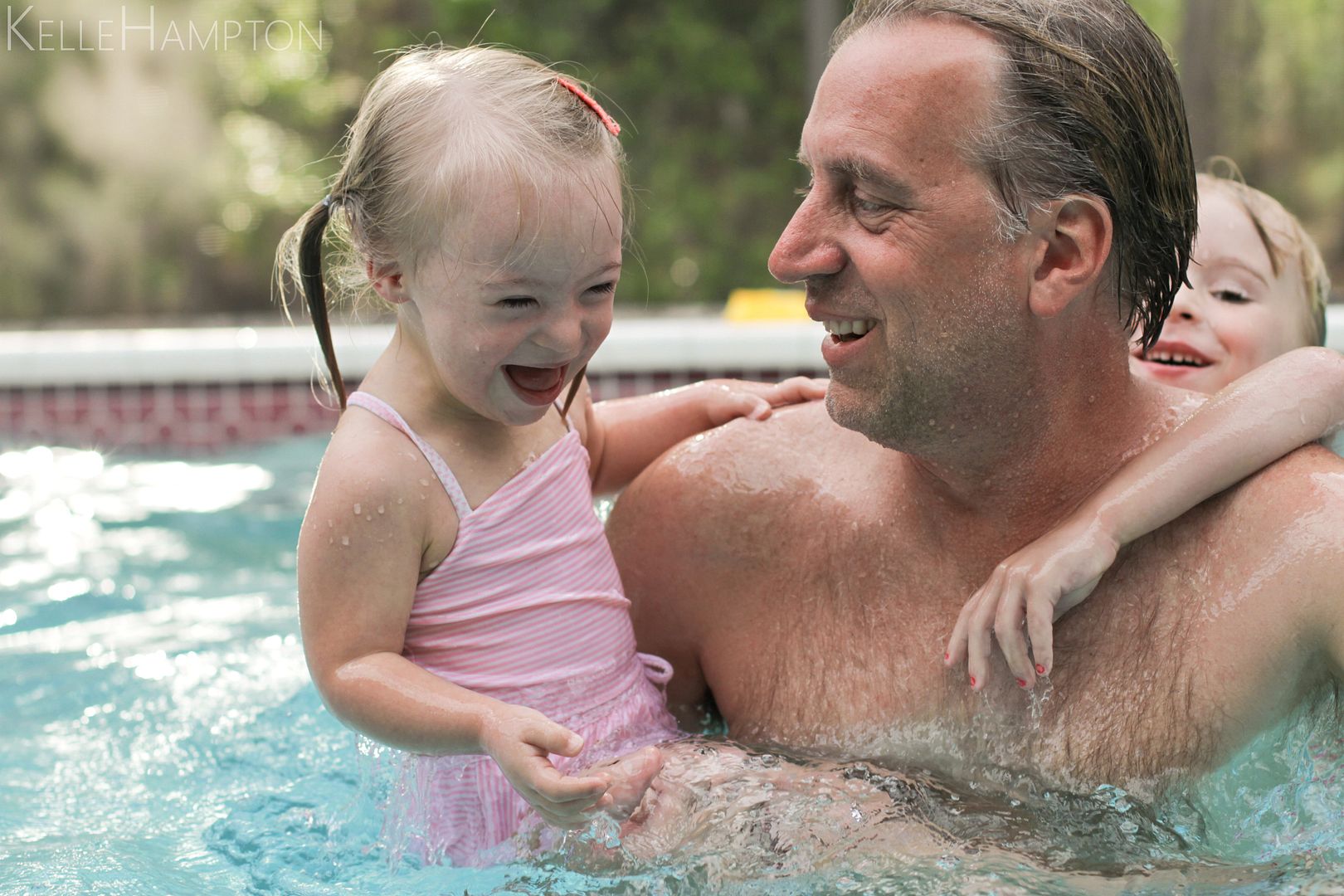 Dash had his first experience with the pool and loved it.
Also, I really need to wash my windows.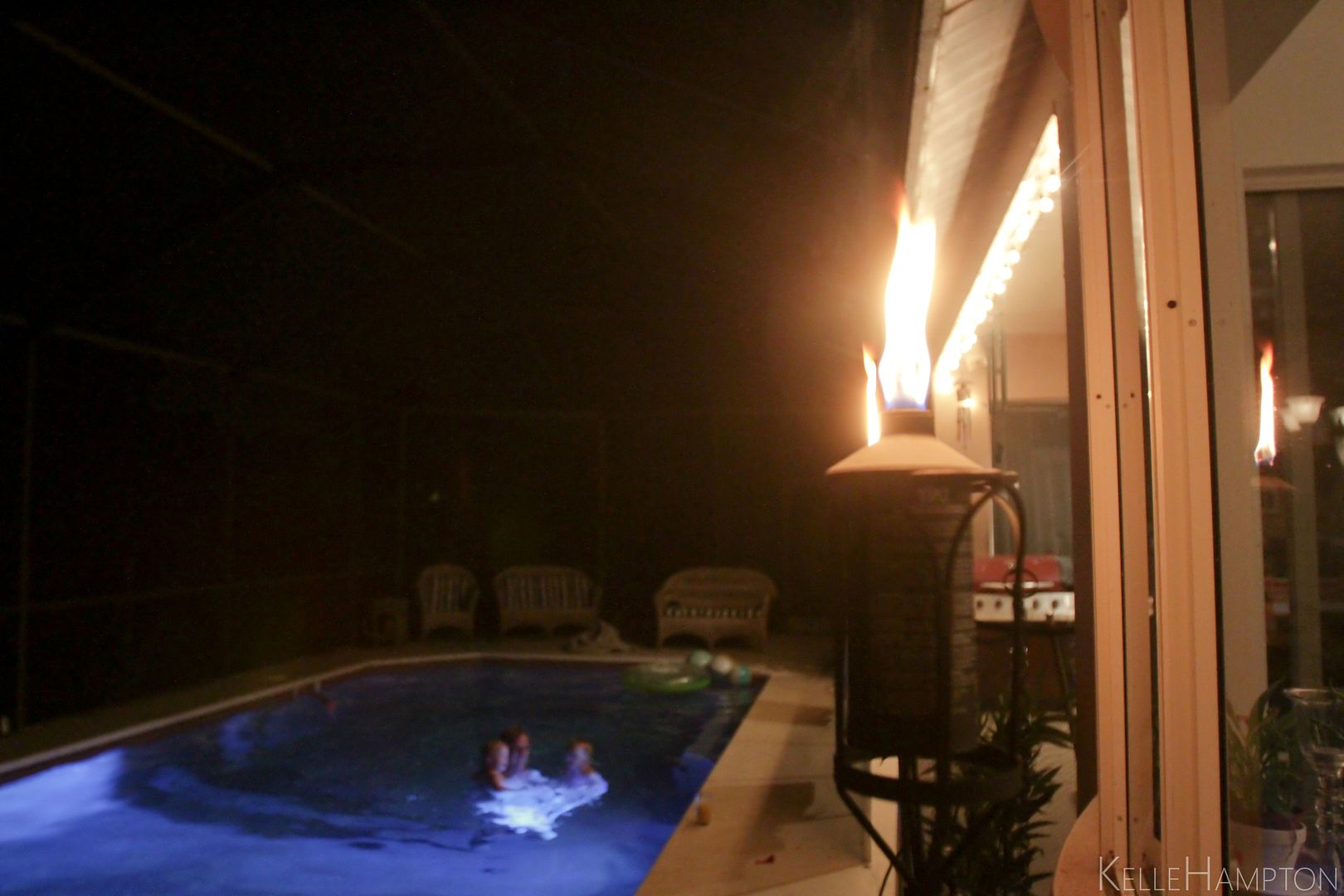 Finally turning on the pool heater means late night pool dips with no shivering
Heidi and I laughed on Saturday that we had every reason to head back home after the fate of the day proved disastrous. But neither one of us would make the call, so we just kept pushing strollers with whiny kids.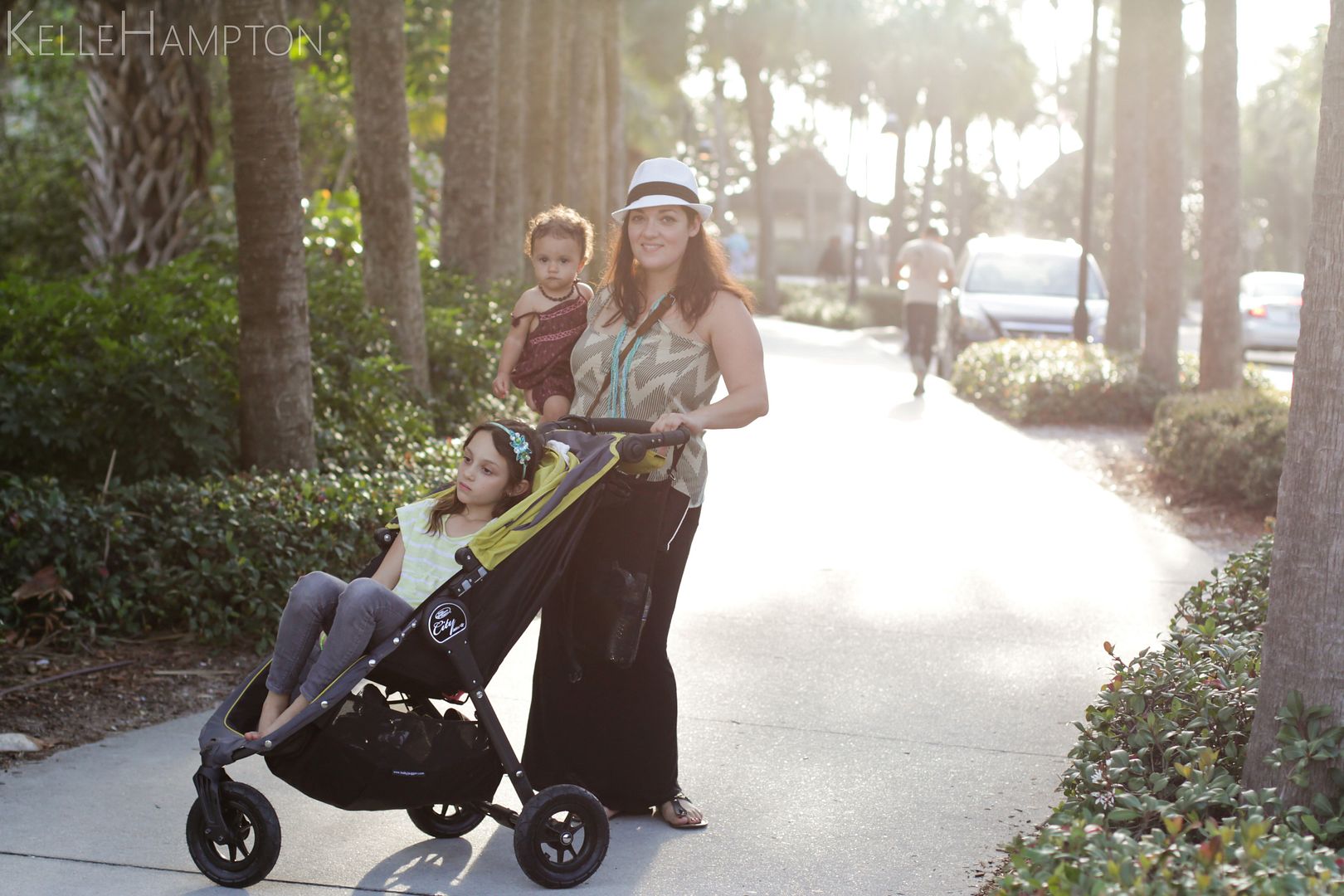 We finally made it to the beach where kids were set free and we sat–surrounded by tourists, cooled by strong beach winds–and slowly reordered the memories of the day, these peaceful ones quickly taking the top spots.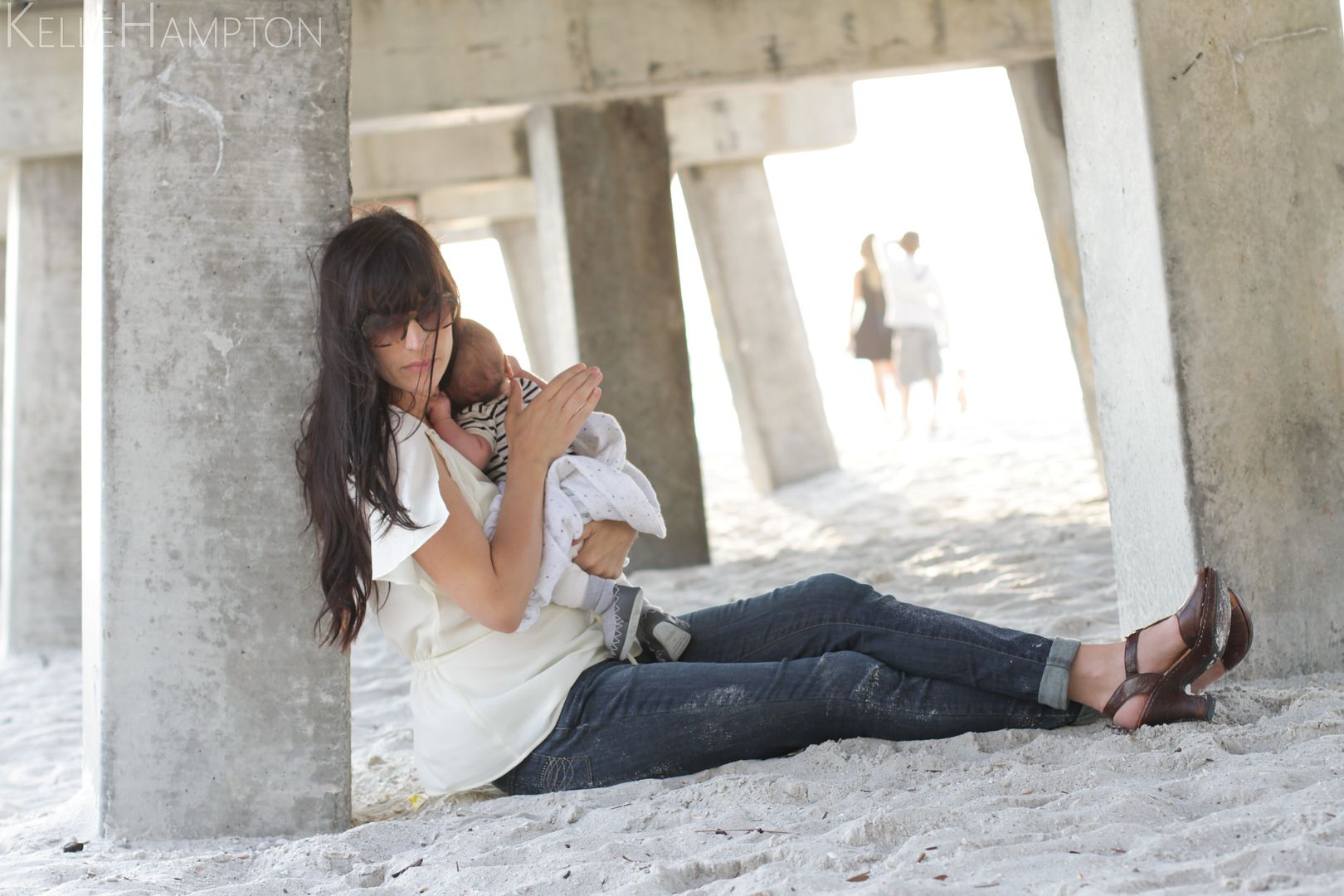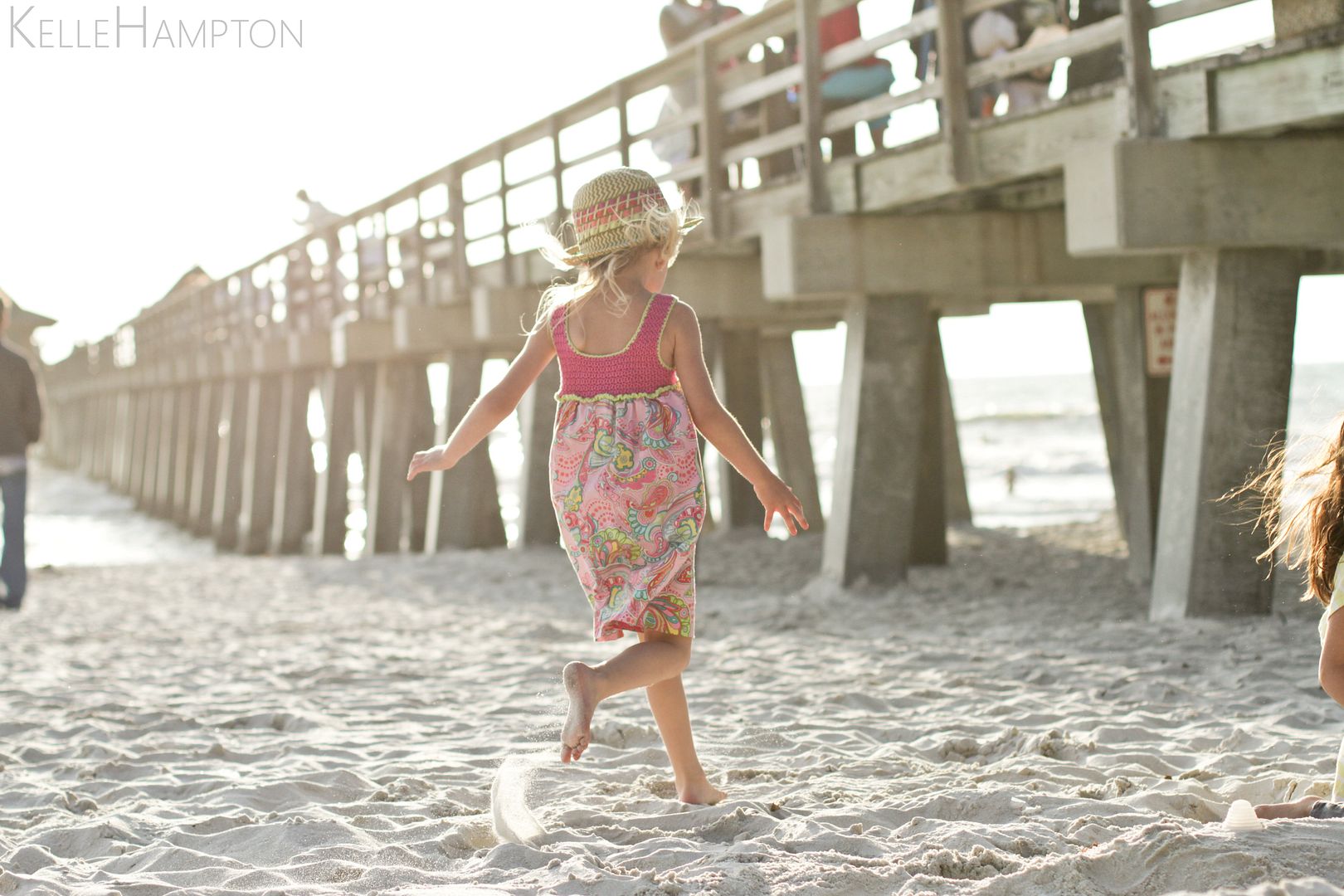 For all the times we usually can't shut up when we're together, we were quiet on the beach that night. It'd be nice to say it was because we were drinking in the scene or moved by the beauty of it all, but clearly, we were shot.
Heidi: "You want to walk to the end of the pier?"
Me: "Let's not and say we did."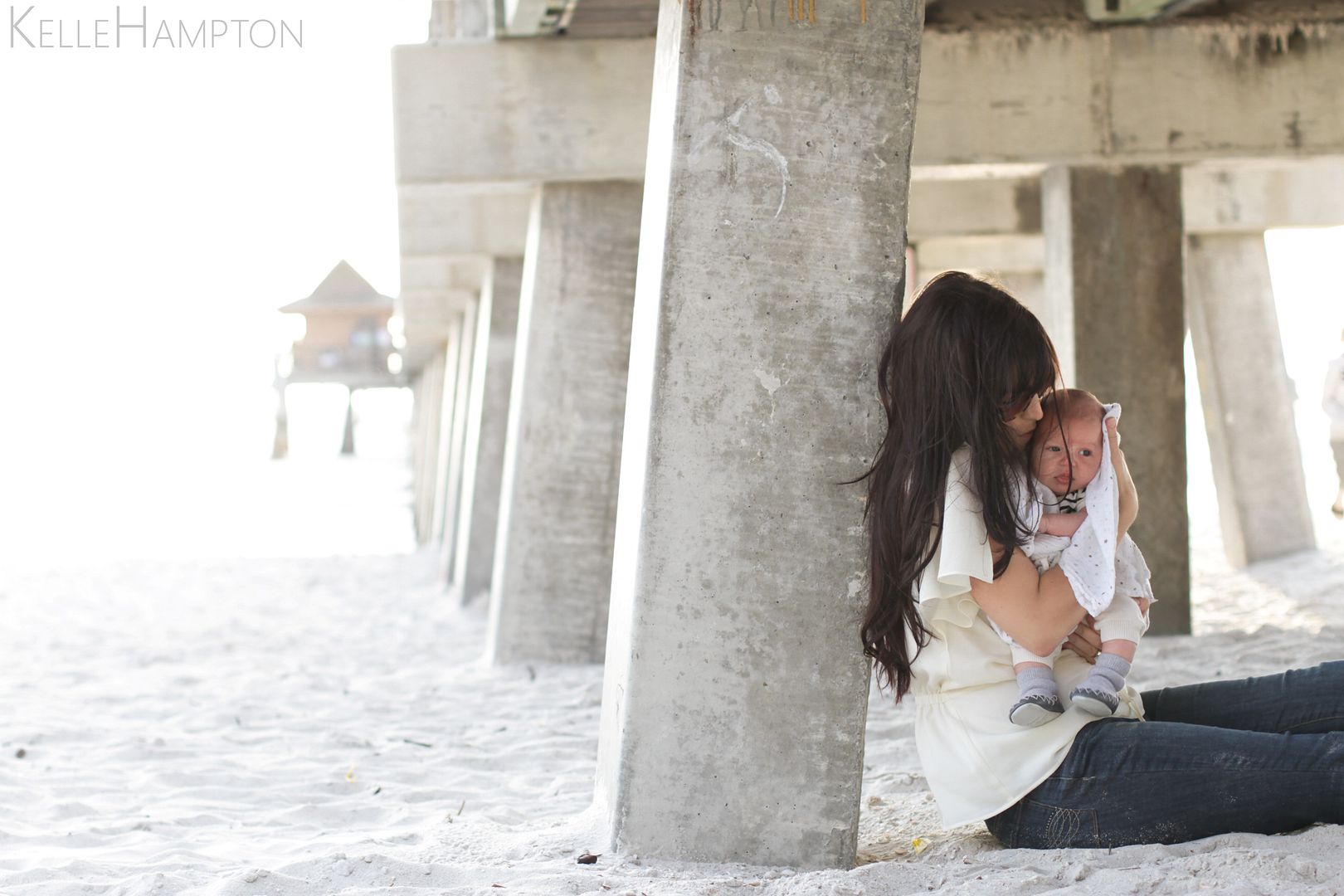 Recovery for Saturday came Sunday when, after a morning clean, our very low expectations for the afternoon were exceeded simply because we managed to paint our nails.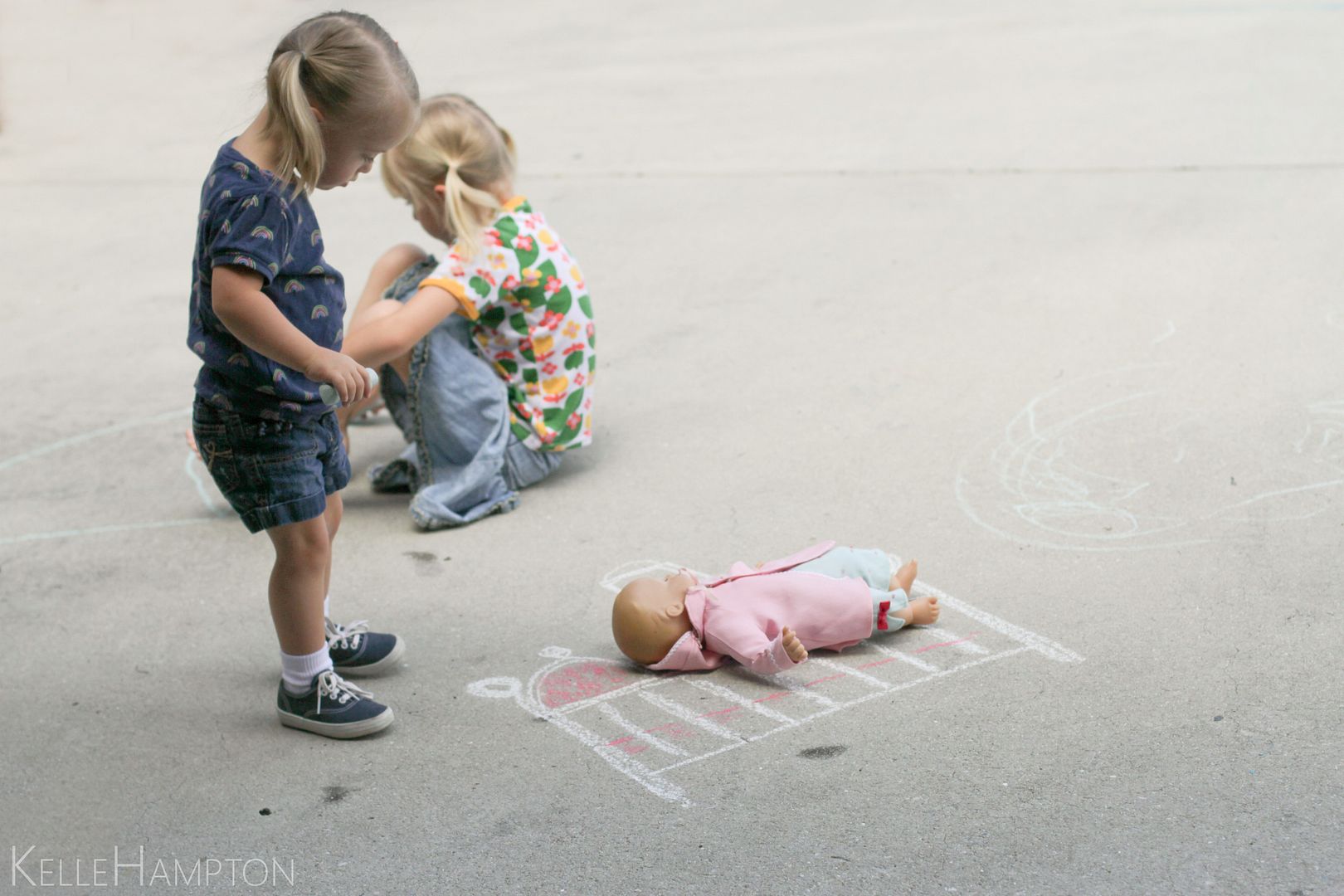 This boy. He can go from not crying to a full scale vibrato wail in all of half a second. But he is the best cuddler ever.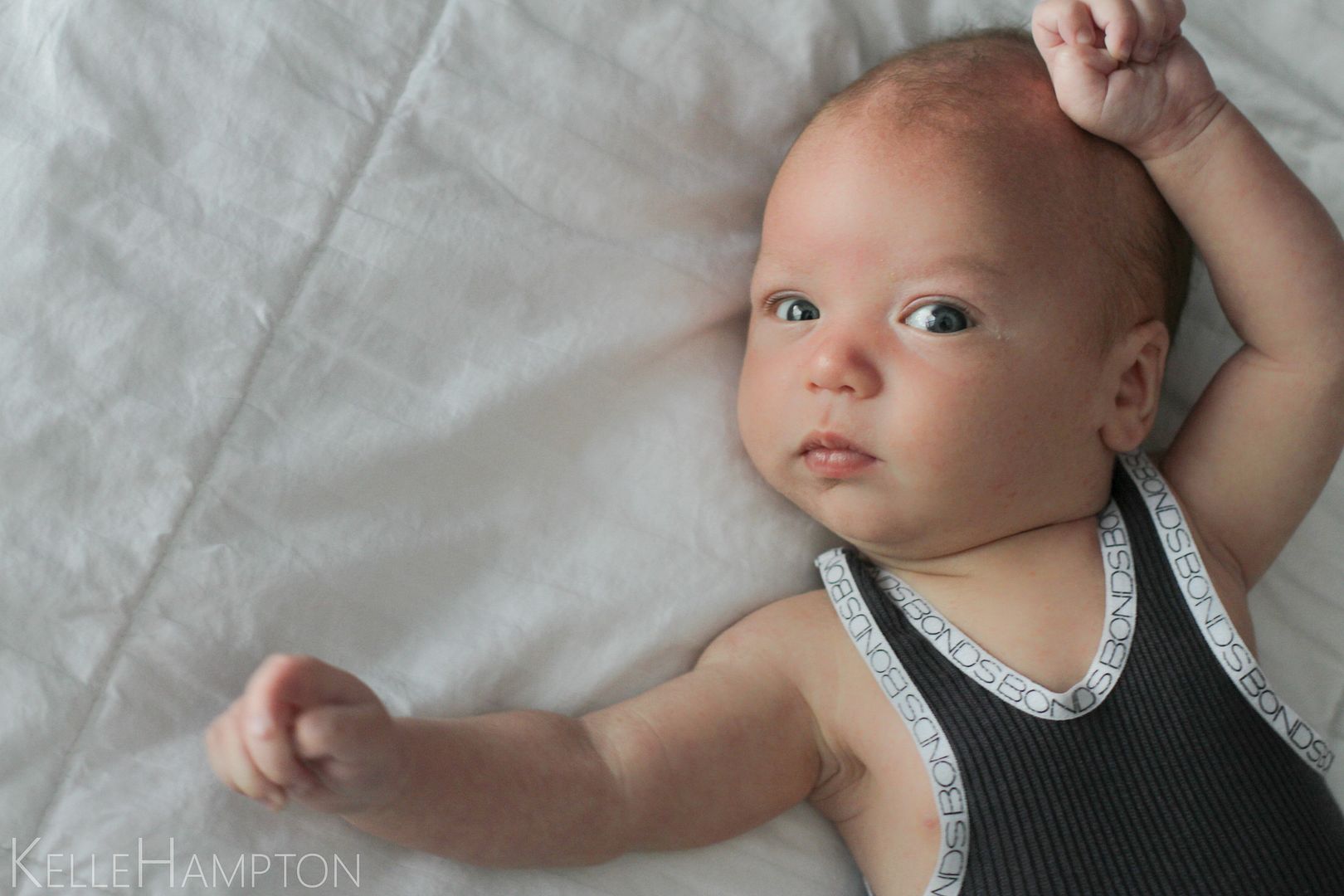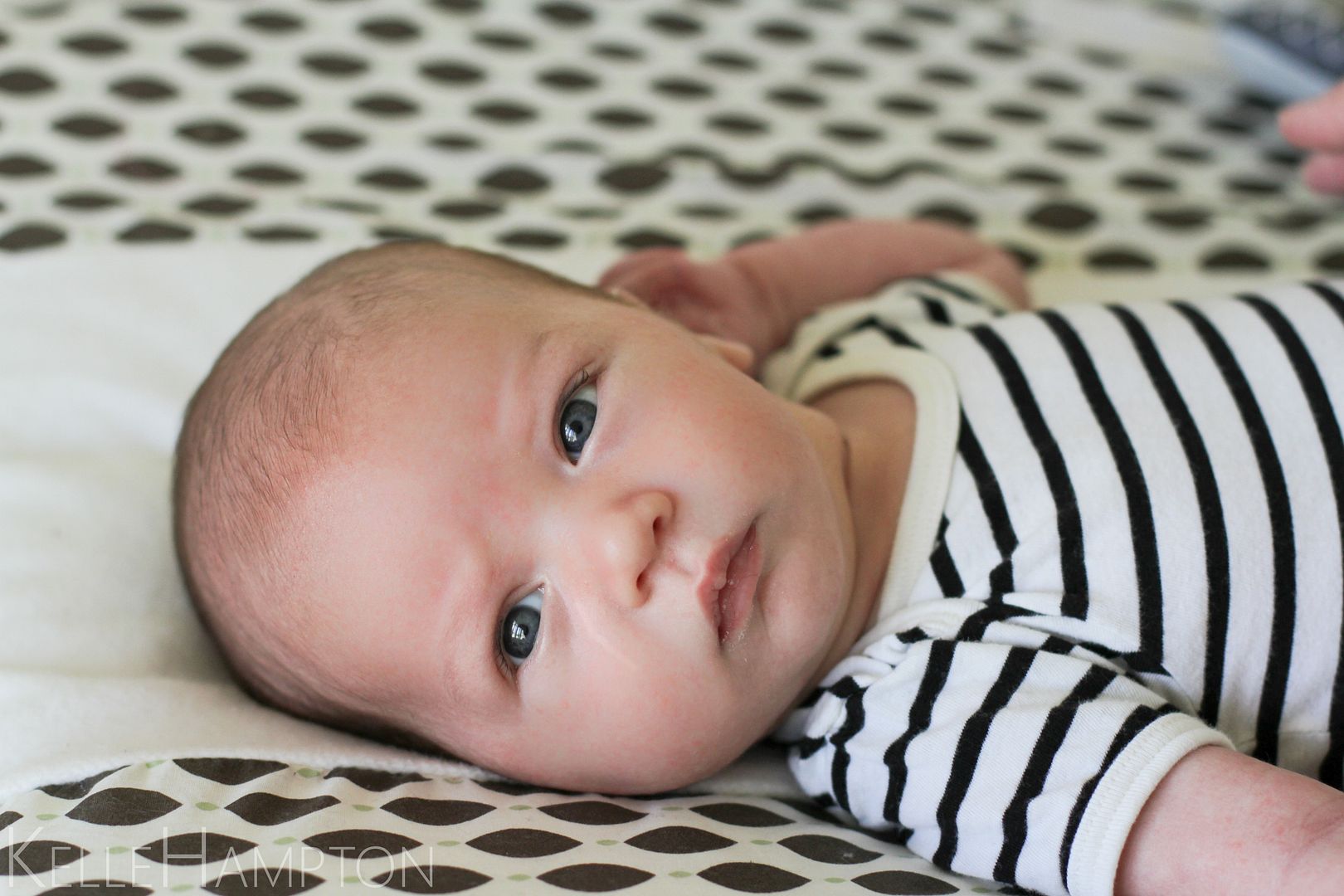 Those last two pics? Yeah, tipped strollers have nothing on them apples.
*******
Popina Swimsuit Giveaway Winner:
Comment #566, Katie:
I desperately need a new swimsuit and have never had one that truly made me feel special. This might do the trick for my return to NC's Emerald Island this summer, it's my happy place.
Congratulations, Katie. Please e-mail me at kellehamptonblog@comcast.net with the subject POPINA GIVEAWAY to claim you swimsuit.
For the rest of you, if you order the red vamp Jantzen suit, use code Kelle for 15% off (already only $75 on sale)
*******
Happy Monday. Time for an evening jog to some Macklemore. Because the ceiling can't hold us.