I spent this morning talking to a mama on the phone. Twenty-nine years ahead of us on this journey, her voice oozes with the same love I feel for my own kids except there's more–years of stories, struggles, victories, experience. You can hear it behind her words, you can feel it in her voice. Her thirty-two-year-old son shares Nella's extra chromosome, and after speaking briefly with him last week during a radio interview, I can't wait to meet him and his mama soon. We look ahead on this journey, following the path paved by many before us, and we learn from other mamas who fought hard and loved much.
"What can't Nella do?" my friend asked me the other day. "I mean, seriously, what are the known things she'll have to face?"
I thought for a moment and rattled off what I know–cognitive issues, muscle tone stuff, increased likelihoods for a number of medical complications. Together, those things spell out that things will be harder for Nella. Harder to learn, harder to prove what she knows, harder to gain acceptance, harder to get a job, harder to make friends, harder to claim the rights we all enjoy and take for granted.
That sucks. And when you love someone so much–so, so, so, so, much–and you stare at her little three-year-old self all smiling at you and completely naïve about her future and how hard it might be–sometimes you feel like you're going to vomit.
But there's Fight or Flight. And I can fight like Mohammad Ali.

Sometimes when I'm running and I feel like I want to stop; sometimes when I'm cleaning and I'm too tired to finish; sometimes when I'm working and I need a break; I think about Nella and how much harder she'll have to work and all the extra obstacles she'll face in life. When I think about that? I can't stop. Sometimes I even play silly games in my head, ridiculously pushing myself as if in doing so, I'm taking some of the burden off my child.
I wish it was that easy. What I can do is believe in her. Love her. Read to her. Celebrate her. Teach her.
"I am conscious of a soul-sense that lifts me above the narrow, cramping circumstances of my life. My physical limitations are forgotten- my world lies upward, the length and the breadth and the sweep of the heavens are mine!" ~Helen Keller

So that we do. And we will continue to learn as we support each of our children, creating as best as we can an environment that both challenges and celebrates them.
I received an e-mail a few weeks ago sharing a speech that will be delivered to a graduating high school class this year. Carrie, who graduated from the school in 1997, also has Down syndrome.

Carrie as a baby in 1976: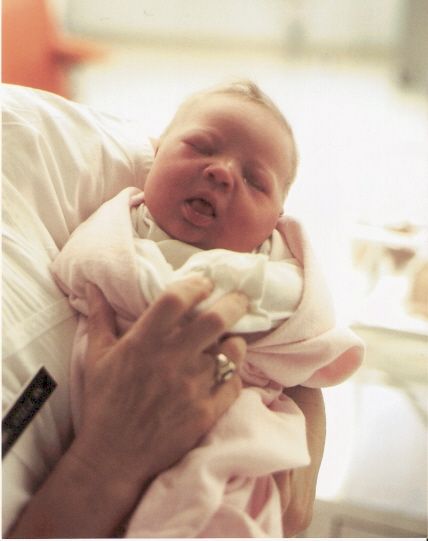 I'm thrilled she's letting me share her speech with you today. She's worked very hard, and I'm so inspired by her determination. No matter what our circumstances may be with Nella (and Austyn and Brandyn and Lainey and Dash!), stories like Carrie's provide hope and promise.
*****
As a graduate of the class of 1997 I am very honored to speak to you today! It took most of you who are graduating today twelve or thirteen years to complete your education. My education began in 1976 when I was six weeks old and enrolled in an Early Intervention Program and continued until I graduated twenty-one years later with an I.E.P. diploma.
While I was here at DCS I repeated kindergarten and second grade and then was mainstreamed in third grade when it became obvious that I also needed to be in special education classes. The blend of regular and special classes, known as inclusion today, continued throughout my schooling here.

Speech therapy for language delays and articulation also started when I was six weeks old and continued until I graduated.
The extended time and intervention occurred because I was born thirty-six years ago with Down syndrome. There are three types of Down syndrome.

Trisomy 21, the type I have, is one where every cell has a complete additional 21st chromosome and is the most common.

The reason for Down syndrome is still unknown.

It usually results in delays of physical, cognitive and speech development.
Heart surgery, the replacement of the tympanic membrane and one bone of my right ear, cataract surgery on both eyes, a thyroid condition called Grave's Disease plus sleep apnea are my most important medical issues. Daily workouts at the local YMCA six days weekly along with Tae Kwon Do two evenings a week help to maintain my physical fitness. Unfortunately, those of us with Down syndrome have slower metabolisms and tend to gain weight easily.
I would like to point out that it was not until sixth grade that I really understood how Down syndrome was affecting my life.

It bothered me that I could not learn and keep up with my classmates and why some students would tease me. I am so thankful to my Dad who was able to share in simple terms what was going on. He told me that my learning would always be a challenge and that repetition, visual aids, hands-on activities and tutoring support would be needed.

My Dad and Mom helped me understand that I had two choices in dealing with students who unkindly teased me.

I could ignore them or try to educate those who were not kind to anyone with a disability.

I have chosen to educate.
I actually wrote a story about this called "The Special Tomato" here in an English class.

It has been published in a book and many publications plus there are note cards. You each will receive one this morning!
The support and the encouragement of so many teachers and administrators in this school were extremely helpful to me.

I went on to complete a two-year program in Early Childhood education at BOCES and then attended Herkimer Community College where I received a Teacher's Assistant certificate. It took me four and a half years to complete my college work because I only took one or two classes a semester. I learn at a different pace but I do it!

Those are my "True Colors"!
Presently, I am living independently in Rome, NY with staff assistance forty-two hours a week through the NYS Self-Determination "Individualized Initiative" program (say that ten times real fast!).

I work with toddlers at Upstate Cerebral Palsy, teach a Tai Chi class to the elderly at the Rome Hospital, and give self-advocacy presentations both locally and nationally. None of this could have happened without the education and support I received here.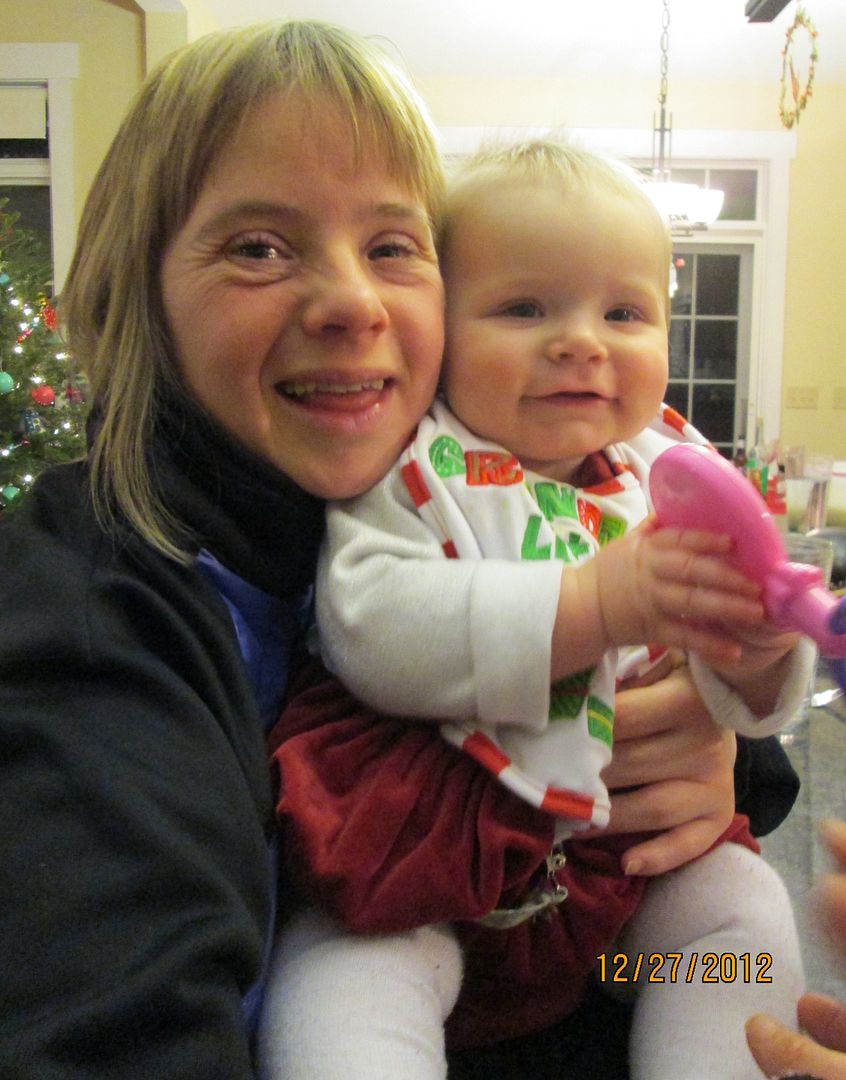 I hope that you graduates feel thankful like I do for your education and experiences here at DSC as you move on and find your way.

I would also hope that you would be open to diversity and those of us with disabilities.

My quote is: "I took the "dis" away from disability and made it my ability to make this world a better place for all of those with special needs".

Yes, I have Down syndrome and want others to know I have the same hopes and dreams as most people have.

I can feel the excitement and a little of your apprehension now as you graduate and begin to realize your hopes and dreams.

You have the "true colors": knowledge, heart, and duty to make this world a better place.

Congratulations class of 2013!
*****
As we continue on this journey, preparing for school and new social situations in a few years, introducing letters and words, investigating new learning strategies for Nella and constantly stretching, shifting, and challenging our perspectives, we hang on to those powerful words of Helen Keller: "…my world lies upward, the length and the breadth and the sweep of the heavens are mine."
Thank you so much, Carrie, for sharing your story with us.