I'm happy to welcome my friend Meagan Francis to our space today. I met Meagan at BlogHer a couple years ago and have enjoyed many e-mail conversations, ideas, advice, etc. through a blogger thread she created about a year ago–connections she's fostered and deepened because that's the sort of person Meagan is. She's a connector, a nurturer, a thinker and a doer; and I've learned much from her experiences and willingness to share them.
Meagan currently writes at The Happiest Home (formerly The Happiest Mom) and has contributed to a number of publications including The Huffington Post and The New York Times.
Her book, The Happiest Mom, is full of great secrets to enjoying motherhood, expressed in a conversational, relatable tone–a great read, especially for (but not limited to!) new mamas.
Yesterday, Meagan underwent a hysterectomy after a cervical cancer diagnosis. As she prepared for this experience, she wrote about her emotions of letting go to the organs that have so long defined her. I might still be in the "trenches," but I certainly understood the bittersweet finality of the baby journey which she so beautifully expresses.
Enjoy.
*****
Good-bye, Mama
Meagan Francis
I always knew I wanted to have a larger family. Growing up as the youngest of four siblings with the knowledge of a fifth – who would have been my older brother, lost to SIDS – I wanted either four or five myself.
And that's how it worked out. Five pregnancies and births , spread out every two or three years between the ages of 20 and 31. Four boys, then a girl.
Family complete.
For a few years there, it was pretty crazy. Like when I had two young, energetic boys, a toddler, and a newborn. Those were the "trenches" years, when I'd drive around desperately at noon just hoping the babies would fall asleep, when I was hopeless about remembering birthday parties and permission slips.
But wow, has my life ever changed over the last year or two. After more than a decade of being pregnant, breastfeeding, chasing toddlers and changing diapers – sometimes all at once – I now have zero babies, zero toddlers, change zero diapers and haven't used my breasts functionally in two years.
Instead of being surrounded by clinging, pulling small children all day, my youngest child is four; an independent, self-sufficient little girl who I'm loving turn into a miniature version of myself.
The boys – ages 7, 9, 13, and 15 – spend their days going to school, playing sports, hanging out with friends. There is nary a sippy cup to be found in this house, and I even, finally, purged my kitchen drawers of all the random lids I used to hang on to "just in case."
And I have two teenagers. You know what it means to have two teenagers in the house? It means you can go to the store and leave them in charge. You can go out to dinner with your husband and leave them in charge. They can cook and clean the kitchen afterward! The freedom! The unbelievable freedom!
After being orbited by noisy, clumsy satellites since I was barely an adult myself, I won't lie: it's nice to have two arms and a brain to myself sometimes.
Don't get me wrong, parenting five kids – even bigger kids – is still hard work. But for the first time in a long time, I feel like I have space to breathe, time to reflect.
On the one hand, there are a lot of positives to losing my uterus. No more periods? Yes please!
And absolutely no worries about becoming pregnant again. As somebody who's got sort of a sketchy history with birth control and a family history of fertility until into the forties, knowing I don't have another ten years' worth of ovulatory bullets to dodge is a relief.
But it's a little sad, too. It's one thing to decide you no longer want children, but to know deep down that you could probably have another if you change your mind. It's another thing entirely for the choice to be made for you.
I don't want to appear greedy. Yes, I have five beautiful, healthy children already. Many women face this kind of surgery before they've even started their families. I'm grateful. So grateful.
And the fact is, I don't actually want more, and I doubt I would have changed my mind. So why am I having such a hard time with the loss of organs I no longer need?
I think it's because the loss of my fertility will signal a sudden, complete and irrevocable end to the life I've led, and the person I've been, since I was twenty years old.
A mama.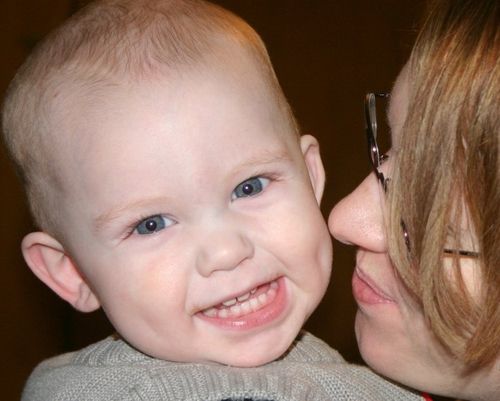 Not "Mommy," as in "Mommy, will you tie my shoes?" or "Mom," as in "Mom, have you seen my reading folder?" Not even "Mother," as in "Oh crap, here comes my mother!"
Mama.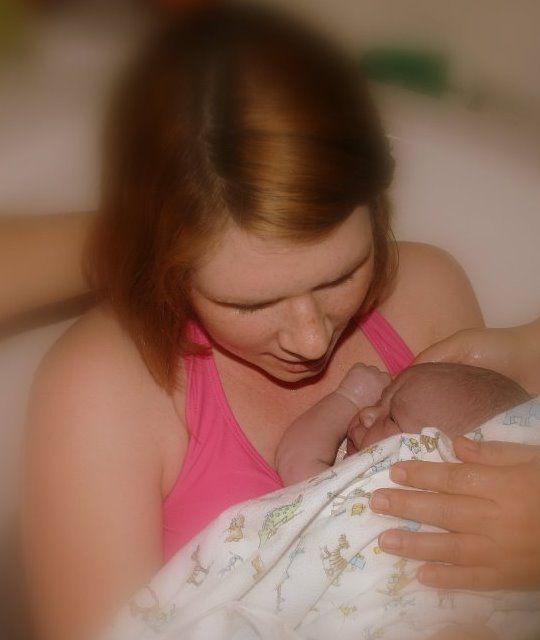 A mama rocks her newborn babe for hours. She folds tiny t-shirts and socks. A mama squishes bananas and avocadoes with the back of a fork. She has a baby on her hip, and perhaps a toddler on the back of her legs.
A mama tends to be covered in undefined substances: milk, spit-up, crusty food. She may look a little disheveled. People understand why when they see the small people clinging to her: she is a Mama. Her life is difficult and wearying, but there's a simplicity, a singleness of focus, that she will look back on one day with envy.
When you're a Mama, you know exactly what your priorities are, because babies don't let you forget.
Truthfully, I found being a Mama addictive. Despite my logical understanding that our family is as big as it needs to be and that I'm moving into an equally wonderful phase of my life that is more centered around holistic family life than the needs of individual small people, I found mama-hood so addicting that I can't say for certain I would have been able to let my head stay in charge until menopause made it up permanently.
For that reason, my upcoming surgery is probably a blessing. The decision is made for me. I won't have to let my Mama-heart and my hard-earned Mother wisdom battle it out.
I will mourn these organs that have defined my life for so long. They have given me so much, and have helped make so much of me. Several times I've felt betrayed by my fertility, but I now see it for the blessing it really was.
But now I'm ready to look forward to what's around the bend.
Good-bye, uterus and cervix and Fallopian tubes. You did your job well.
Good-bye, pregnancies and births and babies on my hip. It's been sweet, if exhausting.
Good-bye, Mama.

*****

Meagan Francis is a mother of five, author, and founder of the blog The Happiest Home, dedicated to the art of creating a sane and satisfying family life. She lives in a lovely coastal town in Michigan and drives a very large vehicle.