It's a sort of summer rite of passage now–a quiet drive through hidden back roads of northern Michigan. Last year, I drove it alone; this year, with three sleeping babies in the back seat. I had forgotten the cord to connect my phone to the car radio, so instead I frustratingly dialed through too many stations of static to find one that finally came through–the strangest hodge podge of tunes appealing to a range of music tastes. Willy Nelson. Lionel Ritchie. Celine Dion.
I made three attempts to conquer the one measly bar of service on my phone, dialing Brett over and over until finally, the call went through.
"The kids are all sleeping, I'm driving and it's gorgeous. Blue skies, winding roads, tall trees and not a car in sight," I shared. Because sharing is what I do when good flows like river currents. I want to take pictures of it, describe it, store it, scoop it up in community cups and pass them along to anyone else who might like a sip.
The sky is blue. Blue, I tell you. Beautiful freaking blue. Drink it up.
Here's what I'm learning: If I offer a cup of Holy Beautiful Sky to someone and they smile and turn it down? Be thou not shocked and offended. It's okay. You're good. They're good.
Oh Metaphor, how I love thee.
I will stop now before I spin uncontrollably down a rabbit hole of confusing metaphor. For the record, it was going to involve color blindness, the beauty of gray walls and something about that big stack of paint chips Sherwin Williams sometimes lets you borrow. But it was pushing Double Rainbow. See, that's the danger for us color-loving sharin' folks. Sometimes, we just sound crazy. Or maybe we are. If so, I'll take crazy for $500, Alex.
If you're still reading, what's not crazy is planning a visit to the Great Lakes State whose true gems lie outside of the Motor City. Go North. Find a lake–you'll have no trouble. Gather family.
*****
The Last of our Michigan Summer Adventure:
My brother helped Lainey find two large Petoskey stones hidden along the edge of the lake. We had looked for them several times on last year's trip and resorted to buying a few polished ones from a Traverse City rock shop. So this year, imagine my double rainbow excitement when we scoured two ourselves–a true Michigan treasure.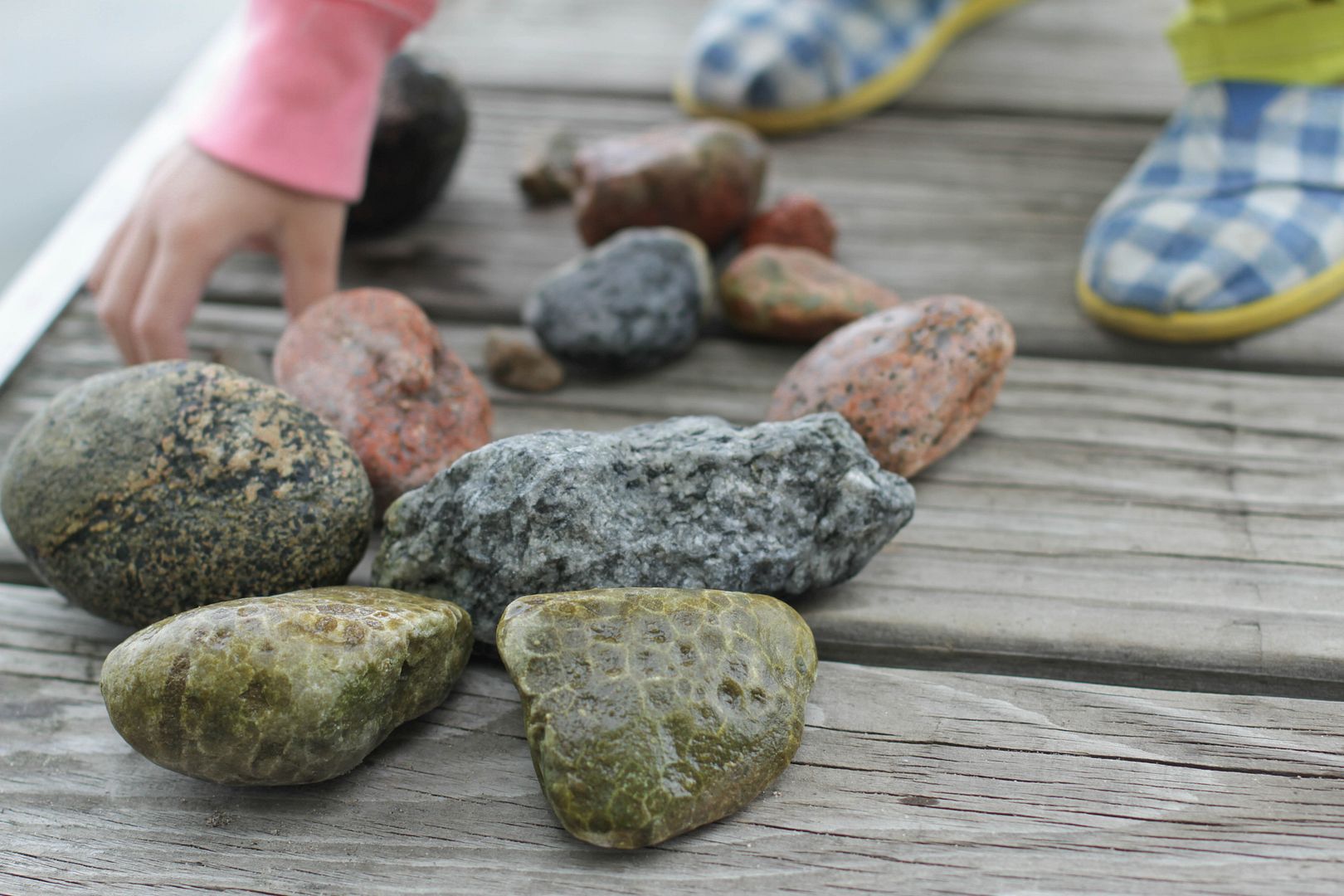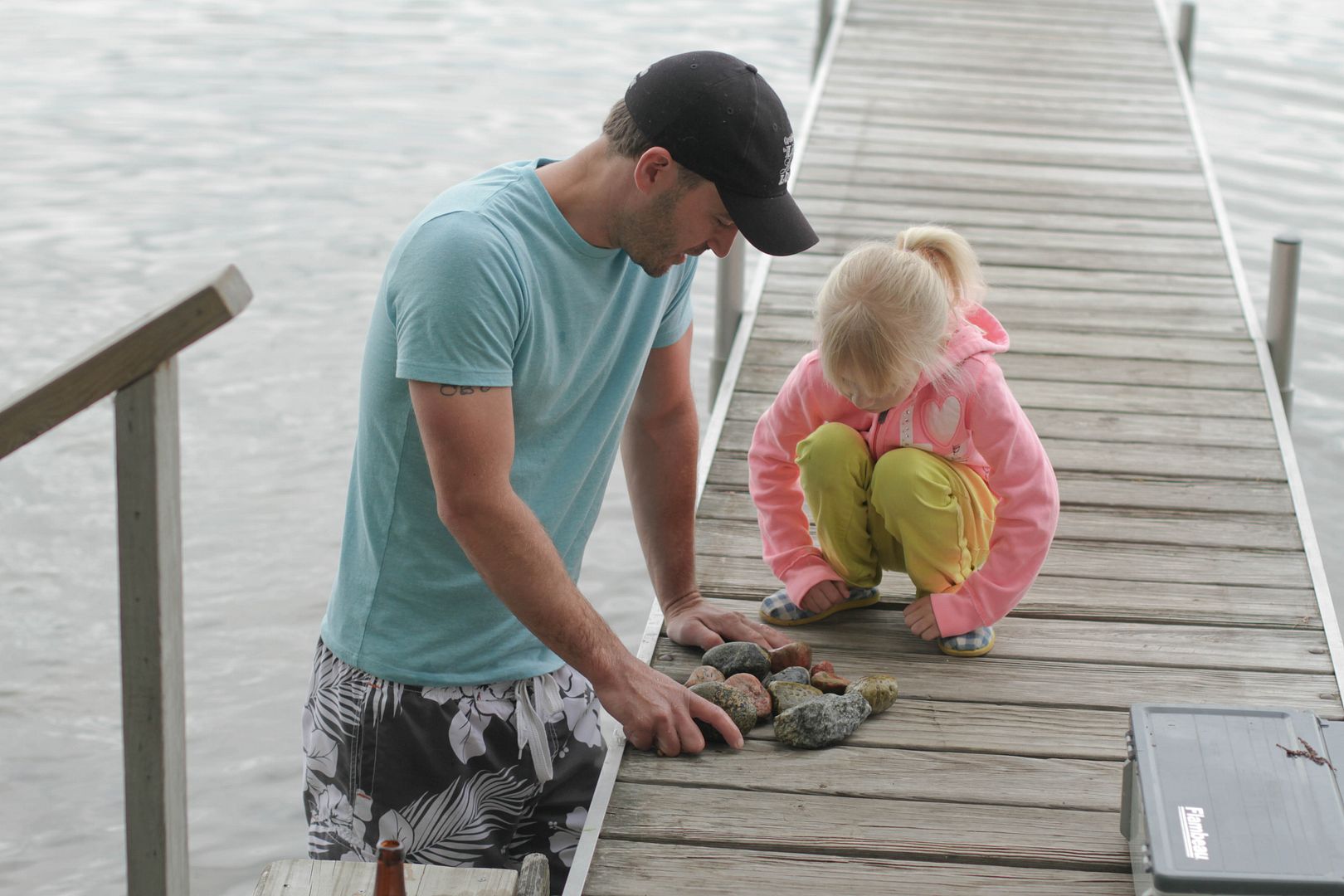 Thus began the rock adventures, my brother and Lainey side by side, rifling through heaps of worthless pebbles in search of the rare Petoskey. She told me Petoskeys were her favorite rock "in the whole wide world" and was determined to find more which never happened, making our two even more special.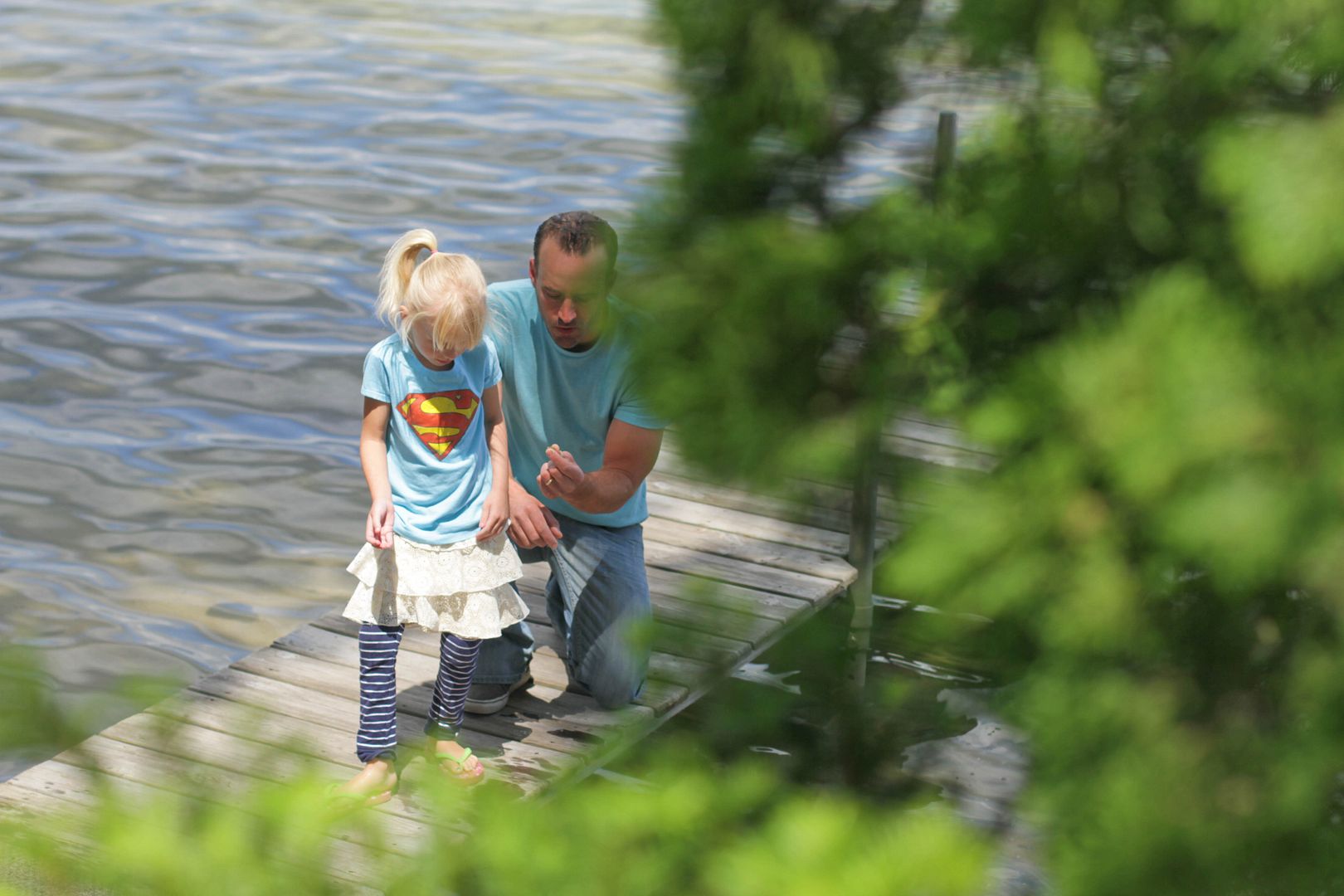 Apparently a heat wave has swept into Michigan this week, but while we were there, it was mild and cool and a nice change from our current humid swelter. We wore everything from bathing suits and flip-flops during hot slivers of warm afternoons to thick sweatshirts and crocheted hats on chilly morning walks outside.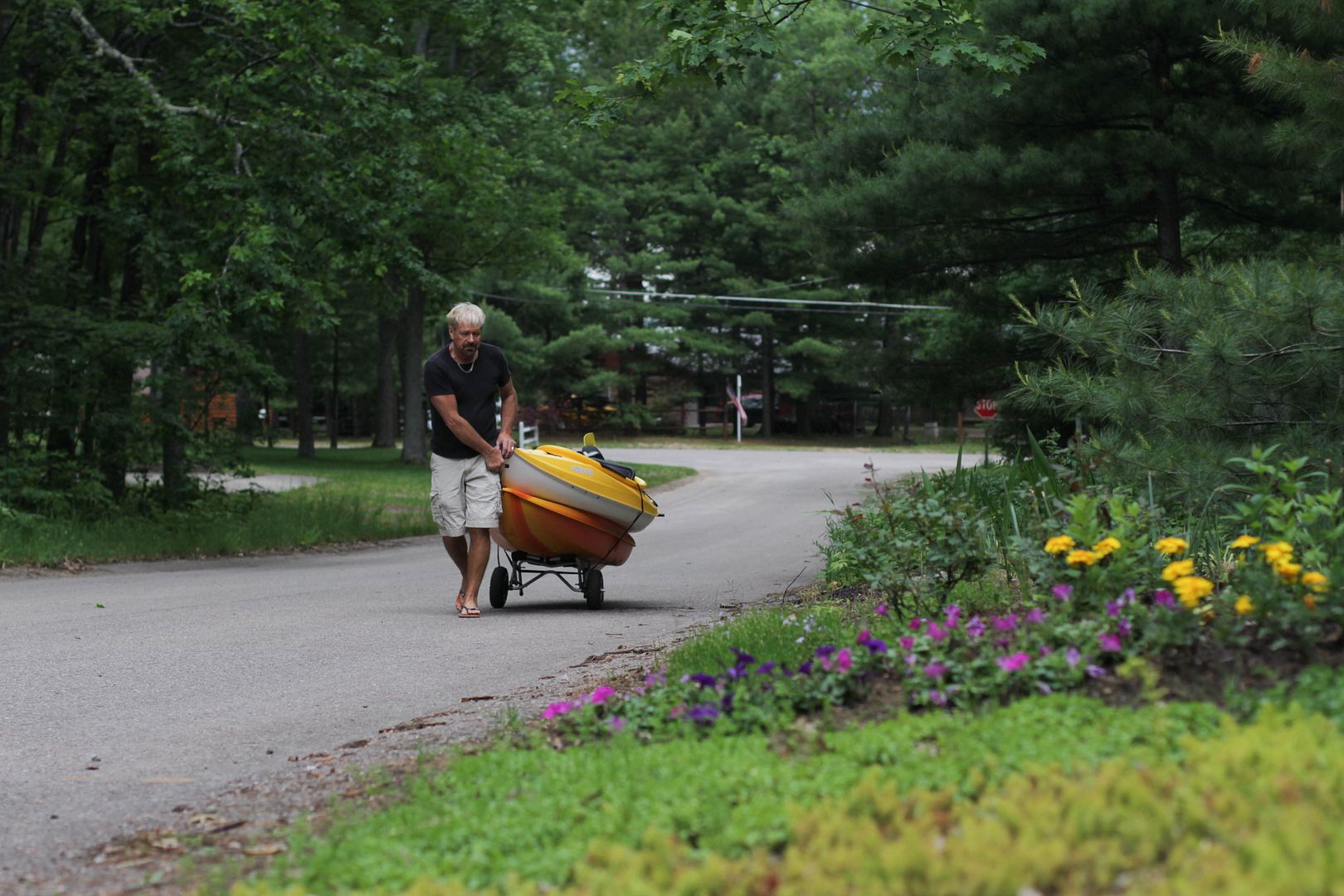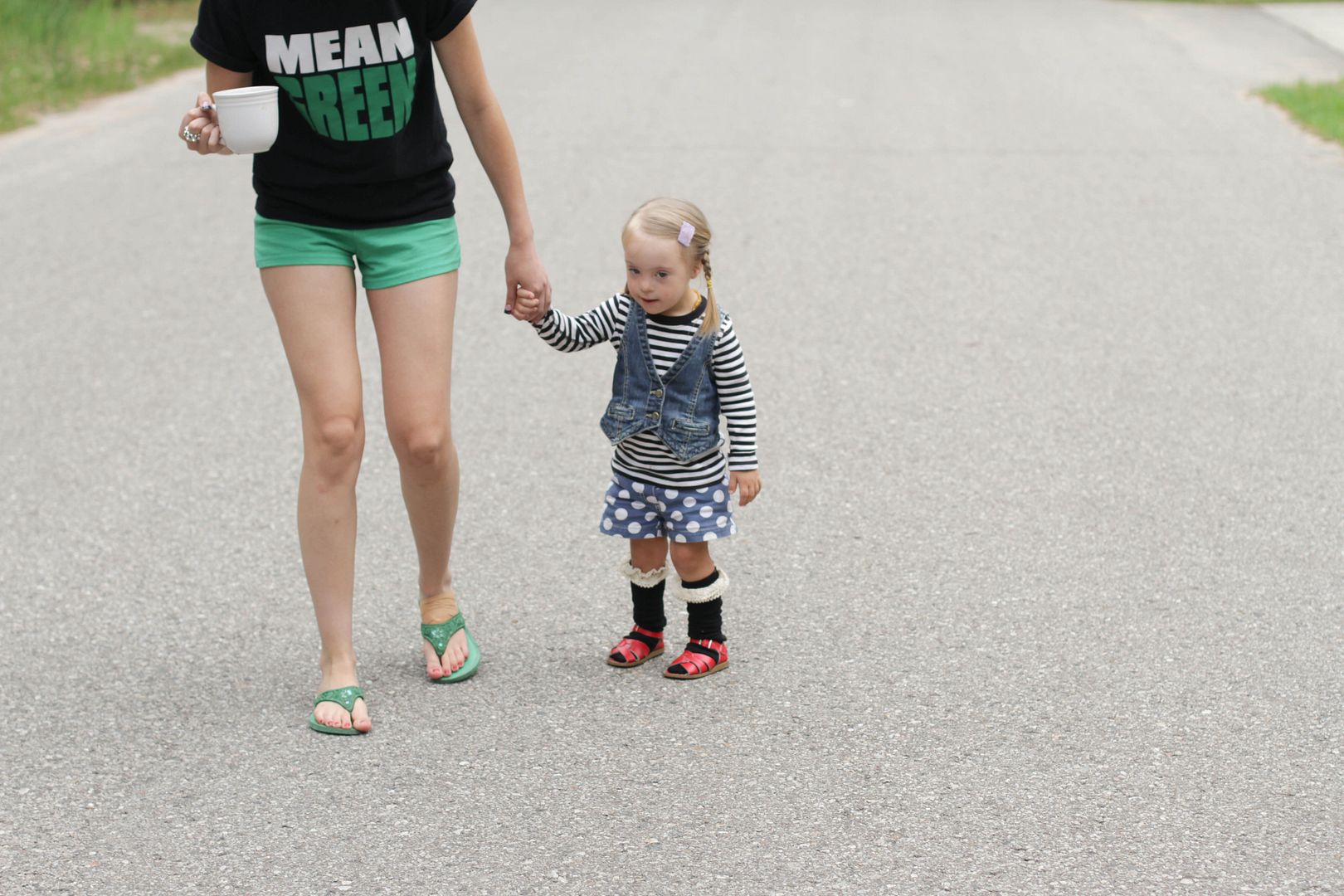 I flipped my kayak one night getting in. Went neck deep in cold mosquito-covered water but chose to climb back in and paddle out, ignoring my shivers because the sky was so pretty, the moon just right and I didn't want to miss that perfect window of time when the sun and the moon changed shift. Out on the water, it was still and magical. Later I returned to a warm shower and our evening bonfire ritual. Stories. Laughing. S'mores.
Another night, we took our bonfire stories to the middle of the dirt road where we laid all lined up, looking up at the sky, scanning for shooting stars. Someone suggested we'd see them clearer out by the lake, so we walked down to the dock, lining up again along the skinny wood platform, holding hands for security and sshhh-ing each other lest we disturb the other cottages. Lake, sky, stars, cousins. It felt like summer camp right down to the ghost stories and the giggling and the worrying that we'd get in trouble.
We gradually said good-bye to uncle and aunts, cousins and second cousins until it was just me and the kids and my dad ready to make the three hour drive from the cottage back to his home. With plans to follow him, I packed up the suitcases, buckled the kids in the car and waited while he did the final run-through and locked things up.
"You ready?" he finally asked.
"I guess." I hesitated. I hate when good things come to an end.
I could tell he was on the verge of tears–we are Crydermans after all–and so I hurried along the closure we were avoiding. "Let's go. Kids are happy. Don't know how long that will last. It's been real."
We pulled away with two honks, and I returned to the hodge podge music station to find Billy Joel. Followed by Mariah Carey.
At the halfway point, we had dinner at Cracker Barrel. Because a vacation without Cracker Barrel just isn't right.
*****
Our last day Michigan adventures included Rochester and Romeo, Michigan–the Paint Creek Trail and downtown Main Street in Rochester (along with their public library–amazing!) and Blake Farms and antique shopping in Romeo.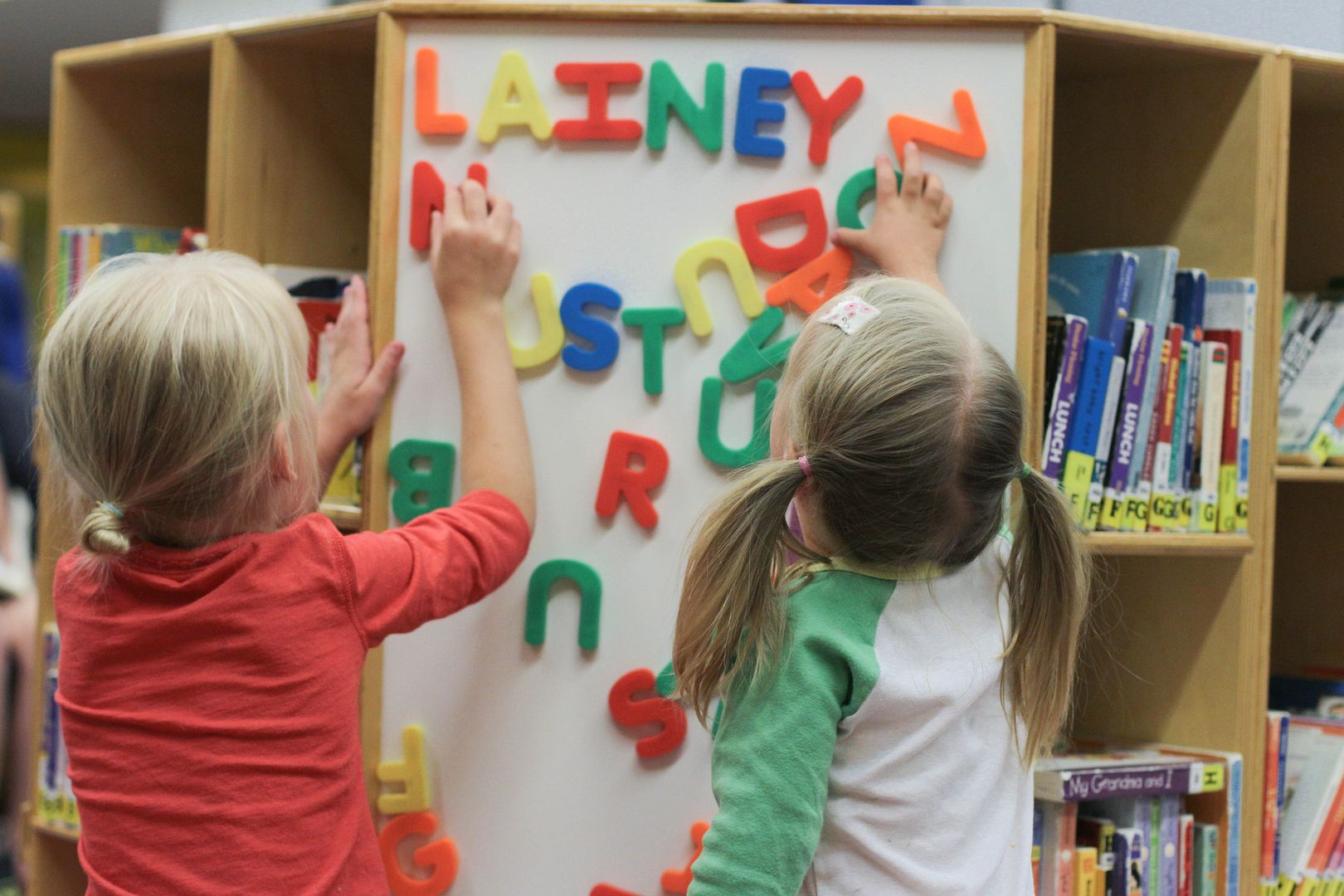 I knew I wanted the girls to do some sort of Michigan picking while we were there–peas, blueberries, strawberries, trash in the I-75 median. I kid.
The strawberry fields at Blake Farms had just opened for U-Pick a few days prior–perfect timing–and the girls loved the low easy access rows of plants, a bit different from the oranges that hang higher in our Florida groves.
Nella maneuvered through plant rows like a professional, bending over and brushing broad leaves aside to find whatever berries revealed themselves. She wasted no time to transfer them to our cardboard flat but rather directed them straight to her mouth.
Lainey found a ladybug which–if I recall–happened last time we were at this same farm four years ago.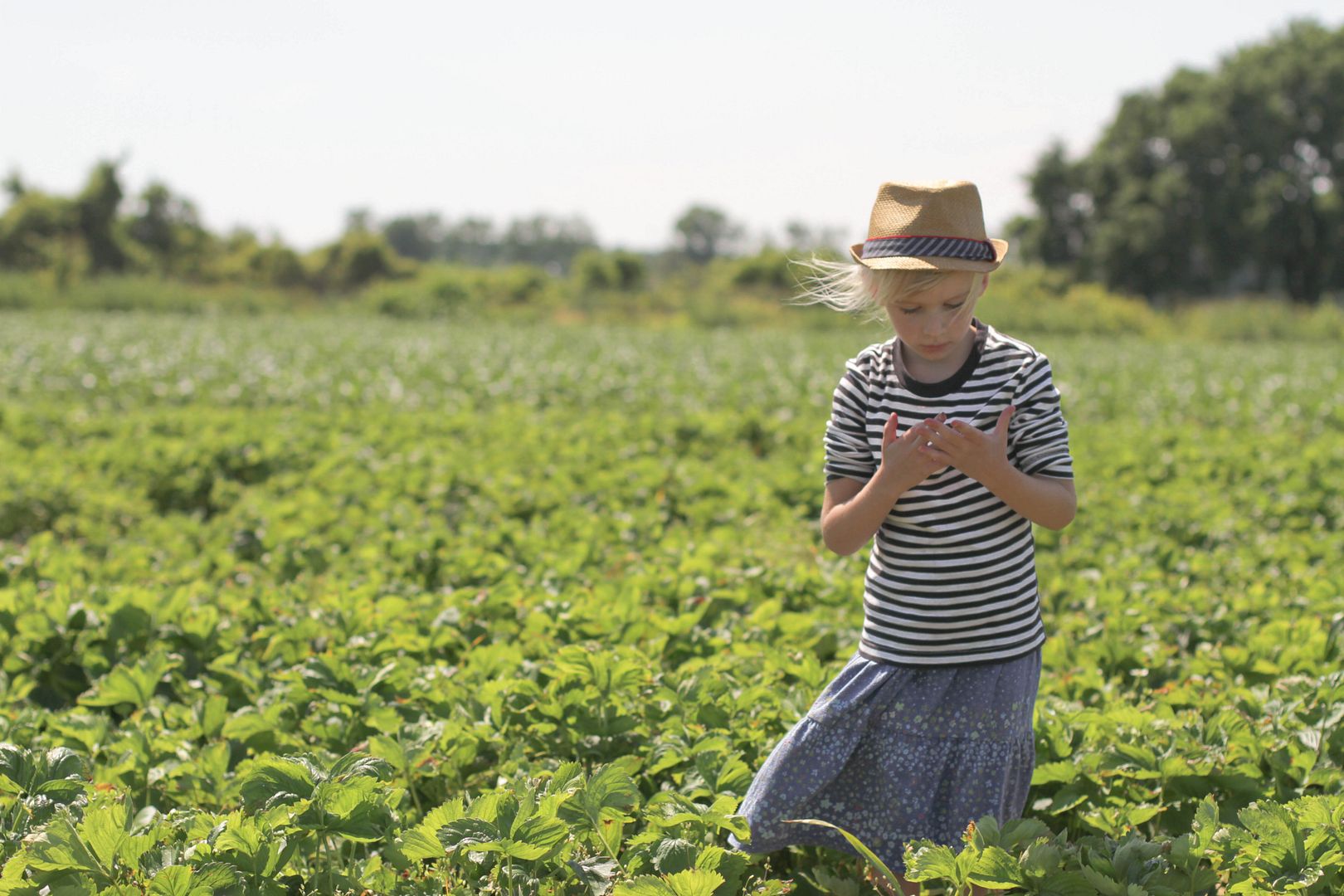 I loved the cool weather and didn't mind at all the fact that my thighs were aching from squatting to pluck berries or that the wood soles of my clogs were stained with red juice. I was sidetracked by a summer bucketlist being fulfilled.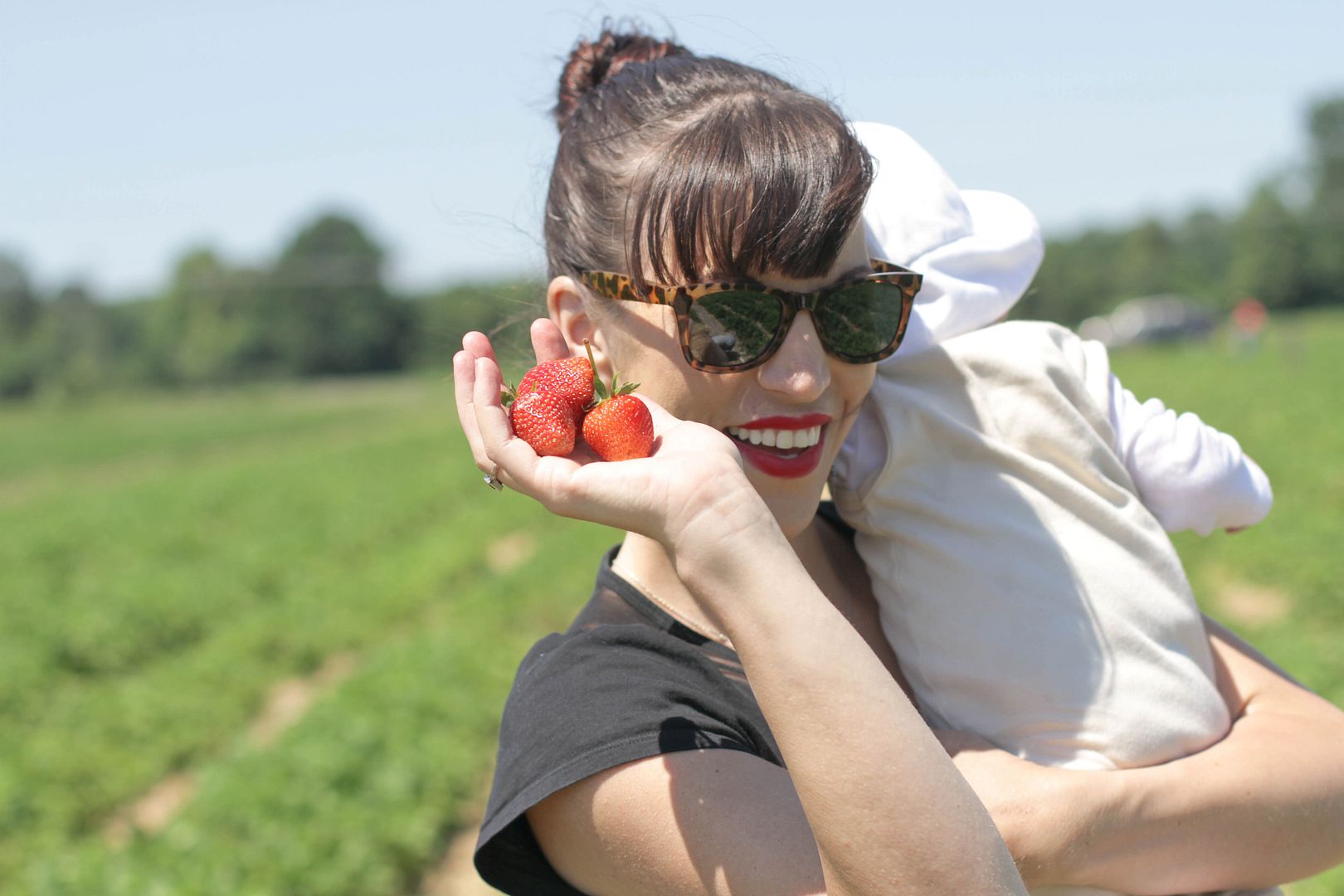 Fifteen quarts of strawberries later, we left the farm and ended the evening downtown Romeo where we found a complete gem of an antique mall in an old bank. Three stories high and so generously stocked with such an array of treasures, I could have spent days perusing the goods. All tucked away and displayed in various rooms and hidden hallways were linens, dishes, furniture, books, jewelry, records, postcards, clothes, hats–so many hats! Pillbox, cloche, fancy floppy hats with flowers and feathers and bows. After searching several other shops for the perfect gift for her friend Aleena, Lainey decided she wanted to bring her home some dress-up gloves and a fancy hat.
She settled on powder blue with a veil for herself and a pillbox hat with red silk roses for her friend. The sweet grandmas who rang up our purchase made big over the hats as we left. "Oh honey!" they excaimed to Lainey, "you're going to be the talk of the town!"
On the last day of our trip, Lainey asked, "You mean you used to live here before you lived in Florida?"
"Yes," I answered. "Before you were born. Before I even met Daddy."
"Why did you move to Florida?" she continued.
Hmmm–an opportunity to instill adventure, fearlessness, determination, I thought, even though "because I was depressed and had no other options" was more likely the answer. Instead, I came back with an impressive "because I wanted to be a teacher and I found a job in Florida. And I thought it would be a fun adventure living by the beach and meeting new people and learning new things."
Lainey took only a moment of processing that before she sweetly offered, "Mom, if you never moved to Florida, you could have just waited for us to come to you."
And that, my friends, is what I like to call a Double Rainbow.
Booyah.
Four days now back in Florida, it is hot, it is humid, and it is our home. I am steadfast on searching out some more wonder this summer for fear that Michigan was so good, I might have used up some reserves for the rest of this season.
There is more fun to be had, more people to enjoy. I am sure of it. Sometimes, rainbows come in twos.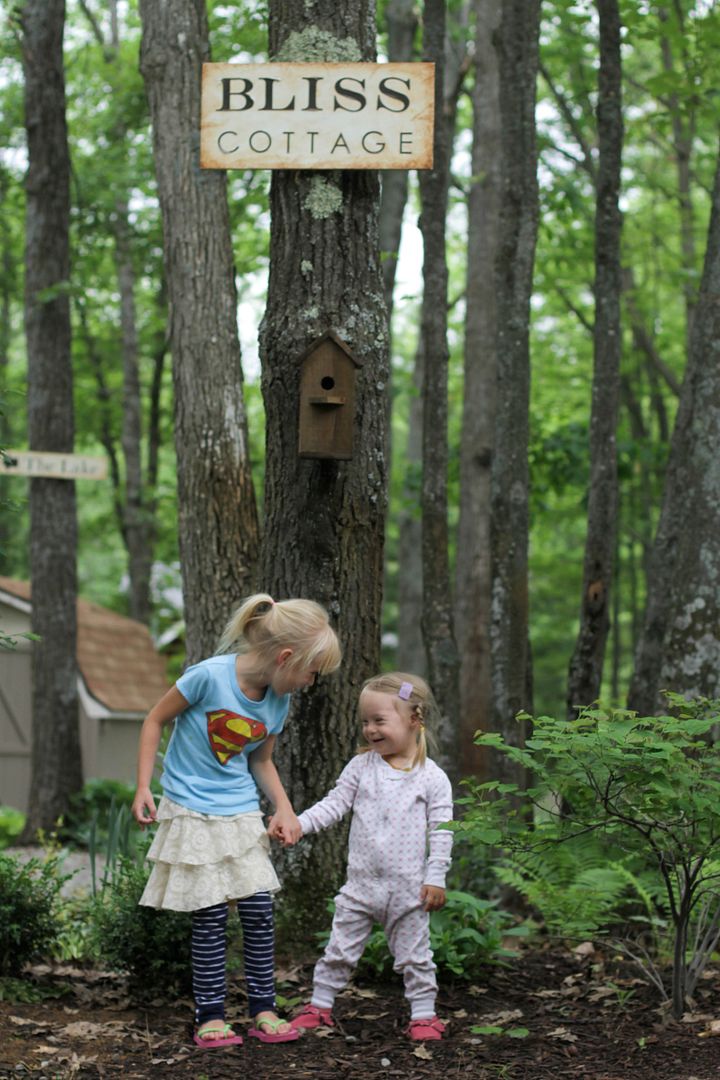 ****
…and a little Michigan phone dump favorites before I finally, reluctantly, move on.
Monday. Clean Slate. Summer Bucketlist ready.