As Fall's Official Ambassador, I figured it was my duty to bring a list of ways to celebrate fall to the blog. Write about what makes you come alive, right? I had so much fun putting this together, I swear it feels chillier all of a sudden. Get your cozies on. Here are 20 ways to celebrate the deliciousness of right now.
1. Bake a Batch of Pumpkin Bread
Baking a batch of pumpkin bread initiates our fall like the bell opens the stock exchange. We use this recipe, and it turns out perfect every time. It makes two loaves. Keep one for yourself and walk the other one to a neighbor's house or wrap it up for a teacher. The official rule is you're not allowed to keep both loaves. Take it from Jesus–your loaves will multiply if you give some away.
2. Make Wassail
It's one of my favorite things to make this season. Not only is it delicious, but it makes your entire house smell like fall–it even trumps the cinnamon broom. I usually pour half a gallon of apple cider in a big pot and then just start adding things–at least a cup of orange juice, a few tablespoons of brown sugar, lots of cinnamon and cloves (both ground gloves and whole ones to float), allspice, a tiny bit of ginger and nutmeg, some orange peel and orange slices to float. You can't really mess it up so just throw stuff in there. Simmer for a long time. Serve in this mug, a fall necessity, and top it off with some whiskey or bourbon if you wish. And if cussing amuses you, I suggest you do a reading of the poem that goes along with the mug–out loud–with beautiful inflection around your fireplace on a Friday night while you're sipping that wassail. If f-bombs make you cringe, perhaps you substitute the live reading with a song performance. May I suggest Here We Come A-Wassailing?
3. Buy a Hat
Normally, I would completely support any and all advice given by Kathleen Kelly. I mean, she's practically THE mouthpiece of Fall Goodness. I do, however, believe she was a bit off on her take on hats. The butterfly who went to Bloomingdales "to buy a hat that will turn out to be a mistake as almost all hats are?" Kathleen! How dare you. Heads want in on the fall accessory action too. So buy a hat this fall and wear it with a cozy sweater. I love this wine colored fedora–only $12 from Forever 21. And a matching one for little girls from Vindie Baby here.
4. Wear Tights
If we're talking fall "food groups" here, sweater knits are your basic carbohydrate group followed by jeans & leggings, boots, hats, tights and then topping off the sweets tip with trends such as shearling and fringe (easy on the sweets). But tights? Load up. I'd wear them every day if it wasn't so hot here. Some tights favorites:
1. Forever 21. A double pack of these are $10 and you get basic black and a fun fall color. Surprisingly for the price, these are good quality thick tights–I have several pairs. I make sure my tights are matte–I think any type of sheen is unflattering.
2. Super fun for Halloween, these cat tights are only $8, and your kids will think you're the bees knees. Or cat's knees which is literally what they are.
3. The black-on-black polka dots keep these from looking too clowny. 
4. What more screams fall than caramel sweater tights?
5. Worth the money, these Spanx tights suck in, pull up and pair dreamily with dresses and shortie boots.
5. Indulge in Sugared Donuts
I miss cider mills and apple orchards something fierce this time of year, especially for the hot sugared donuts. I recreate them by buying grocery store cake donuts. And then I microwave them, roll them in sugar and make up shit like, "Hot fresh donuts! I just made them! Come and get them before they're gone!" They all come running. I can't wait to hear them retell precious memories someday: "Remember when Mom used to make those amazing donuts every fall?"
6. Begin the Last Quarter Movie Fest
There's just too much ground to cover to wait until after Thanksgiving–sooooo many cozy night movies that are begging for you to get your butt on that couch with a blanket. You've got less than three months–start now. These are my favorite cozy feel-good movies, chocked full of autumn scenes, fall wardrobes, cute coffee shops, cozy apartments, great food scenes, deep thoughts and overall fall deliciousness. I never tire of these movies.
You've Got Mail
Little Women
Dan in Real Life
Dead Poet's Society
When Harry Met Sally
While You Were Sleeping
Julie & Julia
Sleepless in Seattle
Stuck in Love
Bridget Jones Diary
Anne of Avonlea
The Holiday
The Family Stone
7. Decorate Trick-or-Treat Bags
My kids are farm animals for Halloween this year, so I ordered these super inexpensive trick-or-treat bags, glued some hay on them and painted farm animals. You could totally deck them out however you wanted.
8. Find a Corn Maze
Google the closest one. Drive there even if it's a hike. Take some friends. Get lost and then yell "Marco" and "Polo" really loud to find each other.
If you can't find your way, there's always the corn patrol. Thank God for the corn patrol, man.
9. Go on a Nature Walk with the Kids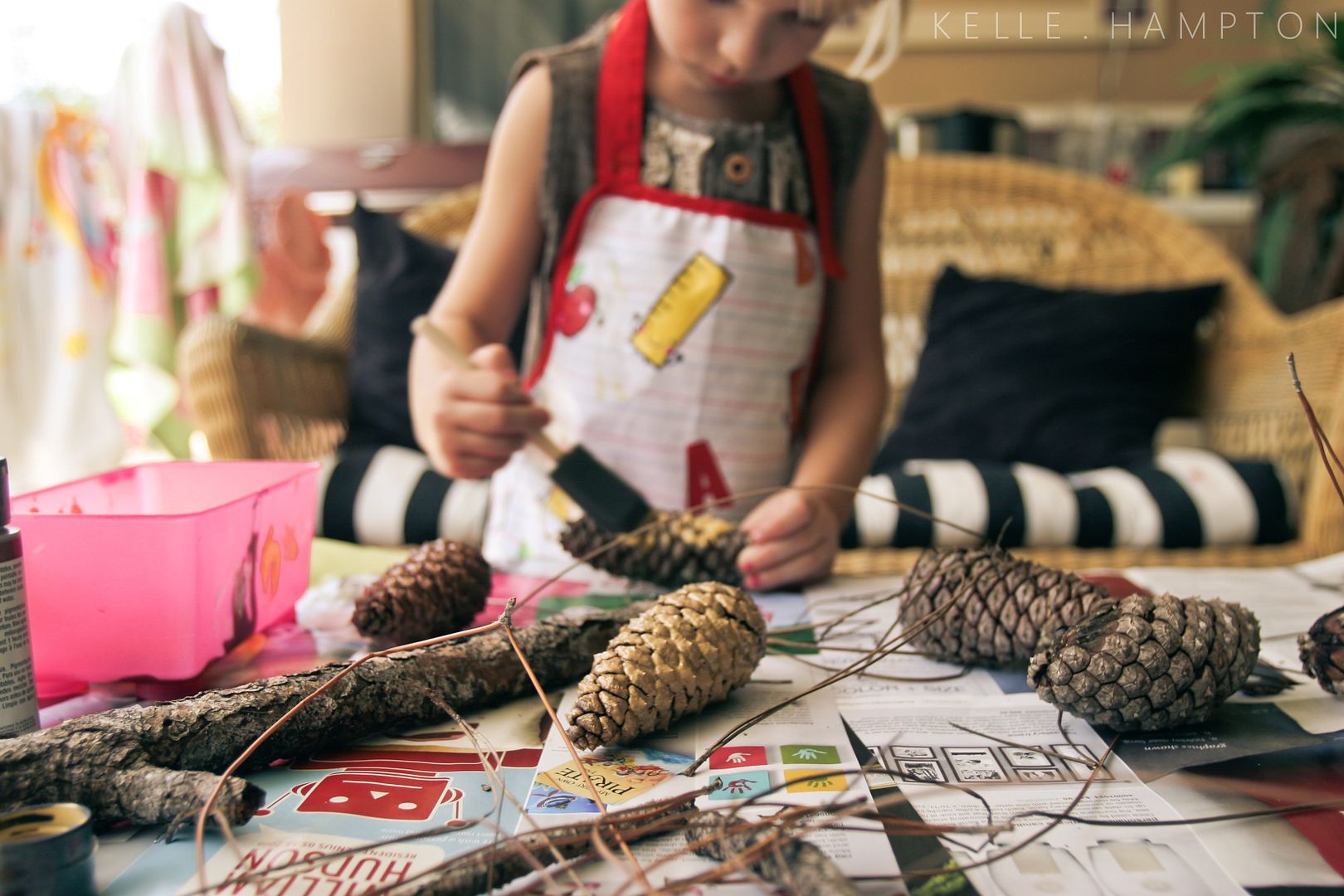 Make a list of things you need to find–2 pinecones, a heart-shaped leaf, three acorns, a stick with a right angle, etc. and then set out on a hunt together. Bring nature treasures home and paint them, display them, illustrate them in journals. Even without our big weather shift here in Florida, we still find lots of fall treasures.
10. Decorate Pumpkins
Carve one, paint one, polka dot one, bedazzle one. Check out these awesome different ways to decorate a pumpkin.
11. Swap Family Photos for Spooktacular Ones
Switch out framed photos in your home for some monster representations of your family this month. Check out my friend This Little Miggy's full tutorial on how to easily do this with Pic Monkey. I'm obsessed with these and want an entire family album dedicated to our monsterishness now. This Little Miggy is also a great resource for moms with kids with disabilities, by the way!

12. Think About Christmas Jammies
I know it's still October, but you can at least think about them. Maybe search the Internet a little bit for early deals. I get my Christmas Jammy game on super early, and it makes me insanely happy to think about those jammies all tucked away, waiting for their debut. I'll post some favorites a little later.
13. Make Soup and Chili
I'm headed to the grocery store in just a bit to pick up ingredients for tonight's harvest soup, a new recipe my cousin sent me–beans and kielbasa and chicken broth, oh my. Fall weekends are for crockpot soups, chilis and chowders.
14. Rake Leaves and Jump in Them
You are never too old. It's a Peter Pan-ish experience, in fact–like flying. Once you jump, this inner child comes alive.
15. Save a Pressed Leaf in a Poetry Book.
Write the date you saved it and a few things about that day on the page.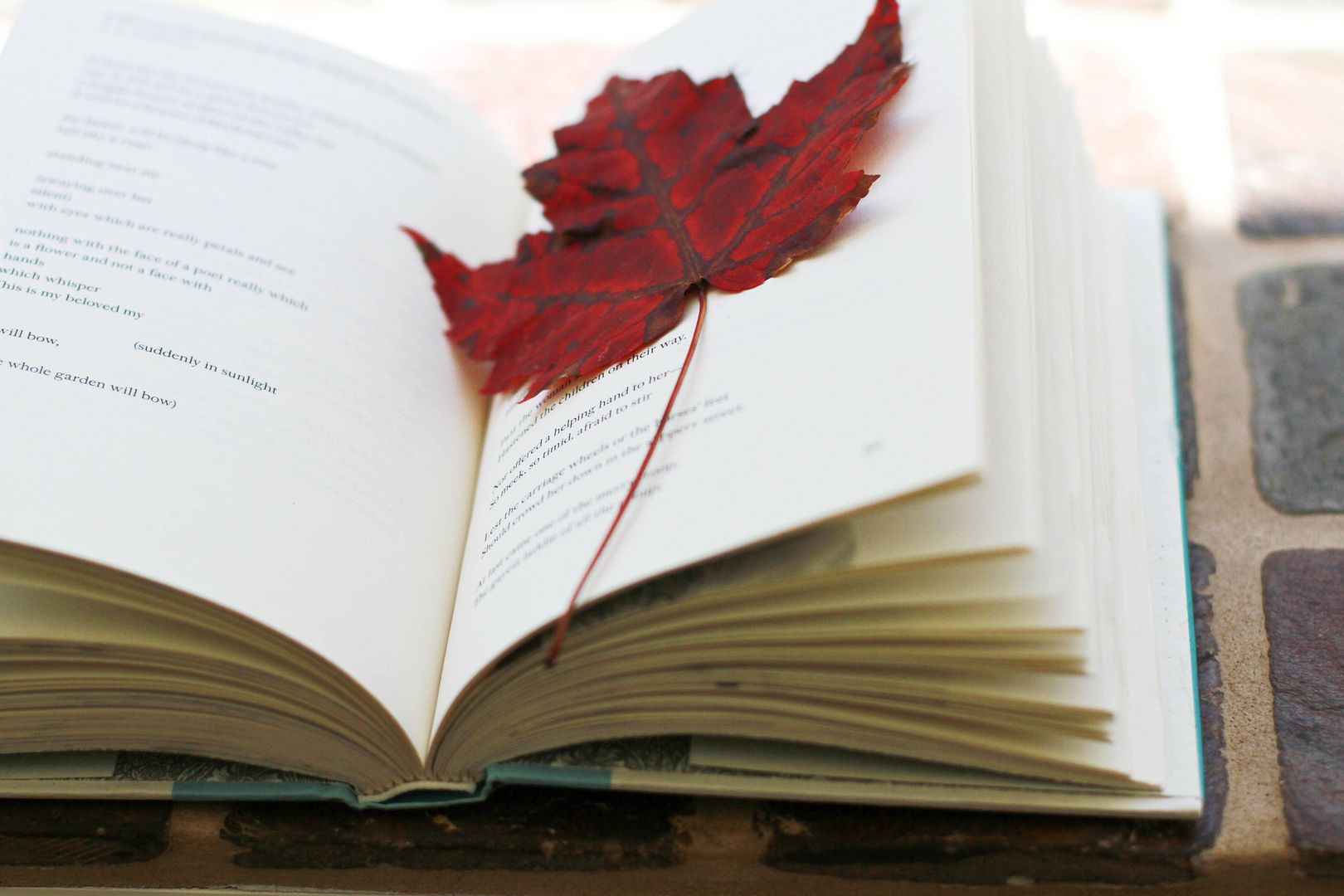 While you're at it, here are a few favorite poems for fall. Read them out loud to your kids at bedtime, preferably from a book you checked out from the library–with weathered pages and a clear plastic cover on the binding that makes a good crinkle sound when you hold it. Turn off all the lights but the one on the nightstand. Pull the sheets up under their chins before you start reading. Use your softest, calmest voice but put feeling into it.
Start with William Blake's "To Autumn". Then "The Autumn" by Elizabeth Barrett Browning. Read Percy Bysshe Shelley's "Ode to the West Wind", then Keats' "To Autumn". Try "October" by Edward Thomas and "III. Nature XXVIII. Autumn" by Emily Dickenson. I have Caroline Kennedy's poetry book for children, A Family of Poems, and it has some sweet fall reads: "Thoughts" by Jacqueline Bouvier and "Something Told the Wild Geese" by Rachel Field. If you know of a superb one I missed, tell me in the comments. Just typing this has me all giddy about starting the poetry reading tonight.
16. Order a Fancy Fall Drink.
And none of this "skim milk, hold the whipped cream" shit.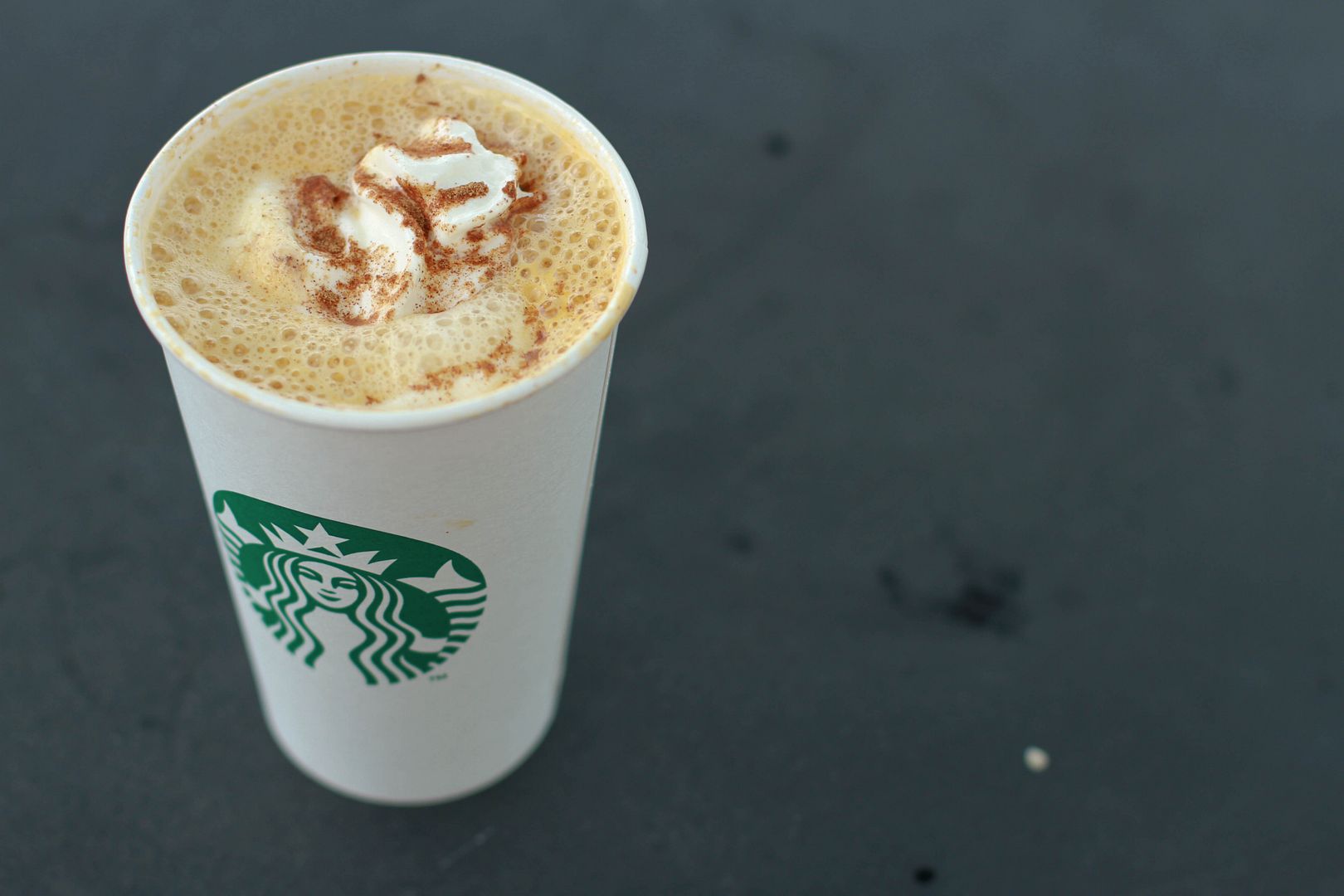 17. Paint your Nails a Fall Shade
(In order of appearance): Sonia Kushak's Dino-Mite is a fun pumpkin color. Essie's In The Lobby is a deep cinnamon plum. When I get my nail-biting act together, I'm going straight for Essie's Bordeaux which screams for some fireside wassail. I'll vamp it up on the weekend with Honk If You Love OPI. But then Essie Cashmere Bathrobe will take the prize. And I have to admit, I don't even love the color, but the name! I just want people to ask me what my nail polish color is so "Cashmere Bathrobe" can roll off my tongue.
18. Make Caramel Apples.
A great after school activity. Make caramel apple station with apples, sticks, melted caramel and a bunch of good stuff to roll them in–crushed pretzels, nuts, ice cream sprinkles, graham cracker crumbs, mini chocolate chips.
19. Make Fall Cupcakes
We made these edible leaf cupcakes early this year, and they're super fun to serve.
20. Gather Favorite Fall Photos
Dig through the photo archives and collect some favorite fall family memories. Print them out to display every fall. I keep a fall folder, and I go through it several times every year. It makes me so happy and grateful for these seasons.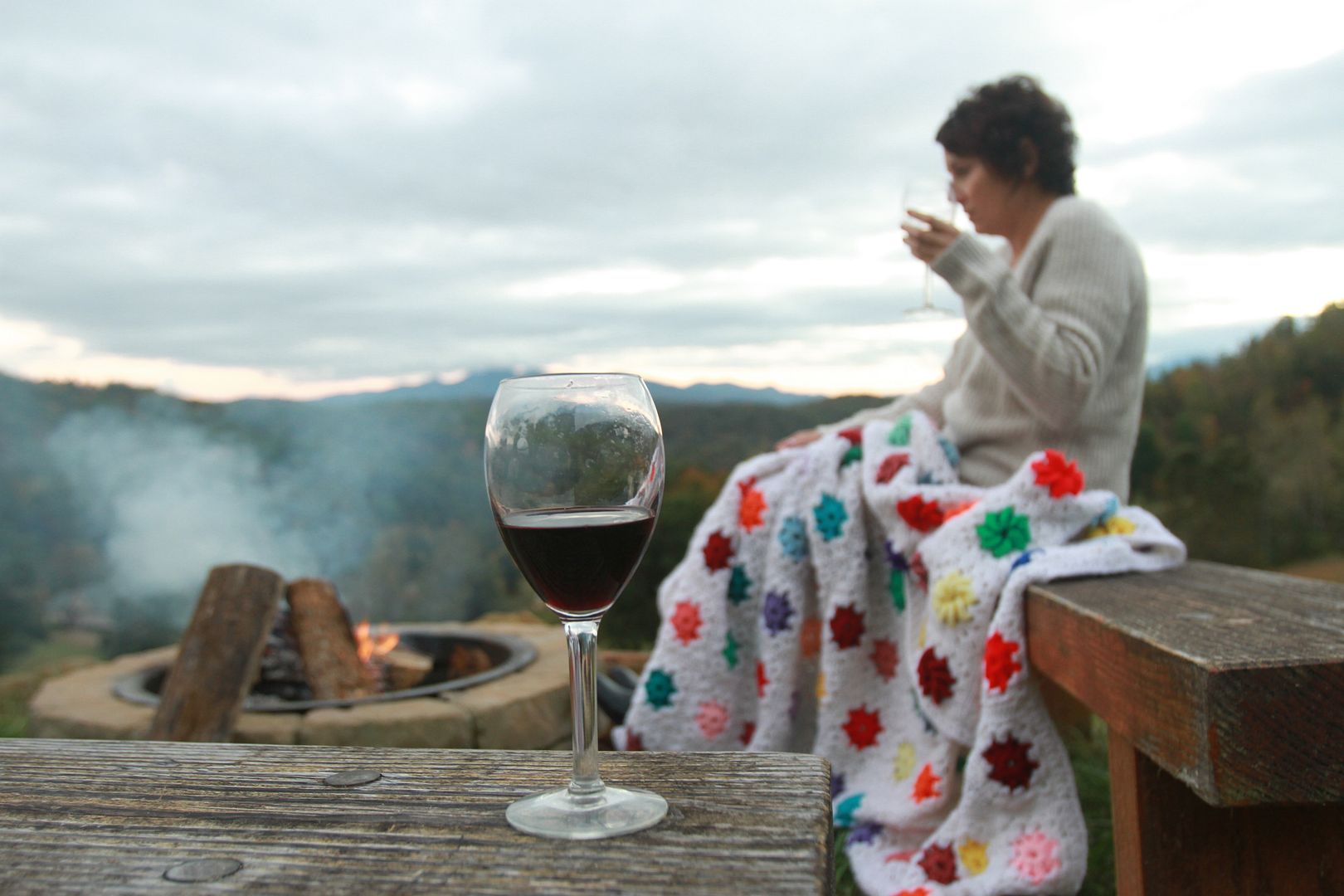 Whew! That's 20, and I could have added 20 more. Can I have the Fall Dork Award? I've earned it, haven't I?
A cozy, cozy fall night to all of you. Light some candles.