I thought I was acing it this morning when I lit my candle for my morning intentions and started the coffee pot, my Monday off on the right foot. But then I went to make lunches and realized my "I can stretch the groceries one more day" assumption yesterday was a poor choice. My mom can do it–transform flour, water and a spoonful of leftover vegetables from last night's dinner into a gourmet chicken pot pie that feeds 20. I never inherited the Domestic Jesus gene though and haven't quite figured out how to turn our "loaves and fishes" into school lunches. Stretching it one more day for me means I'm smearing dried-out cream cheese on random things I find in my pantry and calling it a sandwich. Or plucking as many half-withered grapes I can find off a dried-up cluster and willing them to perk up with some rinsing. Quite likely, this all ends up with opening the kids' lunchboxes at the end of the day to find everything I packed still in place, untouched. "I didn't like the hard roll," Lainey will report, which I'm guessing she's referring to the old clementine I found at the bottom of the vegetable drawer. Here's the thing about "stretched it one more day" lunches. The day after always reaps the best lunches in the history of motherhood. Because the second after I drop the kids off at school on sad lunch days, I'm at the grocery store, filling my cart with Best Lunch Ever treats, promising to get a more consistent grocery shopping routine and become a better mother.
All that to say, it's amazing how quickly you can go from having everything together to feeling like everything's falling apart. In a matter of minutes, candles and intentions to shoddy lunches and sarcastic snap-backs: "I'm not the only one who's in charge of grocery shopping, you know. You could pick up a few things too." There is no limit to our do-overs in parenting though, and so far at 1:00 p.m. today, we've started our Monday six times. Outlook: Sunny. Pantry: Stocked.
Cushioning all our start-agains are the sweet small things. Lately, we've been enjoying…
Florida's finest weather…
Lots of happy Florida snowbirds right now, basking in the best this state has to offer. When we're missing family in the Midwest, these days are our bargaining power for getting them down for visits.
Salty dogs with my dad…
…who's officially retired and lives ten minutes away now.
Pajama donut breakfast at the park, post sleepover.
Five kids, all who were up at 6 on a Sunday morning.
Finding Nella wearing one of Lainey's long dresses. Every day.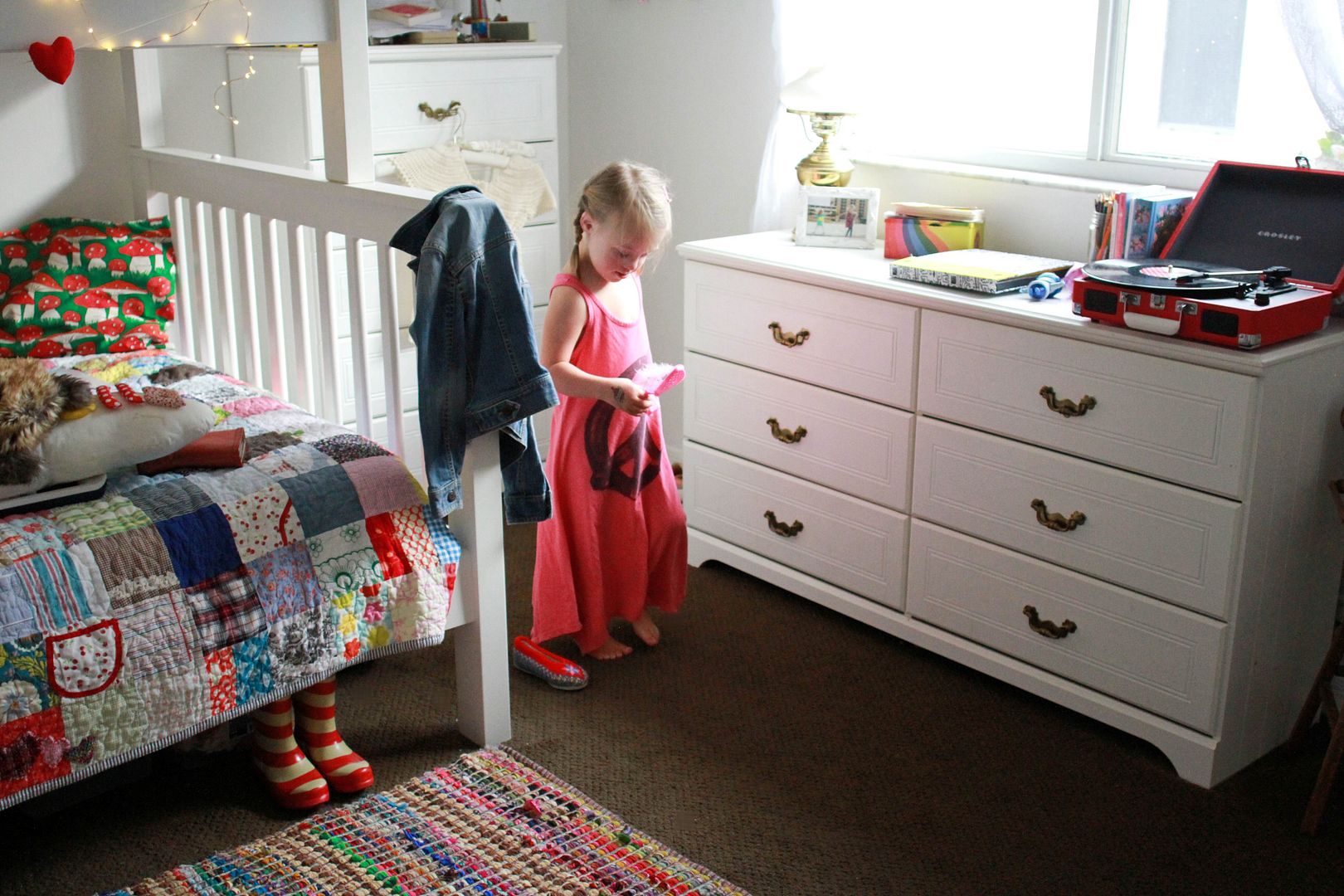 A little space freshen-up, thanks to a can of yellow paint and some picture rearranging.
(Also I'm wondering how many days of quote switch-outs I have before I use up all my favorite You've Got Mail and Dead Poet's Society quotes on our new letter board.)
Snout Love.
Some afternoon yoga.
Duck Duck Goose
These #$&*ing skates.
He wants to wear them all the time–thinks they're so funny. As if skates weren't dangerous enough, try wearing them 5 sizes too big.
Anyone else's kid think it's so funny to lick your face when you ask for a kiss?
A little pre-Valentine creative expression.
Happy New Week, friends. Feel free to start over when needed.

(several asked on Instagram: Moon Phase garland found here.)