We're headed into another birthday party this weekend–this time with a dinosaur theme. The kids are making dinosaur snot at the party because we love disgusting things, and I figured I'd make it a separate post so you too can make disgusting things with your kids (they'll love your forever!).
You'll need Borax (found in laundry detergent aisle), green food coloring, Elmer's glue (4 oz. bottle per child) and water.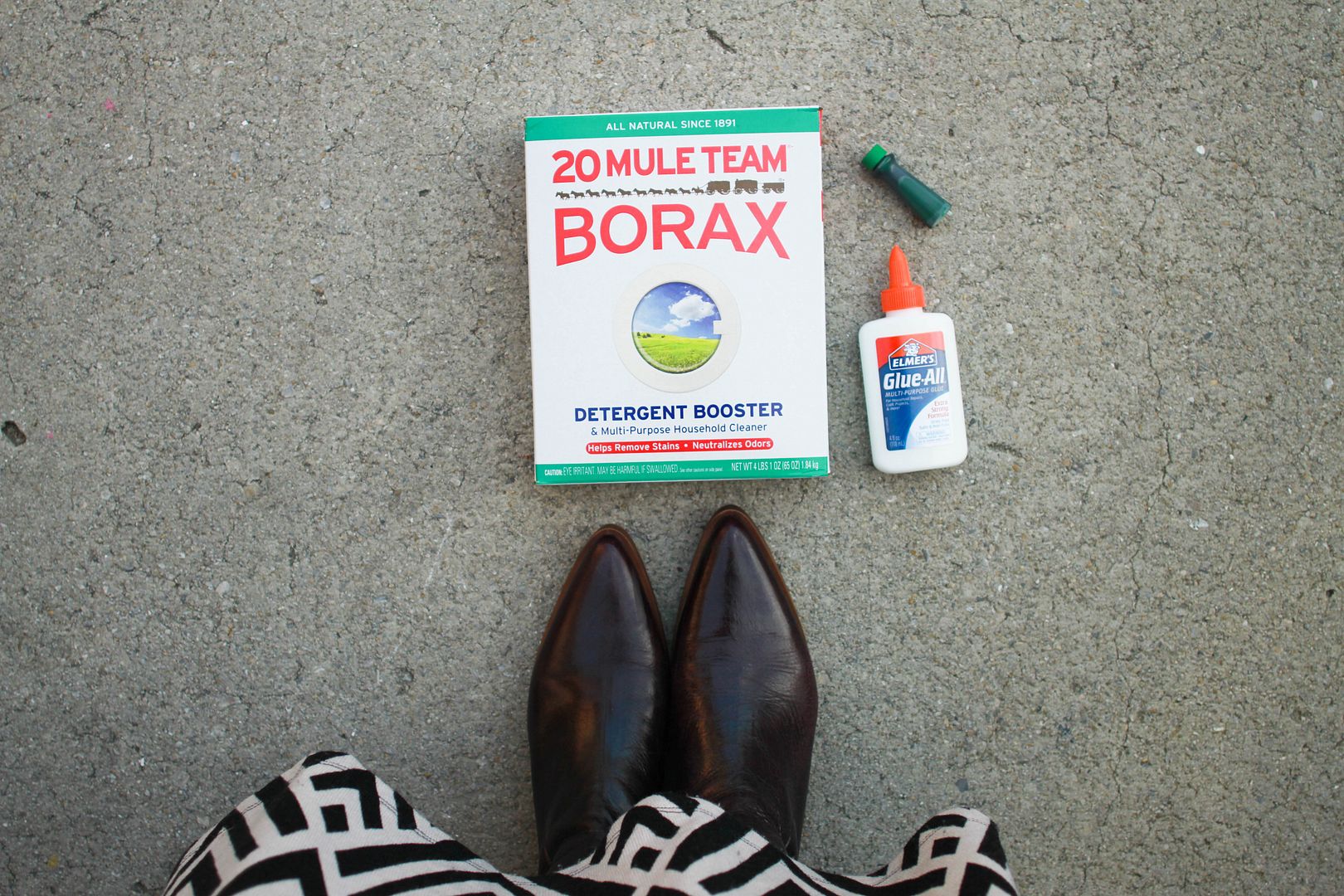 To streamline it for a table of several little ones making this at the same time, we're using 2 large paper bowls per child and we're pre-measuring the Borax and putting it in plastic snack containers (the ones people use for Jello shots ;o)–one per child. The finished slime will go in these 8 oz. clear plastic jars with this label* (I uploaded it so you can print it).
In one bowl, mix contents of 4 oz. glue bottle with 1/2 cup water. Add green food coloring. Stir. (I pre-added food coloring–about 8 drops–to bowl of water so that Dash didn't make a mess with the food coloring)
In the other bowl, mix 1 tsp. Borax with 1 cup water. Stir until Borax is dissolved.
Pour Borax mixture into glue mixture and watch the slime magic begin.
Mix slime with spoon and don't worry if there's a lot of water left over. Let kids get their hands in there and mix it well with their hands until it's a good slimey consistency, and then pour off all the excess water. The slime will get smoother and easier to work with the more you play with it.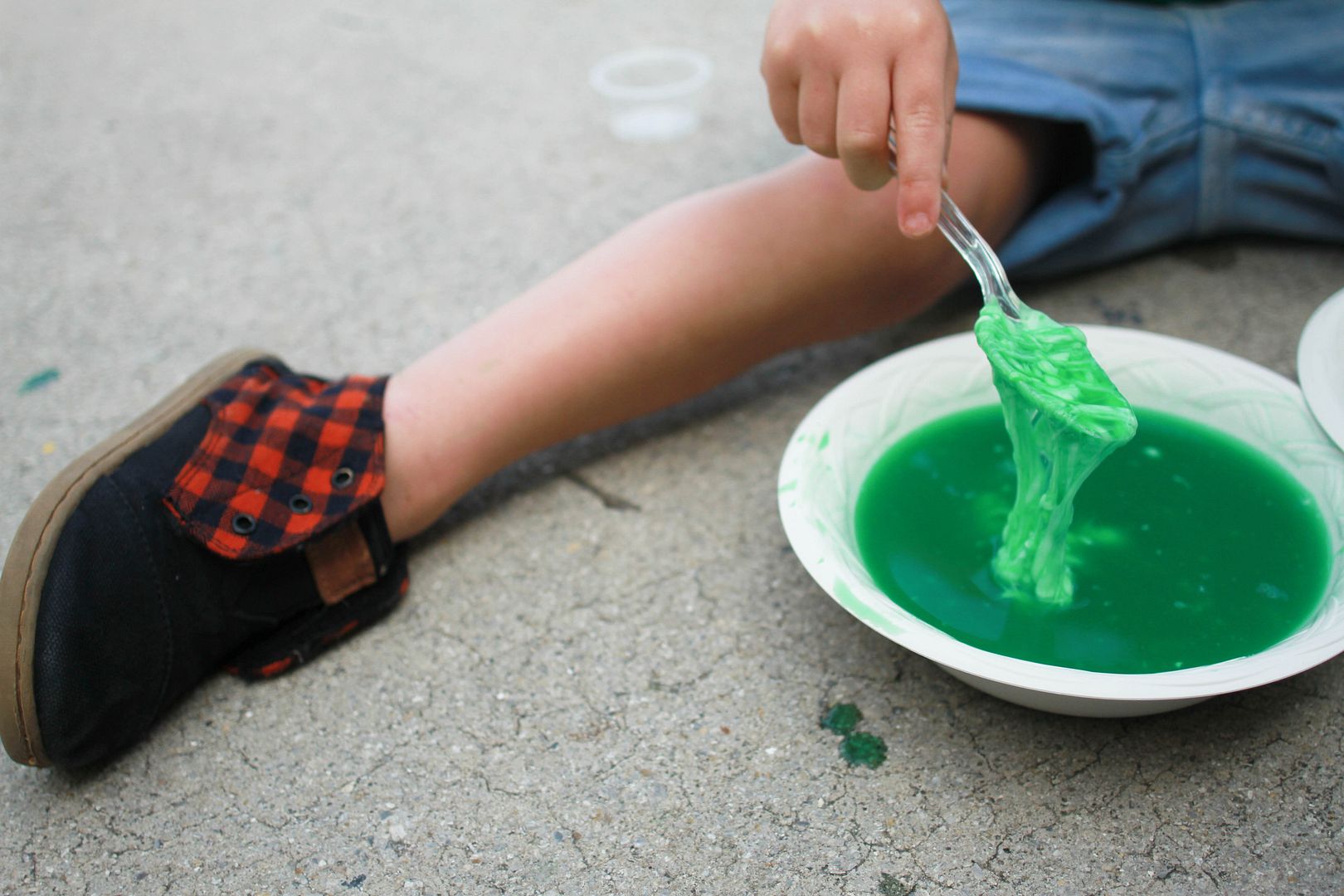 When it's nice and smooth, transfer to 8 oz. jar with label.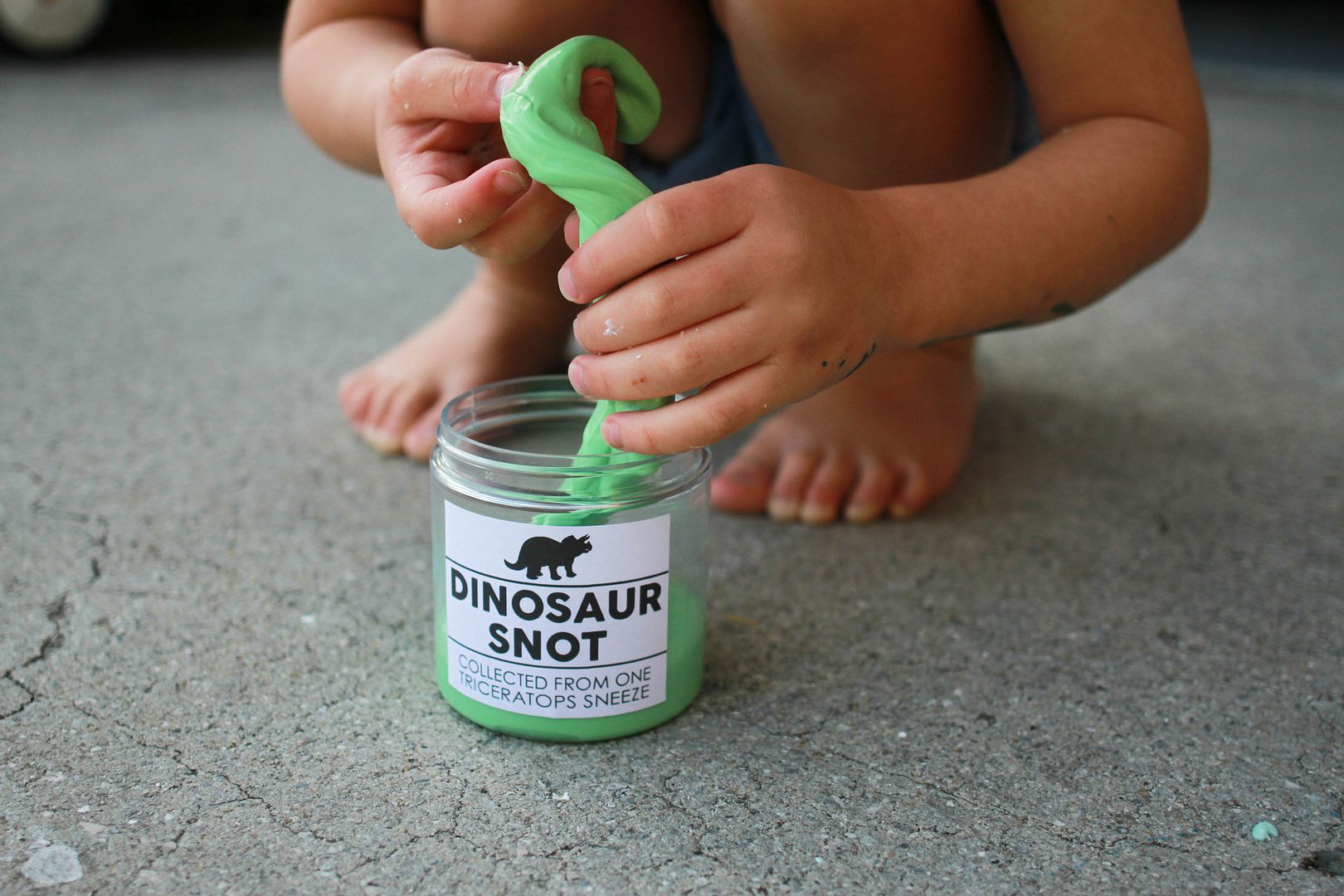 My kids' favorite thing to do with it? Hide it in their hands, pretend to sneeze–ACHOOOOOO!–and then pull it away from their nose.
It's the perfect mix of super cute and a-little-bit-disgusting that makes for a great take away favor for a dinosaur party. Dash is looking forward to his this weekend.
*Note: for the Printable Dino Snot labels, you can print it on a sheet of Avery shipping labels, 2 to a page (Avery #18126), and cut out 6 from the page, no problem.
Happy Monday, carry on.