This post is sponsored by Toca Boca.
There's a little play kitchen in Nella's classroom, tucked next to the crate of baby dolls, on the other side of the shelf with the cars and the train tracks and the bristle blocks that interlock when pushed together. Labels on neatly organized bins identify where the puzzles go–right next to the Lincoln logs and two bins down from the Barbies. And while, yes, bulletin boards show off the latest projects that illustrate learning goals like counting and letter recognition, one of my favorite things about Nella's school is its celebration of the colorful art of PLAY, a vital subject matter that often fades when little preschool bags switch to kindergarten backpacks. For all the structured learning and educational standards that will accompany the many years ahead for my children, please let there be complementing creative cushions of open-ended play.
When Toca Boca asked if I'd help them spread their simple message of "Take a Stand for Play" by talking about the importance of playtime to our family, I thought, "This will be eeeaaaaazy!" I could march on the White House steps, picketing for play, no problem. I value a childhood that celebrated it and parents that gave us plenty of time to give our brains opportunities to balance school and extracurricular responsibilities with no-rules play. If they didn't, I wouldn't have so many memories of riding Big Wheels in my grandparents' driveway; or playing Olympics with my cousins in our back yard; or hiding under the bed–heart pounding–waiting for my brother, "the robber", to find us; or my favorite–hour upon hour of rocking baby dolls, calling them "Honey" and packing doll clothes in "diaper bag" purses while we played House. Talk about life preparation.
It is alarming to see how much more pressure kids face today and not surprising to learn that kids have lost 12 hours of playtime a week since their parents (that's us!) were kids. With testing goals and school standards and college entrance requirements, we–without even realizing it–often pressure ourselves to make sure every game our kids play, every show they watch, every snack they eat, every encounter they experience is tied to reading and math goals, or else we think it doesn't count. I love finding new ways where we can incorporate educational goals into real world experience for our kids, but unstructured play is a learning experience in itself (it counts!), and I want my kids to always know the joy of play, no strings attached.
Use your imagination, play as you wish, be creative, have fun!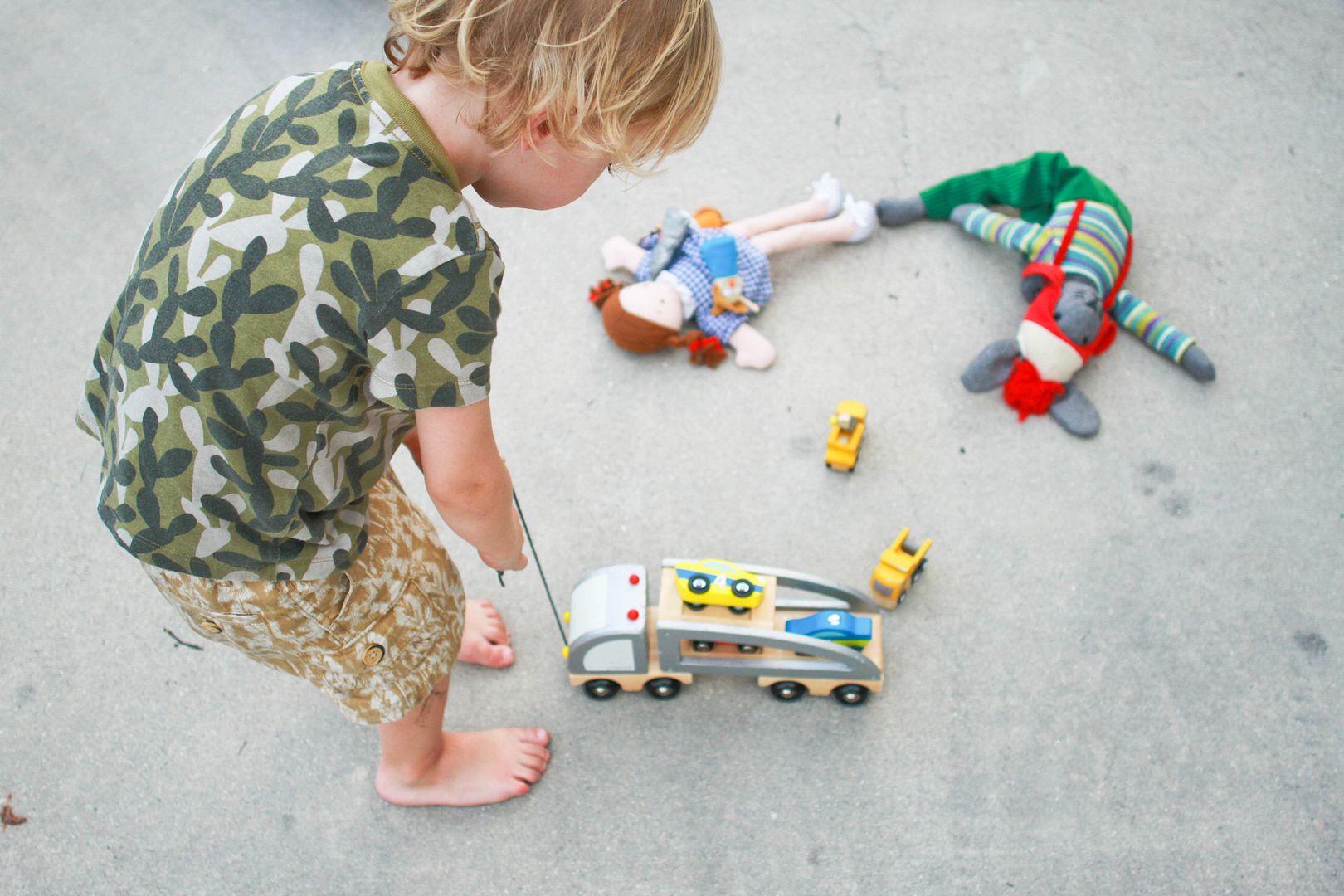 Some of our favorite play time activities at home that work for all three of my kids's ages:
1) Play Store
Go to your pantry and pull out a bunch of canned goods, some cereal boxes, those little seasoning packets you forgot were tucked in that basket on the back of the shelf. Line them up on the coffee table and end tables and shelves in the living room. This is your store. Dig out some play Monopoly money (I'd tell you to play that too, but maybe you don't have the next 9 hours free). Stuff the money in an old wallet for the "shopper." Set up a calculator for the "cashier" and some paper bags for bagging groceries. Use a basket to go shopping and take turns with your kids playing the "shopper" and the "cashier." Every time we play this, my kids never want to stop. They love it.
2) Lava Stones
An oldie but a goodie. Gather all the pillows and couch cushions in the house–don't worry, you'll put them back later. Spread them out like stepping stones, making a long winding path throughout the house. The floor is lava. Now hop to your destination without falling in the volcano. Include itty bitty pillows that make balancing on them difficult for more fun.
3) Bus Driver
Line up rows of chairs to make a bus. One person gets to drive it (plastic plates make great steering wheels), and everybody else hands over their change to ride it. The fun comes when the bus driver asks where he can take you. Grandma's house! Chuckee Cheese, please! Hawaii! Target to buy some Shopkins! So many options.
This February, Toca Boca is asking parents to take a stand for play. Parents can visit www.standforplay.com to learn about the state of play in America, spread the word and sign up to receive a free poster. The back of each poster is a blank canvas–we had fun decorating ours…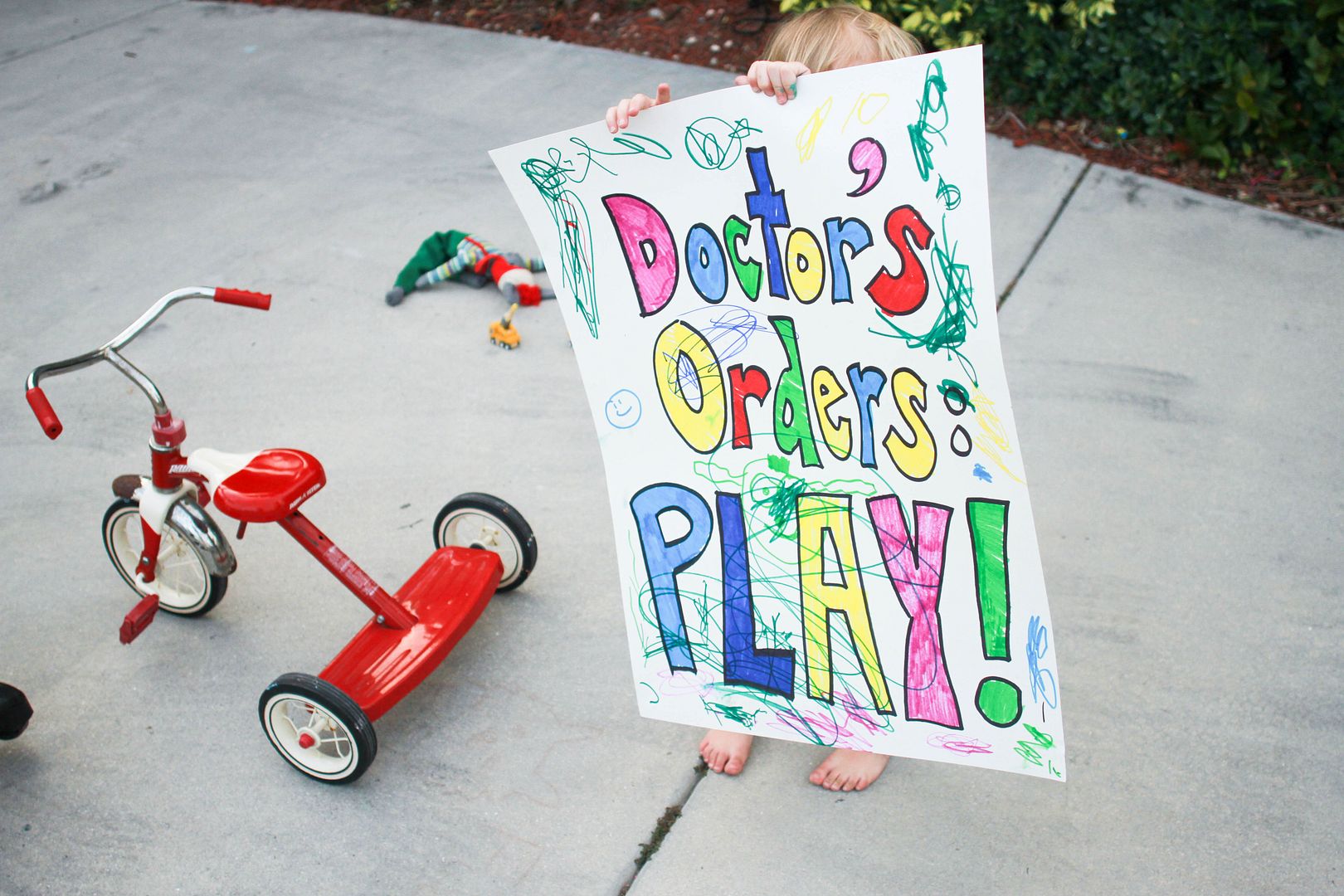 The first 2,000 parents to visit the site have the chance to exchange a Facebook share for a FREE "Take a Stand for Play" poster that will be shipped to them. Posters will come in a tube, along with stickers and more info. Share your poster on your social media feeds with #standforplay to be featured on Toca Boca's site.
Everybody knows what happens to Jack when it's all work and no play, and we don't do dull here. Add interest, color, creativity, happiness, potential…stand for play.