It's been five days since I returned home from visiting the students at Vanderbilt University's Next Steps program. I never know how to tell these stories, especially when they're as important as this one. I always hope for one of those writing experiences where I'll sit down and the simple act of resting my fingers on the keys will complete some magic circuit, and the words will write themselves like they're alive and have been waiting for someone to open the gate. It hardly ever works that way for me though. I have to think about it–scribble notes, cross them out, type, delete, type, delete, stare at the screen a lot.
And this one? This one's important.
To begin, let's go back to 2010. In a hospital bed where I had just been told, "We think she has Down syndrome," I sat holding my tiny perfect baby girl, so consumed with fear and heartache that I could barely breathe. What could I hope for her? Everything you'd hope for your child. I soon realized that most of the things I want my children to have–happiness, opportunity, friendship, afternoons pedaling red tricycles in the driveway and evenings curled up next to me, laughing over the funny part in their favorite book–are available to Nella too, given extra time and some accommodations. But she only just blew out six candles on her cake, and we're still cocooned by youth, the next step laid out for us on a clear path I can still see. The flailing feeling of "what next?" when the path disappears and you have to forge your own? While it feels far away for us, I know it's there because too many parents have told me how hard it is to watch their child graduate high school and want the same next step their friends have–to go to college, keep learning, stretch their wings further to fly into the world of contribution and fulfillment and independence–only to be told, "You can't. You're limited. Your path stops here." And for a long time, that was true. But in this great progressive world of big ideas and brave ones who believe in them and work hard for change, there's a new path being paved. And you get to be one of the first investors. As a smart investor, you'll need to know your returns, so come with me. Let me take you to Nashville, Tennessee where you get a first hand look at what this new path looks like.
This is my second trip with Liz, the founder of Ruby's Rainbow, an organization that grants scholarships to people with Down syndrome. Last year we visited two students with Down syndrome attending West Carolina University, and this year we have a hefty schedule packed into two full days of observations, work visits and interviews, following a current student in Vanderbilt University's Next Steps program as well as a recent graduate.
We begin our trip in the home of Matt Moore, a 26-year-old graduate of the Next Steps program who currently works at Best Buy, volunteers at Best Buddies and lives at home. We're warmly welcomed early Monday morning by his mom who offers us coffee and hollers for Matt to come downstairs. We say hello and hug and explain to Matt that we want to see what a typical day is like and want to know all about his college program and how it's prepared him for his current experiences. He knows why we're here though–he's been waiting for us.
The separation of time and different worlds between my little family at home and Matt's grown-up life quickly disappears when I walk into Matt's bedroom and see a giant photo of him as a toddler, propped against the wall. Somewhere along the journey, we're all just parents in love, hanging pictures of our babies, dreaming of what their world holds for them, hoping it's grand.
The connection continues with all the photographs displayed in Matt's home–so many of him and his sister.
"That's Katie," Matt's mom Sheila tells me. "She's getting married this summer. She's finishing school to be a special education teacher."
I smile. "I hear that a lot from siblings with kids with Down syndrome."
"I asked her, 'Are you sure you want to do that?'" Sheila went on, "'It's a lot of work.' But she's determined. She said, 'It's where I can make a difference.'" Sheila chokes up which makes me choke up, and I'm glad somebody gets choking up out of the way this early in the morning because I'm emotional and don't want to be the first one.
Matt continues his daily routine as we ask him questions, snap pictures and roll video. He's unphased by our hoopla yet proud to talk about his job and his recent college experience.
"How did you feel walking across the stage when you graduated?" we ask him.
"I felt proud my family was there with me," he answers.
"And we are so proud of you," his mom adds.
Matt tells us all about the Next Steps college program–about the courage he gained, the skills he learned, the student ambassadors who helped him with planning and friends, homework and tests.
"The program changed Matt drastically," his mom tells us. "I remember picking him up after his first day and he said, 'Oh man, I want to live here. I want to stay on weekends.' He wasn't the same young man coming out of that program two years later than he was going in. He's more confident. Independent. Loves life."
"We have to work our schedules out just so he can get to all the events he's invited to," his mom continues. "And 26 years ago? We had no idea. We just didn't know what to expect." Sheila stops and starts to cry. "It's amazing. We never dreamed this would be the way it is."
I hear more crying next to me and look up to see Matt. He pulls his glasses off, wipes his tears, and looks at his mom with a look of love I know so well now. "You did good, Mommy," he tells her.
Matt finishes packing his lunch and grabs his Best Buddies shirt for his volunteer job he'll be doing after work. He proudly points to the back of his shirt, "It says STAFF. That's me."
We drive him to work and follow him in to the chorus of high fives and "Good Mornings!" as his coworkers welcome him at the entrance.
"Hey Matt! What's up?"
"Saw you at the Vanderbilt game the other night. Did you see me? I was waving and yelling your name."
Matt introduces us to his friends and leads us to the employee lounge where he tucks his lunch away and prepares for work.
Taped next to the door in the lounge is a newspaper article about Matt, and if you look closely, you can see where he signed it–MATT, right there in the corner.
He wastes no time–clocks in, looks at his schedule and heads to customer service where a stack of inventory is waiting to be sorted and taken to the back warehouse.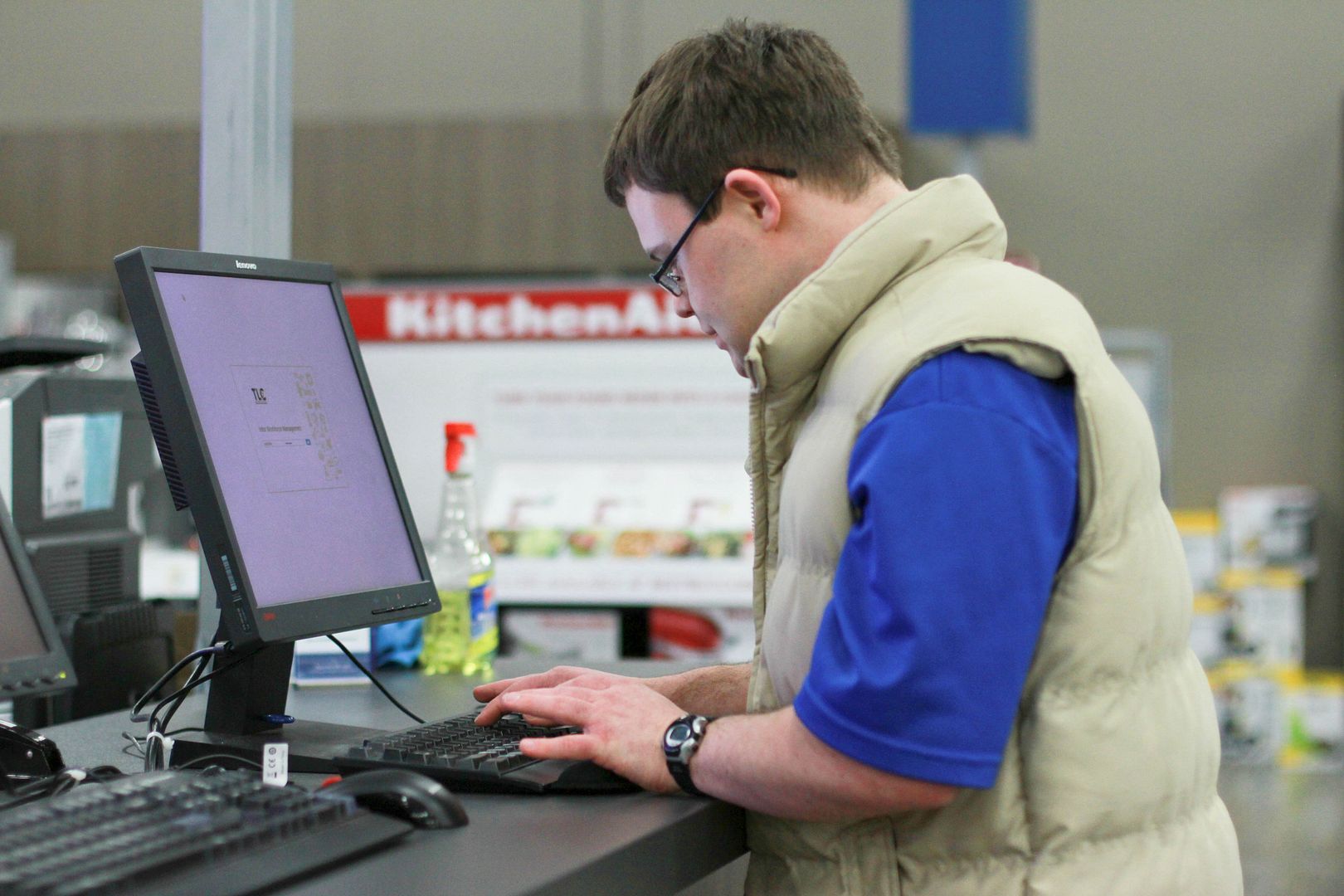 From watching Matt and talking to his coworkers, there is no doubt that he is a valued contributor to his workplace.
He admits it can be overwhelming when customers stop and ask him a lot of questions, but his manager has a game plan for when that happens–find someone who can answer the questions he can't. But for the job he's hired to do? Move inventory, stock product, help customer service employees keep a smooth-running ship? He does his job well.
"Let me put this way," one of his managers tells us. "I have a budget for labor, and I take hours away from someone else to give them to Matt. I wouldn't do that if he didn't perform his job well."
"He is the highlight of my day," says Scarlet, one of his coworkers.
"Employees love him because he stops to say hi and ask if they need anything," Kyle, another manager explains. "And he's been asking to learn some new skills. He knows how to do the job he's been assigned to well and he says he wants to expand what he's able to do here."
"Are you going to take him up on that challenge?" I ask.
"Absolutely," Kyle answers. "I've already been thinking about where else he can put his skills to use."
From our morning at his home and workplace, it's clear Matt feels fulfilled by his work and contributions. This theme continues when we visit Best Buddies later where Matt stops by to finish a job he had started earlier–some handwritten letters to sponsors. He has his own desk, surrounded by framed pictures of friends and family, and tells us Best Buddies is where he met his girlfriend, Olivia.
We connect with Olivia later that evening when we meet up with other Next Steps students and their families at BB Kings in downtown Nashville. Olivia enters the restaurant, and Matt lights up, excusing himself from the table to welcome her.
The parents sit at one end of the table and we join the students at the other but aren't sitting long before the music calls us, and we're on the dance floor, shakin' it to a Blues band. This is my church, by the way. This is where all the sleeping parts of me are awake.
I ask Matt and Olivia and Jason, another student in the Next Steps program, the same questions I'd ask any other college student or young dreamer in love. What's your favorite class? How'd you fall in love? How often do you see each other? Where are you working right now? What's your dream job?  They are proud to tell me about their classes, what they've learned, where they work, and when it comes to the big question of "Where do you want to be?," they all answer with hope: I want to be independent.  
That goal is clearly becoming closer with college programs like Next Steps at Vanderbilt University. We start our day early Tuesday morning on the campus of Vanderbilt where we see the program in action. Jason, a current first-year Next Steps student, is meeting with Taylor, one of his student ambassadors who helps him with homework. They are watching a TED talk on Jason's computer, a weekly assignment for Next Steps followed by journal writing about what they learned.
"Next Steps is one of my favorite things I've done at Vanderbilt," another ambassador tells us later at lunch. "These students have become my friends. I'm not just here to help. This is a mutual relationship."
It's the mutual relationship that interests Dr. Carter, a special education professor we meet with later in the day. Dr. Carter not only teaches regular classes (some, like "Transition to Adulthood," of which Next Steps students have chosen as their regular ed classes to attend) but is involved in research that captures the impact of university programs for individuals with intellectual disabilities.
"I'm interested not only in the story of why it matters to students, but as a campus as a whole," he explains. "How is this good for peers? How does it make the university experience?"
As one of the leading research facilities for individuals with disabilities, professors and students at Vanderbilt University's Kennedy Center are conducting research in hundreds of study fields that involve disability. For years, Dr. Carter has studied work places, faith communities, K-12 schools and colleges that practice inclusion.
And what they're finding? "This is changing perspectives and outcomes of everyone," Dr. Carter reports. "It's proven that peers who learn along side students with significant disabilities go up a letter grade and a half or stay an A if they were already an A." Research involves years of data collection, classroom observation and now includes follow-up studies with students who are involved with peer mentoring. Peer mentors report new friendships, a heightened sense of self-awareness and many times an experience that changes their career path.
"Of course we have to get our faculty on board," Dr. Carter explains, "but it's happening."
Fifty plus professors have agreed to let Next Steps students be a part of their classes and make accommodations for their learning and while not all classes are suitable, most of the professors who have agreed to include students with intellectual disabilities report that the experience made their classes better.
As Dr. Carter explains, "Having a student with intellectual disabilities in a college class helps professors make a universal design for instruction and change their ways of teaching that ultimately benefits ALL students. It reveals things you might have overlooked in your teaching and brings a great sense of satisfaction when you see those students thrive. This is shaping the entire undergrad professional experience."
I ask Dr. Carter the question I ask everyone in special needs education: "Why special education? What brought you here?" I expect the same answer I hear from so many–someone they met who changed their life.
"It's a long story," he answers, "But yes–there was someone I met. A friendship years ago. For once, someone didn't care about my accomplishments or anything else I did."
The current employment rate for adults with disabilities in our country is 15%. Graduates of the Next Steps program? 87% paid community-based employment. It's working.
"Studies show that if a parent truly expects their child to grow up, contribute and work," Dr. Carter tells us, "the odds of that happening increase 6-12 times."
To grow up and contribute. To be known. To be needed. We all want that.
Success with Next Steps has opened new doors for Vanderbilt University. The program recently received a $1.93 million grant from the U.S. Department of Education's Office of Post-secondary Education to expand the 2-year non-residential program to a 4-year residential program.
What do the students think about that? Well, we had dinner with them Tuesday night, and it was unanimous. They all chanted, "We want dorms! We want dorms!"
It's those chants that stay with me as a mom. The voices from so many students who've told me they want to go to college, they want jobs, they want to live on their own. The parents ahead of me on this journey who've prepared me: "Nella's going to want this too. They just want more."
And my friend Liz and Ruby's Rainbow? They're giving them more–$85,000 to 32 scholarship recipients last year and with your help, even more this year. You should see Liz in action. She lives and breathes this organization. She knows all the recipient names by heart–where they're going to school, what job they're pursuing. She talks about them like they're her own kids, and in a way, they are. One of last year's recipients, Paige, called Liz at 10:00 the other night, and Liz excitedly took the call from our hotel room. "It's Paige! I'm taking this. I know why she's calling–she wants to read me her essay."
You should see the way these students and their families hug Liz when they see her–the thank yous for believing in them.
It's the most beautiful, promising thing to be a part of.
And YOU? You get to be a part of this too. The path to change and a better life and more hugs like these and stories like Matt's need more opportunities, and we can help provide them. For everything you've ever dreamed for your child, for any emotion you've ever felt reading here, for the way you can possibly relate to a mom in a hospital bed holding a new baby, hoping for her happiness or for a young man dreaming of going to college like all of his friends–can you funnel that into a small donation of $21 to help Ruby's Rainbow grant more scholarships this year?
Here's how the 3-21 Pledge works. World Down Syndrome Awareness Day is March 21–so we have two weeks here.
1. Click here to make a $21 pledge.
2. Pledge to be kind and considerate to people of all abilities (I know you got this one!).
3. Share your pledge with 3 people (or more!) and ask them to do the same.
This year, the 3-21 Pledge visually tracks your donation and people who donate from your link, so you can see exactly how much your pledge grows, a true testament to the fact that one person can make a huge difference. Social media creates wonderful momentum for missions like Ruby's Rainbow and the 3-21 Pledge, and they can't make this happen without you. So, would you please share? Make it personal–tell your friends why it matters. It's not just for our kids–it's for ALL kids.
If you click on one link on this blog, please make it this one. As Dr. Carter said, this is changing perspectives and outcomes of everyone. We get to to this, together. Invest in this, and your returns are guaranteed.
The future for my girl is looking brighter.
Do I still worry? You bet. But I know we're not alone.
Thank you, thank you, thank you for coming with us.