We've resorted to our low standard celebration this Easter. It goes like this: You know why this was an amazing Easter? Because we are breathing. We are alive, and we are going to let that fact have a lot of merit right now.
We've been in varied stages of The Flu Cocoon which is a lot like the horror movie The Fog except we get to keep breathing. Remember, WE'RE ALIVE! BEST EASTER EVER!
I have considered taking care of sick children one of those rites of passage in motherhood and one that can present itself to be quite beautiful actually–rocking warm little bodies, sweeping hair off hot foreheads, tucking covers, perfecting chicken soup recipes, feeling a surge of satisfaction from the call to nurture. But the other night when both Brett and I fell asleep with fevers and chills and awoke to the same fevers and chills plus two more kids with it, crying "Moooooooommmm!"? I did not feel a surge of satisfaction. I passed a kid to Brett–I don't even remember which one–and bid him God Speed. "Here, you take this one. I'll take the other one. Whoever survives until morning wins life."
Turns out, we both won life, another thing to celebrate this Easter.
We had big plans for Easter–a giant spread of food planned, people coming over–all the Easter things. And I'm holiday girl! I live for this stuff.
But it just didn't work out this year, and it was all we could do to take care of us. So we canceled all our plans and focused on breathing and staying alive. And you know what? I kind of liked it. Once in a while, it's nice to be forced to step back and just do nothing.
Turns out we still did a few things. Quietly, slowly, and under the influence of Motrin.
Our eggs got dyed (made some speckled eggs from Martha Stewart Magazine–eggs tossed in a cup of lentils and food dye).
And the bunny still came. Also, word is the bunny got smart this year and ordered eggs pre-filled with tiny toys like puzzle erasers and tattoos. Praise be for shortcuts when you need them.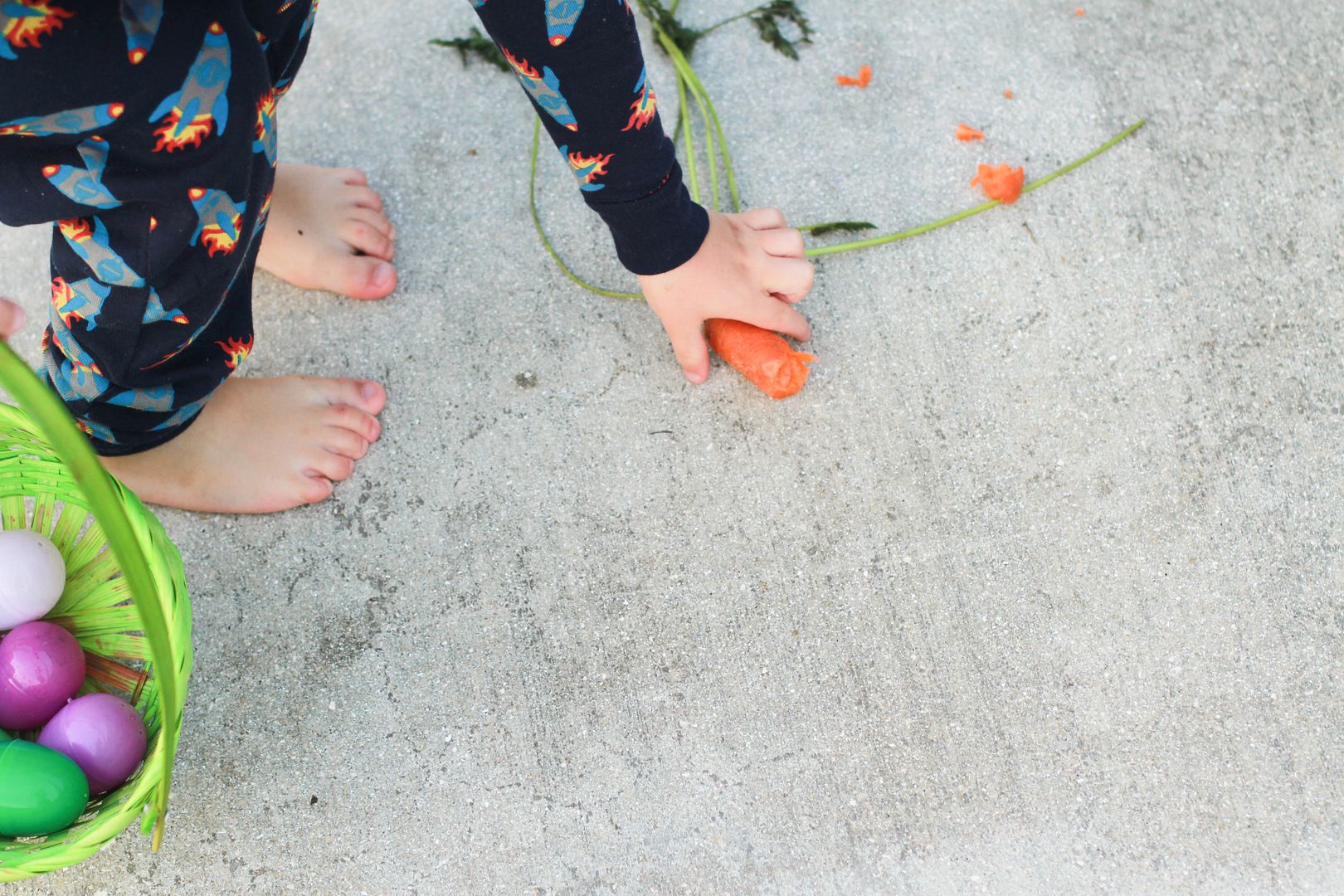 These tiny Calico Critters pups? Obsessed. All of us.
I was actually feeding one with a bottle yesterday without realizing Brett was watching me.
"What are you doing?" he asked.
"What? I'm feeding a bottle to a tiny plastic dog wearing a diaper, what is it look like I'm doing?"
The kids tried on their Easter outfits at various times throughout the week, but mostly we just hung out in our pajamas yesterday. But look! For the record…BOWTIE. You're welcome.
The cake that didn't get eaten, but it's okay because WE'RE BREATHING.
I did get through Season 2, Episode 12 of Parenthood after marathon sick watching and cannot begin to understand why I wasn't watching it when it was on. My obsession with the Braverman family is so for real, I dream about them and count down the hours for the kids to go to sleep so I can keep watching.
And for once, I'm actually glad it's Monday. New week, fresh start. Disinfecting the house and kickin' last week in the shins.

Fatema sandals, from my fave spring picks and a continued partnership with Børn Shoes.
Hoping you all had a great weekend and a happy Easter.