I recently switched from a regular coffee maker to a pour over (got this one) after my neighbor convinced me it was so much better. And yes, I did taste several cups she had made me and admit it's richer–purer, maybe, without all the buildup that gets trapped in your coffee maker–although I'm sure a true coffee connoisseur would describe this in better terms. But I'll also admit it was more about upping my ritual game. Making the coffee was already one of my favorite morning rituals, but when I watched my neighbor make hers, I felt the burn of ritual envy. My morning started with a scoop, scoop, shove, wait, trickle, pour, but hers with the pour over? Well, it didn't help that she was sweeping around her kitchen in some ethereal nightgown. But seriously, it was beautiful. It was more a clink, clink, whir, scoop, whir, whistle, pour, trickle, steam, purr, mmmmmmmm.
I see your morning ritual, and I raise you an Amazon Prime 2-day delivery of my new coffee maker, thank you.
This isn't the first time I've succumbed to ritual envy. In second grade, it took just one evening at my friend Kelly's house during Hannukkah when I watched them light the menorah and say Hebrew prayers to send me running home to ask, "Hey Dad, can we be Jewish?" It was the candles, man. Candles are my weakness and the singular pivotal element that turns an ordinary event into a meaningful ritual. Which is why I'm like, "Hey kids, it's National Barber Shop Quartet Day. Gather round the candelabra, we're going to hold hands and say prayers in its glow." I FEEL that barber shop love, man. I FEEL it.
I dive into these elements of ritual when the world feels scary or when I'm anxious, discontent or feeling less alive than usual. There's something both calming and invigorating in ritual–the daily ceremonies that ground us and offer rich sensory opportunities in the bones of everyday life. The candle I light every morning to start my day, the sound of the trickle of hot water through the coffee grounds, the rhythm of my feet against pavement on an afternoon run, the leap I make to touch the blossoms on the Cassia tree every time I pass it. Filling the pretty tin watering can–the one I splurged on just to make the ordinary task of watering plants a little more enjoyable; chopping carrots and peppers on the beat up cutting board with the red wine stain; shaking freshly washed sheets to smooth them before I fold them into a rectangle, then a square, then another square; brushing tangled hair and braiding it before school; hoisting kids out of the tub with a towel and swooping them around the bathroom in an airplane ride–just like my dad used to do to us when we were little.
This week it's coffee. A new pretty glass pot. The whistle of my tea kettle. A few more ceremonious steps that yield a damn good cup of coffee. Oh, and I froth my cream now with a tool that looks like it came from a dentist office. It makes the prettiest foam, and I feel spoiled–in the reassuring "I'm paying good attention to myself" way–when I take the first sip. And maybe that's what ritual really is all about…paying good attention. To the sun and the sky and our families and our food and the abundant comforts our world gives us. And candles. Can't forget those candles.
This week, I'm paying attention to…
The dance of waves and wind and hair…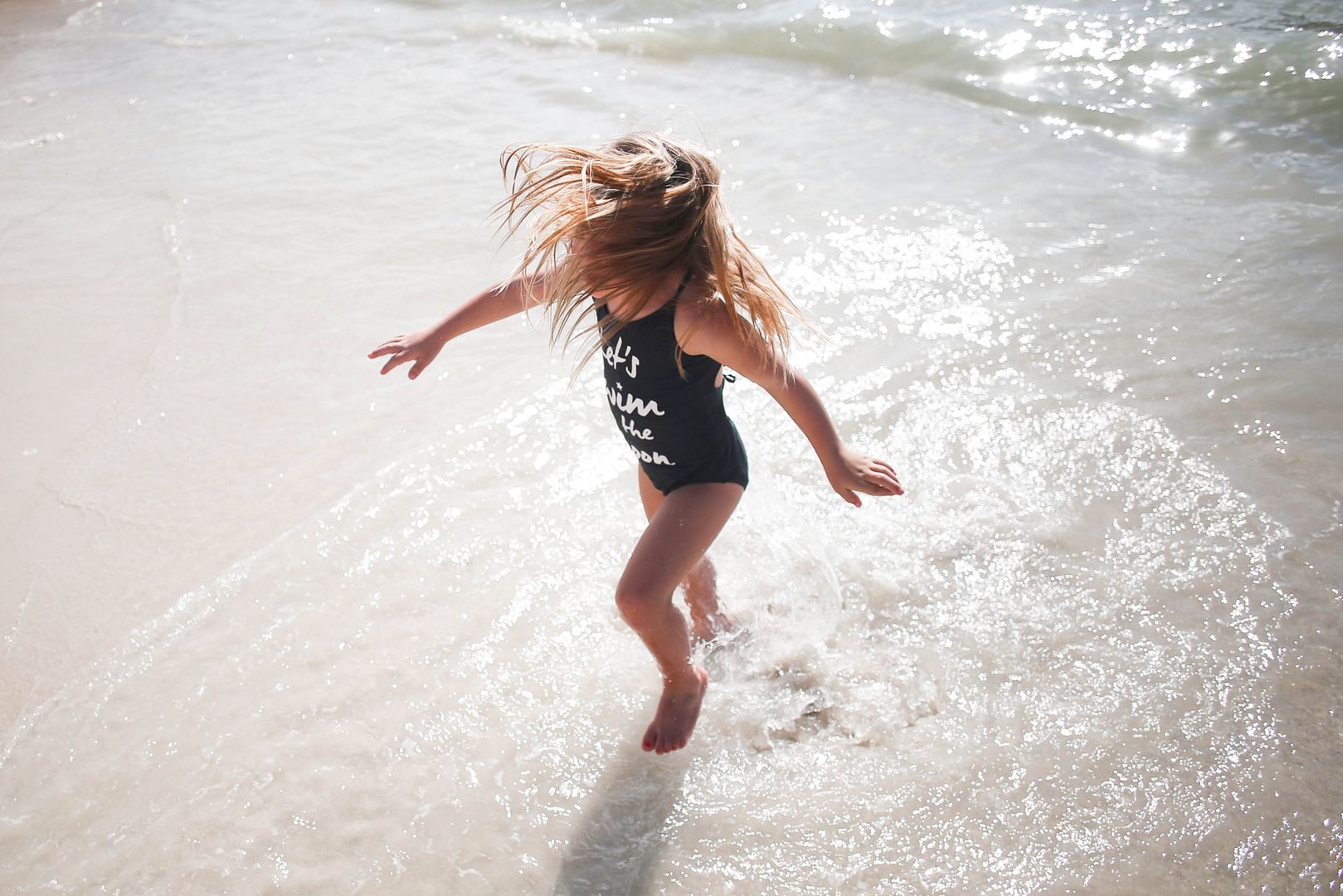 Sand sugared thighs…
Unexpected rainbows…
Hidden treasures in the woods…
The Golden Hour…
The hilarity of asking an 8-ball "Are you a butt?" and it answering "Yes."…
The sights at the weekend farmer's market…
"The Happy Pickle" stand…
Questions about unrecognizable fruit…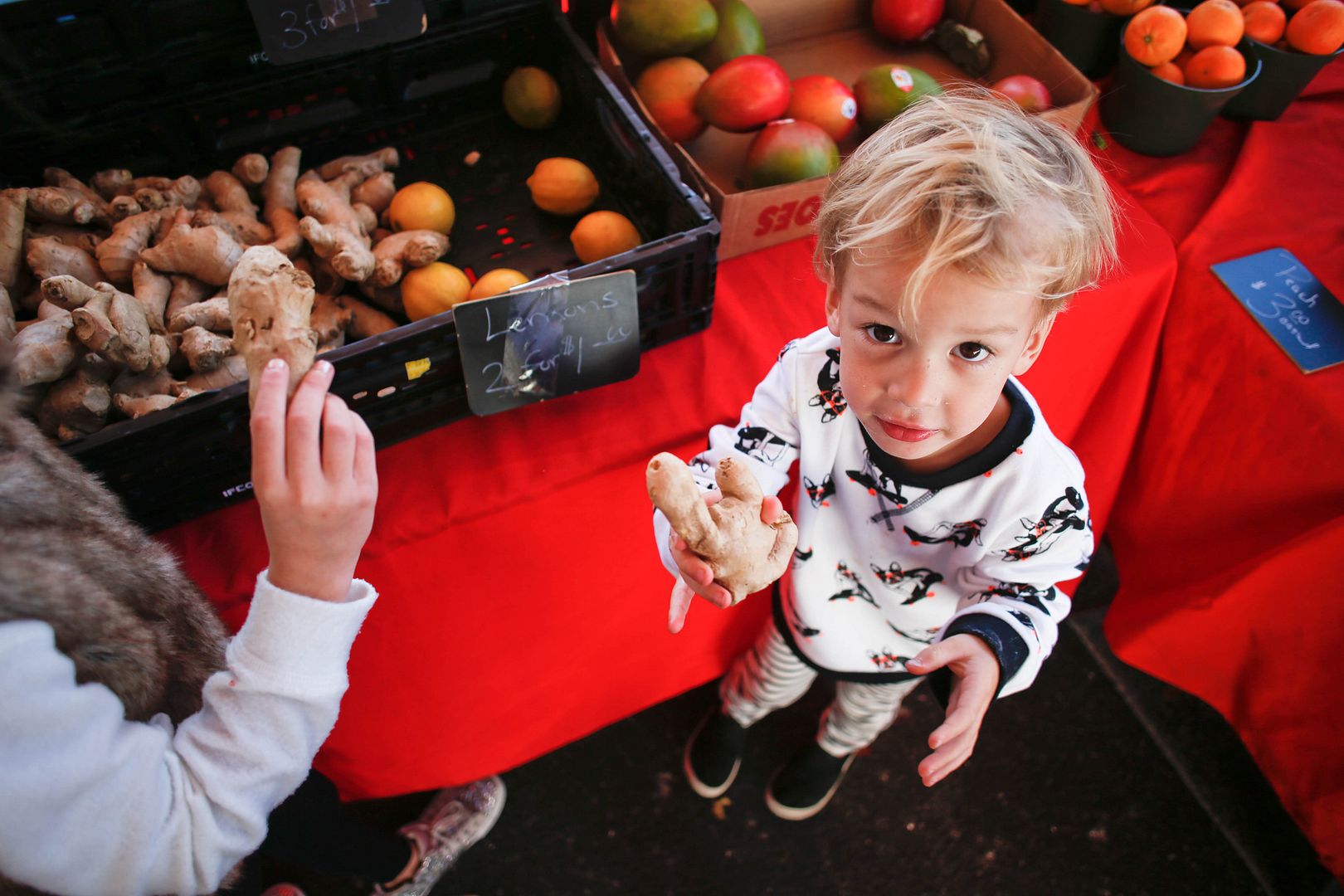 The way he says "Ahda-cado"…
Giant carrotts and Brett's skepticism regarding how they got that big…
Impromptu lunches out and a Saturday nooner beer…
Yellow shoes…
…and a happy high kick.
Happy Humpday, friends.