It was the first resolution I conquered last month–choose one of those dreams I keep saying "One day soon, I'm going to…" and make it happen. Or else it never will.
So I pick up the phone and call my 87-year-old grandma–the only grandparent I still have.
"Grandma, are you still able to travel? If we found a direct flight, would you be able to make the trip down to us?"
"Oh honey," she says, "I might be tired when it's over, but when I leave this life, God's going to have to take me out on a stretcher. I don't say no to being with my grand kids or adventure."
So we book a flight. Make some arrangements. Exchange calls about what to pack. "Comfy clothes," I tell her.
She arrives while the girls are at school, so Dash and I wait in the airport, his little sign held high above his head.
"Keep watching," I tell him. "She has white hair. She'll be in a wheelchair. I'll tell you when I see her."
…and then…my heart skips a beat as I see her appear.
"There she is. There she is, Dash!"
And a hug to erase all time.
I once again explain the order of birth of a great grandma to the kids, and the number of years and stories and sequence of love it took to get there feels so grand, I almost can't grasp it myself.
"Remember, she's my mama's mama," I say. "All those memories you're making your grandpas and grandmas–I made them with her when I was little like you."
It takes Dash all of a millisecond before he falls into her lap, taking her hand and rubbing it on his cheek. "Grandma, look!" he yells as he does a funny dance. "Grandma, come here," he says as he leads her to his room to show her his garbage truck. "Grandma, don't go," he cries six days later as we pull back into the airport to say goodbye. It's like he's known her forever, like she's been here every day of our lives…because in a way, she has.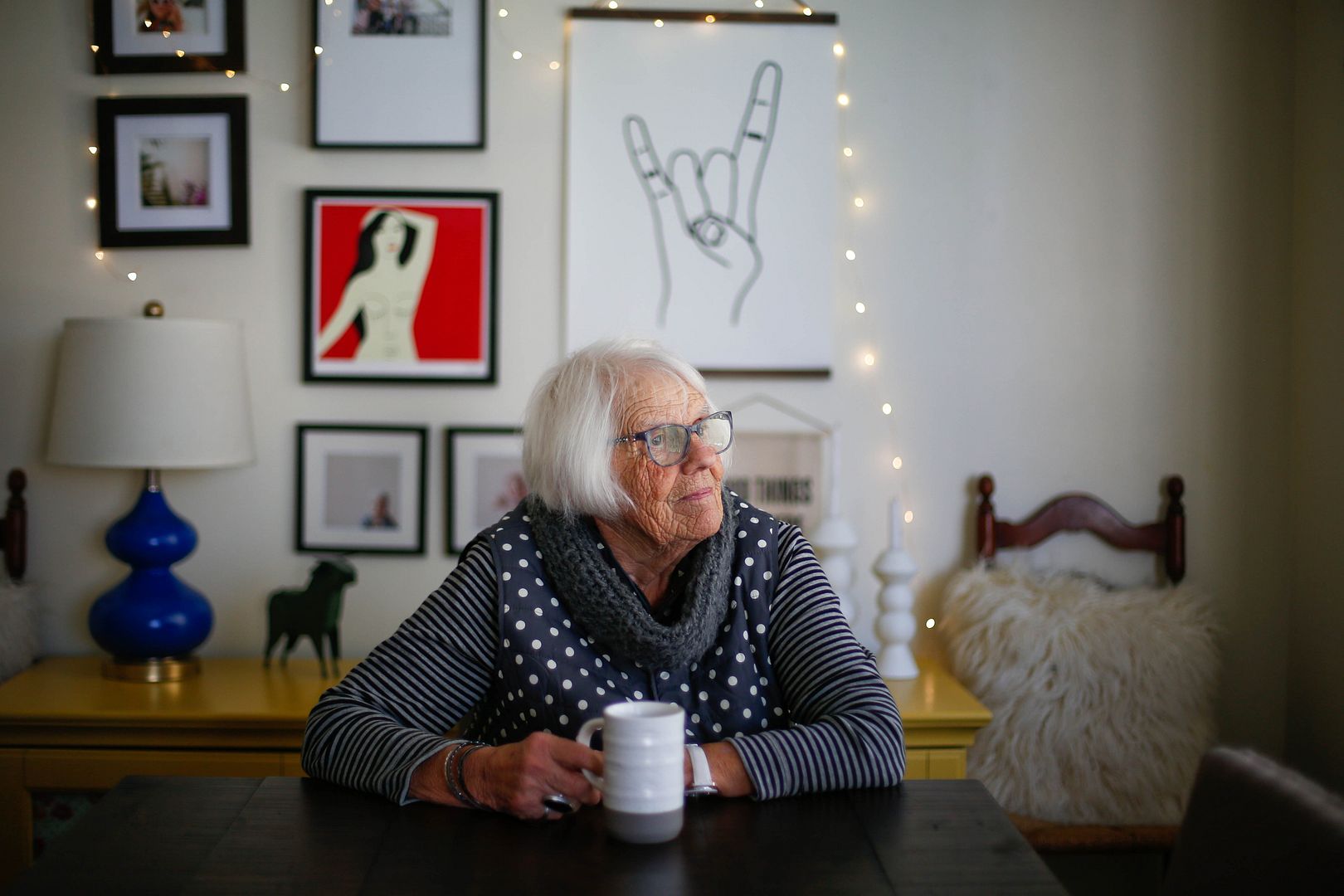 "Kel," she says as we drive to get breakfast one morning. "I watch you–all my grandkids–and your lives, and I just feel so proud. I'm a part of this. I'm a part of all of you. I suppose that's not very humble," she laughs, "but I get to own some of it too, right? Because I see myself in you."
"Grandma, if you only knew," I tell her. "I watch you, and I feel so lucky that you are a part of me. You are the coolest grandma I know."
I ask her if she wants to come to a baby shower with me over the weekend. "Doll me up!" she instructs. So I run to my closet and pick out my favorite skirt, a sweater, some pearls.
"She needs a hat," Brett adds.
"And red lipstick," Heidi says.
Grandma whispers, "Now no one's going to know this is your skirt, right?" as we walk into the baby shower. Two seconds later, my friend hugs her with "So nice to meet you!" followed by, "Oh my gosh, that skirt! I borrowed it from Kelle too." We all laugh.
We eat lunch by the ocean, trade stories over coffee at the kitchen counter every morning, watch Property Brothers next to the fire on one of Florida's rare cold nights. We flip through photo albums together, drop the kids off at school, pick them up, run errands. "I want to see it all," Grandma says. "I want to meet your friends, see the kids' school, hang out with the neighbors–so I can picture it all when I go home."
I wake up one morning to find a large bowl with a few popcorn kernels left in it. "Your grandma woke up at midnight," Brett explains, "so we watched T.V. and had a little popcorn party together."
It feels like the love we have in our home just tapped a new source, and it's flowing so fast now, I can't ladle it up quick enough.
Dash borrows her walker to practice roller skating.
And later bends over naked and yells, "Grandma, look at my butt."
"Oh dear, Grandma! I'm so sorry. He likes that potty talk."
She laughs hard. "Redeemable garbage!" she calls it. "The things we carry around in us that we're not proud of."
We talk about redeemable garbage a lot more over the week, but in that moment, I grab my phone and text my sister. "Dude. Dash just bent over naked and told Grandma to look at his butt. I'm dying."
Mostly, I feel proud of where I come from. And though I constantly lament over how fast these days are going by–how big our kids are, how quickly things change, how the world so unforgivingly reminds us how old we're all getting–I am reminded this is exactly how it's supposed to go, and it's beautiful.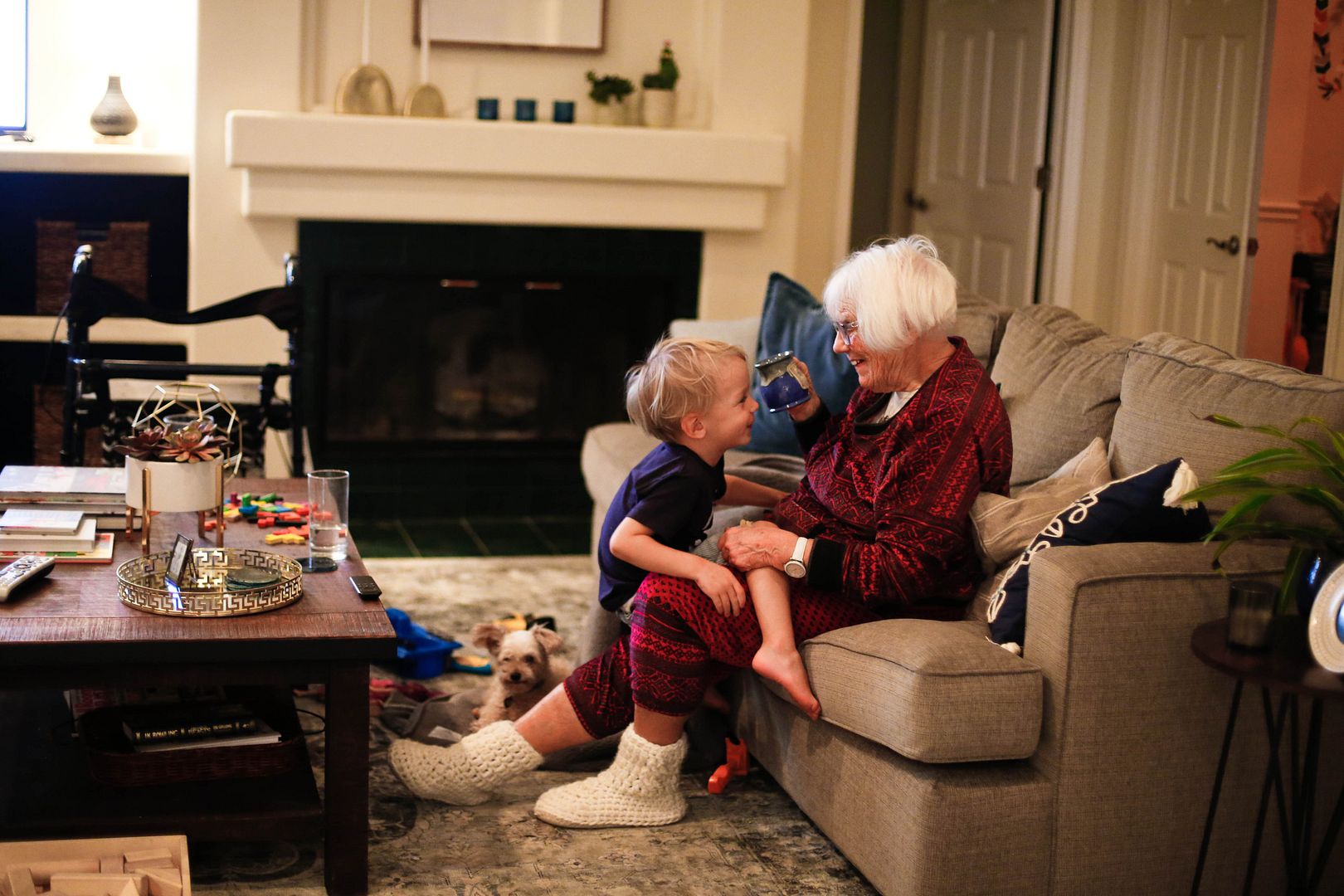 I ask Grandma one morning if she slept well. "Well, I woke up in the middle of the night and started walking around your house looking at all your things–Dash's art on the walls, the pictures on the fridge, all these cute little trinkets you have. I have to tell you Kel, it was making me so happy, my kite started to fly away." I laugh, familiar with all these phrases she's made up over the years. "I think my blood pressure was getting high just from the excitement. I swear I'm going to end up in the ER someday, and when they ask what happened, you all are going to have to tell them my kite flew too high. I just get too excited!" To delight in the world so much at 87 that you fear it might the end of you? I hope that's where I'm headed.
We talk a lot about politics, women's roles, religion, raising kids and what absolute truth means to both of us. She's conservative, I'm liberal. We differ on a lot of things and lovingly get fiery over the ones that are close to our hearts. We listen and smile and admit we love each other's fire.
We sing a lot over the week, sitting side by side on the piano bench, flipping through an old hymnal to find the songs we both grew up with–For the Beauty of the Earth, And Can It Be, Amazing Grace. I can only play the treble clef, so she plays the bass and together we make music, sometimes overlapping fingers to create the harmonies. We FaceTime my mom to give her a concert. We call my sister and put her on speaker phone so she can sing with us. I text a video to Brett's dad, so he can see my grandma playing his grandma's piano.
Over the week, I sharpen my explanation to the kids on who a great grandma is.
There's a tiny page I tore out of the children's book  A Hole is to Dig (I regret ripping it out) and one of Maurice Sendak's illustrations from it framed in my office. A simple sketch of a group children sitting under the stars is accompanied by the words, "A dream is to look at the night and see things."
A great grandma is to anchor who you are becoming. 
A great grandma is to love.
A great grandma is to never forget.
Grateful for heritage, stories and the unshakable source of love from which ours flows…how ever far we may go. To kites flying high.