This post is sponsored by Regions Bank.
"Mom, can I have some money?"
"I don't have any money," I answer.
"Yeah you do. Just use your card."
Oh, of course. The card. The one that's hooked up to the endless money supply that funds anything our heart's desire. Or so they think. And you know what? I thought that too when I signed up for my first $500 limit credit card after it was offered to me from a table in the student center on my first day of college. Without a thought to where the money was coming from or how it would be paid back (wait, we have to pay it back?!), I was swiping that baby every morning at the Dunkin Donuts drive-through and piling up my Target cart every weekend because I'M RICH! I have a tiny plastic card that magically pays for everything, so I'm rich!
You want to know what two words will teach you a lesson about money real quick? CARD DECLINED.
Here's another two: WITH INTEREST.
Oh wait, there's more: LATE FEE.
Or how about some nice two word answers to your friend's invite for a fun weekend away: CAN'T GO. I'M BROKE. DEBT COLLECTORS.
Thankfully, it was only a $500 limit. And I wish I could say that was the last lesson I needed to teach me to spend responsibly and to respect money. but I'm constantly learning. The thing is, my family didn't talk about money when I was a kid. In fact, for a good portion of my childhood after my parents divorced, our church taught us that money was "the root of all evil" and that the rapture was coming soon, so saving for the future was pointless. Pshaw! We don't need any money in heaven, so why does it matter? We took a pretty literal interpretation of that whole "invest in heaven, not earth" thing, and in the process, money got shoved into enemy territory. That's fine and dandy when you're a kid and your parents pay for everything, but goodness, adults deal with money a lot! And navigating through money issues in adulthood would be easier if kids had a good foundation of how money works.
There are some pretty important things I've learned about money as an adult that I want my kids to know–mainly, that money in no way equals happiness, but earning it, saving it and responsibly allotting it absolutely contributes to aspects of happiness–things like education, family vacations, wellness resources, comforts of home, security for the future and reduced stress in marriage.
So how do we include our kids in lessons we learn about money and help prepare them for making good decisions in the future?
As the new year begins, our friends at Regions Bank have a wealth (ha ha–no pun intended) of resources available for families to help them achieve long term goals and set up a financial game plan for every month of the year. Raising kids who think responsibly about money begins with parents who think responsibly about money.
As for our kids, we have conversations about money a lot–how much things cost, how we earn it, how we save it, why we spend the way we do, and how buying something affects other choices we make.
Five important things about money we want our kids to know:
1. Money Doesn't Grow On Trees
As much as it may seem that way when we pull out a magic card and swipe for groceries, we talk to our kids about the fact that every dollar we spend–in stores, online, to pay for our mortgage, our cars, our doctors appointments, ballet lessons, tutors, to fill our gas tanks, have fun, etc.–is earned from hard work and sacrifices. We talk about our jobs and what we do to make money and why it's important.  And we give our kids opportunities to earn money–even if it's just a dollar here and there–to introduce the concept of work and rewards.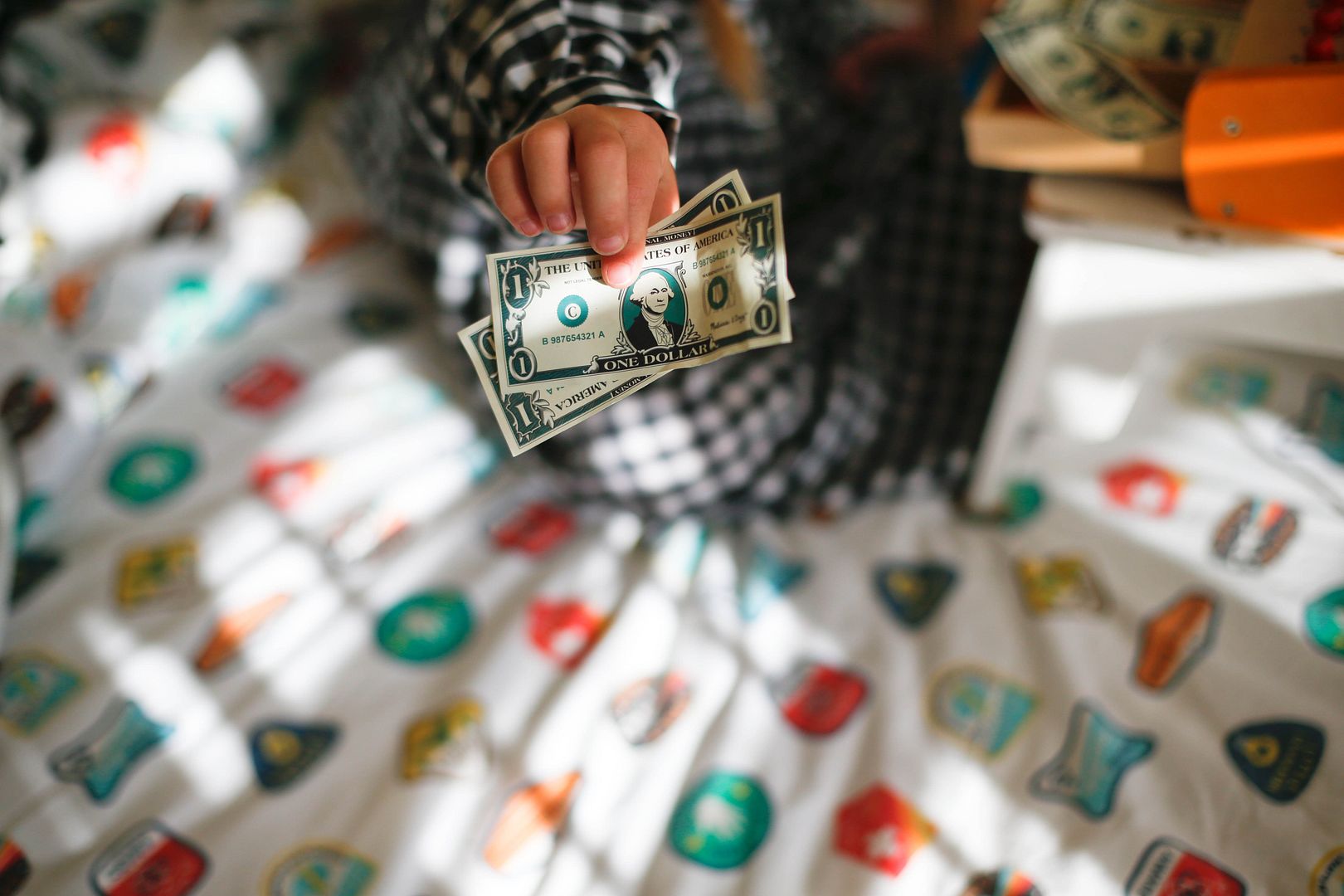 2. Prioritize Spending
Every dollar we spend is a dollar away from something else we might want. So when our kids ask for things or want to spend their own money on something, we have conversations about what that means: "Okay, you can buy this lipgloss set, but remember that means you'll have six less dollars to spend when we go shopping this weekend." If I'm thinking about buying something in a store and decide I don't really need it, I verbalize the decision to my kids so they are familiar with that kind of thinking. "I really like these shoes, but you know what? I have something kind of like them at home, and I don't really need them. I'd rather save that money for something we really need."
3. Save Money
Whether it's a piggy bank on a dresser or a "Family Vacation Fund" jar on the counter, initiating the "save for later" concept of money is an important way to teach kids how a few self-restraint decisions can accumulate to great rewards. I know families that have paid for entire Disney weekends from daily pocket change being dumped in a jar. Saving is also a great way to show that big dreams really can come true…with a lot of little sacrifices to get there.
4. Role Play
Have some play board game money tucked away in a closet? Some loose change in the junk drawer? That's all you need for some fun money lessons from real life role play. Our kids love playing store and are learning basic money concepts–comparative shopping, adding things up, exchanging money for goods, using coupons, etc.–from reenacting what they see in real life.
5. Spend Money You Have, Not Money You Don't Have
Ah, those credit cards! It took only one "Just use your card" suggestion from Lainey to begin talking about what credit cards are and how they work, and how dangerous it can be to think "I'll pay you back later." If there's one thing I want my kids to know as they become adults, it's BEWARE OF "I OWE YOUS". Be free! Pay now!
6. Include Kids in Your Giving
When we are rewarded for our work and are able to live comfortably and take care of our family, it's important that our kids know how lucky we are. We talk a lot about how making a good living isn't something everyone has the opportunity to do, and that finding ways to give to others is an important part of enjoying our rewards. When we give to others–whether it's a few dollar donation we add on to our grocery bill at checkout or an online contribution to organizations we are passionate in supporting, we talk to our kids about why we give and how good it feels to support things we believe in.
Money is not the root of all evil–it's a powerful tool in helping families and communities grow. Learning more about managing money and making good decisions for our financial future is a challenge I continue to embrace, and teaching my kids about how to think and talk about money inspires me because it's not something I did as a kid.
As you have these conversations and make decisions about your family's money, Regions Bank is there to help. Check out their tools for financial planning in 2017 here.