This post is sponsored by thredUP. As always, writing and opinions are my own.
Maybe it's the first sight of tulip bouquets at Whole Foods. Or perhaps, the Cadbury eggs that taunt me from their new display at the grocery store check-out. Maybe it's the Anthropologie pop-up ad for the floral dress that keeps showing up on my e-mail screen. Whatever the case, spring sweeps its way into my internal inspiration board and controls me for a while this time of year, prompting closet clean-outs, gardening dreams, picnic plans and the hunt for the perfect pale pink nail polish shade (found it: Essie's Poppy Art Pink). While we pick up little things here and there throughout the year for our closets, spring is definitely when we overhaul all of our wardrobes (especially the kids), cleaning out things that don't fit and clothes we don't love, and rebuilding where necessary so that we're ready for the new season with comfy staples and fun new outfit inspiration.
Did you know in the average American closet, only 20% of the items actually get worn on a regular basis?! That means we're wasting precious time rifling through cluttered closets full of things we don't love. Spring is the perfect time to change that. I've talked about thredUP a few times before here on the blog, and with another seasonal makeover on our closets, we're returning to our favorite online resale shop as we weed out the old and unused and add new pieces we love–here's the best part–at a fraction of retail price. thredUP is the largest online store that buys and sells high-quality secondhand fashion for women and kids, and every item is triple inspected by hand to make ensure all clothes are  like new–and many are  brand new, with tags still attached.
First up: the clean out. You can order a clean out kit from thredUP, and they'll send you a giant bag that you fill with defect-free, on-trend clothes. You send it back to them and choose to either be compensated through store credit or PayPal, or you can have thredUP donate to a charity. Either way, you've cleared out space for things you love.
Step 2–the fun part: revamp your closet.
Looking forward to both Florida outdoor adventures and summering lakeside in Michigan, we tend to go for bright primary colors this time of year when we're shopping. Give me yellows, reds, nautical stripes and bold blues and greens that will pop against strawberry fields and beach sunsets. With a large family though, we're definitely open to any way we can brighten our closets without breaking the bank. So, I went on thredUP for a spring closet challenge, and I'm SO happy with the results. Wait until you see!
Before I started shopping, I knew what I wanted:
For me:
*a couple of casual, comfy outfits for everyday, preferably cotton, in my favorite versatile color palette: black/white stripe, navy, red, white, yellow
*dresses
*1-2 bold statement pieces that have a wow factor
*favorite brands, a plus: (common thredUP brands I find: JCrew, Anthropologie, Nanette Lapore, Free People, Kate Spade, etc.)
For the kids:
*cotton everyday dresses for the girls
*primary color scheme
*favorite brands, a plus: (ones I usually find on thredUP: Mini Boden, Hanna Andersson, Gap, etc.)
One of my favorite features about shopping with thredUP is their filters. I can narrow my searches down to specific sizes, brands, colors and even details like "short sleeve" or "long sleeve" when hunting for the perfect shirt.
I found everything I wanted and more, and when the thredUp box hit our doorstep, I was stoked.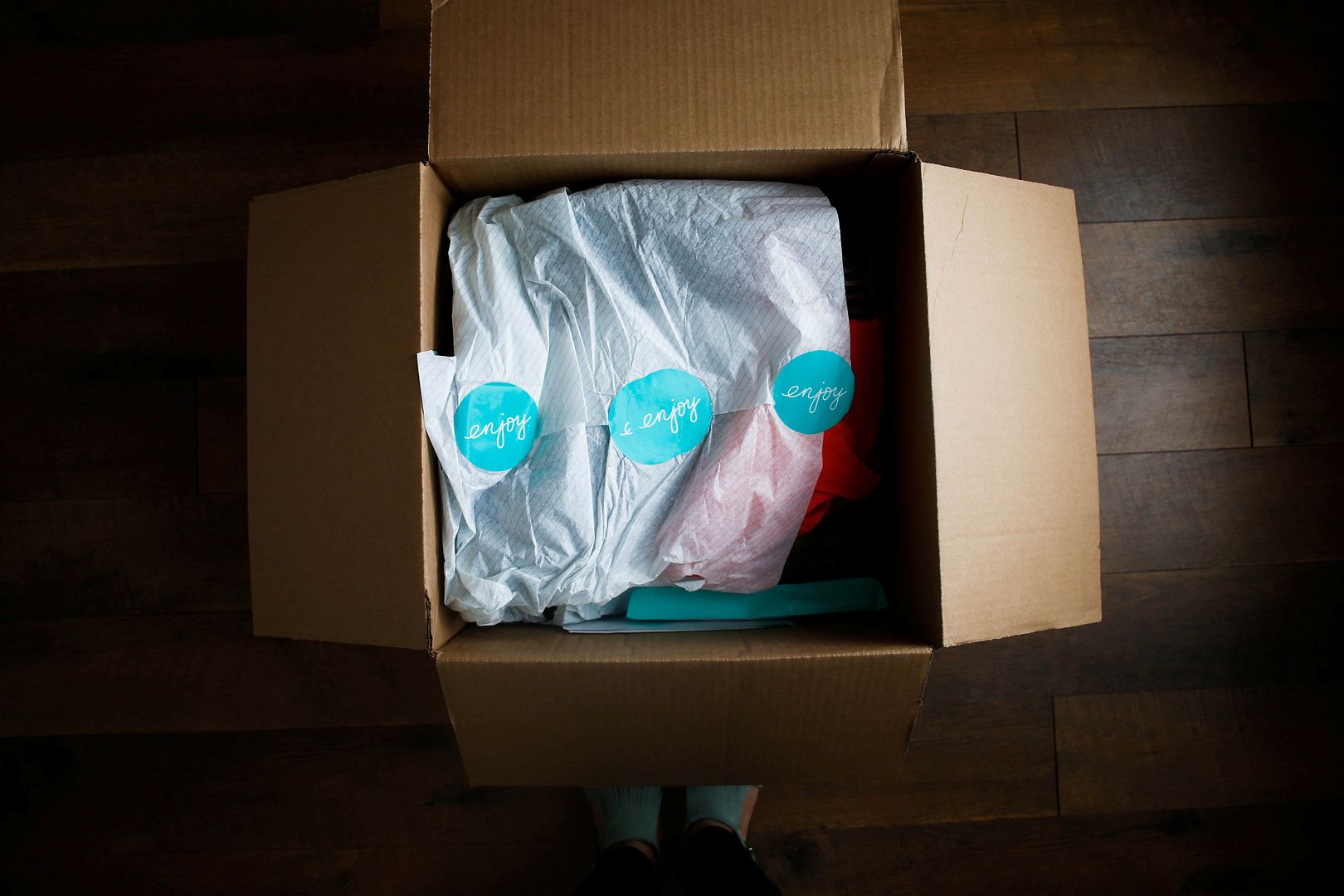 A Rainbow in a box!
Look at all those brand names…and all like new.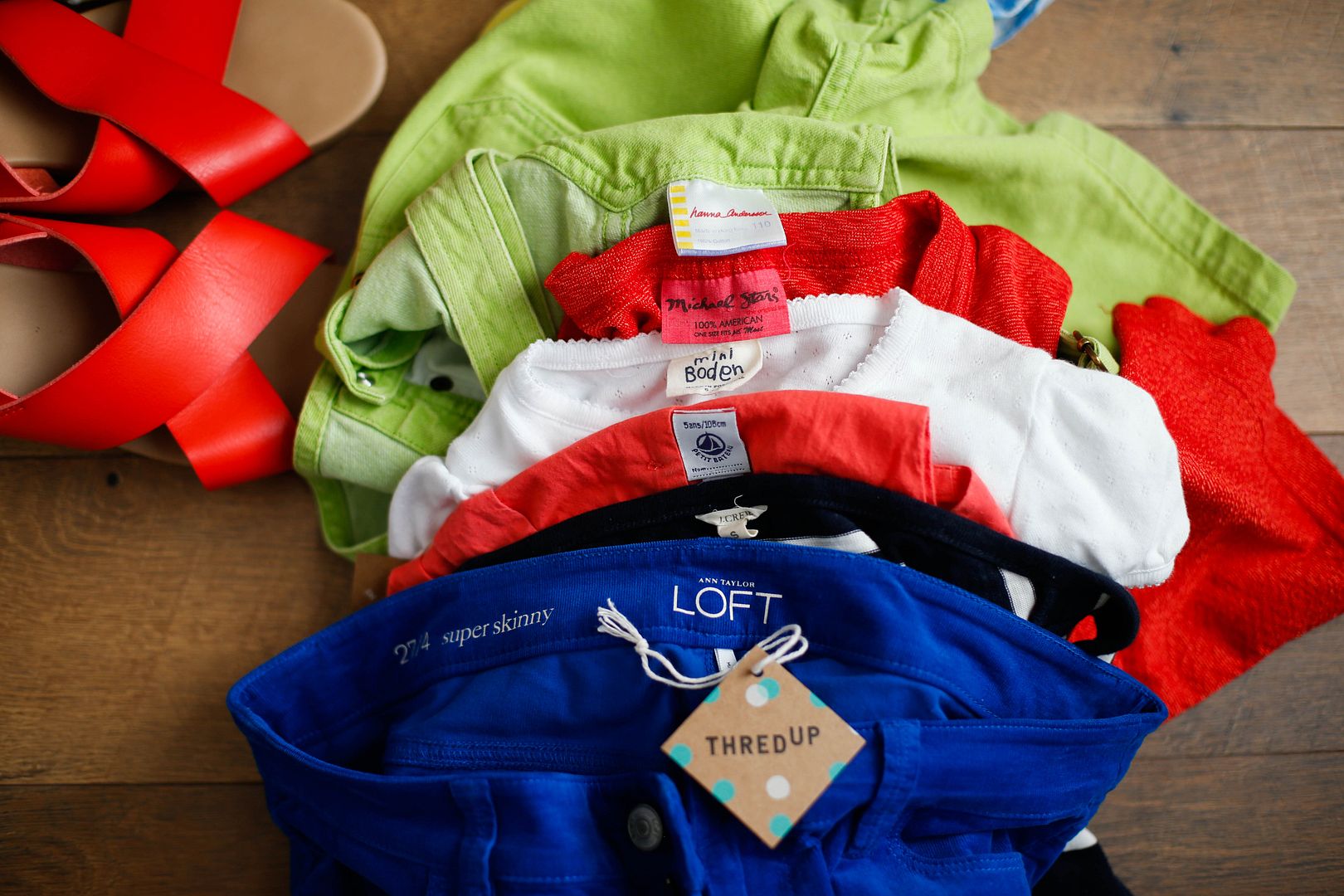 So here's what we got with all the thredUP prices, compared with what each piece retails for.
For me:
For the kids: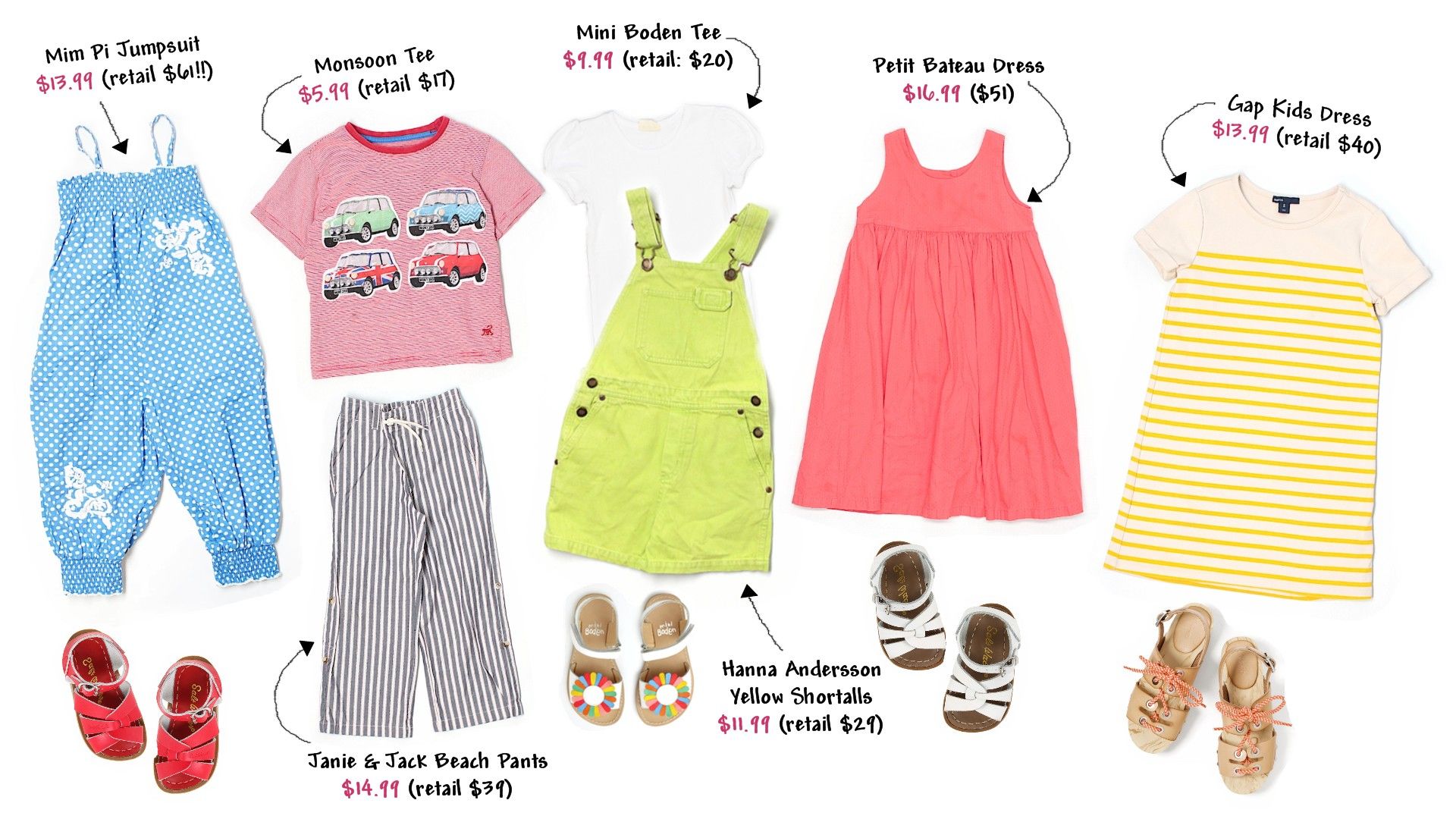 I've actually been looking for a pair of yellow short overalls for Nella and couldn't believe when I found these that were not only her size, but one of our favorite brands! And that Mim Pi jumpsuit? It's now one of my favorite things of hers. And we saved almost $50 by buying it through thredUP.
And look! The kids in their new outfits and my bold colors from thredUP all coordinate perfectly.
Lainey's Gap knit stripe dress is so comfy and perfect for summer, and it's yellow!
I'll probably get the most wear out of the JCrew knit stripe dress, a classic easy piece for spring and summer that I can dress up or keep casual with sneakers or sandals. And isn't that $17 bag so much fun? Such a happy, sunny print.
My favorites pieces for me though are the two dressier items–the bold palm print dress (so Florida!)…
…and this amazing black shirt with the big structured neckline.
If only I could learn to simply smile and say "thank you" when someone compliments the shirt rather than blurt out how inexpensive it was.
thredUP is offering readers a special discount: the first 100 people to use code ETST40 will get an extra 40% off their first order. (Applies to new US customers only. Discount up to $50) They're also giving away a $250 shopping credit to one lucky reader–just click here to browse thredUP, and leave a comment with a link to your favorite item from thredUP to win.
Here's a fact to blow your mind: If 1 out of 100 american households shopped secondhand, they would collectively save 1.6 BILLION every year. That's enough for each of those households to pay for 2 years of college.
Now to find some colorful spring adventures to match our new looks.
*and thanks to Heidi for taking so many of these great pics!