The School Supply Pack order forms came home last week. If you don't know what these are, let me enlighten you. Back in the days when Lainey started school–you know, when I signed all the folders with a designated folder-signing pen and not some dried-up capless marker I found in the cup holder of my car–I thought these little forms were joy suckers. They take all the fun out of school supply shopping and make it so everything your kid needs to start school the following year is shrink-wrapped, sitting on her desk the night of Meet the Teacher. Not for me, I thought. I enjoy the process of shopping for school supplies. I mean, who would want to miss out on the excitement of taking your kid to pick out notebooks? Or weaving your cart through aisles of rainbow folders and little boxes of golden pencils that beg to be sniffed? Who would want to skip the rite of passage of standing next to your child, watching him choose between glue sticks or glue bottles? I'll tell you who…ME. I want to skip it. And I do now, every year, thanks to these blessed stress-relieving, time-saving angels called school supply pack order forms that I fill out, pay online and then–here's the best part–forget about them. It took me two years of pushing through crowds to look for the marble purple wide-ruled composition notebook only to find it out of stock, or rummage through folders to hunt for the 2-pocket, 3-prong ones in seven different colors (non-existent, by the way) to offer that task up. Sure, we still end up buying a few extra things before school just for fun, but now there's no pressure to beat the crowds and cart-block Miss Hoarded-the-Entire-Inventory-of-Orange-Pocket-Folders to snatch the last pack of Expo markers. In fact, come August, we casually hit the Back to School aisles just for laughs. Because frazzled crowds clawing through scattered piles of notebooks in search of red 70 count, non-perforated, wide-ruled ones is just funny. Bet you passed on the school supply pack because you just love the thrill of picking out your own pencils, didn't you?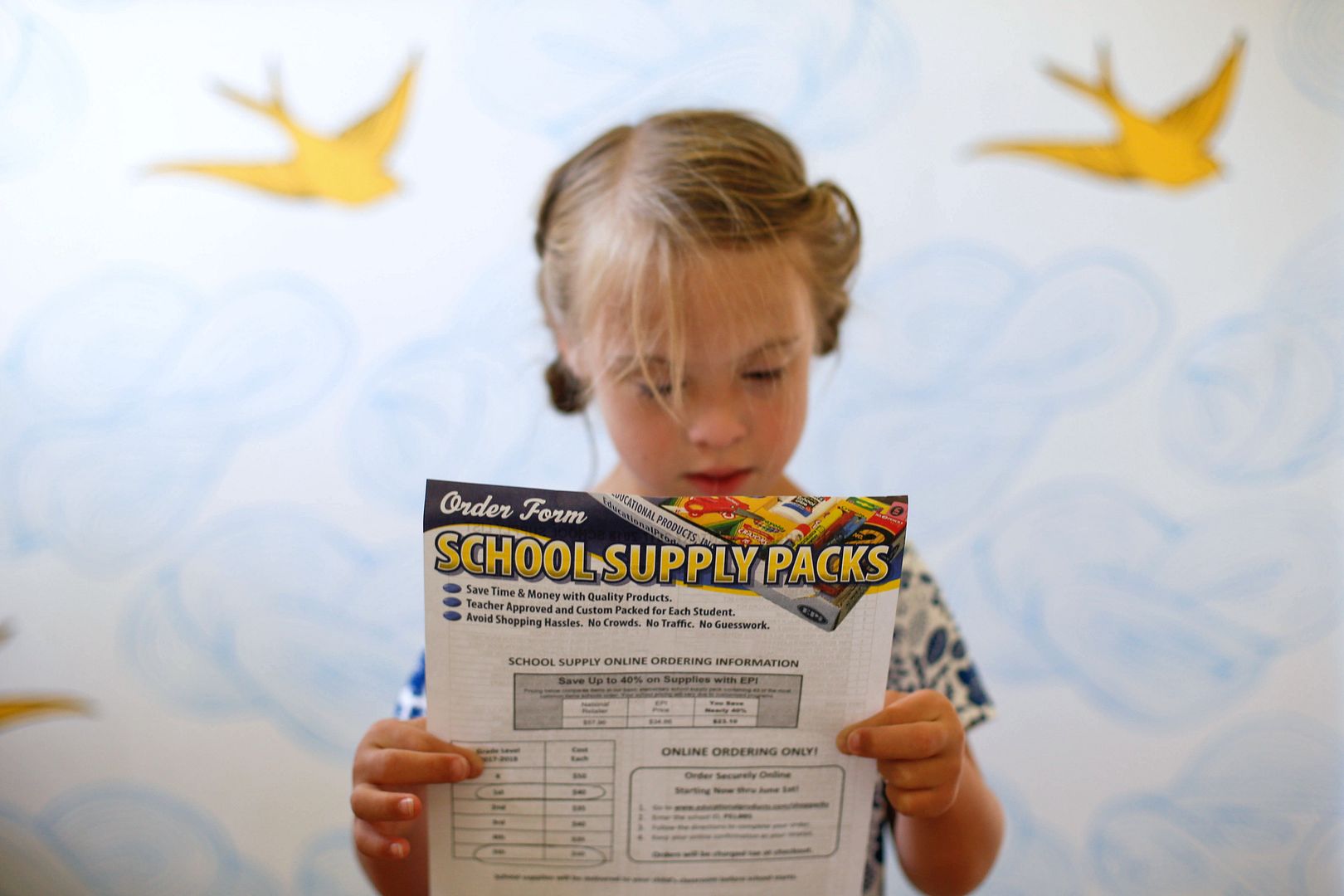 I feel passionate enough about sharing the miracle of buying next year's school supplies in advance that it got me thinking. There're other tips out there for preserving summer and making it as easy and enjoyable as possible for moms, and these tips need to be shared. So I gathered some of my own tips and then hit up my friends and fellow moms who have journeyed this summering-with-kids path well. We ended up with a list of 20 hacks to help you brave the next few months. Plus, I went through and found some of my favorite summer photos in the archives and popped them in for some eye candy. My friends shared so many good tips, I feel like a better mom already. Ready? Here we go. I already told you #1.
1. Stock up on back to school needs at the beginning of summer and put it all away. We even go beyond the school supply pack list and restock everything that needs replacing at the beginning of the summer so we don't have to think about it come August. This includes lunch packing supplies, water bottles, P.E. shoes and backpacks if needed. The only drawback is that Florida offers a tax-free week for clothing and school supplies right before school starts, but it's worth it to me to get the basics out of the way so that we can fully enjoy our summer without feeling a flush of anxiety when the back-to-school signs emerge (you know, two weeks after school gets out) and we're not ready to shift gears. We do save some clothes shopping for the end, but the necessities? Out of the way.
2. Create your family summer bucket list together, and display it large for all to see to hold you accountable…with forgiving wiggle room, of course. (from my cousin Heather): "We have a fun family meeting at the beginning of summer and list all the stuff we want to do and put it on a sign somewhere (these giant wall Post-its work great); otherwise the summer just gets away from you, and you end up watching Netflix the whole time. We put little things like "go out for ice cream" on there and then dramatically cross it off along with the bigger things. "Go see a drive-in movie" was on there one year, and it was a pain to make it happen, but we never would have done it if it hadn't been written down, and it ended up being so much fun." (A couple years ago, I published these fun ways to make a summer bucket list.)
3. I love this one from my sister: Forgive yourself before the summer begins for all the educational supplements you're never going to get to. Oh, if I had a nickel for every failed summer high hope of "We're going to start every day with math review." Yeah, no. Sure, take a shot at it. Because you know you already bought the second grade readiness practice book. But be kind to yourself. I bring summer reading list books for everyone on our trips as well as some Pacon ruled handwriting paper for Nella, but the rest of those summer review lessons? We fold them in to our travels–sorting strawberries in number groups after we pick them, sounding out words on billboards as we pass them and adding uneven fractions as we double that recipe for saskatoon pie.
4. Keep Solo cups and a permanent marker (to label) in the garage with a water cooler. When your kids are outside playing and ten neighbor kids join them, if you don't have cold water accessible outside, it's going to look a little something like Door slam, in. Door slam, out. Door slam, in. Door slam, out. And cups: Everywhere. On hot summer days, kids get thirsty–a lot. When Austyn and Brandyn were younger and had friends over all the time, we actually invested in an office water cooler for the garage that turned out to be the best thing ever. See also: drinking from the hose.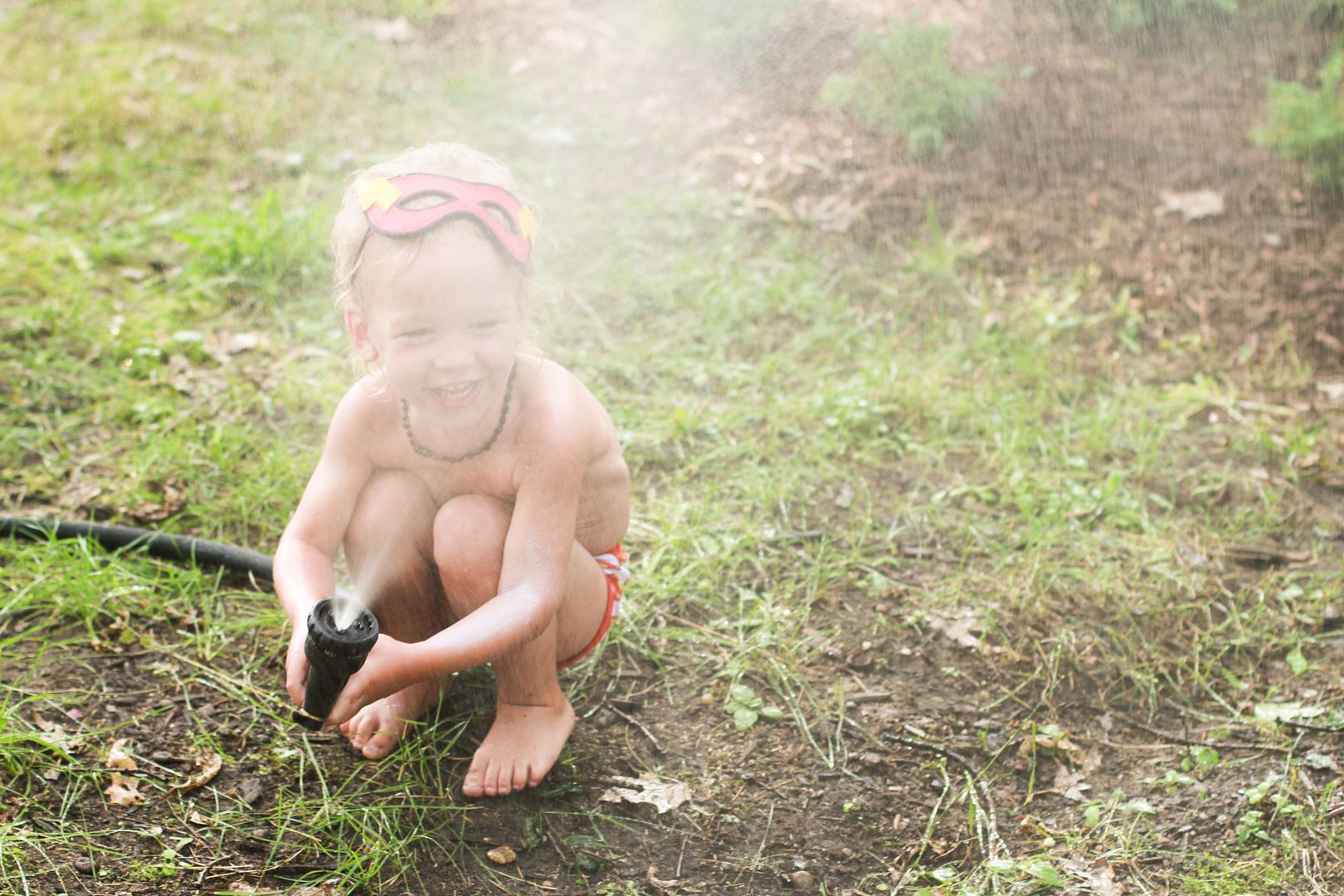 3. Keep baby wipes by the door to wipe dirty bare feet. (from my neighbor Dede, the Heloise of homekeeping) We spend a lot of time barefoot outside which makes for very dirty feet. All that dirt comes right back inside, and if you don't clean it right away, it's gradually making your floors, rugs and furniture filthy. A box of baby wipes at the house entrance (laundry room, garage, front door) reminds kids to quickly wipe the bottoms of their feet before climbing on the couch with those filthy paws.
4. Have a ready-to-go pool/lake/beach bag stashed for easy impromptu trips. (from my sister) "I used to have pool bags packed for my girls so whenever we went swimming spontaneously, it wasn't an ordeal hunting for suits and goggles and beach towels and sunscreen. When we got home, I'd throw everything in the dryer and put it right back in the bags."
5. Perhaps my favorite tip of all, from my cousin Joann: "Hide in the shower with a box of Hostess cupcakes and pretend you don't hear your kids when they're running through the house yelling 'MOMMMMMMM!!!!!" A comparable solution: my sister once took a box of wine out to her driveway and hid in her minivan.
6. Here's your summer survival kit. Ready? Sidewalk chalk (mix up the regular store bought stuff with this vivid drawing chalk for some amazing driveway art), bubbles, a jump rope, a sprinkler, water balloons, an inexpensive kite (love this classic rainbow one or this butterfly), sparklers and glow sticks.
7. From my friend Katie. "Real paint brushes from Home Depot and buckets of water is one of my summer favorites. Little kids will paint with water for fucking ever." End quote.
8. Put summer to dos on little folds of paper in a mason jar, and let one kid pick one every other day. (from my friend Lindsey) "Some are outings like 'go to the children's museum' or 'go out for ice cream' but others are simpler like 'have a picnic in the yard', 'put on a fashion show', 'paint seashells'. The element of surprise is a big deal and helps stop the "what are we doing today?" question for the millionth time."
I love this next one. Text to my friend Nici in Montana: "I'm working on collecting a list of summer hacks for moms. Any tips you have to include?"
She texts back, simply:
9. "Booze."
A while later she did text back an addendum though: "I want to add to the booze statement that I stand behind 100%. We seem to always be hosting late, post-creek, spontaneous dinners at our house. Things that make it a snap: 100% let go of the inside mess and don't apologize for it, make popcorn, have frozen veggie and fish burgers at the ready and keep booze on hand."
A few more great ones from Nici:
10. Use a Dinner Bell! "We live in a hood where the kids run wild and free all day long. I have a big ol' bell that I ring when I want my kids home. It is way more efficient than texting all the neighbors to see who has the pack, and it sure sounds better than me hollering across the valley." I love this one so much because it would totally work for my dad's cabin, so I found this bell we can nail to a tree for Bliss for summer.
11. "A favorite for kids of all ages: outdoor play kitchen. Simply, it's an outside surface with piles of thrifted kitchen utensils and access to dirt and other nature objects. They'll spend hours making pies and soups and casseroles. Recently, we added herb shakers full of crushed up leaves, spent coffee grounds and dried petals, etc. Best part: no cleanup other than those muddy kid paws."
12.  "Summer Camp Co Op. My friends and I have talked about crafting this one-week camp, and I hope this is the summer it happens! Five families, each family picks a theme and takes a day with all the kids. Boom." We did a spin on this last year with our Camp Bliss day which was a full day dedicated to camp activities including a big camp lunch, archery, crafts and sack races. We even had shirts made for it, and the kids had a blast.
13. "I save extra goggles, new cheap pool floats and glow sticks under our guest vanity for last minute pool get togethers for my son's friends." (from my friend Dede)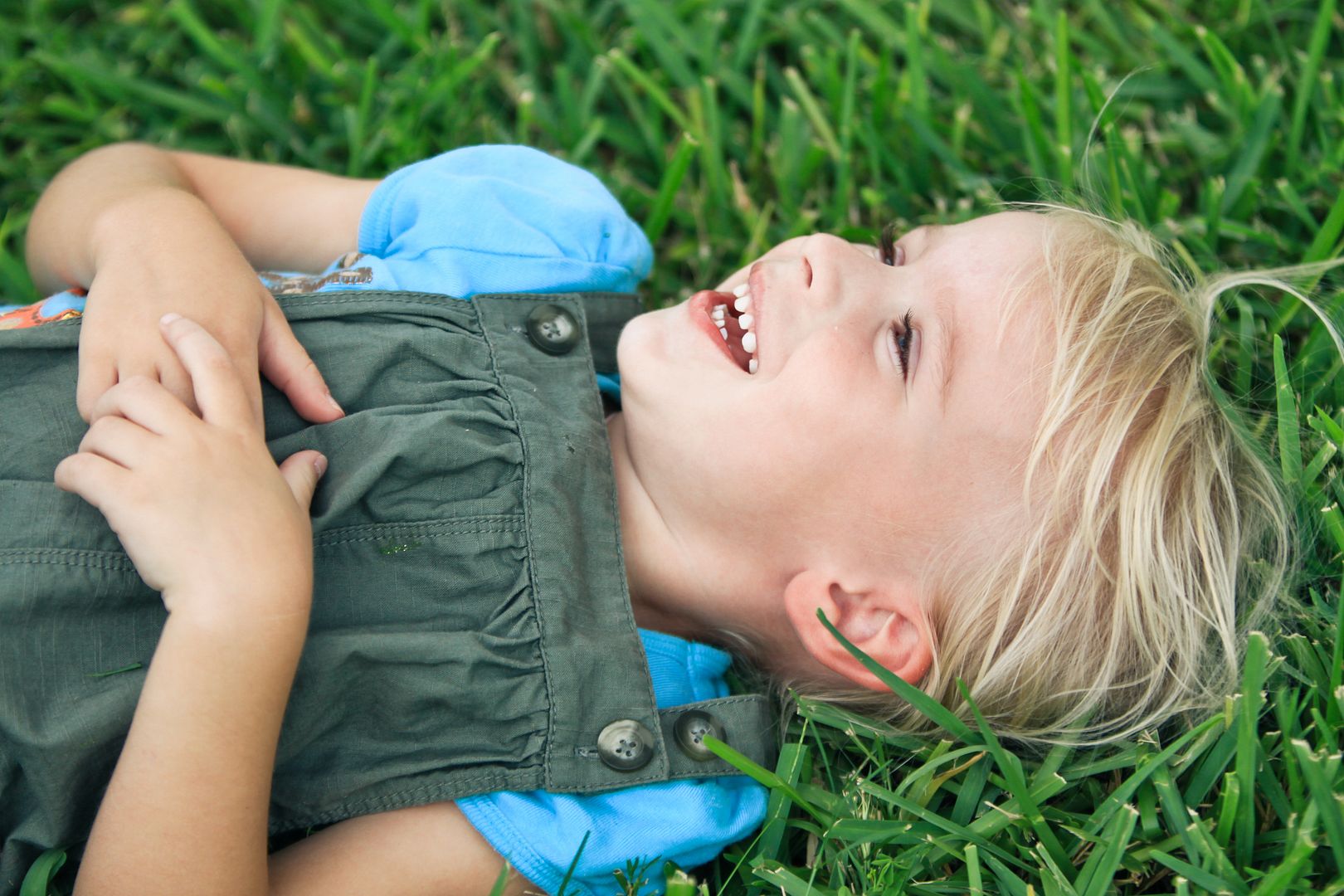 14. Summer must: Always keep s'mores supplies on hand–marshmallows, graham crackers, chocolate bars and good sticks. Put them all in a box, let your kids decorate it, and call it the "S'More Box." Refer only to the s'more supply kit as "The S'more Box" and treat it like the ark of the covenant. Also, an important word on s'mores. They make those fancy metal poker sticks with wood handles and all, but don't use them. The metal gets too hot where the stick is inserted into the marshmallow which melts the marshmallow too much, widening the insertion hole to the point where the marshmallow hangs, prohibiting proper rotisserie techniques for an evenly browned crispy edge. Use regular long sticks you find in nature–keeps the marshmallows gripped. Want to get fancy this summer? Try Studio D.I.Y,'s tie dye unicorn s'mores.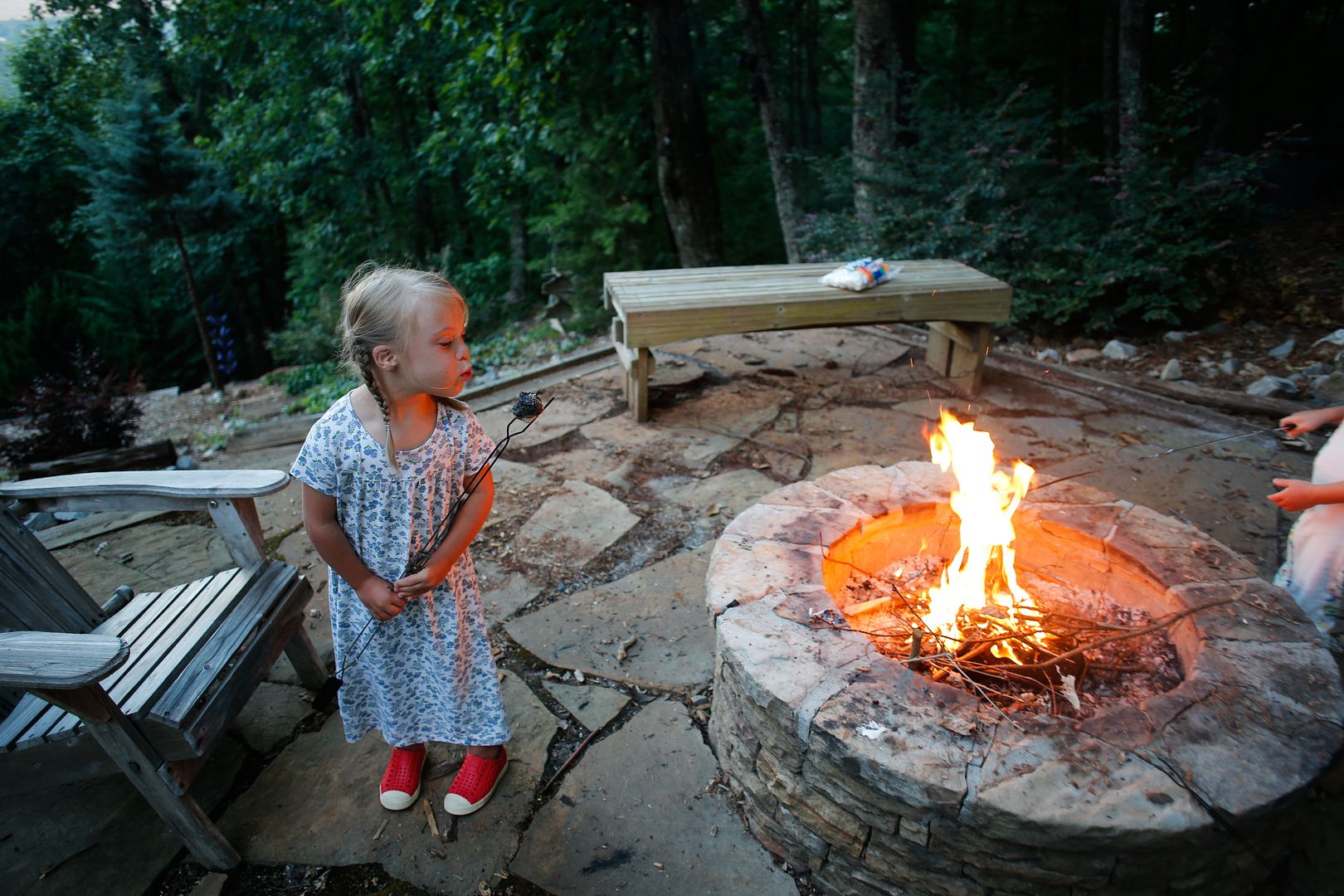 15. Make a summer car kit that never leaves your vehicle for spontaneous adventures. What goes in that bag? Sunscreen, bug spray, baby wipes, sunglasses, hats, hair ties, large Ziplocks (for wet clothes) and a blanket for picnics, parks and beaches.
16. Lining up some summer BBQs with friends? I love this tip from my friend Katie: "I feed my kids at home before parties and BBQs so that I don't have to worry about forcing them to make a plate at a BBQ that has some kale salad from Pinterest. Then my kids don't eat every slice of watermelon just because they're starving, and I can enjoy the party without chasing down kids to find something for them to eat." Brilliant.
More from Katie:
17. "I serve summer day meals on a platter. Slice two apples and drop a big glob of peanut butter. Add some crackers and string cheese, sandwiches cut in quarters, cinnamon toast, banana thirds, a pile of grapes–voila. Free for all lunch."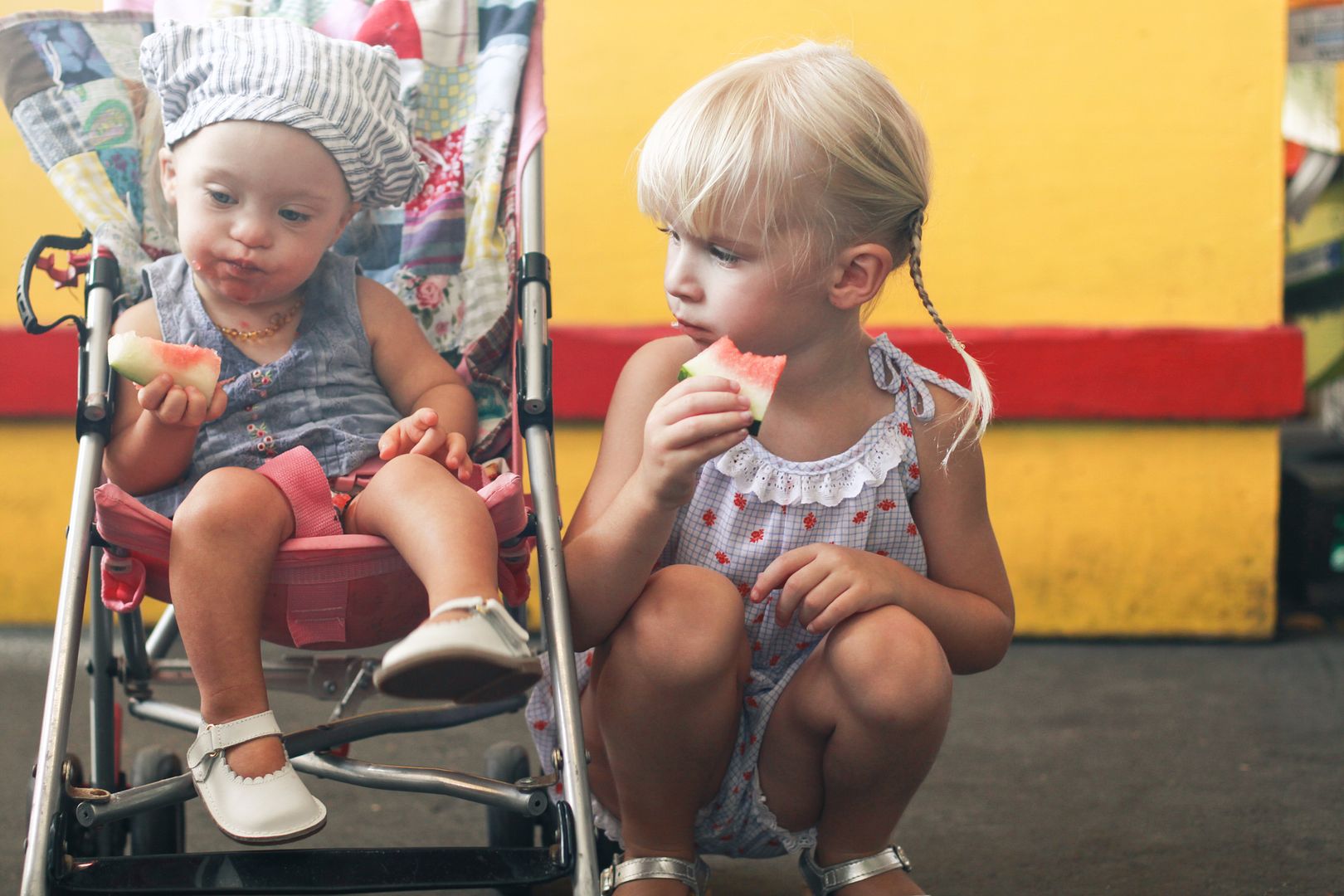 …and…
18. "Keep Dixie cups and a giant carton of Goldfish crackers on hand for hungry neighbor kids who've made your yard their main summer station." That way, you're not divvying out the individual packages of Pirate Booty you just bought for your upcoming road trip.
Which reminds me…
19. If you live in a neighborhood where all the kids, including yours, always end up at one house (you know, the one with the trampoline, pool, great swing set and club house), consider donating some bulk snacks to the mom who lives there. Most moms don't turn down little kids who say they're hungry. Help a sister out.
20. Stock up on Old Navy flip flops. They come in all sizes (with back straps for the little tot sizes), tons of fun prints and at $3 a pop, you can buy ten pairs.
We're armed and ready now, summer. Let's do this.