The Annual Fair Post. Where Life Gets Real.
No, seriously. Every time. One year, Lainey lost her tooth in a pile of pebbles and stood wailing next to the corn dog stand while Brett and I sifted through rocks on our hands and knees looking for one white pebble-shaped tooth in a pile of thousands of white pebbles. Last year, Dash fell hard in the driveway as we were loading up to go, and we had to gauze up his bloody shiner before leaving. And this year? Two potty accidents–one at the carousel and one at the funnel cakes–that left us with a little Tarzan running around in shorts made from my t-shirt with leg holes ripped with my teeth.
With no further ado, my Top 10 Favorite Things About Family Fair Night
10. Fairs are Real Life Crayon Boxes.
For all the times I've bought a new box of Crayola 64 just so I can open the top and stare down at the perfect rows of rainbow and all their potential, walking through a fair is the closest human experience you'll have to living in a crayon box. Candy Apple Red, Popcorn Yellow, Cotton Candy Pink, Rainbow Ferris Wheel Kissing Swirly Blue Sky. No matter how much grease you have to smear off your face at the end of the night or many dollars disappeared from your wallet, there's always the color trip you get to go on when you buy a ticket to the fair. Worth it, my friends.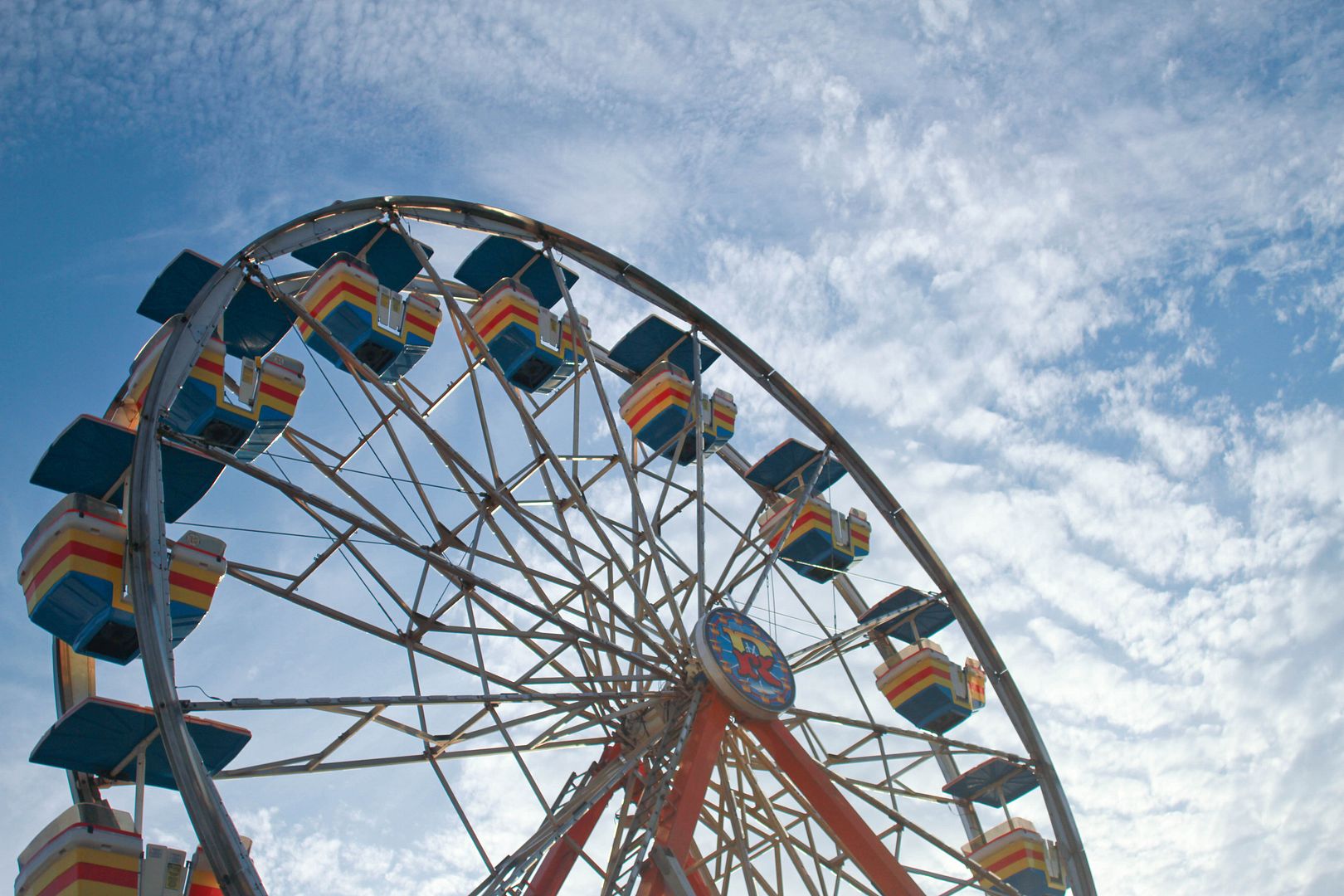 9. 4H Friends
Blue ribbon bunnies, monstrous chickens, spotted piglets–the 4H tent is one of our kids' favorites.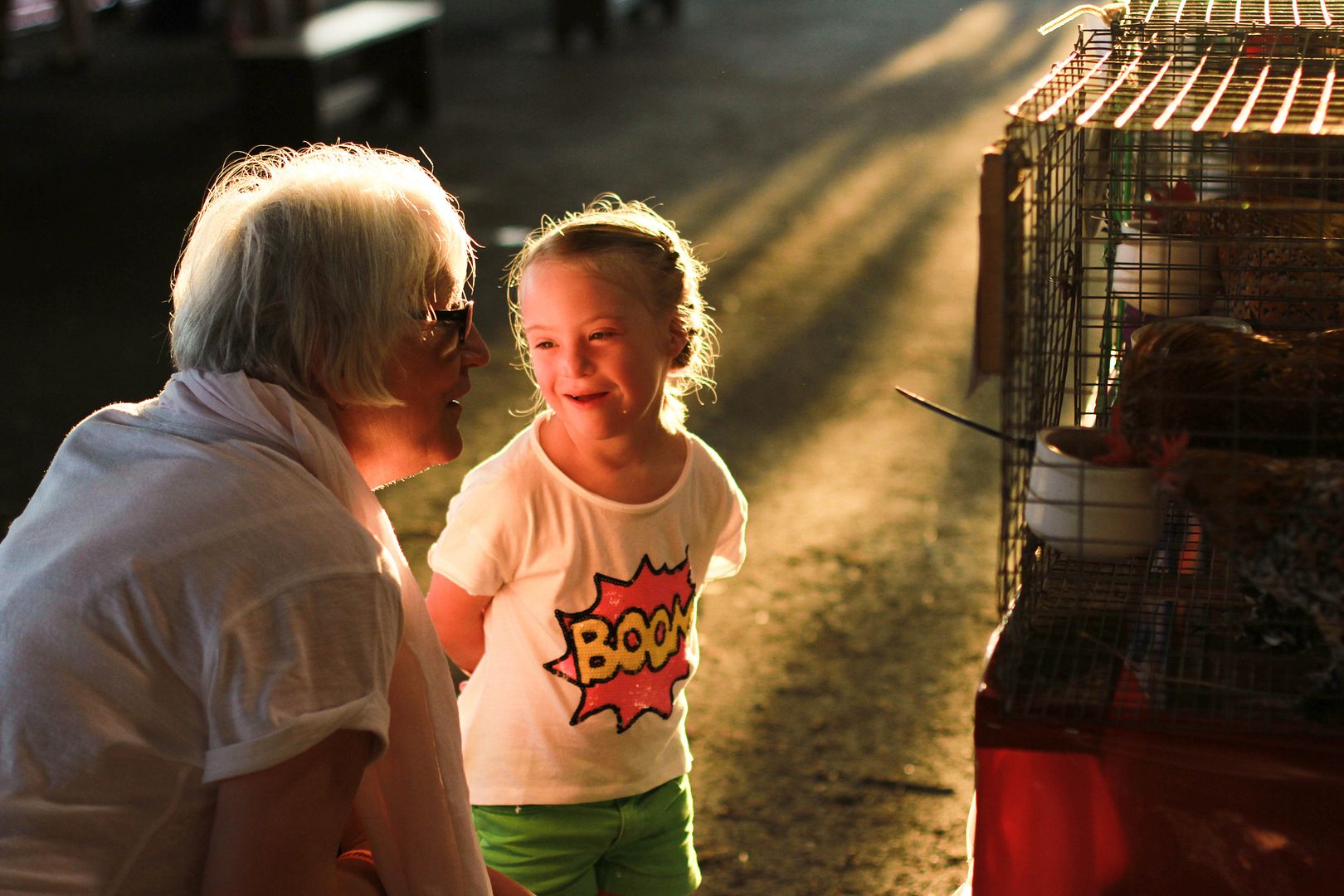 My friend dragged me over to the bunny cages when we arrived (late, as usual). "Come here, I have to show you this bunny that looks like you."
"See! He's wearing liquid eyeliner!" I asked the bunny if hers was MAC's Fluidline Blacktrack too, but she didn't answer me back.
8. Fair Dust Light.
Magic.
7. Nice Carnies
Has there been a reality show yet on carnies and fair life and what it's like to be on the road and running these things? I think it would be fascinating to see behind-the-scenes. I can say this year, the carnies were so kind to our kids. They went out of their way to make them feel special, let them win, have another round, get the prize they wanted.
6. Dash's "Gimme some money" face
Actually, did you know County Fair is synonymous with Gimme Some Money? Now you know.
5. Breaking All the Parenting Book Rules
On fair night, we say yes to all the sugar because cotton candy and ice cream and trying an elephant ear for the first time are fair rites of passage.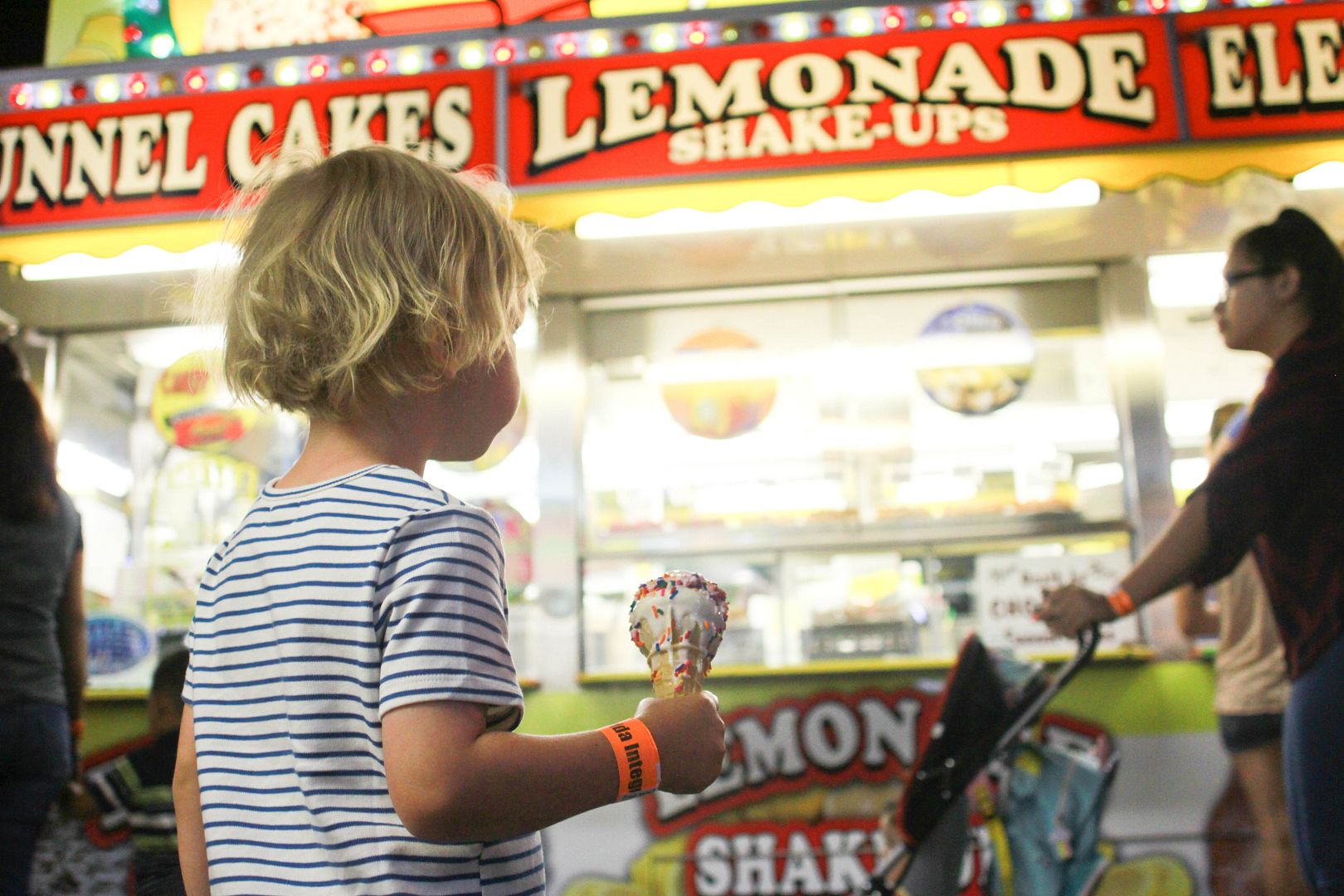 We waste money on silly games because huddling together as a family to cheer for the water gun shooter or the rubber duck fisherman is worth more than the $5 it cost to play the game.
And we ignore bedtimes, choosing instead to let the little ones fall asleep in strollers and in our arms, to the sound of skiball winners cheering and Twirl-a-Whirl music blaring–because it's 10:30, we're together and how often do we get to do this?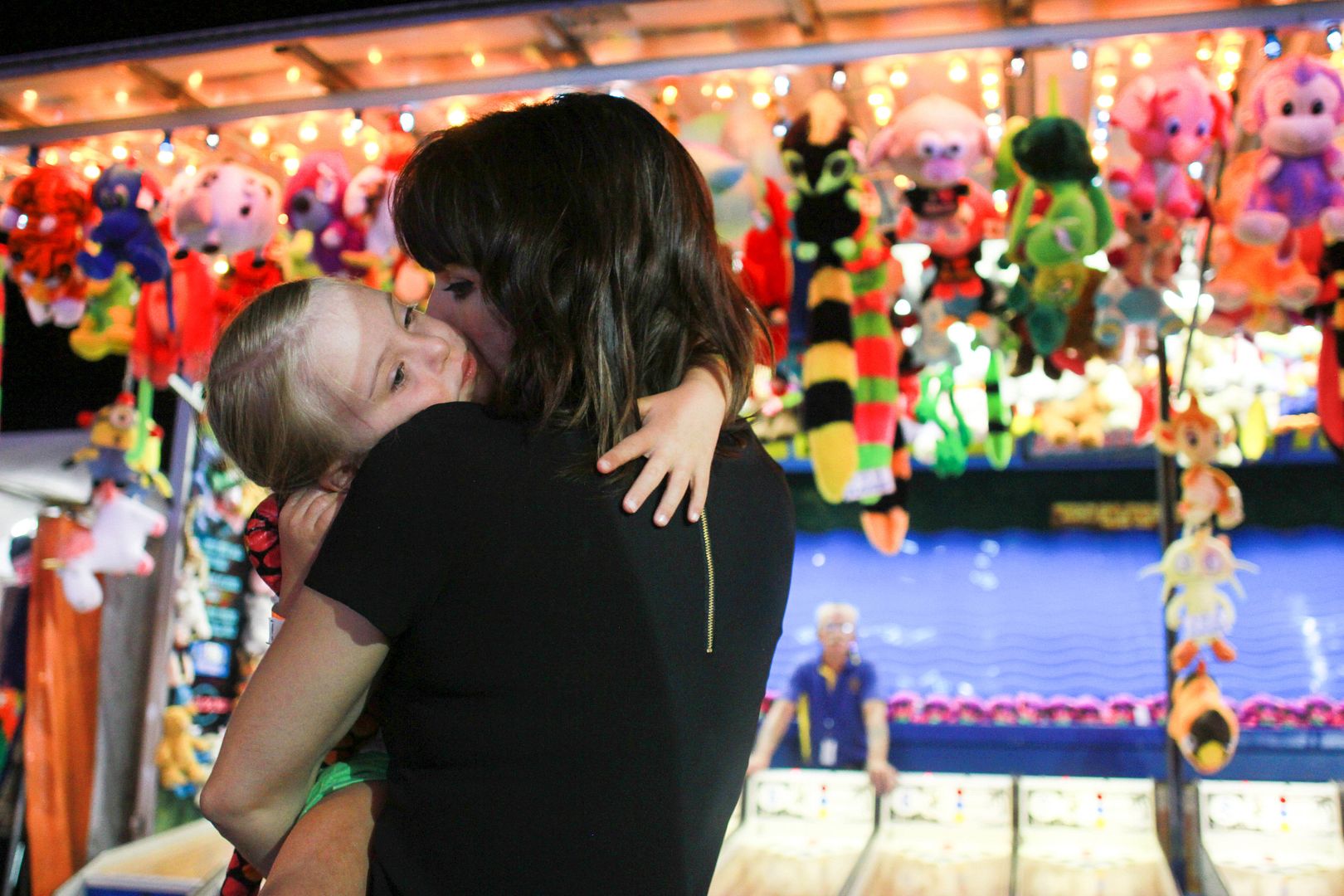 4. Grandparent Memories.
This is the second time we've had my mom and Grandpa George with us at the fair, and it made for some sweet memories.
3. Winning a Prize Face.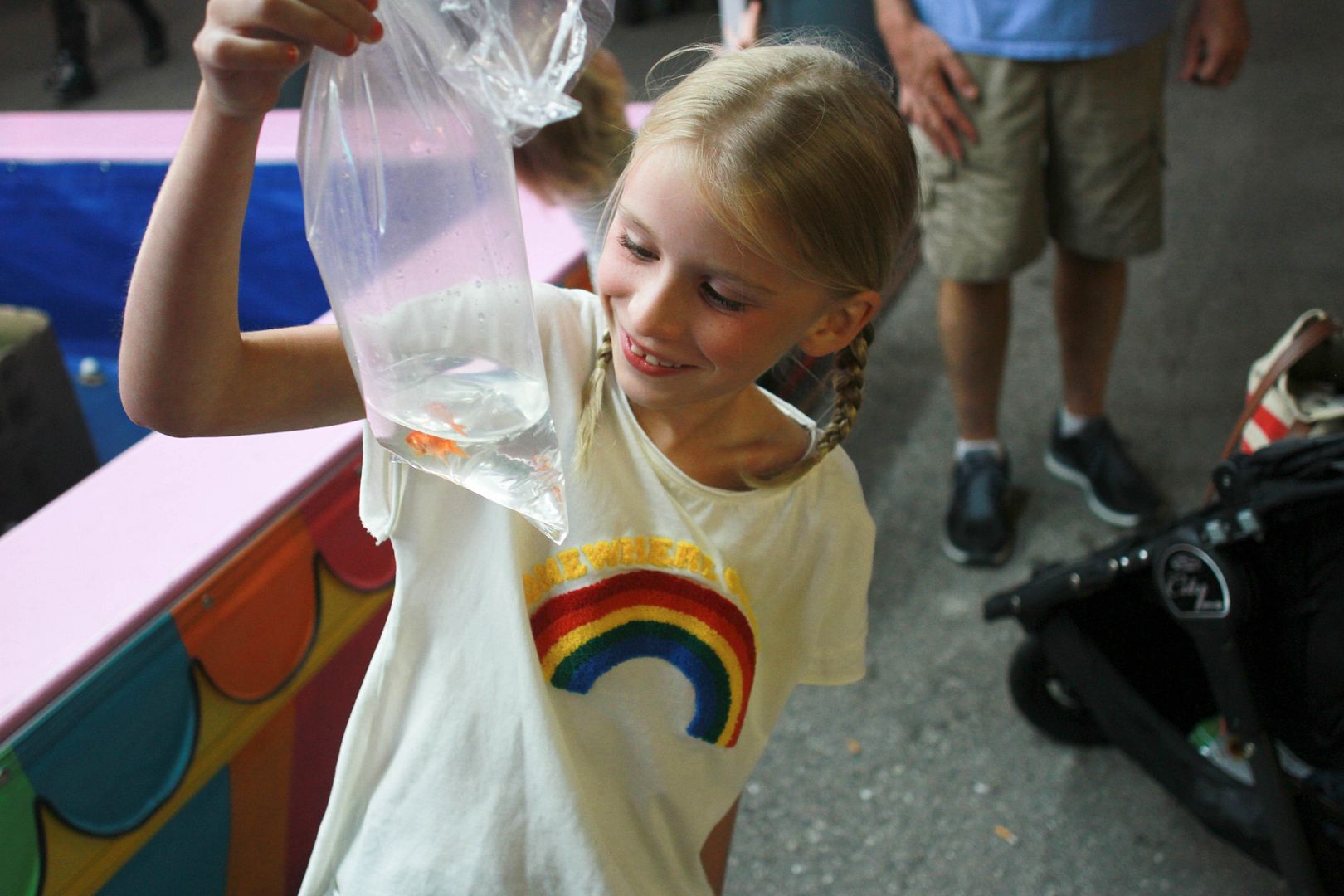 That there above? That's Panda, our new goldfish. Brett and I are thrilled with this, of course.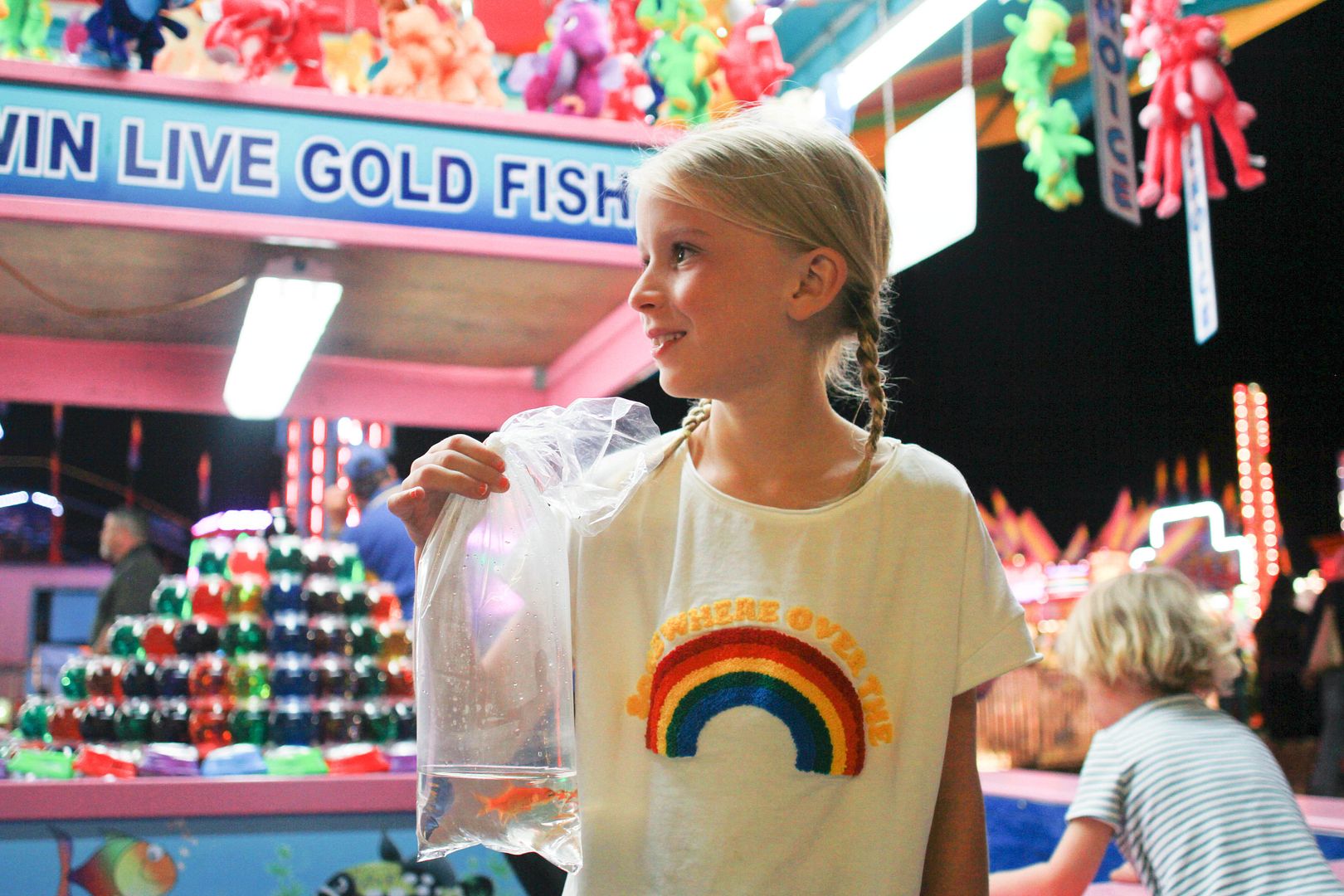 He's lived six days so far, which–isn't that like 89 years in goldfish time? Actually, I looked this up and sadly, I'm wrong. Life expectancy for a captive goldfish? THIRTY YEARS! Who are these people? I want to meet them because I think Google is lying. Regardless, Panda is happily swimming now in a glass bowl with a few cups of water and two Shopkins for social support.
2. Letting Go
At the fair, nothing matters. Peed your clothes out twice and nothing to wear? No big deal. Spilled your lemonade all over the stroller? Shucks, who cares. Smell like goat and grease and chicken poop? Welcome to the club. Fairs are for letting go and having fun, and that's it.
1. Knowing we'll be back.
Same time, same place, next year.
More Fair Tradition: Last year's fair. 2014 Fair. 2013 Fair.