Hear ye! Hear ye! My favorite guide to make all year–the 2016 STOCKING STUFFER GIFT GUIDE. This is my thing, guys. I LOVE tiny shit. I study it, collect it, take notes throughout the year and spend hours collecting ideas for unique stuff kids will love. This year, I included a separate gift guide for teens with a little help from my teen nieces. While I collect a few treasured small shop items and handmades for stocking gifts, because we buy a lot of little stuff, I don't like to pay shipping. So, most of these are from Amazon (no shipping for prime) so you can fill a box without paying extra. Opening stockings are also one of my favorite moments Christmas morning. We do ours before the gifts, and we take a long time going through each and every gift. Little treasures are so much fun. (Does your family put the orange in the toe of the stocking? We always had one growing up.)
With no further ado…TINY TREASURES FOR ALL! STUFF THOSE STOCKINGS! 
FOR THE KIDS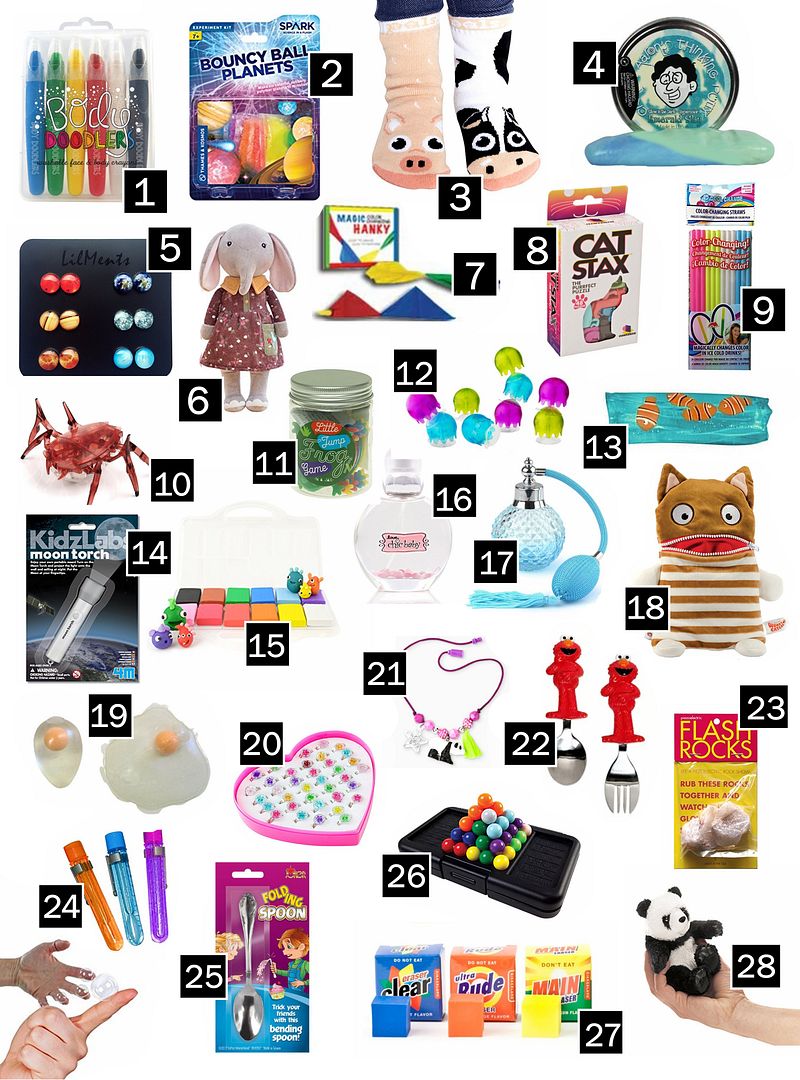 1. Body Doodlers. Washable face and body crayons. Now your kids can create all the tattoos they want, and they're completely erasable. Great shower and bath entertainment.
2. Planet Bouncy Ball Kit. Everything you need to create up to 6 bouncy planet models along with a little science lesson about how the balls form and why they bounce.
3. Cow and Pig Mismatched Farm Socks. A super cute way for kids to keep their toes warm this winter!
4. Crazy Aaron's Thinking Heat-Sensitive Glow-in-the-Dark Thinking Putty. Brand new color from this company. Emerald sky hyper color changes from blue to green when it senses heat. We are obsessed with Aaron's Thinking Putty over here. It's so much fun to play with.
5. Galaxy Planet Earring Set. This earring set is (wait, here it comes the cheesy pun) out of this world! A tad iridescent, these simple round studs capture the magic of outer space with swirly galactic colors.
6. Me Too Elephant Doll. We have a tradition of a new plush peeking out of our stockings, and I love finding the perfect one every year. The Me Too dolls come in a variety of animal characters, and are adorably dressed.
7. Color Changing Hanky Magic Trick. Impressive magic tricks are always a hit with kids, especially if they get to be the magician.
8. Cat Stax. Cat Stax is a puzzle game that challenges you to arrange and stack up the 12 included cat pieces so they all fit in the grid–kind of like Cat Tetris.
9. Magic Color Changing Straws. A great way to make mealtime fun throughout the holidays.
10. Hexbug Scarab moves at lightning speed across the floor. Dash is going to LOVE this. For a little cheaper Hexbug, try the Nano cat toy–it's basically a kid toy with a cat thrown on the packaging to expand the market.
11. Seedling Little Jump Frog Game. A classic game for all ages, this one comes packaged in a cute little jar that can be slipped to the toe of the stocking.
12. Boon Jellies Suction Cup Bath Toys. Best bath toy ever and great for all ages. I even find myself popping these off the wall and reattaching them when I'm taking a shower.
13. Clown Fish Water Wiggler. Remember these from when we were kids? Kids will love the challenge of keeping it in their grip (those slippery little devils can wiggle!), and the little Nemo fish makes it even cuter.
14. Space Torch. Nicely priced and great way to add some fun to bedtime. This little torch projects space scenes on the wall or ceiling in a dark room.
15. Creatibles DIY Erasers. All those fun mini erasers your kids love? Now they can create their own with this eraser clay.
16. Love Chic Fragrance for Little Girls (or Little Boys). New toiletries are great for stockings, and this soft sweet fragrance is made just for little people.
17. Perfume Atomizer. Up the ante on the above perfume and slip a fancy perfume atomizer in the stocking. It will look chic on any little girl's dresser, and they'll love the act of spritzing their fragrance like all the fancy ladies.
18. Worry Eaters. I discovered these this year and fell in love–not only a great tool for stress/anxiety therapy for kids, but also a fun communication tool. The zipper mouth on these plush critters creates a safe place for kids to tuck their worries. Kids are encouraged to write or draw their worries and place them in the worry eater, and he'll hold them for you. Also great for love notes between parents and kids. Plus, they're adorable–check out the entire line.
19. Egg Splat Ball. I admit, my inner kid comes out when I see these splat balls. Throw them on the ground, and they spread out flat before quickly taking shape again.
20. Girls Adjustable Fashion Ring Pack. 36 adjustable jewel rings for $5.99 means you can afford to lose some (which, let's be honest, is what happens to all rings for kids).
21. Cat & Jack Panda Necklace. All hail Cat & Jack–makers of the cutest affordable clothes and accessories for kids, at Target. This little panda necklace is right on playful, colorful and right on trend.
22. Elmo Fork & Spoon Set. They might even eat the brussel sprouts with this cute silverware set.
23. Flash Rocks. 2 quartz rocks with piezoelectric properties–they spark and glow in the dark when you rub them together
24. UV Touchable Bubbles. Durable bubbles you can touch and hold–and they glow under a black light!
25. Folding Metal Spoon Trick. Pranks are the perfect gift–boys and girls both love them, and nothing makes a kid happier than tricking an adult. Just remember, you'll be the brunt of the joke real soon.
26. Kanoodle Game. Award winning brain-teaser solo game, and perfect for car/plane holiday travel
27. Detergent Eraser Set. Lainey takes after her mama in loving tiny trinkets. The holy grail of tiny trinkets lies in the stationery world, and there isn't a kawaii treasure we haven't fallen in love with. These little detergent erasers? Be still my heart.
28. Folkmanis Mini Panda Finger Puppet. The little ones in our house love puppets, and Folkmanis has been one of our favorite puppet makers for years. Their line of mini puppets is to die for–inexpensive, well made and the perfect size to tuck in stockings.
Honorable Mention: Get thee to Forever 21. They have tons of inexpensive accessories–hair stuff, jewelry, socks, plus all those bins by the checkout–lip glosses, eye masks, cute brushes, sunglasses, makeup cases–are great for stocking stuffers.
1. Nose Pencil Sharpener Whether they're sharpening a new eyeliner or a pencil for their midterm, up the nostril is the only way to go. That sharpener is a real crowd pleaser. (see what I did there? Mannequin Challenge song? Didn't catch that? I'm trying too hard? Okay, thanks.)
2. Money Toilet Paper. While they're saving their babysitting money for something cool, they can spend these 100s as fast as they want in their bathrooms.
3. Brown Eggs Succulent Planters. Okay, so maybe these are a little too big to shove in a stocking, but I couldn't leave them off the teen list because teens like cool bedroom stuff, teens are aware of what's on trend, and succulents so are. So there. Love these. I might just snag one for my own dresser.
4. Edgar Allen Poe Tattoos. Make that American literature class they're taking come alive with these awesome Edgar Allen Poe tattoos.
5. Would You Rather Card Game. A teen favorite, this card came is full of dilemmas that you have to choose from. Such as: Would you rather have to tweet honestly about your life every ten minutes or (wait for it) have your parents tweet about theirs? OH MY GOD, CHOOSE THE FIRST. The opposite player predicts what you chose to rack up points. A fun game for all ages at holiday gatherings.
6. Bath and Body Works Sleep Aromatherapy Pillow Spray Teens needs a lot of sleep for their growth spurts. Make it sweeter with some relaxing pillow spray. We spray this "sweet dream" spray on our pillows every night, and we love it.
7. 6-color Retractable Pen. Remember 4-color pens that were all the rage when we were kids? Enter the SIX color pen. One pen, all the colors.
8. My Audio Pet Mini Bluetooth Speaker A little over the normal stocking stuffer budget ($25), but you could fill the rest of the stocking with wadded paper, and they won't care. This cheeky little speaker is small enough to keep with them wherever they go and wireless, so they can pump up their phone tunes no matter where they are–the beach, the ski hill, the bathroom while they're getting ready.
9. Tiny Copper Twinkle Lights. So, here's a way to find out if this is right for your kid. 2 questions: Do they have a bedroom? And do they have a soul? According to the by-laws of Enjoying the Small Things Happiness Makers, if you answered yes to both of those questions, then twinkle lights are right for you.
10. Lokai Bracelet Set. Apparently these are all the rage with teen girls. Throw six in their stocking, and you're the cool mom.
11. Talking Bubble Sticky Notes Talking bubbles are fun to add to photos, pencil in inappropriate messages or stick to the fridge with messages "MOM! WE NEED MILK!".
12. NASA Graphic Tee. A teen can never have too many funky graphic tees. Enough said.
13. Ear Buddies Ear Phones Less than $6, these funny ear phones are sure to garner a laugh. I mean, they're EARS you stick in your ears.
14. Shakespearean Insult Bandages. "Thy breath stinks with eating toasted cheese." I mean, these are perfect. And no one will have cooler BandAids at school. The days of putting BandAids on imaginary boo boos just came back.
15. Blue Q Jumbo Zipper Pouch I've expressed my love for Blue Q many times on this blog before (they are very committed to hiring people with special needs and creating an inclusive work community), and when it comes to Christmas and that uncle/cousin/niece you don't know how to shop for, they're your answer–super fun conversation pieces that don't cost much–socks, makeup cases, tin banks, soaps, etc. This jumbo zipper pouch works great as a makeup case for teen girls.
16. Round Mirror Sunglasses: Less than $8 and comes in a little case, these retro round sunglasses will score you some major points with your teen daughter (those cute selfies!).
17. Beach Break Mini Sandbox. Teens like the beach. Teens get bored. This little sandbox attends to both of those needs and is a great pick-me-up for frigid days up north. For their desk, for their dresser, this tiny beach has everything they need.
18. Emoji Suction Cup Charms. Technically, these are cup identifiers, but they'll stick to anything–the bathroom mirror, the inside of a locker door, windows. And they're super fun for teens.
19. Polaroid Clip-On 3-in-1 Lens for Phone (fish-eye, wide angle and macro)
20. Moon Night Light. Moons are cool with every crowd, so this nightlight is sure to be a hit.
21. Handerpants Don't ask me why your kid needs handerpants, but trust me, they do. Especially if they're in the formative years of figuring life out (aren't we all there?). I mean, underwear for hands?! Who knew. You could very well earn the favorite mom award with this weird yet hilarious gift that will at least make for some great holiday photos and entertain grandparents and little cousins for Christmas dinner. You might have to draw the line somewhere though–like maybe when your son goes to reach for the gravy and he's still wearing them. "Mikey! That's enough! Handerpants OFF!!"