i sit here at a blank screen amid a quiet house trying to gather some worthy collection of words to express as much of a wrung-out heart my worn-out body can muster. and all i have are tears.
and a title. a title with an all-consuming force that has embraced our family once again. i am humbled and amazed at this little word…love. and i am beginning to think i have some sort of hyper-sensitive love-receptive genes–perhaps the "goodness glands" my grandpa used to hold us down and tickle us to find…until he landed on our knees where he would squeeze. "there they are," he'd say…"your goodness glands." and i really believed we were special. because we had 'em.
oh, i love love. and when i find it lavishly bestowed on us, i am awed at how we are so blessed when so many in the world are searching for it. and i am honored…honored and consumed with gratitude in the form of cryderman sappiness, excessive wordiness, and this blogtastic over-the-top need to proclaim…thank you.
i've been alone with lainey this week as brett is out of town on business. and we were enjoying a normal week anticipating his arrival home until early thursday morning.
i woke up at two a.m. to wet sheets. my pajamas were soaked. and after a bit of confusion and telling myself that thirty-year-olds don't exactly wet their beds, i got up and headed to the bathroom.
to find blood. blood on me. blood all over the floor. and a flashback to the day our last pregnancy ended. in the dim glow of the night-light, i fell to the floor and cried. cried like i never have before and begged God to not let this be happening. i fumbled for my phone and shook as i dialed as many numbers as i could. i couldn't get ahold of brett. or my sister. of anyone i randomly dialed. until my friend carie calmly answered and assured me she'd be there in minutes to take me to the hospital.
and she was. joined by laura who kissed my sleeping baby in her arms for almost four hours in an uncomfortable waiting room chair while carie and i waited in a little room behind a light blue curtain for a litle hope that i almost lost.
at 4:30, an ultrasound tech arrived to wheel my bed down long, empty corridors to a dark room where he closed the door and put warm jelly on my stomach. he turned the screen so i couldn't see. i cried. "can you just tell me if there's a heartbeat? can you please tell me if the baby's okay?" i asked. and he apoligized and said he can't tell me anything. that i'd have to wait for the doctor to read it. i cried some more.
and in the dark, he glided his wand across my stomach with a stoic face.
until he stopped for a moment and said…i can't tell you anything but…
and then he turned the screen and smiled.
he didn't have to say a word.
there…on the screen…was a baby. a baby who moved and danced…and an unmistakable little beating heart.
and that, my friends, was a beautiful moment.
and a terrifying beginning to a day that magically metamorphosized into this incredible, beautiful memory.
released on bedrest and instructions to see my doctor the next day to find out what was going on, i returned home in the morning to be pampered and embraced by one of the biggest outpourings of love i've ever experienced. within an hour, my house was filled. with jammy-wearin' friends who hugged me and cried and laughed and yelled in unison for me get back down! when i even suggested i was going to stand up for a moment.
they cried with me. they hugged me. they took care of my little. they found out my favorite vegetable beef soup recipe, went to the store and came home with bags of ingredients that they chopped and simmered in my kitchen while they laughed and sipped wine, told stories, chased littles and reminded me of the joy that follows sadness. they brought lunch and smoothies and piles of movies. they cleaned my kitchen and folded my laundry, changed my sheets and scrubbed my bathroom. they had me in fits of laughter while i laid on my bed watching them organize piles in my closet against my will. they called me from michigan to tell me they bought a ticket to come down and be with me. they canceled their plans, drove from fort lauderdale and arrived at my door after months of missing them to surprise me. they rubbed my belly and said things like i love you, little baby. they told me i needed deodorant and searched the bathrooms to find some (oh, wylie…you know i love you and your blessed honesty). they kissed my hand over and over when i was shaking and crying and thought it was over and revealed hilarious embarrassing stories to make me laugh when i thought i couldn't. they called me and texted me, asking to help…they prayed and sent reminders that they were praying and loving. they listened and researched and promised it would be okay. they heard me say "i wish i could have a martini" and showed up two seconds later with a grapefruit mocktail in the perfect martini glass.
there are a trillion little things i could write. how we have been so blessed to know and be part of so many loving people's lives, i'll never know. but, man do our people know how to love. and all i could do yesterday was humbly accept it. it felt like christmas. and my house was full of nothing but the sounds of love…where tears and darkness had been just a few hours earlier. it was completely transformed by the power of a little word.
oh, love.
i was not alone last night. i closed my eyes to the sound of happiness and family and friends…and love. and i didn't ask for any of it. they came by the droves to deliver this amazing gift.
are we getting blogtastic and sappy and wordy enough yet? because i can step it up a notch.
oh, and our baby?
no more fears…
our appoinment this morning shows a perfect baby, a normal pregnancy and no need to be afraid. apparently, it was a chorionic bleed…but all is okay now.
say hello to the little stinker who scared their mama…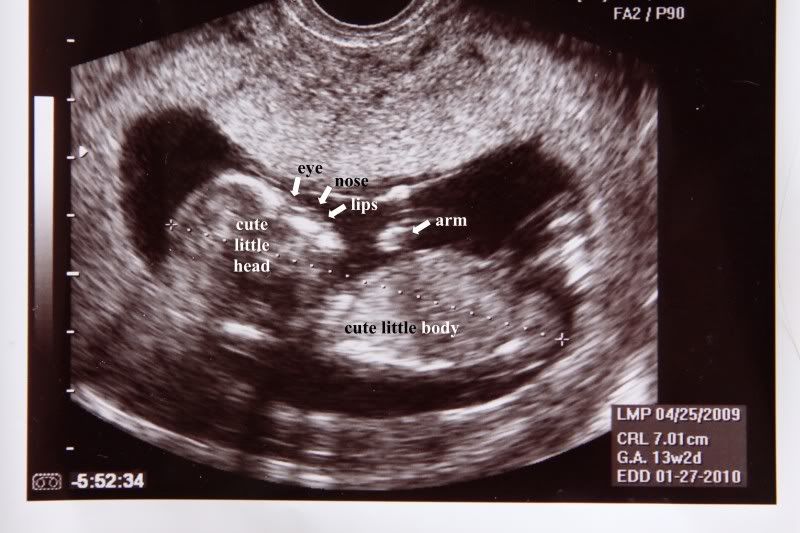 i am in love and awed by love all at once.
and reminded once again that there is a reason for everything and that things always sort themselves out to reveal beauty. and yes, bad things happen to good people and good things happen to bad people and the outcome is not always as beautiful as this incredible couple of days, but there is always love in the end.
thank you to every soul that has been a part of these last two days…every soul that has expressed love in some way.
we are grateful and blessed and humbly left with this incredible gratitude for your love.
so, thank you.