Naples Civitan Club Annual Valentine's Day Dance
There were red balloons tied to every table, festive garland stretched across the walls of the gymnasium and a DJ spinning Lady Gaga, Elvis Presley, and Chubby Checker from the center of the stage.
"They look forward to this night all year," my friend tells me. "It's a really big deal."
I can tell it's a really big deal. There are fancy dresses. Suit jackets and ties. A medley of cologne scents and silk flower boutonnières.
We danced. Oh, did we dance.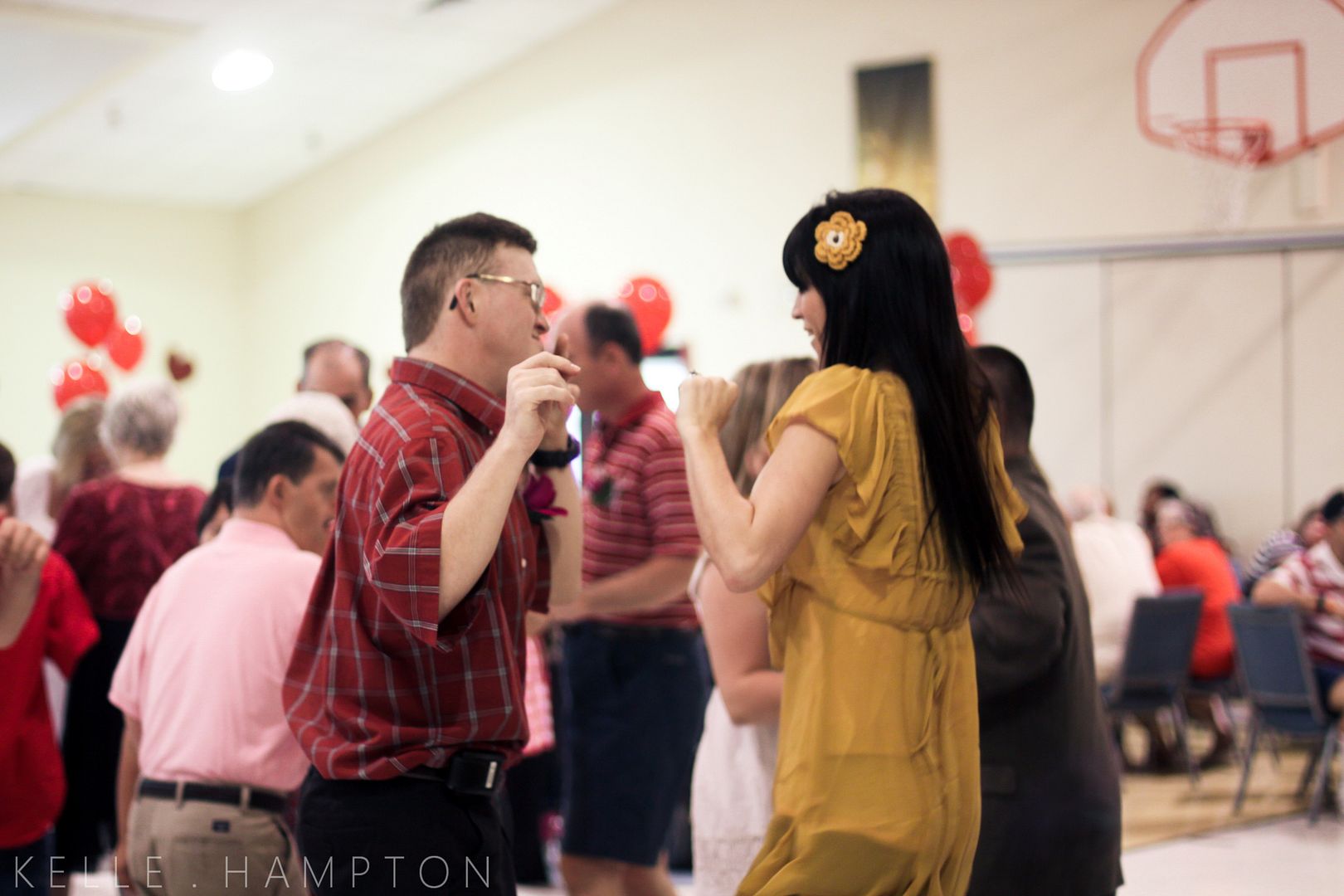 And I made note of so many things. How nobody cared about the things that didn't matter and everybody cared about the things that did. Like having fun, making people feel special, stopping to listen. Dancing.
I cried because I was happy, I cried because I am still learning, I cried because my emotions can't contain that kind of awesome and yes, I cried because there were short moments when I felt sad, and it is important to me to let myself feel those moments when they come. They fuel the passion to be proactive. They fuel growth.
I danced with a young man who told me I was pretty. He held my hand and smiled. He was a good dancer. And when he dipped me at the end of the song, he didn't let me fall. I felt so much kindness from him and when I finally sat down after we danced, I cried because I knew that he felt we were different. And I wanted to tell him we really weren't.
There was pure love in the room. The kind that made me sit and watch and take it in.
The amazing thing about feelings is that we possess the reins to our perspective. It is a powerful thing–more powerful than the fate of being differently abled itself–to steer our minds and actions toward where we want them to go. I cannot change the fact that sometimes life is hard, that minds don't always work like they are supposed to, that accidents happen, that bodies fail us, or that an extra chromosome happens to be present on my daughter's DNA.
What am I going to do about it? I'm going to rock it. I'm going to raise the roof.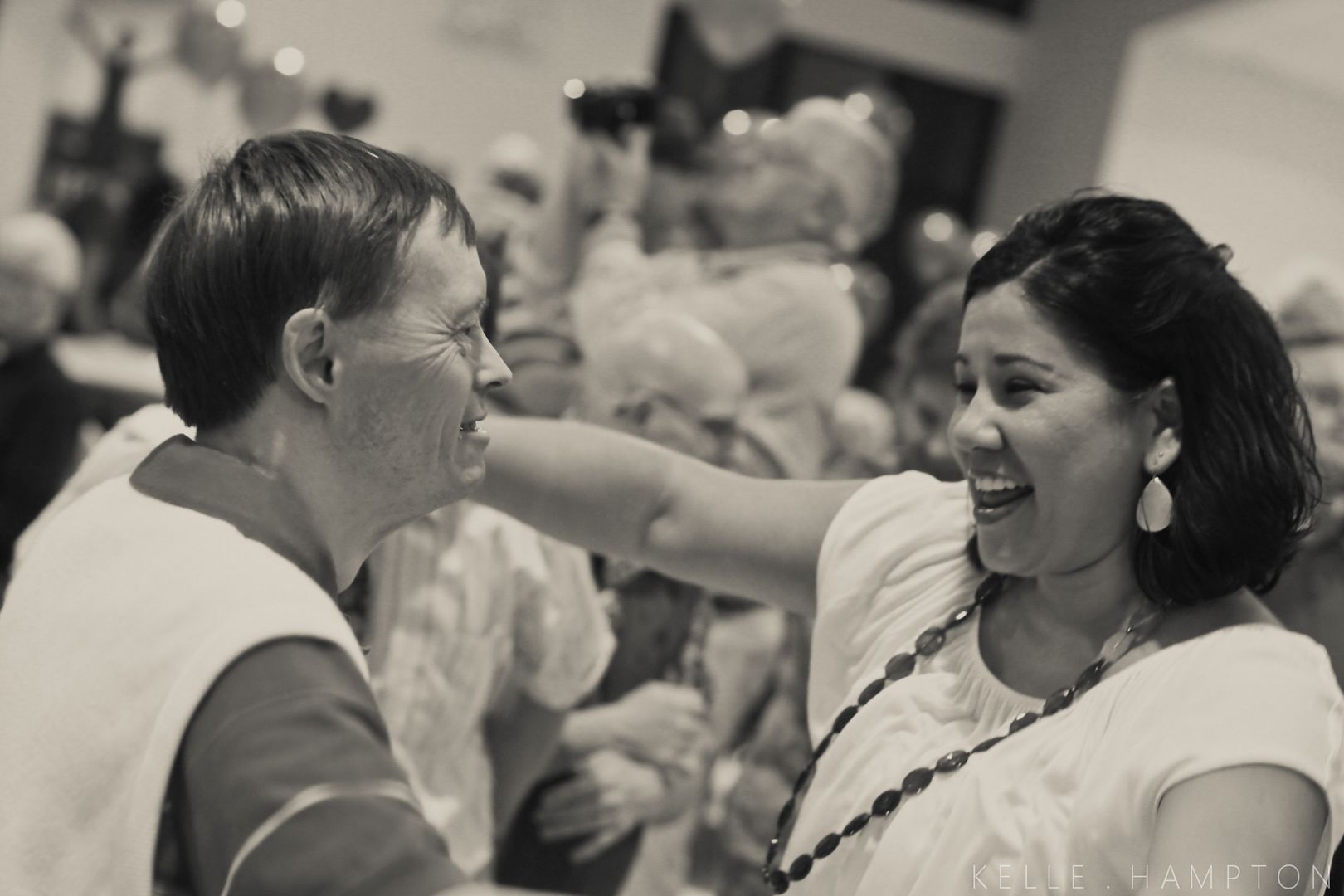 I'm going to find more ways to be kind and to teach my children to be kind, and I am going to ask others to help me do it. I'm going to fight for my kids equally, and I'm going to stop and take time to teach them to have fun. To never stop dancing and loving life, no matter what the rest of the world does around them.
I urge you to find ways to get involved in your community's programs for differently abled adults. There are numerous programs, support groups and fundraisers for babies and children with special needs, but adult programs are often challenged in finding support. After being present last night, I want to help change this.
And let me tell you something else. That extra chromosome? There are dance genes on it, I am sure of it.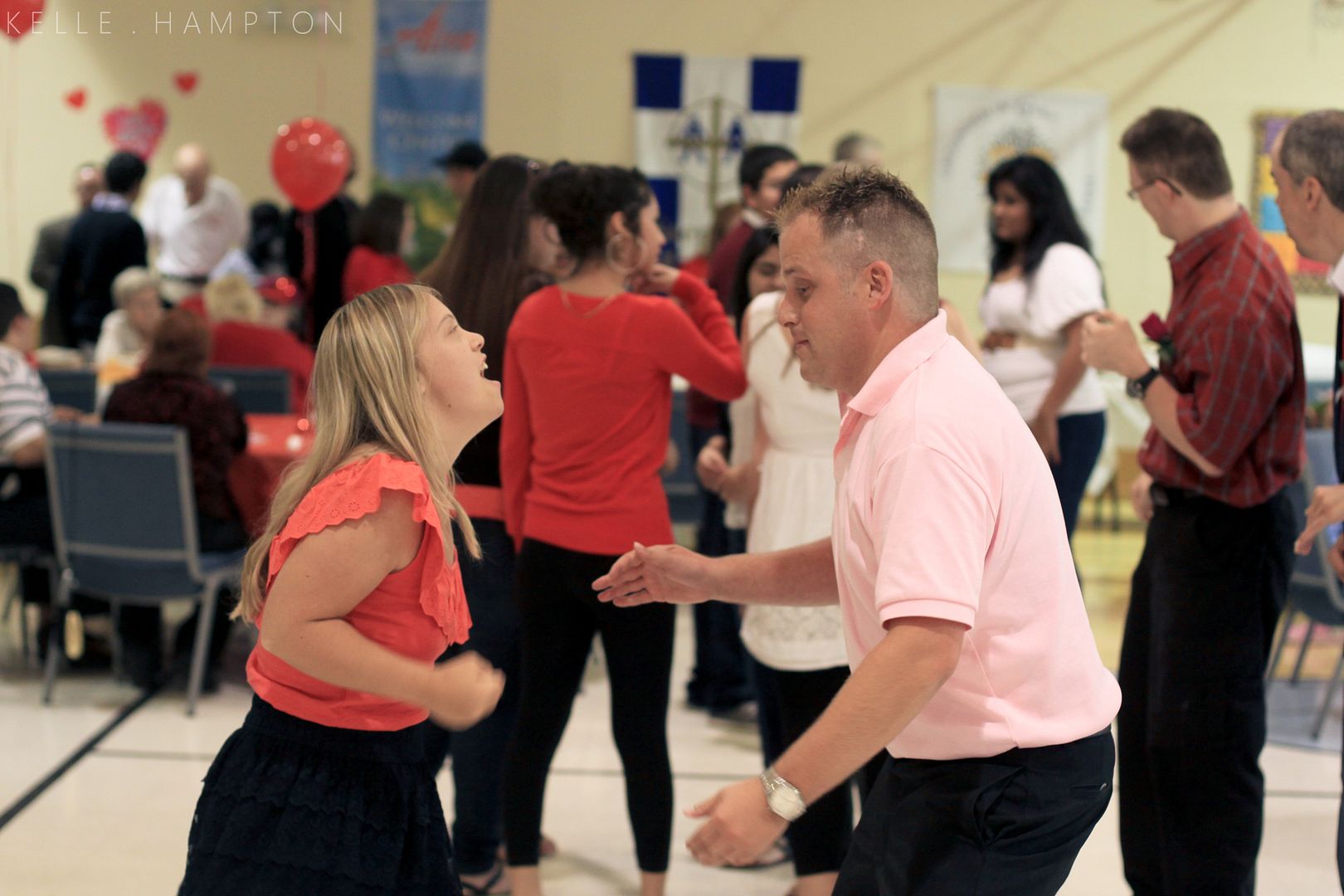 "That will be Nella," someone said, nodding to this beautiful girl on the dance floor. And it made me smile because this girl was vivacious, happy and, Lord have mercy, could she ever dance.
Someday I want THIS to happen in our community. Regardless of your religious views, it's an amazing video to watch.
We are all different, but we all deserve the same opportunities to be respected, to be treated kindly and fairly, and to party with the best of them. I was reminded of that last night, and I am so glad my friend invited me to come. It is a night that won't be forgotten.
For more information on opportunities like this Valentine's dance, contact your local Civitan organization.
*****
Friday Photo Dump:

Friday Phone Dump photos are taken on the Instagram iPhone app (free) and dropped into a 12×12 collage using a photo editing software (Photoshop Elements works). I am @etst (enjoying the small things) on Instagram if you want to follow the feed.
*****
Introducing new sponsor, Melody Joy of Melody Joy 1983, a fun shop full of funky knits, paintings and hand made jewelry.
You may have noticed my favorite chunky bird's nest ring I've worn in several posts the last couple weeks. It's a fun conversation piece and a great way to show some mama pride.
Freshwater pearls are carefully woven from your choice of silver or antique brass wire to make this ring, or you can choose it in necklace form.
Melody's shop is also stocked with paintings and a fine collection of beautiful handmade cowls and legwarmers.

Tell me those cedar branch buttons aren't fabulous?

Melody is offering a generous discount. Use Code 2for2 for free shipping, and for the rest of the month, Melody will be donating 25% of her profits to continue Nella's 2 for 2 Fund.
All mama bird's nest necklaces and rings are buy two, get one free for the month of February as well.
One comment will be randomly chosen from this post to win a $75 gift certificate to Melody's shop.
*****
This was my favorite photo this week. It makes my heart hurt so good.