Blame it on the Dollar Spot at Target. Or the fact that you can take the teacher out of the classroom, but you can't take the Sticker Obsession/Chalk Attraction/Chunky Pink Eraser Love out of the teacher (which is why I still write in D'Nealian, by the way). Whatever the case, our back-to-school enthusiasm met up with the back-to-school dollar treasure aisle and BOOM! A little celebration was born. See also: excuse to make cookies, we missed our friends, we had some apples to use up, kid parties make people smile.
The plan was low key party, treats and a big kid swim fest where moms catch up in between yelling "Careful!" and "Don't run!" and "Dry off before you come in!" But it started pouring right when everyone arrived which brought us to Plan B-the trump card for everything in life: COZY FALL FEST. Dim the lights, burn candles, play the jazz greats. This advice works for every situation imaginable. Try it.
Witching hour madness? Dim the lights, burn candles, play the jazz greats.
Want to make out with your spouse like it's your first date? Dim the lights, burn candles, play the jazz greats.
Company coming over in half an hour and you're not ready? Dim the lights, burn candles, play the jazz greats.
Feel like everything's falling apart and you don't know where to begin to fix it? Dim the lights, burn candles, play the jazz greats.
See? Foolproof.
Quick note: I've been advised over the years by many wise homemakers/moms/family members that the best way to quickly clean up when you're running behind is to grab a laundry basket and run through your house putting anything you don't know what to do with in the basket. The idea–although it doesn't always work out this way–is that you entirely clean out the basket later. Or leave it in a closet for two weeks, but who's counting? Anyhoo, in a quick clean-up of my catch-all kitchen counter before the party, I did this impressive arm sweep across the entire length–like the counter was a windshield and my arm was a giant wiper. This collection of stuff avalanched into the basket, and I had to laugh when I looked down to watch The Life-Changing Art of Tidying Up land with a thunk. I see your KonMari Method, and I raise you a Hampton ThrowShitInALaundryBasket Game Changer. Let's just say the book may have inspired some new routines around here, but we still have work to do.
A few pictures from our Back to School celebration…
For the Elmer's container for the yogurt, I found a square glass canister at Target and cut and glued some orange construction paper to make the famous orange lid. I enlarged an Elmer's School Glue label and edited it with a little Comic Sans font. You didn't ask for my feelings on Comic Sans, but I will tell you anyway: belongs in a classroom or the Sunday funnies, and that's it. I recall a college professor admonishing a room of soon-to-be professionals: "And don't you DARE use Comic Sans on your resume."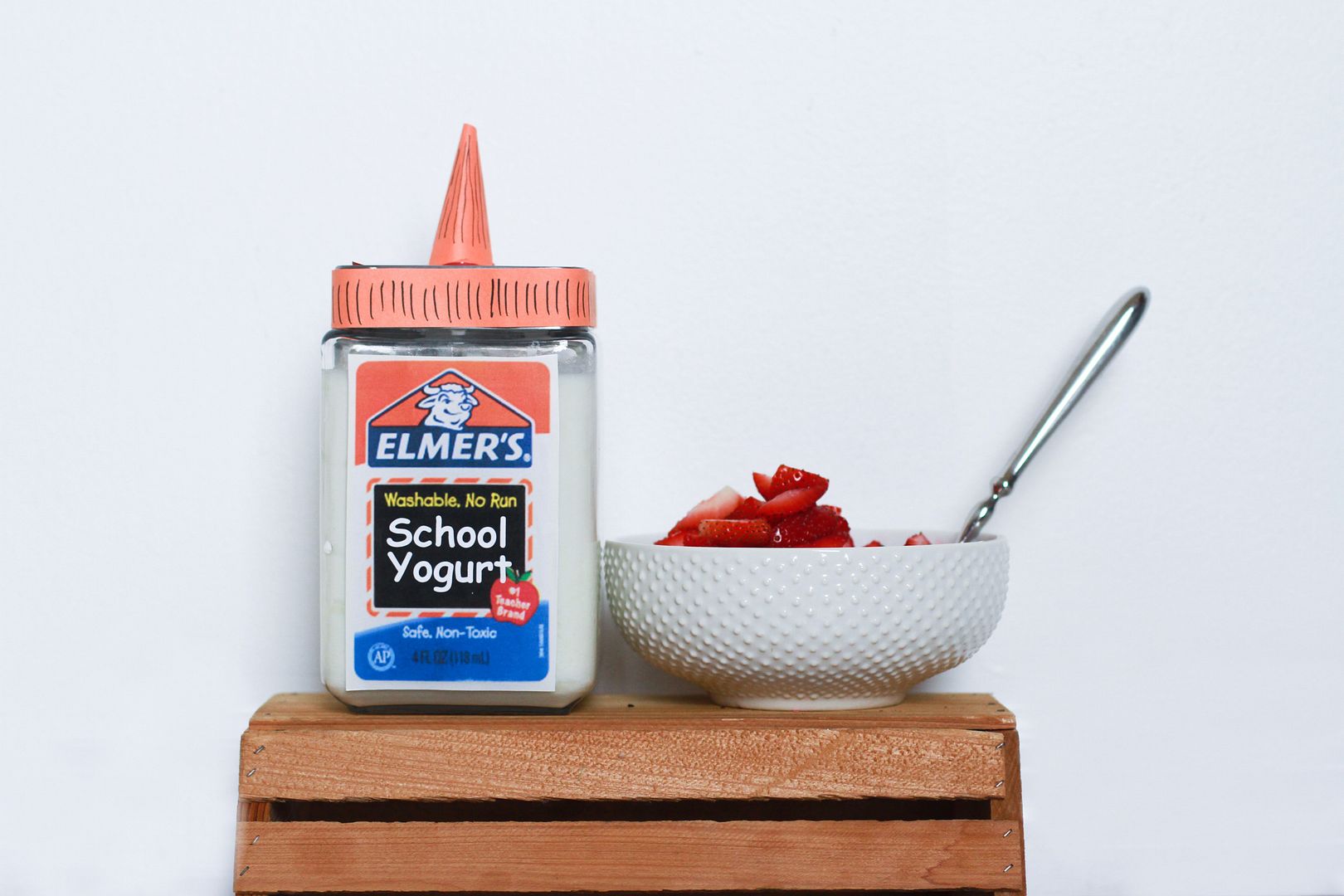 Brushed up on my 7's and 8's Times Tables because I was a little rusty.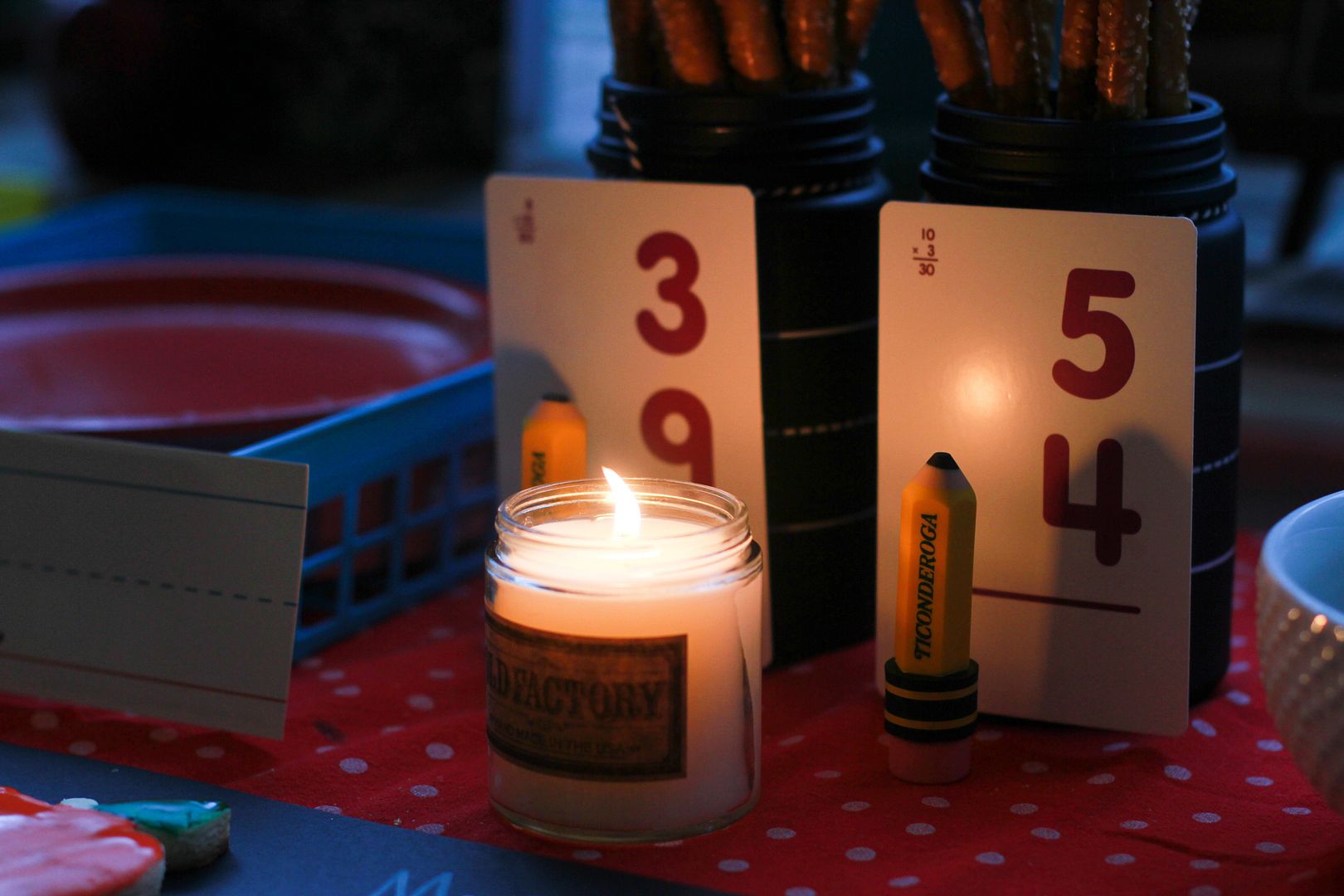 We did a wafer/mini marshmallow version of the ever popular Pinterest cheesestick/Bugle pencil.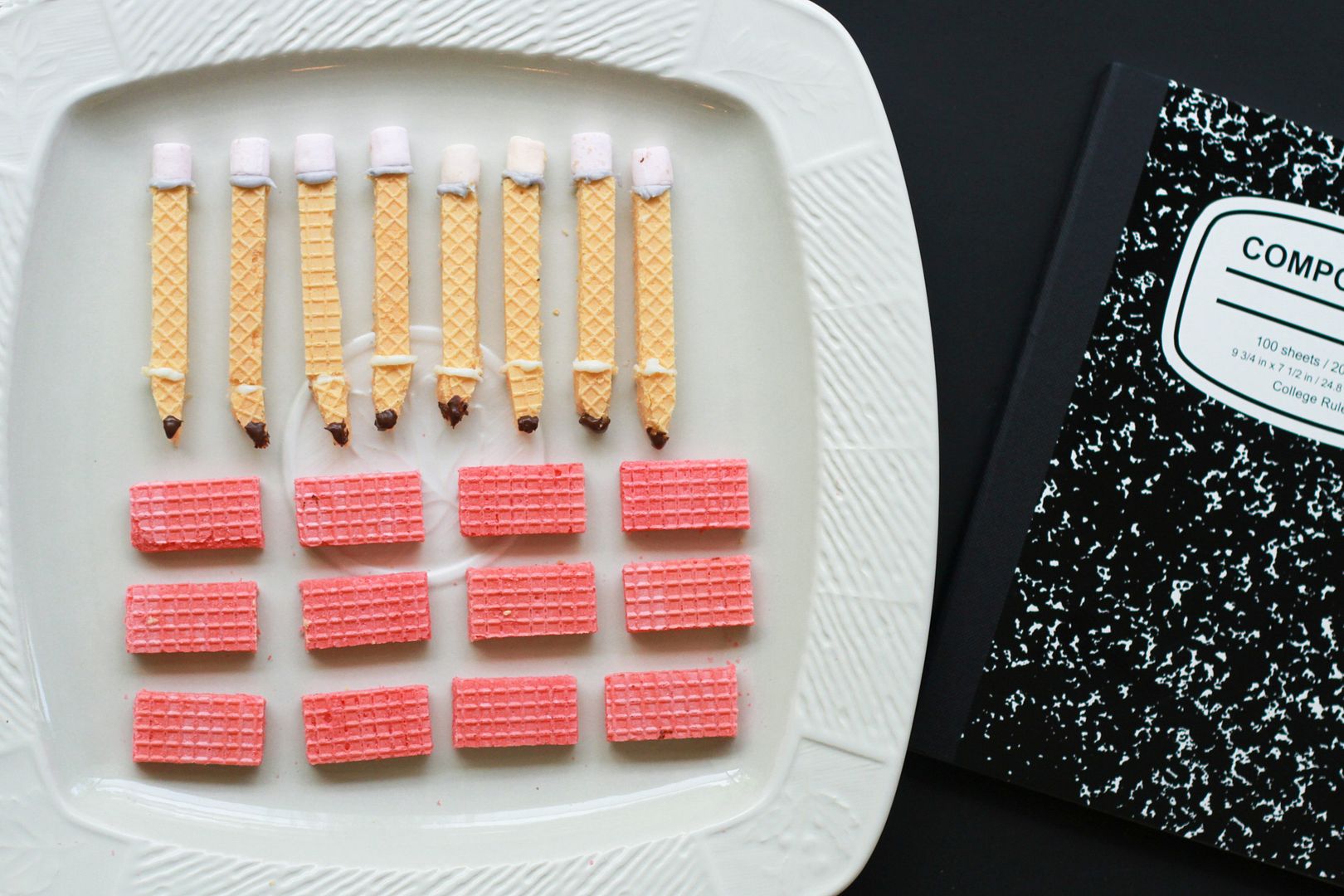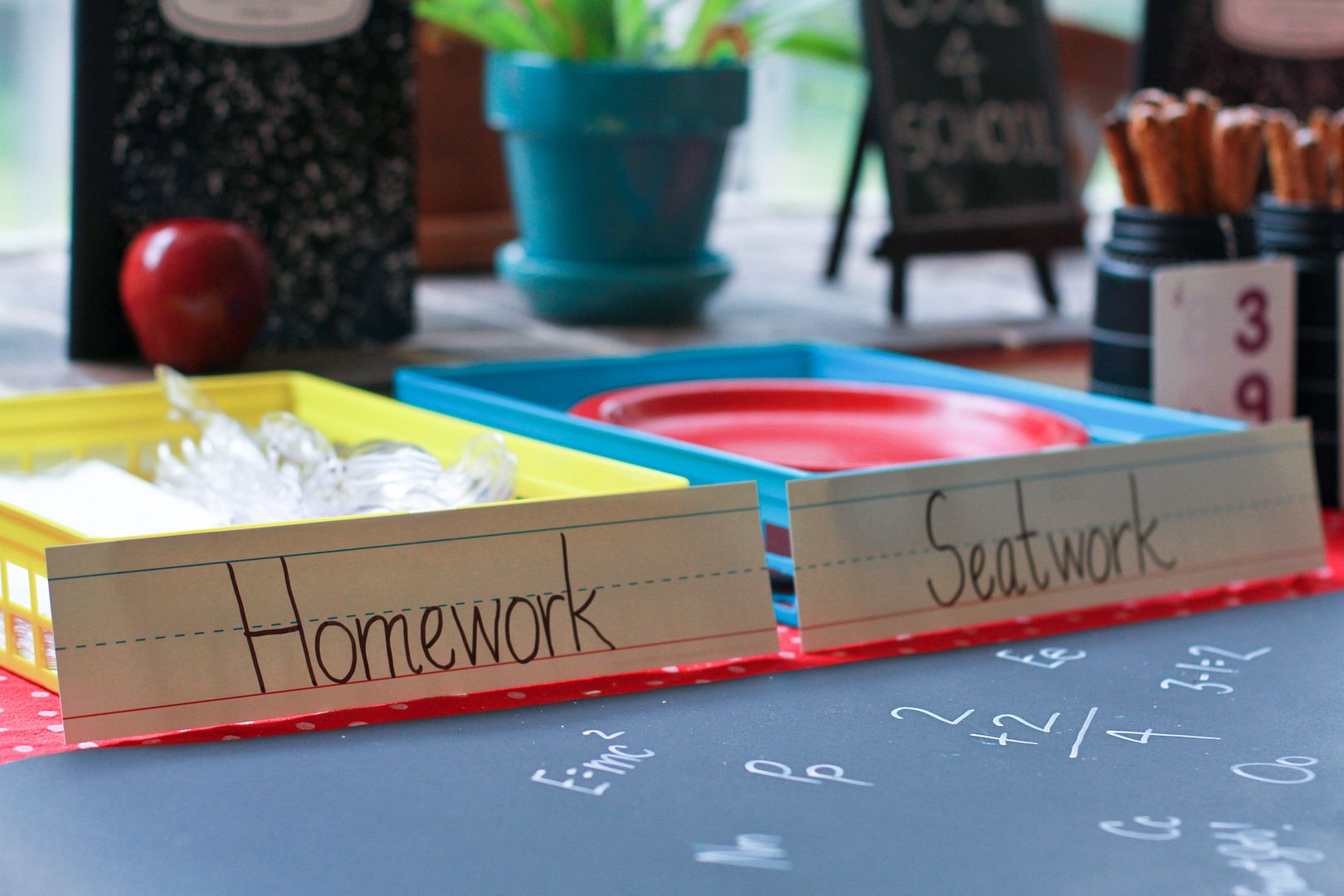 The kids decorated their own cookies but I did a few samples for them. I've loved my buttercream frosting recipe but tried a new decorating frosting recipe that hardens/sticks/paints on much easier, and loved it. It has a little almond extract in it and tastes delicious.
The kids loved the doughnut competition–a fun game for any party. String doughnuts and hang them high enough for a challenge (right above the nose) above two kids. They can't use their hands and have to compete to see who can eat the doughnut off the string first.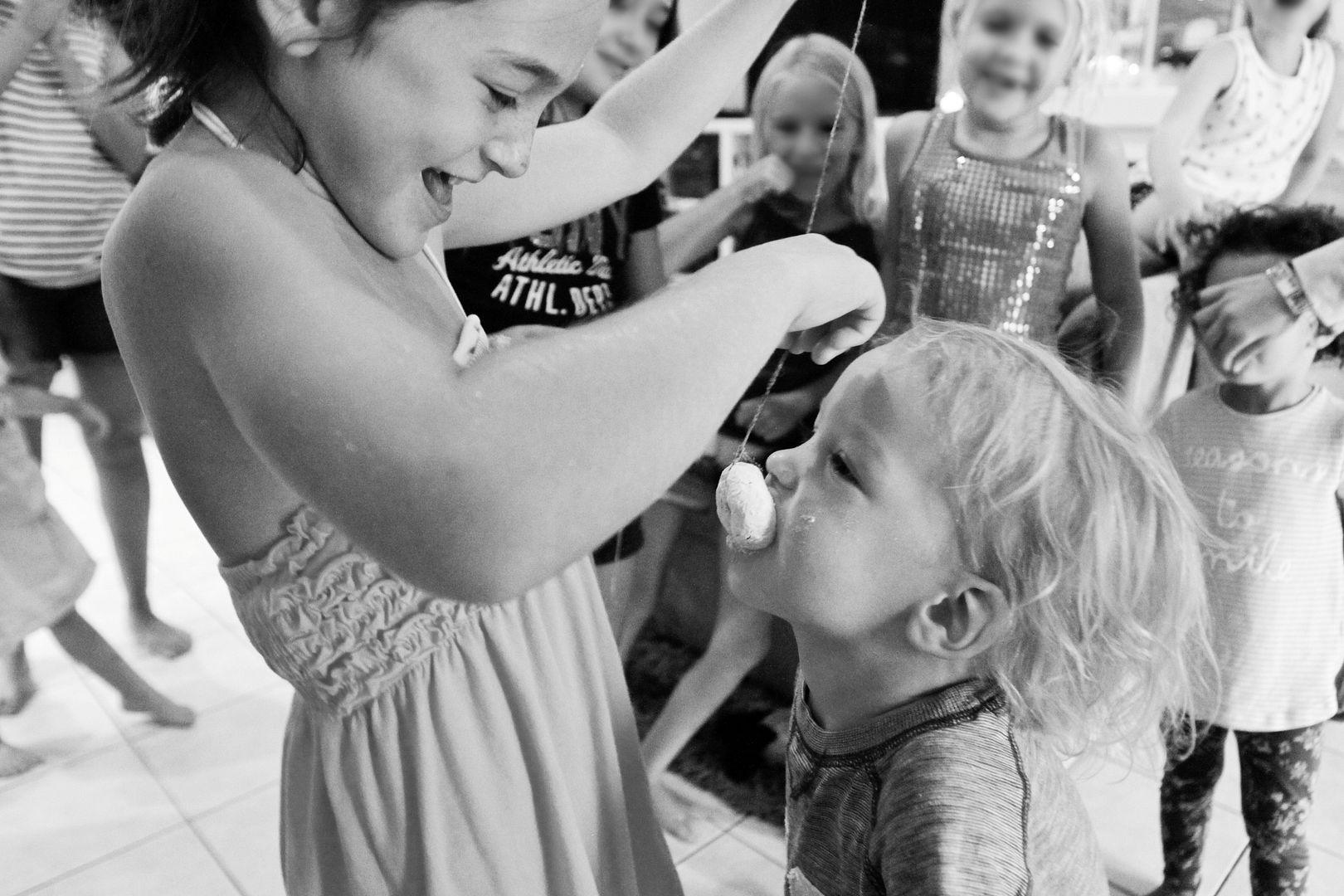 Turns out the sun did come out–as it always does–and the rest of the afternoon continued with summer-loving kids making waves before they take their wave-making game to the classroom.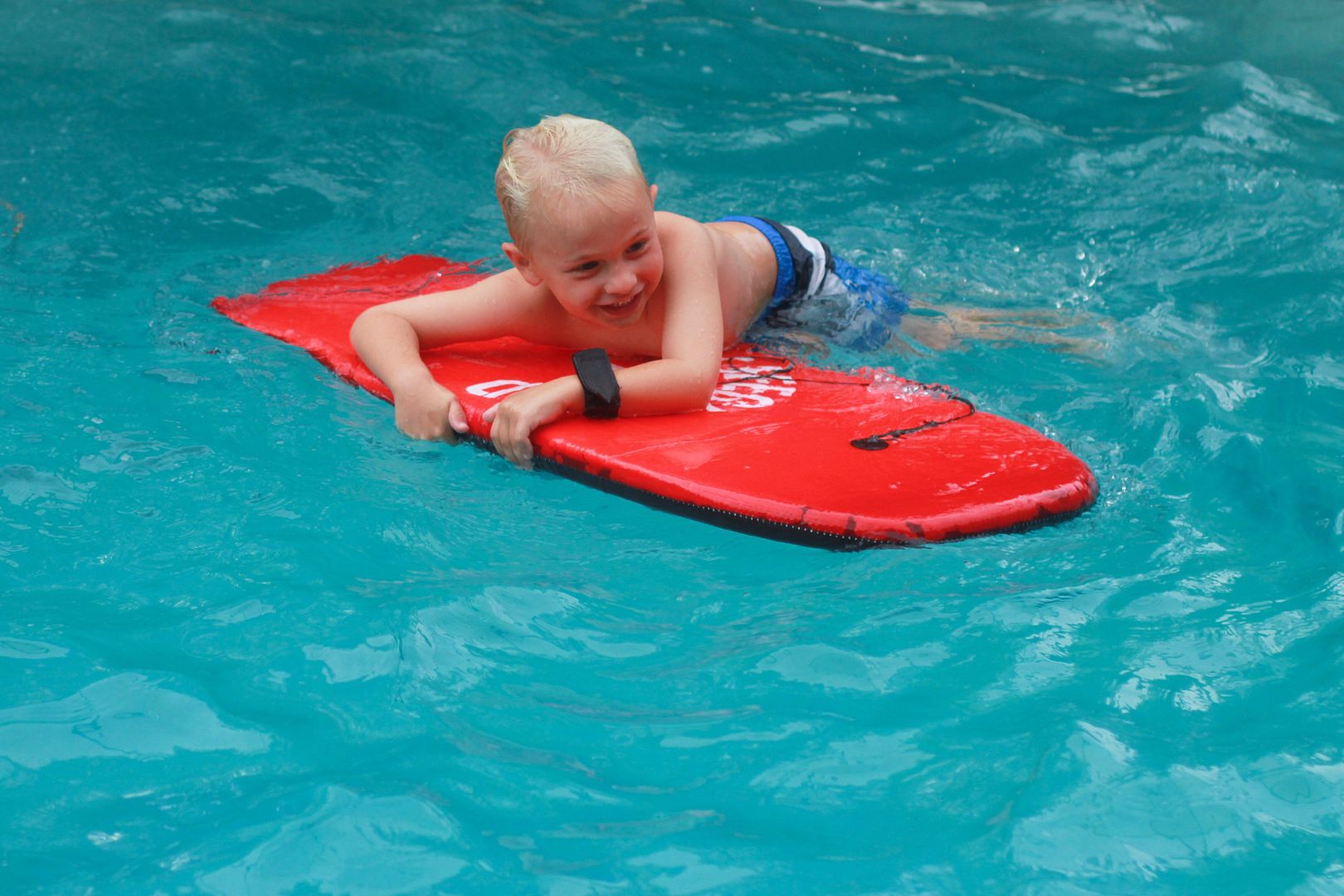 And now we swim.
And tonight?
Dim the lights, burn candles, play the jazz greats.