Happy February! Let the Lovefest commence. I mean, not that it's not going on all the other days, but I love that this month is a grand invitation for all the fun and whimsy of celebrating love and lovely things. And PINK! And let's not forget the parenting February rite of passage, standing in line at Michael's five minutes before closing the night before Valentine's Day, ringing up $500 worth of craft supplies to make the Valentine box that was assigned two weeks ago that you'll now be making by yourself until the wee hours of the night because you're convinced recreating the "Valentine Vending Machine" you saw on Pinterest will somehow make you a better mom. Don't worry, it won't.
My kids love Valentine's Day, and we celebrate it with a lot of little things–heart-shaped pancakes for breakfast, love-themed care packages, and a whole lot whimsical touches we put on everything beginning with the very first day of February.
Bringing you 6 ways, you can celebrate love this month today…
1. Say It.
Remember how exciting it was to pick out those boxes of perforated Valentines when we were little ? Don't let the fun die out with adulthood. Send some good ol' snail mail Valentines to your friends and family. I'm obsessed with vintage Valentines. These ones are adorable, inexpensive and just begging to be sealed with a kiss (no seriously, swipe on some red lipstick and smack your lips on that envelope).
2. Display It.
Perhaps it is because my holiday enthusiasm has rubbed off on them, but my kids love when we put out little bits of holiday decor to make the house festive, even if it's as simple as heart-speckled dish towels. Tuck a heart throw pillow in the corner of your couch, add lipstick "I love yous" to your bathroom mirror, dangle some felt hearts (we made ours) over your dining room table.
We picked up these cute Valentine hanging pockets at Target's Dollar Spot, tied them to the backs of our chairs, and the kids are looking forward to finding freats and treasures in them for Valentine breakfast.
And, of course, a love-themed bucket list with simple, achievable items on it.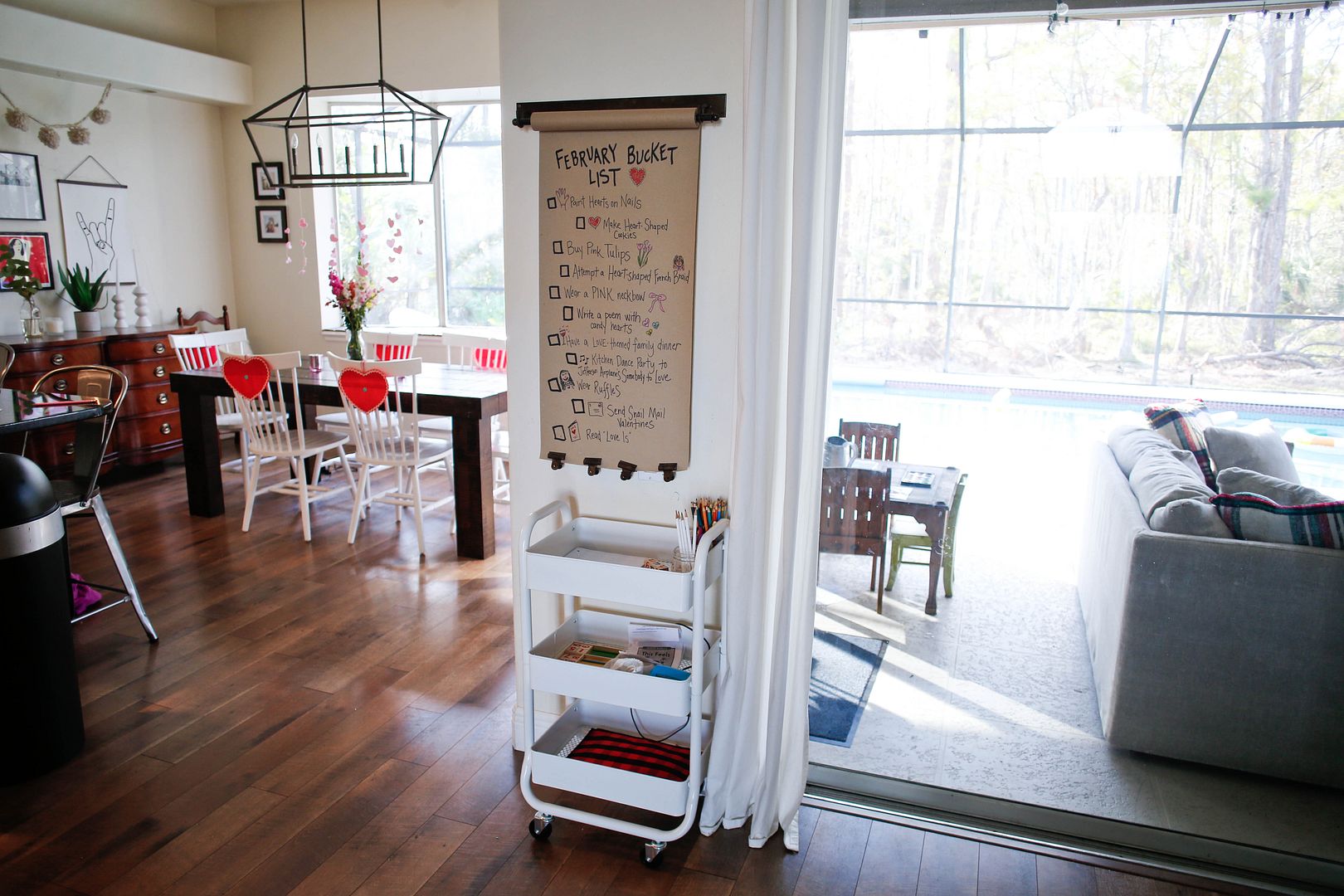 3. Wear It.
There are seven levels of festive attire for holidays, and you know where I stand here. But don't worry, there's a level for everyone (I'm looking at you, minimalists–wear the socks).
Level 1: For the Kinfolk lovers, also known as "I like to keep things subtle". One small holiday item, worn low on the body so as not to grab too much attention. Try these tights, these adorable socks or these sneakers.
Level 2: A little braver, a simple splash of pink, worn higher on the body. Try a pink neck bow with a white blouse.
Level 3: Go a little bolder with all over color and one more Valentine element…ruffles. Try this pink ruffled blouse.
Level 4: We're going to up the ante and pair the Valentine colors. Gettin' crazy here. Mix pink and red, and people will know you're not messing around–highly suggestive of Valentine's Day. Wear this dress with red boots, and Cupid's got an steady target.
Level 5: The jig is up. Get literal. No mistake, you're dressing for Valentine's Day when you're wearing this Love tee. Spice it up, and say it in French.
Level 6: You're totally an Elf on the Shelf mom if you're into taking it to home plate on Valentine's Day with an all over print or themed dress. Perhaps your dream job is "Events Coordinator on a Cruise Ship" if you're wearing this dress on Valentine's Day or, oh my God, this adorable little June Cleaver number is the cutest.
Level 7: SO EXTRA. Wear the all-over print AND throw in a Valentine manicure.
I sent a picture to my family the other day of my impressive froth game on my cappuccino and forgot I had my heart nails that showed up in the picture, and my niece texted back, "Oh my God, the nails. You are So. Extra." (ten second pause before next text)…"but I like it."
4. Drink It.
My love language is crazy straws. Get an entire pack of these straws at Michael's right now for $4.
5. Listen to It.
And now, this brings me to the most important part of the post, the ULTIMATE LOVE SONG PLAYLIST. I don't mess around when I make playlists. I go into THE ZONE and research far more than my "time for foolish things" daily quota allows. I weigh all the options and put unnecessary thought and effort into deliberations such as "How many cute love-for-your-kids songs can I include to appropriately balance the classics and power ballads?" The hard thing is that 80% of songs ever written are about love. I went for classic love songs. A couple things to note though: There are no country love songs here (with the exception of Dolly and Willy), so if that's some sort of personal blasphemy, I apologize (Is that "unfollow" clicks I hear? ;o). Also, love songs that have been severely overplayed are out (R.I.P, Whitney, but I'm sorry, I couldn't do "Greatest Love of All"). You might find other songs on this list incongruous with that standard, but as Whitman said, very well than, I contradict myself. All-4-One's "I Swear" made it. You'll see I'm drawn to classic crooners–Nat King Cole, Frank Sinatra, Etta James–and 80's love ballads most. But there are some modern songs that made the list as well as love songs I played for my babies that I will forever consider as the greatest love songs of all time because…motherhood.
A few favorites to note:
My Funny Valentine by Chet Baker. Gah. The way he sings it. Like slow undressing.
James Vincent McMorrow's version of Higher Love.
Extreme's More Than Words. That guitar. Brett and I both love this song so much. I actually had it on my birth room playlist for Dash.
Plumb's Me. I rocked my babies in the middle of the night to this song. Especially Lainey. It makes me cry.
U2's With or Without You. I think this song is the hottest love song ever written. I cannot control the feelings when I hear it. In fact, I worry about it. Like, given the right scenario–say, if this song came on the jukebox in a dark moody bar while I have a two-beer buzz–I would 100% make out with Danny Devito if he was sitting next to me.
Okay, I'm done. Play this all month. Crank up the volume. Kiss your husbands. Keep your hands off Danny Devito, He's married…and likely, so are you.
This picture kills me. So in love, man. So. In. Love.