It was magical. More than I ever could have imagined. I cried last night watching all these wide-eyed little girls take it all in, and then I cried all over again this morning looking back at it all. Because I'm kind of a crier…and I'm okay with it.
It really felt like the North Pole.
I took a few pictures during the day before the girls got there…
…but the magic unfolded about a billion fold once the stars came out.
And then little girls, dressed in their jammies, began to arrive and the rest was history.
It all started with the Reindeer Food Bar–a buffet of reindeer treats for the girls to choose from to make their own special blends for Christmas Eve (a tradition–you sprinkle it in your driveway Christmas Eve to lure the reindeer, and then they have something to munch on while Santa's in your house). Oats and raisins, bread crumbs and cocoa…and special ingredients like glitter and flying powder.
And then a letter from Santa. He told the girls he had lost some things in our neighborhood and needed some help finding them.
The girls were happy to help, eagerly assembling into a long train. They set out with flashlights, scouring trees and lawns and sidewalks for Santa's cocoa mug, his pocketwatch, Rudolf's collar, Mrs. Clause's cookie sprinkles and a long list of other lost goods. Santa's so irresponsible.
Found his cocoa mug!
And that pocketwatch.
Somewhere between the end of our driveway and the first lost treasure, the crowd errupted into excited squeals. They spotted an elf, running fast across the street, diving into bushes with a jingle. My cheeks were aching–I laughed, I cried, I couldn't stand it. I wasn't sure how the elf would go over–there was the small chance of the Traumatic Christmas Party Bust of 2012 that sent kids screaming and crying back home–but I couldn't have asked for a better response. They went bananas–the lose-your-breath kind. They smiled, they pointed, they excitedly screamed. I teared up when I saw one of the girls run, beaming, to her mom. "I saw him! I saw him! I saw a real elf! I really did." I knew they'd probably never forget that moment. We never saw that elf's face, but he was with us, zig-zagging quickly a couple driveways ahead and suddenly disappearing.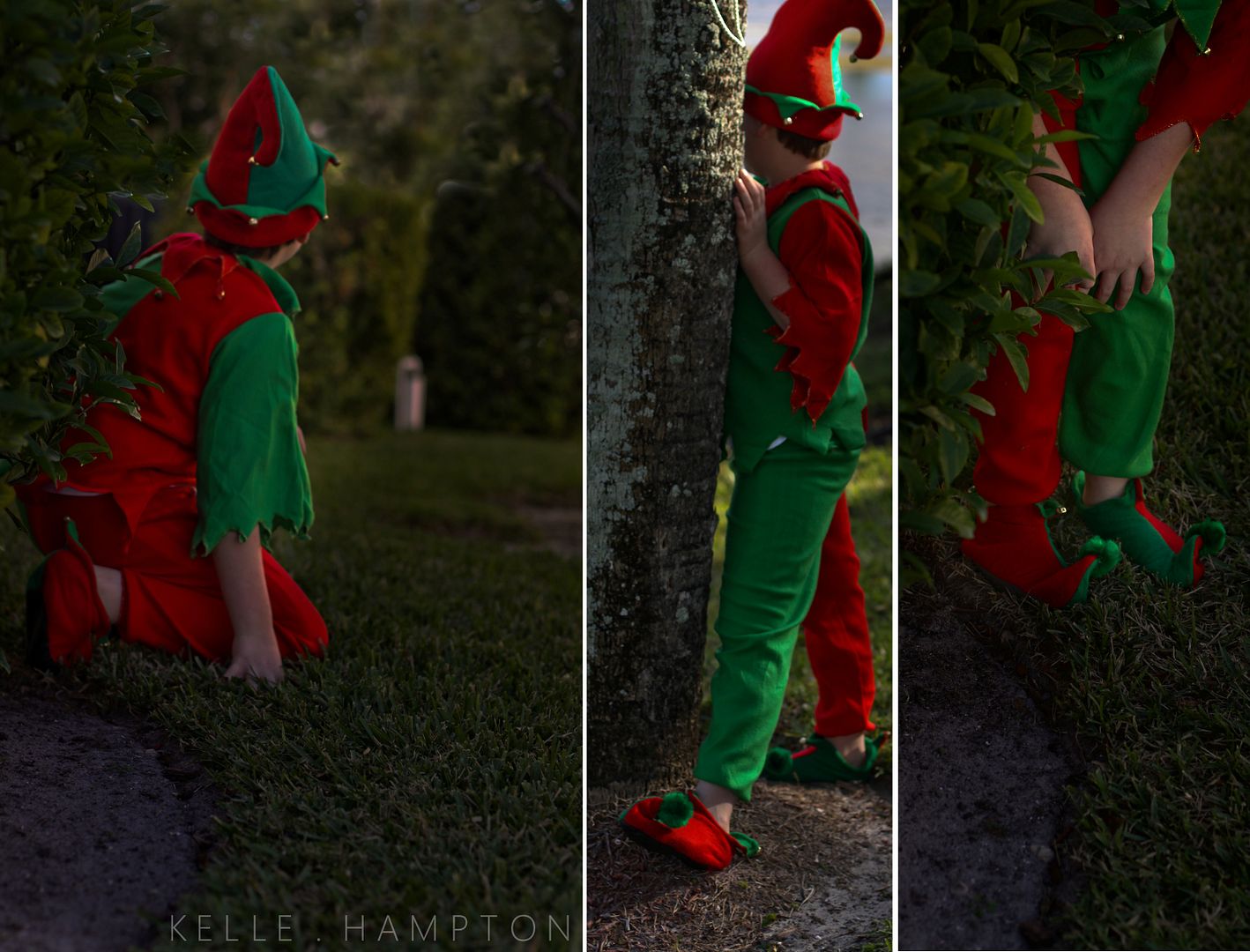 We returned home for milk & cookies.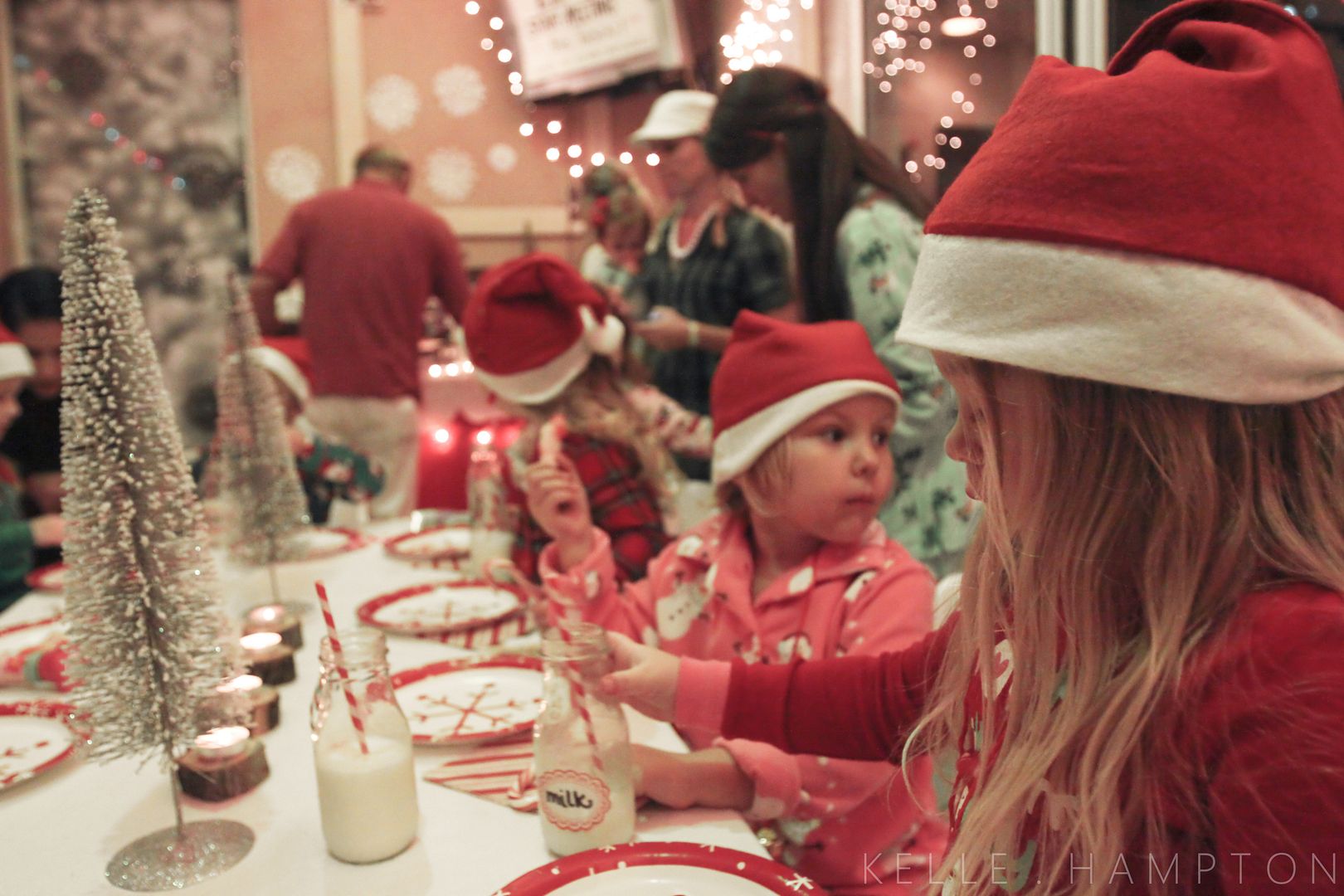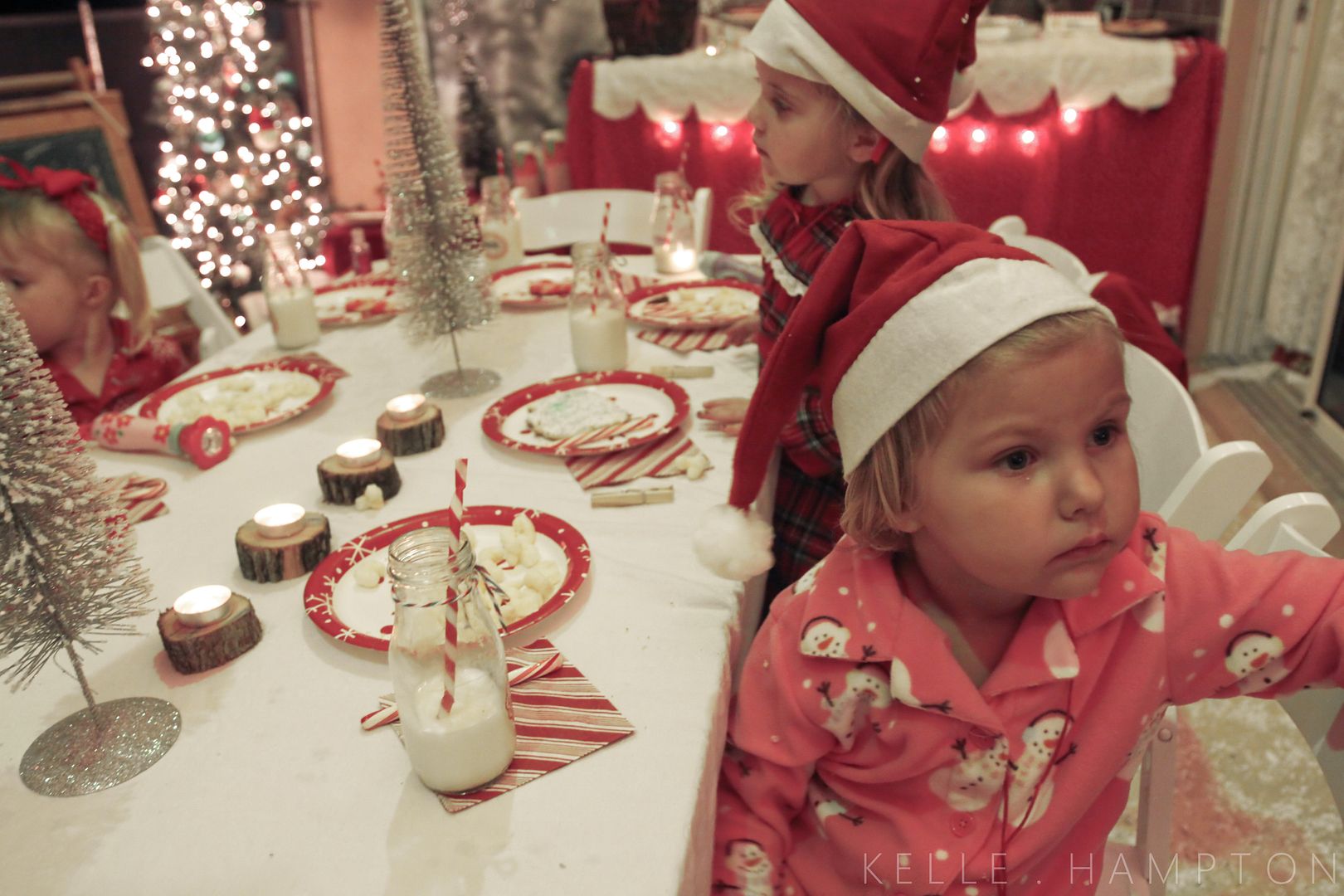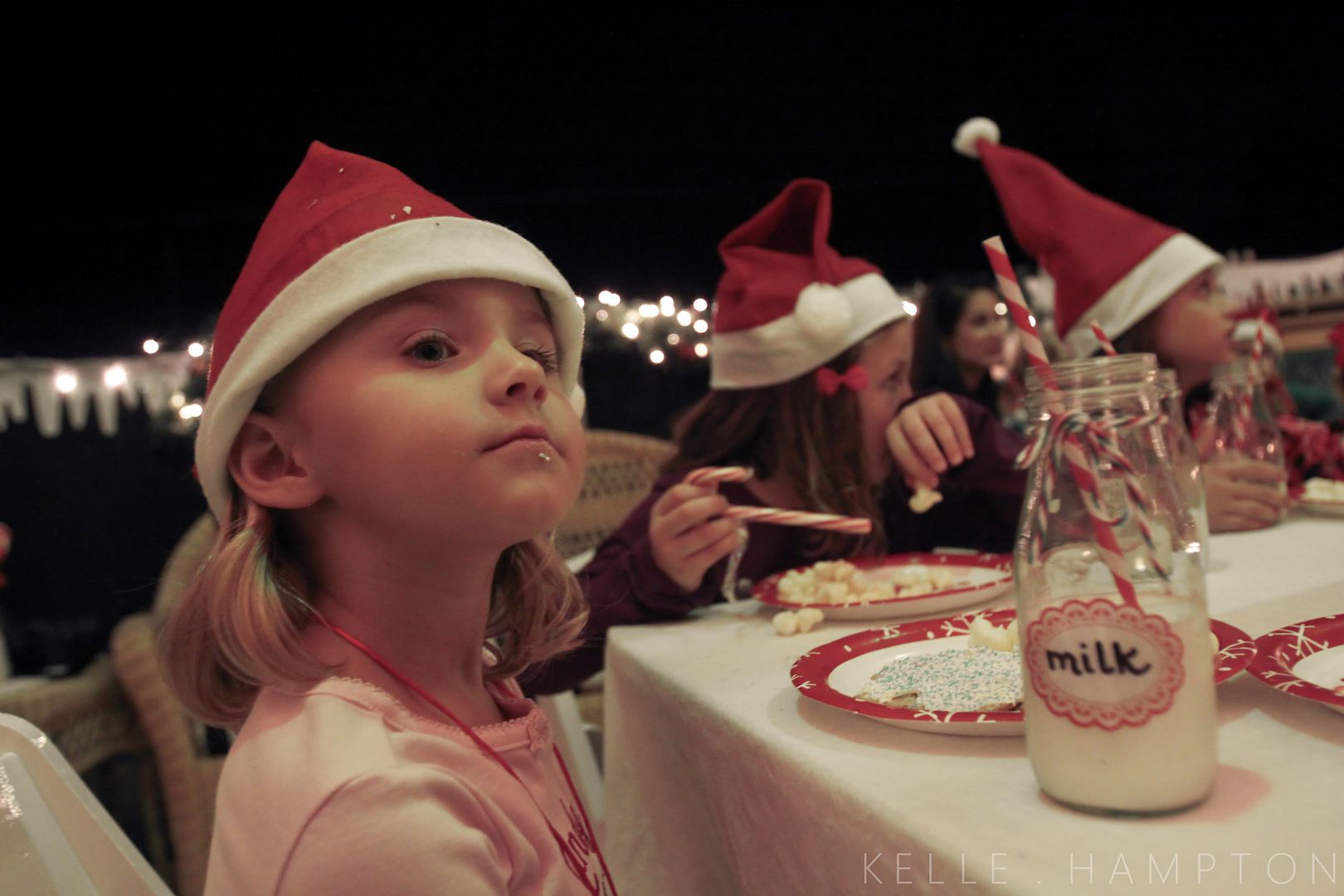 There was music playing, mamas smiling, little girls trading cookies, and the entire time, I kept thinking…today is absolutely my favorite day.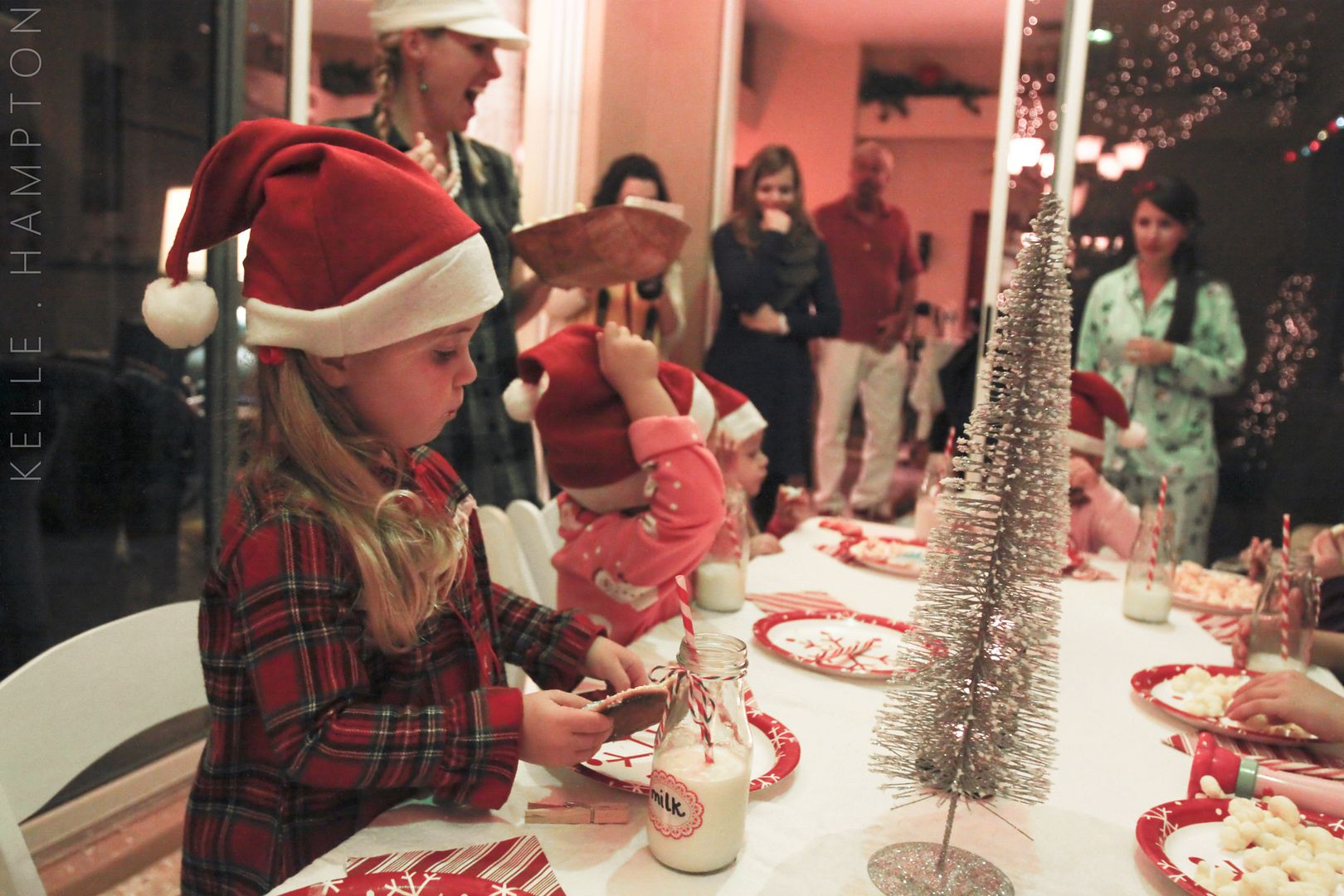 It's not a Christmas party until someone reads "'Twas the Night Before Christmas…" (thank you, Dad, for adding so much magic to our party).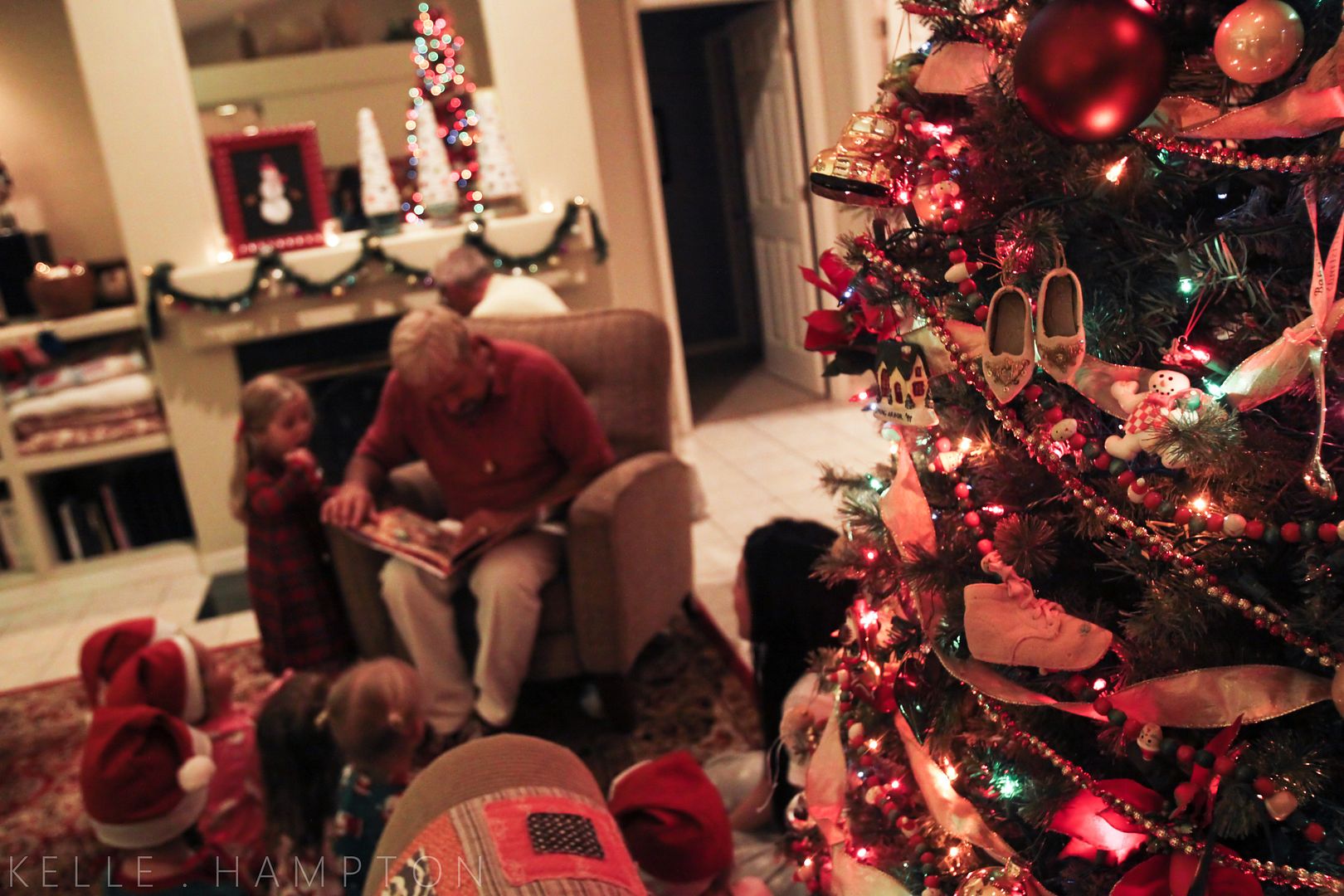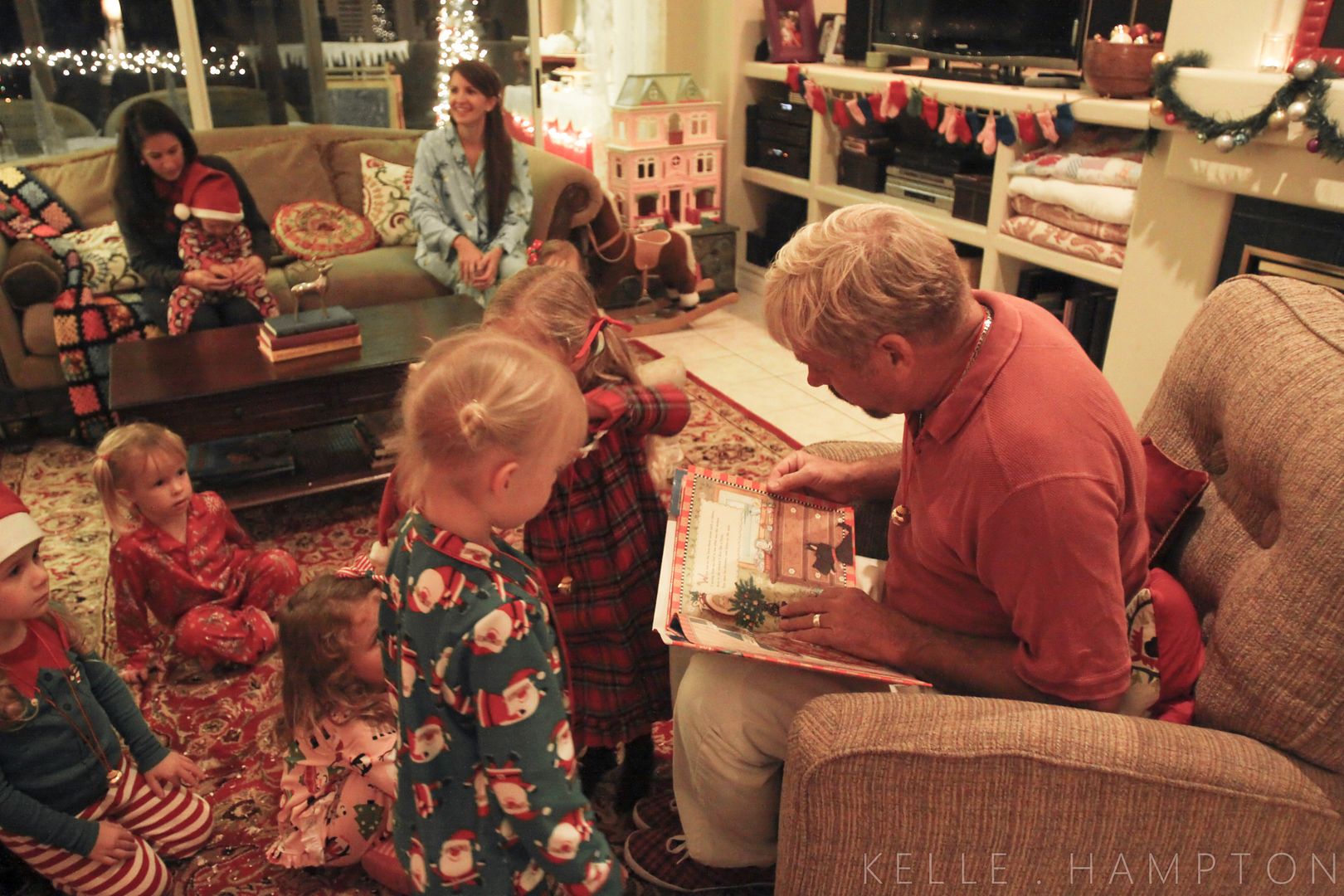 And the girls each brought a gift to exchange.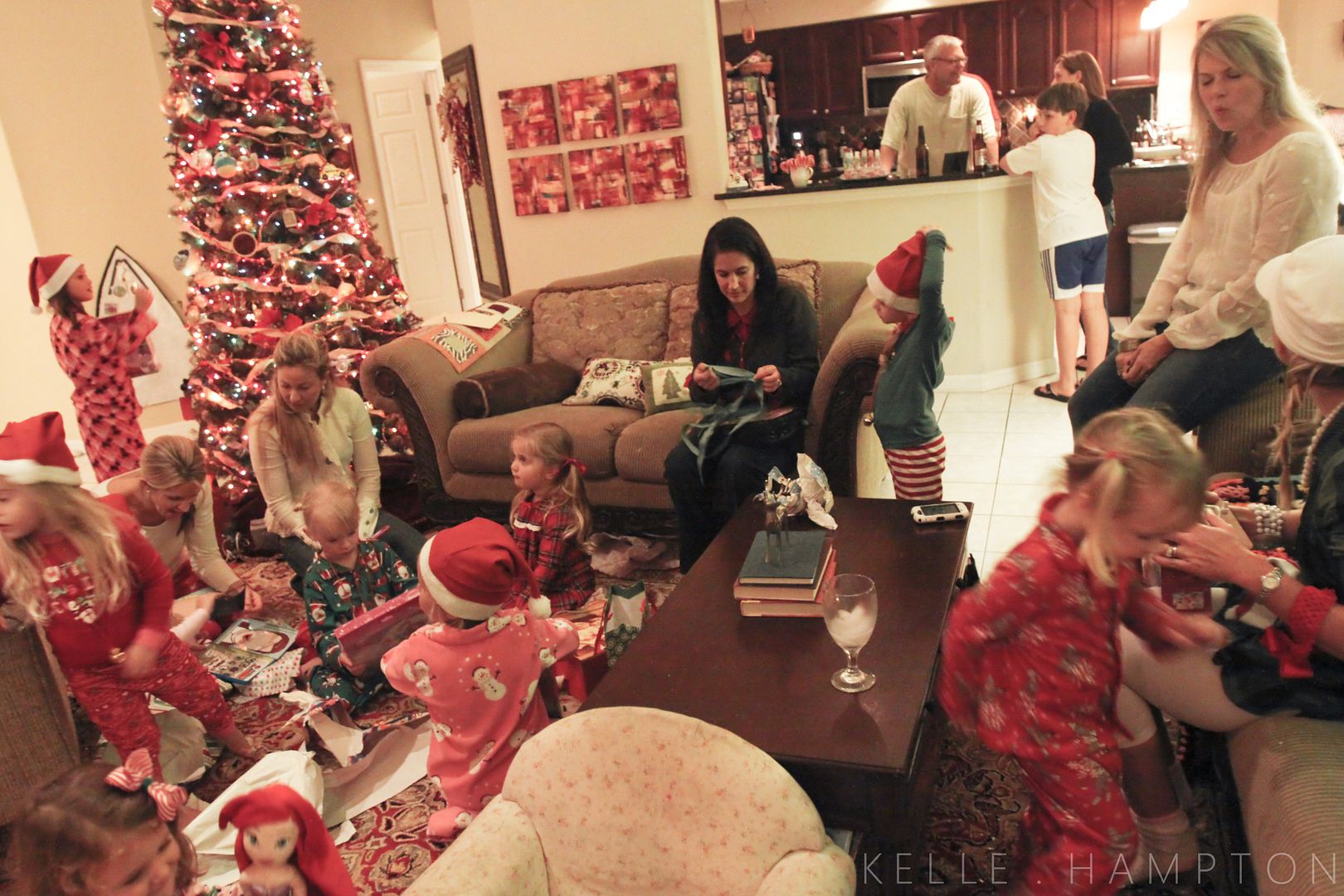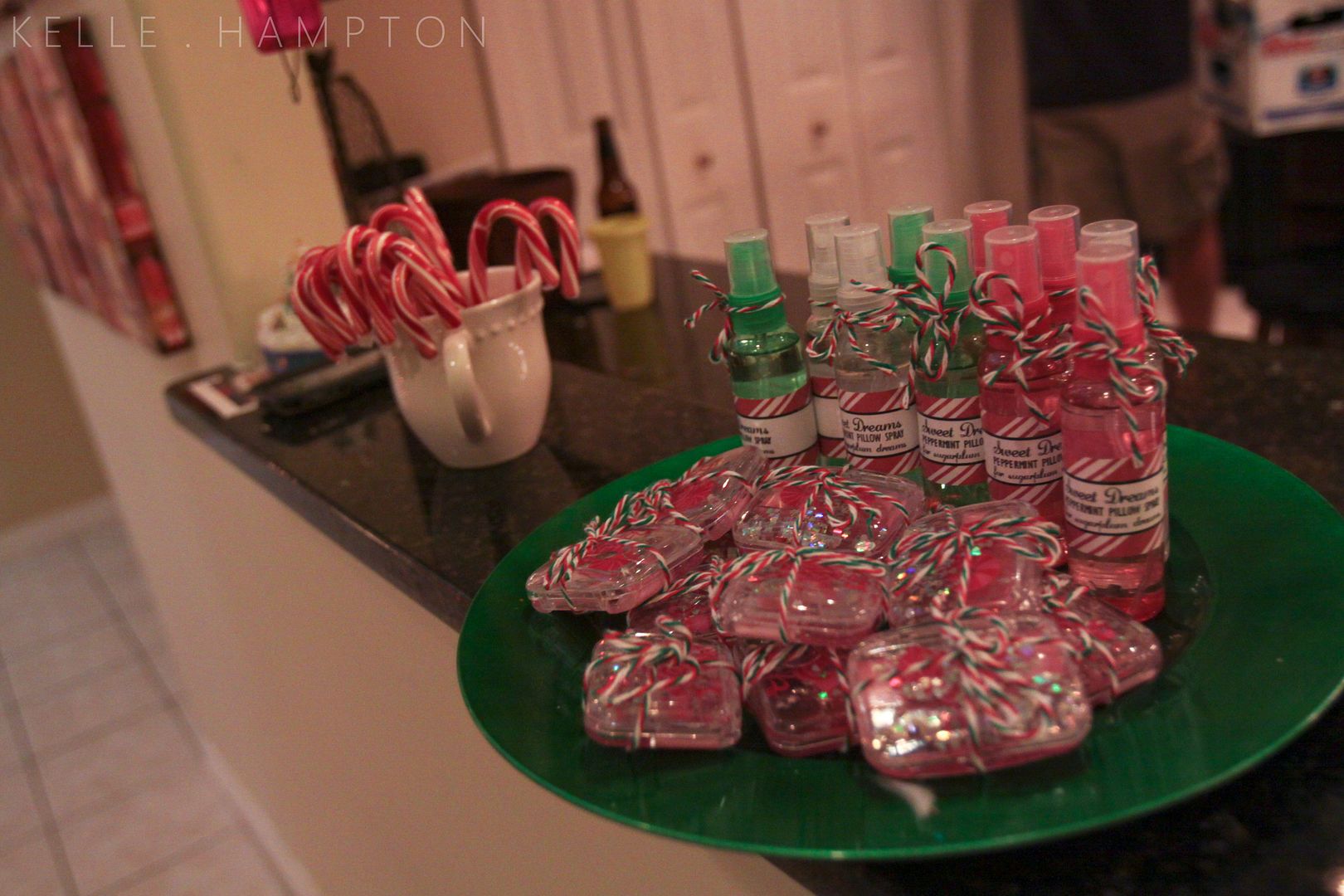 Party favors: Homemade Pillow Spray. I found several recipes online and ended up using water, 12-15 drops each of Spearmint (I liked it better than the peppermint) and Eucalyptus essential oils and a tiny bit of alcohol (vodka works) to keep the water and oil from separating. I found the spritzer bottles in the travel sized toiletries at Walmart.
We finished the night shimmying and shakin' our groove thang to Christmas carols in the driveway. Past our bedtime, just the way it's supposed to go.
I've been smiling ever since.
"He who can no longer pause to wonder and stand rapt in awe is as good as dead; his eyes are closed." ~Albert Einstein




Friday Photo Dump:





Chris Schuette CD winners:

#33, Alisha: Oh man, those kissy sisters are too cute! What gorgeous little ladies. I love love love the photos.
#221, Melissa: Never, ever, ever enough kisses in a home. Way to go Hamptons…kiss away, kiss away, kiss away all!
#4, Courtney: Aw, I love that you commented about loving that picture so much your heart hurts. I tell my lidos tht as I'm rocking them to bed some nights . . .'i love you all the way to the moon and back 600 million times, I love you do much my heart hurts so good with love'.
#181, Meredith: Love the bit about the eggs and red glitter…so my world right now!!
#71, Jen: Maybe I'm immature, but your comment when Nella was showing Laynie her food made me laugh out loud. They are SO cute
#267, Sara: Love your blog; have been distracted with life and haven't read in a while! So refreshing to be back! Love the "sea food" pic 🙂
#153, Kathleen: Reading your blog makes me want to live in Florida. Thanks for sharing.
#11, Katy: This post made me laugh. Thank you it was very much needed today. Love the pictures. 🙂
#241, Susan: What a special treat to be able to savor those moments with your girls! I also love to find new musicians. Thanks!
#43, Michelle: How cute! I love Florida in winter for the simple fact that days like that can still happen. Nothing beats a cold beach day playing in the sand. And the kissing pictures are the cutest!!
Congratulations, Winners. Please e-mail your contact info with subject CD GIVEAWAY WINNER to [email protected].





Returning sponsor, Every Scrap Countz (maker of those adorable crocheted headbands) has something new in her shop, and we are loving it, especially since it comes at an appropriate time when our temperatures are finally dropping enough to allow cute head wear.
Enter the owl hat.
Lord have mercy, I love my girls in hats, and this one is especially lovely with its colors, its braided ties and those cute pointy ears.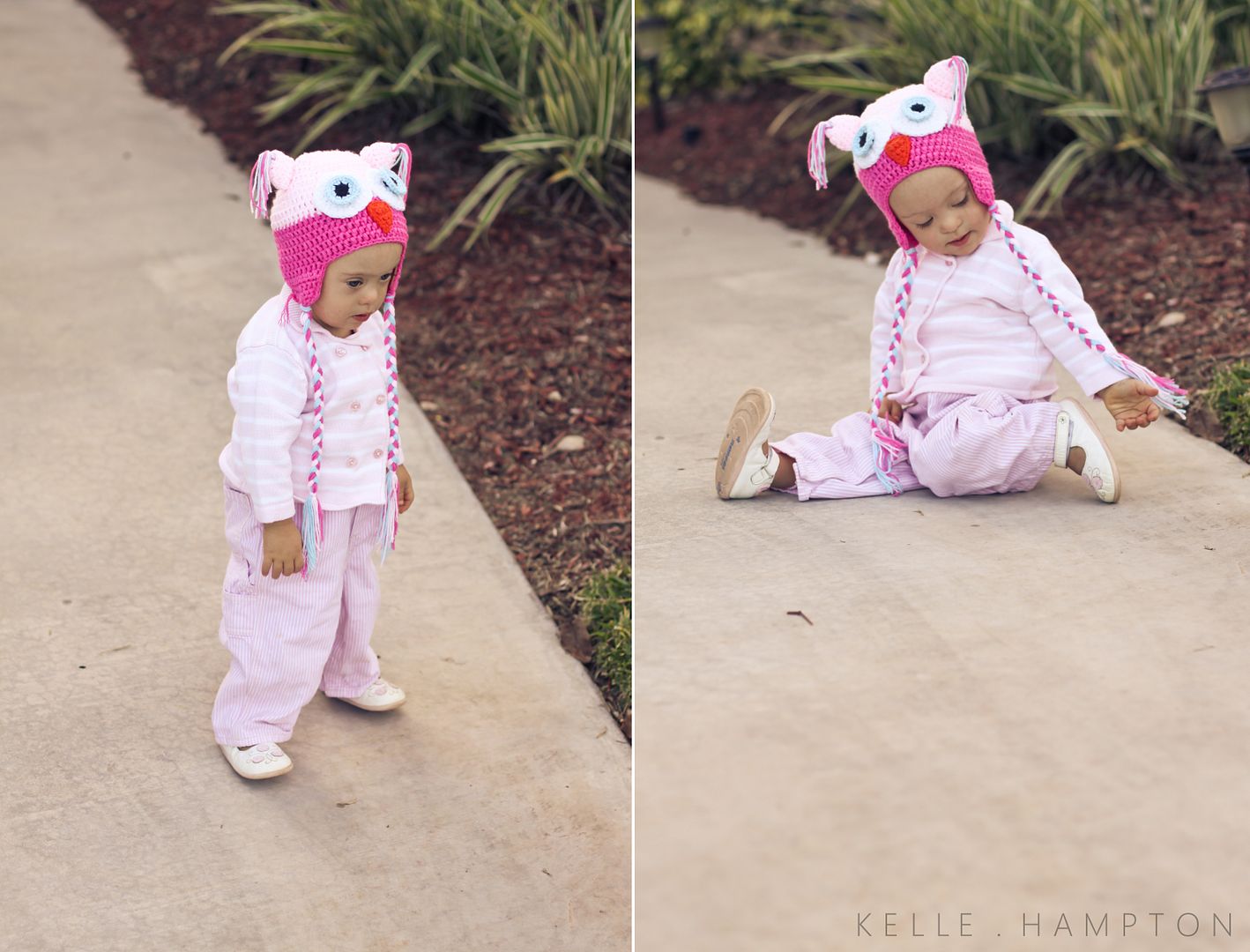 Use Code KELLE for 15% off, and one comment will be randomly selected from this post to win a free owl hat, courtesy of Every Scrap Countz.


Have a great rest of the weekend.
ADDENDUM: Party Details if you'd like to recreate some magic.
Invite—I designed it and had it printed at WHCC. Girls were asked to bring a flashlight and a $10 gift to exchange.

Milk Bottles–Starbucks Bottled Coffee drinks like this one. Available at grocery stores. I just saved the bottles, removed labels (use a little Goof Off), and washed.

Retro Straws–my favorite Etsy party novelty shop, Hey Yo Yo. I order stuff from them for all my parties. Their shop is loaded with inexpensive adorable retro treats.

Christmas Baker's Twine–It's actually fine yarn. You can get a huge skein at Joanns that will last for 10 years.

Red labels on Milk Bottles and Reindeer Food Jars: THESE ONES from Martha Stewart Crafts (available at Michaels and Joanns).

Invite, Signs and Food Tags–I designed and printed myself. If anyone can tell me how to share printables and where to put them, I'd be happy to share.

Party Favors–Pillow Mist made with travel size mister bottles I bought at Walmart (in trial sized toiletry section). I mixed water with 10 drops each of spearmint and eucalyptus essential oils, plus about a teaspoon of vodka (to keep the water and oil from separating). I also found peppermint lipgloss in Target dollar section.

Peppermint "Red Carpet" leading into house–one roll of Christmas wrapping paper, secured to cement with duct tape

Christmas decor–Small Christmas village trees (I got mine for 79 cents a piece at Walmart), tealights, wood slabs (Brett cut from a fallen branch), a bag of fake snow, leftover white "fur" fabric from Lainey's ballet recital costume, paper snowflakes we cut out ourselves (free!). The rest was pulled from Christmas decorations in our attic.
Santa Hats–Oriental Trading.

Reindeer Food–We used disposable bread tins, measuring cups and the following choices: oats, raisins, bread crumbs, crushed potato chips, cocoa, flying powder (flour), red and silver glitter. The girls created their concoctions in Ball jam jars.

Scavenger Hunt–Santa left the following things along a path in our neighborhood: his sleigh key, a cocoa cup, Rudolf's collar, Mrs. Clause's cookie sprinkles, a large candy cane, his white glove, his hat, special greens the reindeer eat (a bunch of parsley), an ornament, his driver's license, his pocket watch

Food: Snickerdoodles, sugar cookies and my favorite candy cane cookies. And milk. Easy and inexpensive.

Elf: Talk to Santa. He controls them, and I have nothing to do with it.

The rest of it? When in doubt, hang more white lights. And then more. And then one more strand.
The key to the ambience at any party lies in a simple recipe: low lighting, candles and music. Crank up those Christmas carols, Baby.