I have this made-up theory that detours me from housework–if you can't do it all, don't do any. Don't cross stitch that on a pillow because it will get you no where in life. I think big a lot–sometimes too big. As in, any attempt to clean house must include full overload. I want to do it all in one day–every room, every cupboard, every floor, and if I don't have one 8-hour block of time dedicated to extreme home makeover, I often think "why bother?" I also have this other theory about cleaning–if you're not "feeling it," go buy something new for your house. Don't quote me on that one either because it's just really bad psychology, and our economy doesn't need that kind of thinking. And, for the record, I'm not talking a new fridge for inspiration. Something little–like a dish towel or a candle. It's based on that whole "If you give a mouse a cookie" philosophy in that a sweet new toss pillow might just make you want to make your bed. And then pick up your clothes. And then rearrange your room, dust your dresser, frame new pictures. I once dusted every mini blind slat in my bathroom, spurred by the purchase of new guest soaps.
My point? I disproved both theories yesterday. Without clearing my schedule for a full day "blitz," as my mother used to call it (drop-down, full-on, all-day house cleaning–we hated blitzes), I vowed to use a small cushion of space to take on one room, and to do it with no incentives. No new purchase to inspire me–not even a candle.
I rearranged furniture, dusted, vacuumed, cleaned out every drawer in my desk and finished the process by digging around in the garage for old treasures that might temporarily spruce up the wall above my desk (using Nella's room as an office until we move her crib back in her room). I found a clip board and an empty frame.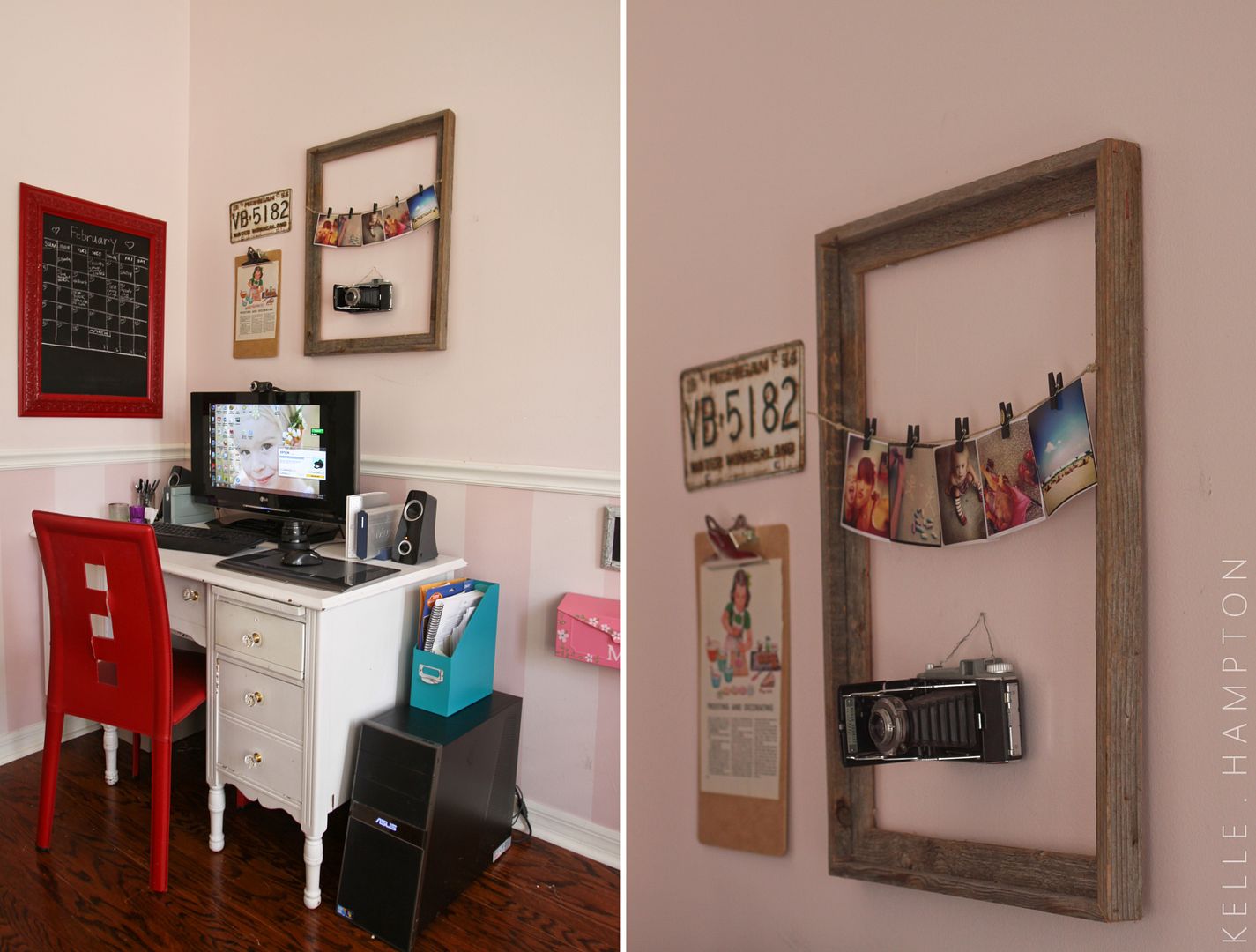 And while I was so entirely satisfied with the clarity that came from cleaning one small space, I stopped myself from heading to another room to initiate a blitz on a grander scale. Baby steps. Small projects are good, easier to digest. Besides, there are other theories–good nursery rhyme truths about Jack avoiding the status of dull boy.



So, I traded more cleaning for play last night, a very generous trade considering play came in the form of a citrus grove sunset.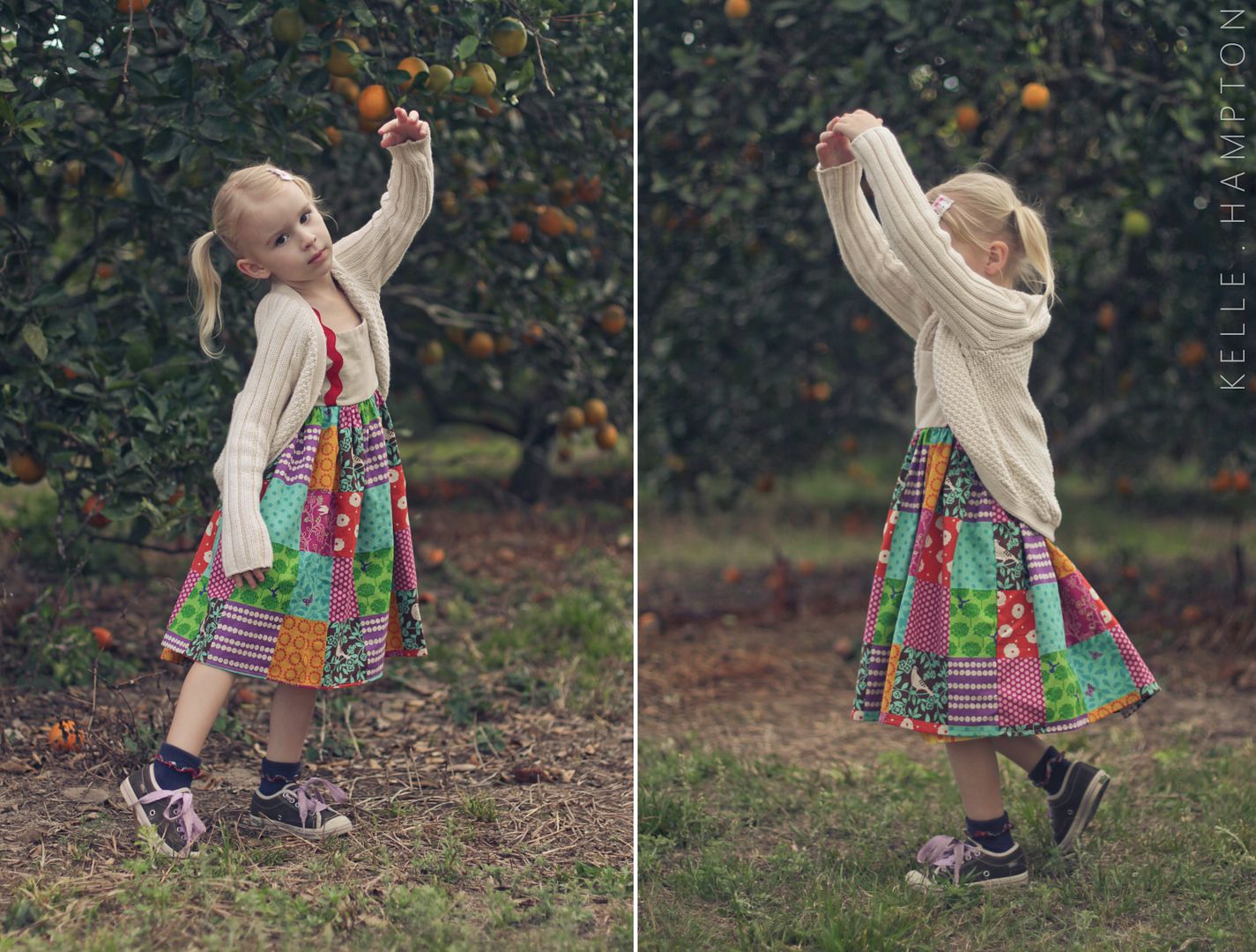 Lainey's patchwork dress, The Measure
It was a last-minute idea, and you would have thought we were preparing for a heist. A lot went down–texts flying back and forth, picnic baskets madly prepared, a meeting place arranged and finally, a pregnant chick who pulls up in a minivan, yells for us to get in and takes off all screeching tires. We just wanted to get there because, as any of you who have ever planned a heist might know, there's a prize at the end.
We were afraid on the way to the orange grove that we wouldn't get a sunset as the sky was gray, flat and lacked any dimension whatsoever. We arrived, chose our picking buckets and set out with the kids to find the perfect row to set up camp. Regardless of what the sun decided to do, we'd have a good time.
But then, sweet mother of ripe oranges, it happened. Only five or so oranges made it to the bottom of our bucket before the clouds revealed the glistening jewels of the heist in one sudden unveiling moment. Golden sunlight. Lots of it, pouring into each grove row at different angles, streaming through branches, casting a blanket of warm light onto the neighboring field. We were all scattered in different places in the grove when it happened, and you could hear us hollering to each other "Light! Oh my God! Get over here and see this light!" as if our little corner of the grove was the only place it had revealed itself.
Turns out it was everywhere, accompanied by blue skies, feathery clouds and our unbounded enthusiasm.


This was a challenge. A "Hey Kelle, can you do that thing where you jump up and click your heels together?" challenge.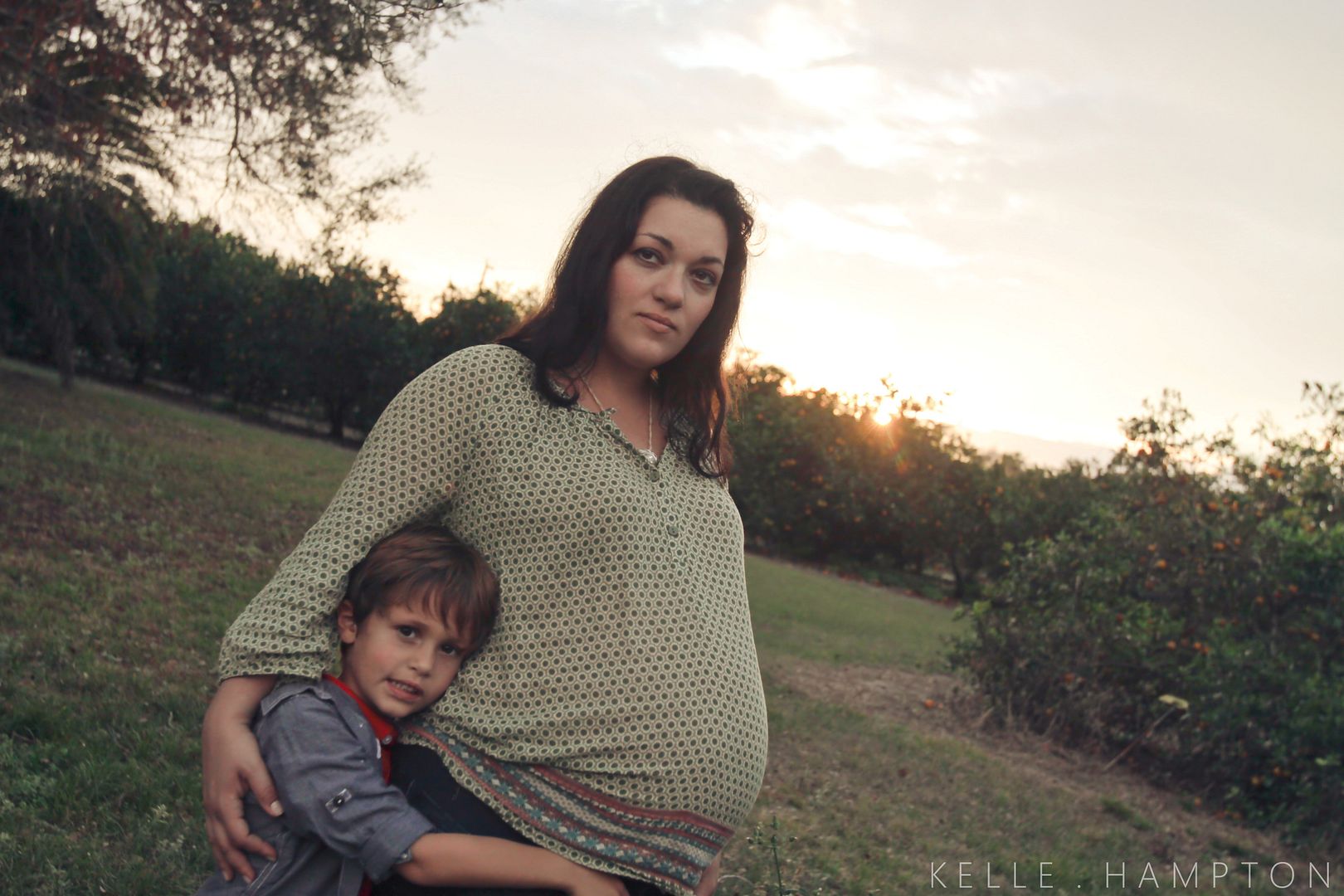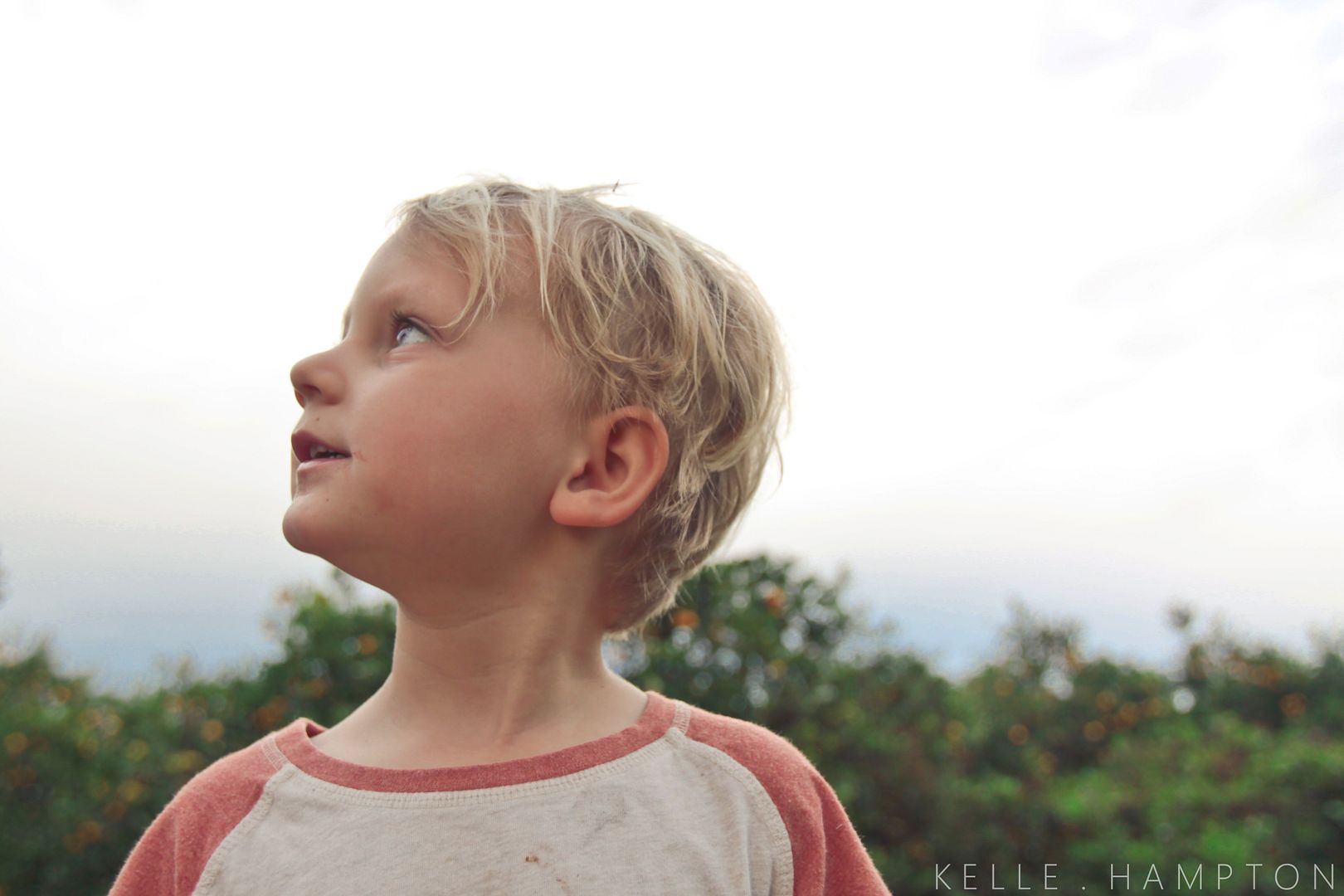 My friend Rebecca and her husband, Ean
And while this all might seem your-life-is-so-dreamy picturesque, remember…heists take work. We did pack cars, drive 40 minutes, remind the kids to stop whining, and spray fire ant bites. But you tend not to remember these things when you focus on what's right in front of you–gold, literally.
As I watched Lainey run off with her friends to find the cat and I handed Nella another orange to drop in the bucket last night, my friends and I gathered on the quilt and talked about how much more we appreciate nature now. How we notice it continually delivers these experiences of pure, simple happiness.
The older I get, the more I want to be outside. The beach, the country, the woods, the mountains, the frozen lakes, the busy streets of New York. And the cool thing is that, no matter where you live, it doesn't take a heist to obtain it–sunshine's free.
So drink it up.


Nella enjoyed unpacking our picking–she took out every orange she could reach.





Our evening ended with a complimentary swamp buggy ride up and down a dirt road, courtesy of a nice neighboring farmer. That's a unicorn with big wheels, for those of you who don't speak supernatural.
*****
Friday Photo Dump:


Friday Phone Dump photos are taken on the Instagram iPhone app (free) and dropped into a 12×12 collage using a photo editing software (Photoshop Elements works). I am @etst (enjoying the small things) on Instagram if you want to follow the feed.
*****
Happy Weekend!
Locals, Map to Bob and Judy's U-Pick Citrus HERE.