with things slowed down and thunderstorms forcing photo reshedulings, i am absolutely relishing in homey things, especially when they are accompanied by afternoon storms and the constant lullabye of pounding rain.
i love the idea of balance and the fact that there are weeks the scales tip completely on the home-abandonment end while we are out and about doing fabulous things…
…but that it always turns back and rewards us with weeks like this one where we are content and quiet. cooking and cleaning. taking afternoon naps. reading through an entire pile of books.
i worry about balance less and less as it seems to take care of itself when i let go.
we cooked today. oh, did we cook.
my mom's lentil soup…which is such absolute divinity, i have washed the ladel an entire fifteen times because i cannot walk into the kitchen without pulling the lid of that simmering pot of splendor and slurping right from the spoon. and that's in addition to the two bowls i enjoyed.
i'm not the measuring kinda girl, but basically the soup is a mess of ingredients that goes a little something like this…
Mama's Lentil Soup

2-3 cups red lentils
a lotta water
one can chicken broth
cut up carrots, celery and onions
sauteed onions and garlic
lemon juice
lemon zest
chopped bacon for flavor
curry powder
cumin
salt & pepper
throw it all in and simmer forever. yields heavenly concoction
and we accessorized it with some homemade tabouleh…equivalent divinity.
again…unmeasured bunches of fresh parsley, onion, tomato, mint, bulgar wheat (soaked in cold water for an hour), lemon juice, olive oil, salt & pepper.
top it off with fresh hummous and toasted pita, and it was one of my favorite dinners ever.
and when we cook, she wants to do her own.
we rearranged her room last week and hung up alphabet cards after i was tired of picking them up off the floor.
in one day, she learned a, b and d and grins like crazy when we ask her to find one…running from one end of the alphabet to the other to proudly point it out.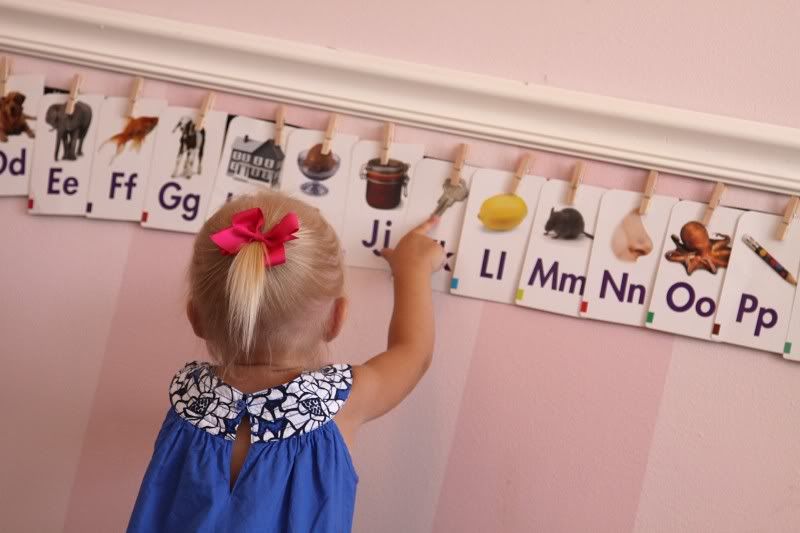 and then…my favorite part of the day…this afternoon, when the rain started rolling in, she and i cuddled up under the down comforter…pulled the drapes so tight, the room was black as night…and fell asleep, her back spooned right into me, her hand holding mine. we slept long and hard. i dreamed i took photos for america's top model and they let me keep all the lighting equipment.
oh, happy, quiet day.
…and thank you, grandma for my new outfit. grandma krissy crocheted this little sweater. .and we love it. xoxo
i yearn for a big, fabulous life. and, as much as i seek it in opportunities and places and setting the bar higher and higher, it's amazing how much of that big, fabulous life exists right here at home. in little things. in the quiet of the rain, a simmering pot of soup and an afternoon nap with a little tot that won't be so little for much longer. and i know, ten years from now…no matter how far i've come or what i've achieved…i will look back at these days as absolute pure fabulousness.
…enjoying the fabulous things. ~k