This week we hit the one month mark since we've been away from home. We are more than grateful for the opportunity to answer summer's invitation to adventure in places we love far from home, but we are definitely missing Brett and will welcome the routine and familiarity of home when we begin to make our trek back next week. It's always in this last week that I open the sensory receptors just a wee bit more–sip my coffee a little slower, pick a few more wildflowers, swim further out into the lake and memorize what it feels like to let my legs dance under the cold clear water–free of salt itch–surrounded by a scene I love so much. Clusters of pines, tall white birches, worn docks that pepper the lake's edge in between rock ledges and loose dirt beaches, laughter that echoes across the water like a summer song… and my kids, a picture of a July dream I'll save forever–their skinned knees and dirty hair, half-dried in the sun after braving the "1-2-3 Go Under!" dip; the constellation of bug bites that runs up the back of their legs; the quarter inch I swear they grew since the last day of school; the way they smile and skip and glide into the water with the freedom that only summer can bring.
Among summer's idyllic story is, of course, the bits of reality we bring with us wherever we go–a good reminder that life isn't a storybook. Or an Instagram feed. Or a silly standard we set in our mind where we forget to make room for what really happens on vacations with three kids. Reality chirped its tune amid our day at Sleeping Bear Dunes last week–on my favorite patchwork quilt, to be exact, right when I pulled out the sandwiches–with the good cheese, on the expensive bread–and the individually wrapped portions of grapes and pretzels and little vanilla cookies I picked out just for that moment. Right there atop the sandy summit of what Good Morning America once dubbed "The Most Beautiful Place in America." With all the onlooking tourists. I mean, clearly it was a set-up. Regardless, that's where Dash got mad about me not letting him be an independent 40-year-old man who drives cars and pays bills and watches for danger in the street by his own damn self, for crying out loud, and launched a 10-minute performance of will that brought out every ugly feeling I've ever had in motherhood. I did not feel patient or grateful or loving. I did not gently hold him with the assuring smile of "I'm a good mom who's handling this fit like Jesus." I felt angry and embarrassed, guilty and defeated and held him awkwardly, mumbling a stern "That's enough" as if the ventriloquist "That's enough" (you know–through clenched teeth and a forced smile so no one will know you're losing your cool) from an exhausted mom ever convinced a strong-willed toddler to wrap it up.
We hung on, the two of us–made it through after a walk together and finally a let-go–and returned to the picnic blanket where the sandwiches and the scene and my mother were patiently waiting for us. My mom told me stories about the hard days she remembers–about the crying and the fits and the stroller that broke in the middle of the street–and how she never let it keep her from taking us on adventures. "It gets better," she tells me. And I know it's true.
The adventure was worth it.
And goodness, my poor mother who is afraid of heights–she nearly had a heart attack watching the kids jump at the top of the dune. Is it steep? Yes. In fact, there are signs warning visitors that if they venture to the bottom, it's a 2-hour steep climb back to the top, sometimes needing costly rescues. But, the top of the dune has a gradual incline where lots of kids jump before it gets steep a ways down, so I was comfortable giving them a little space for adventure.
For anyone with plans to visit, this was at the top of Scenic Overlook #9 on the Pierce Stocking Scenic Drive in Sleeping Bear Dunes National Park.  It's so beautiful–well worth the drive, the heart flutters, the fits.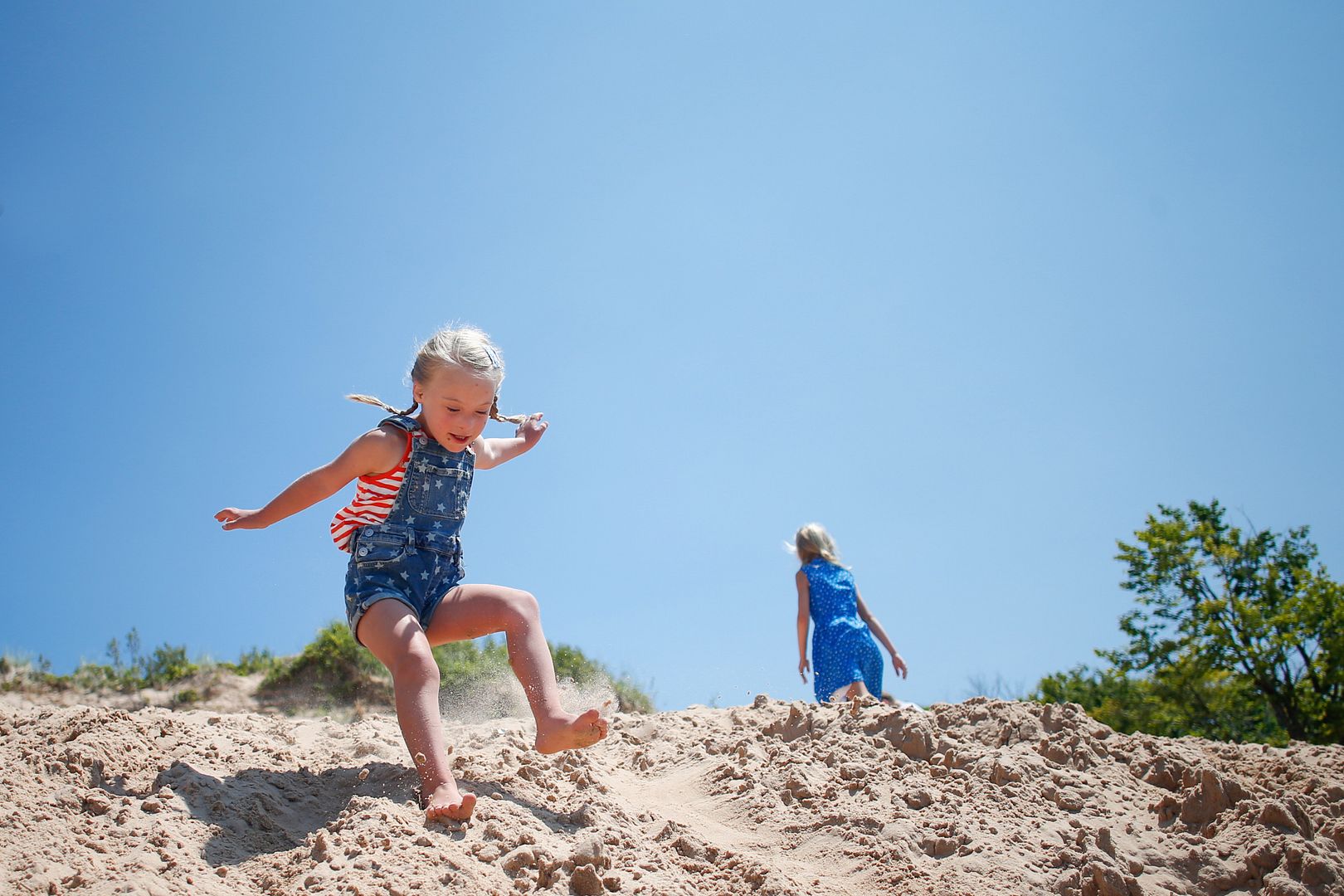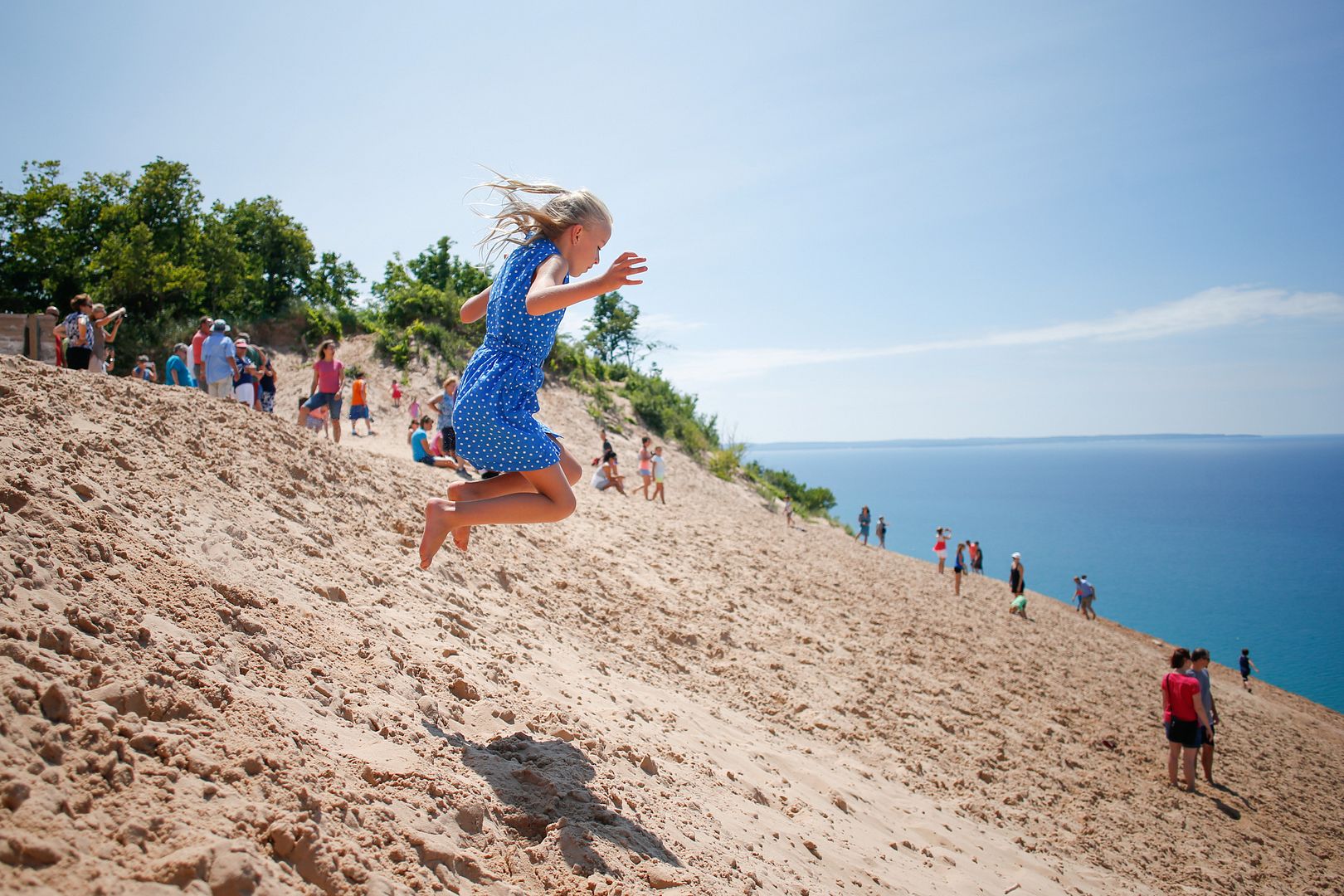 Nella broke out some yoga, naturally.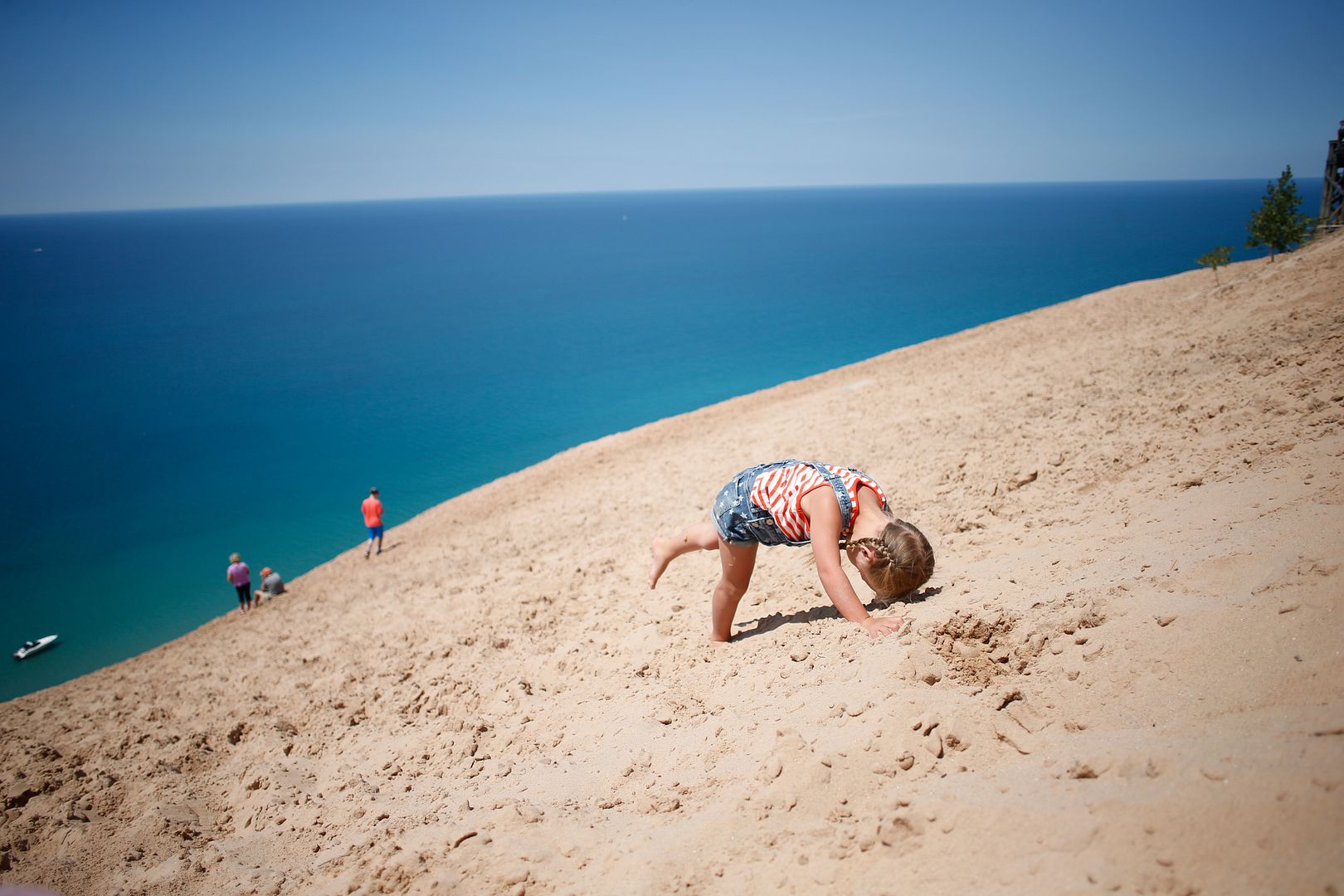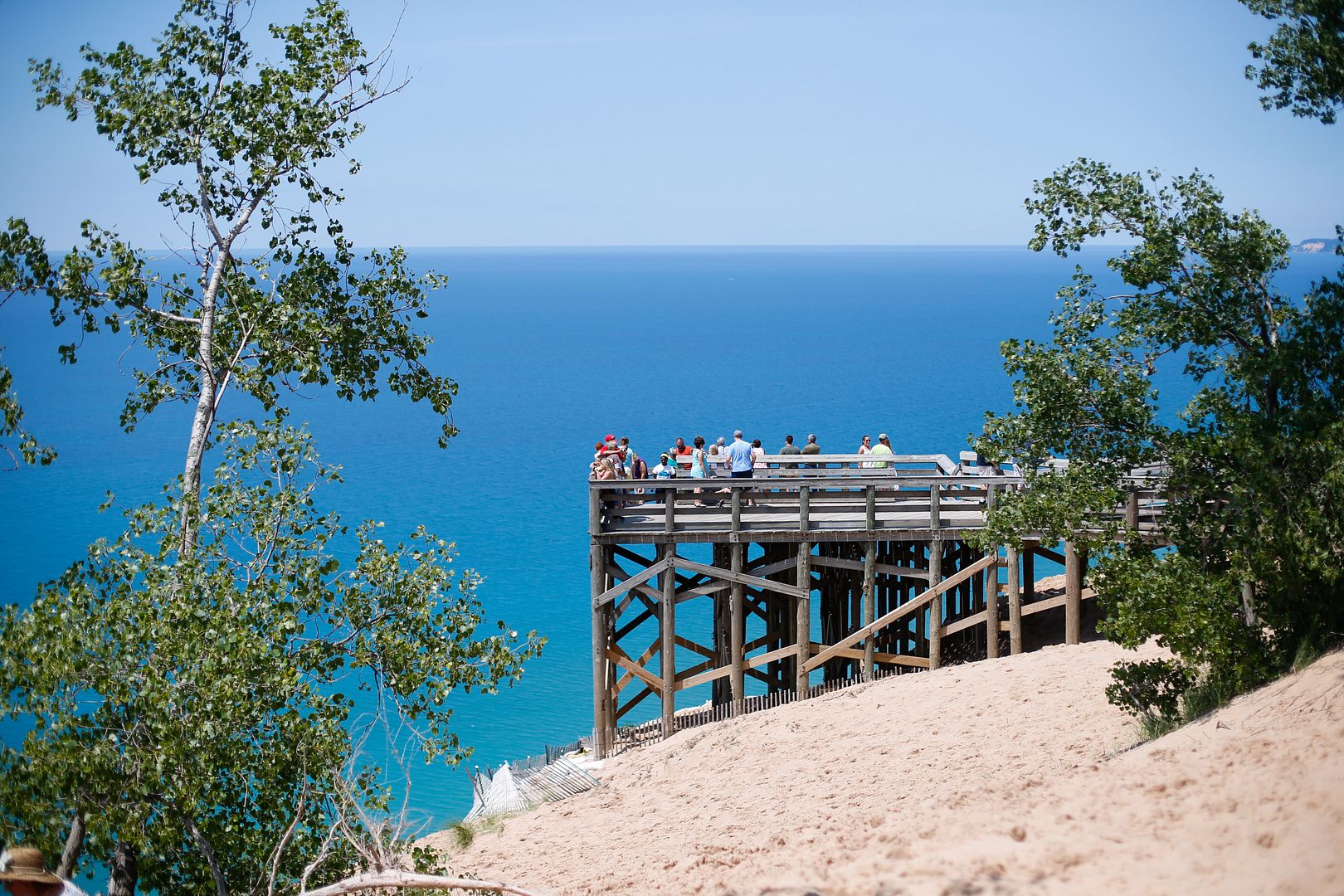 I have a picture of my mother, around 25 years old, in a bathing suit, looking all modely and beautiful, sitting in this exact same spot.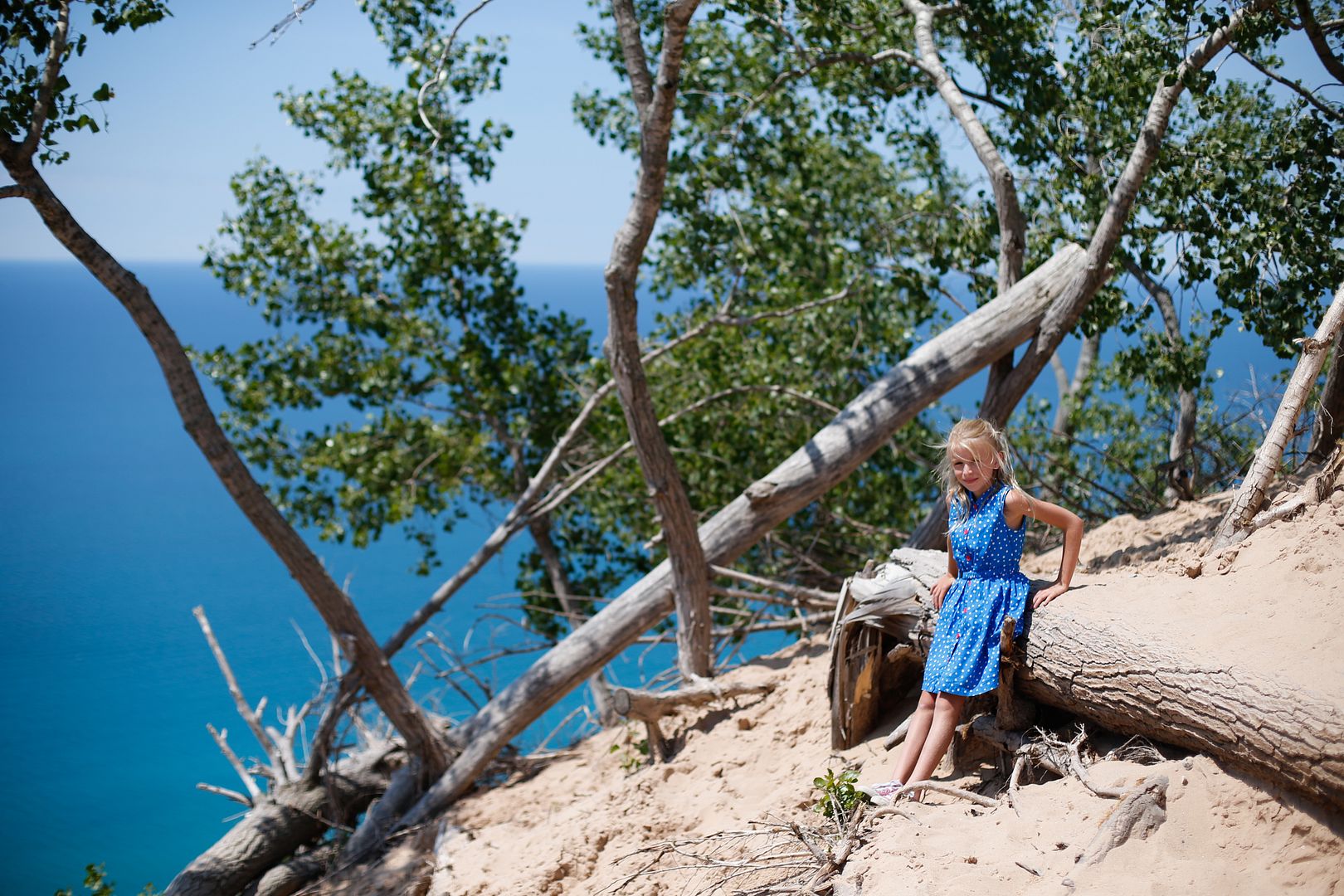 A mile or so down the road from the dunes is one of my favorite little beaches. It's covered  with smooth flat stones, handfuls of which we bring home to make jewelry. Dash was running along the shore there and bumped  into an older woman who asked him his name. He told her it was Al.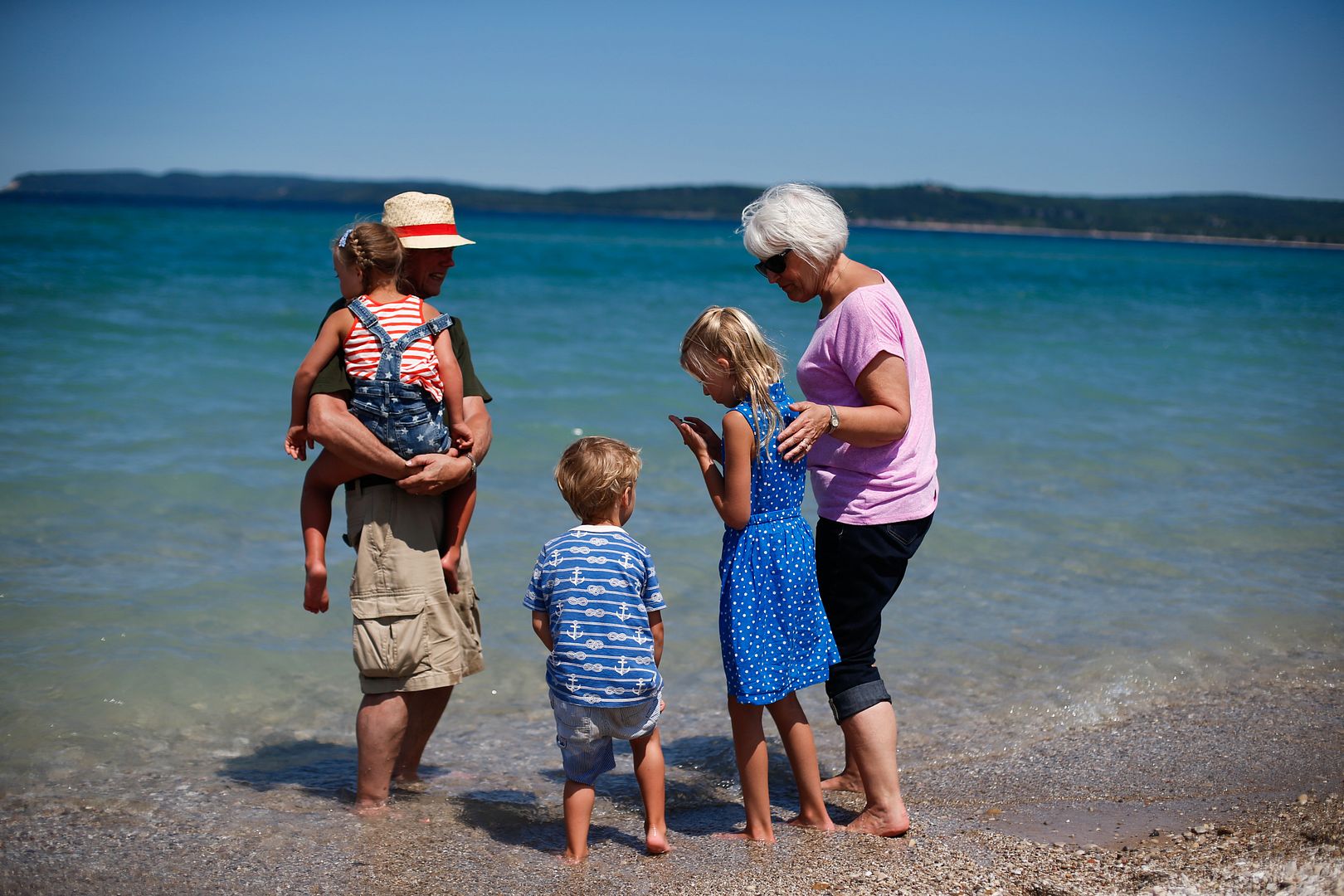 Another three miles or so from the beach is my favorite town in Northern Michigan, Glen Arbor, this picturesque gem planted right along M-22. I'm convinced the entire town grew from magic beans planted by someone who loved summer–and cherries and lavender and bookshops and coffee and families making memories.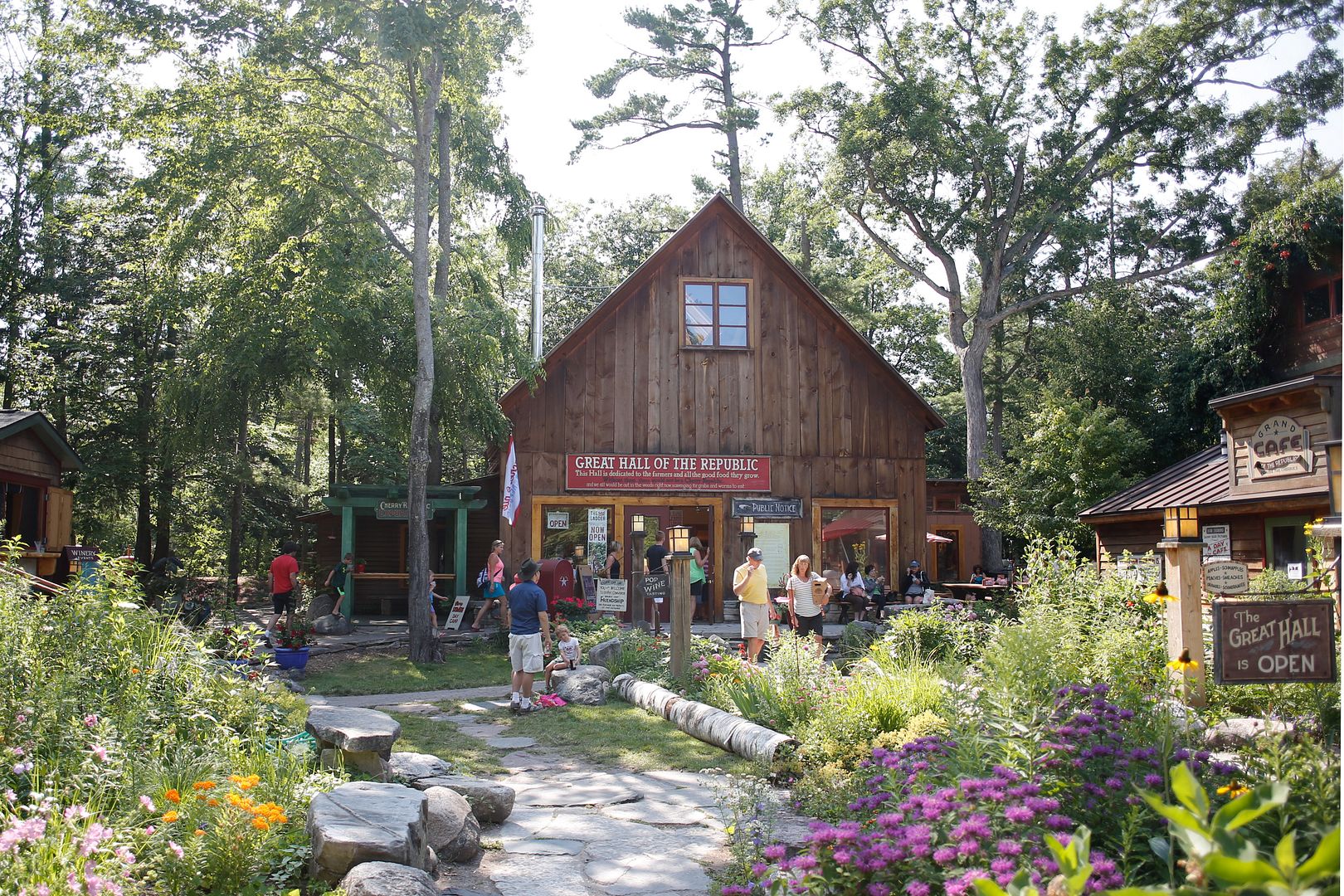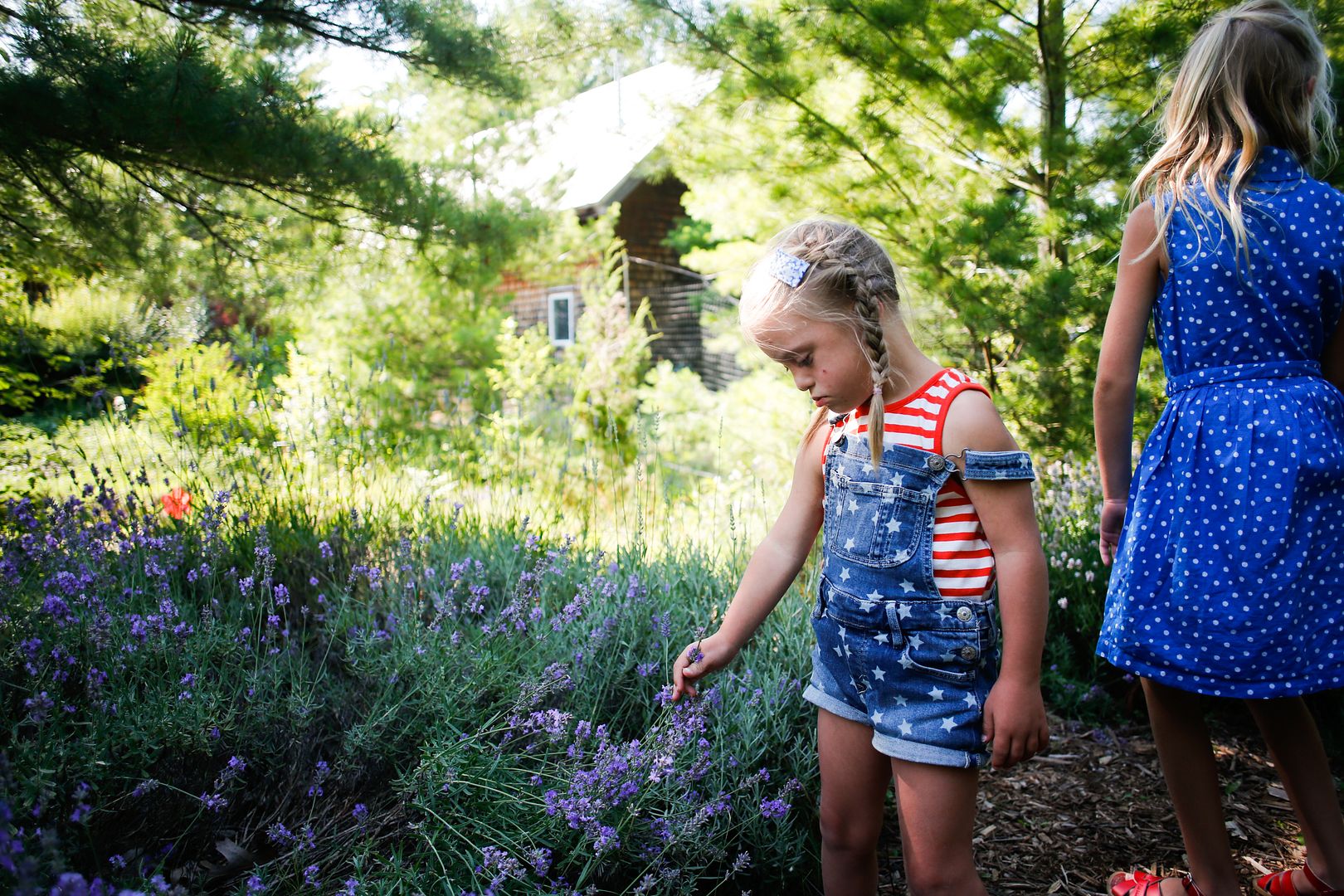 Speaking of families making memories, meet the coolest family ever. I saw them eating dinner outside at Boonedocks, all dressed in completely outlandish clothes–men wearing sparkly shirts with "I love Bieber", girls in horrendous muumuus, pom-pom frills and neon capes, Barbies glued to shoulders. So I had to ask–and I'm so glad I did. They have an annual reunion at the family's lake house, and the dad (the cool guy in the blue flowered shirt) decided that if they were all going to be together, they had to have fun. So he came up with the idea to have them draw names before their reunion–and they have to design the most embarrassing outfit for the person whose name they draw. Come reunion, they all wear their outfits for a night out on the town. Amazing? AMAZING.
For the record, add a ponytail and some heels, andI'd totally wear that watermelon outfit out.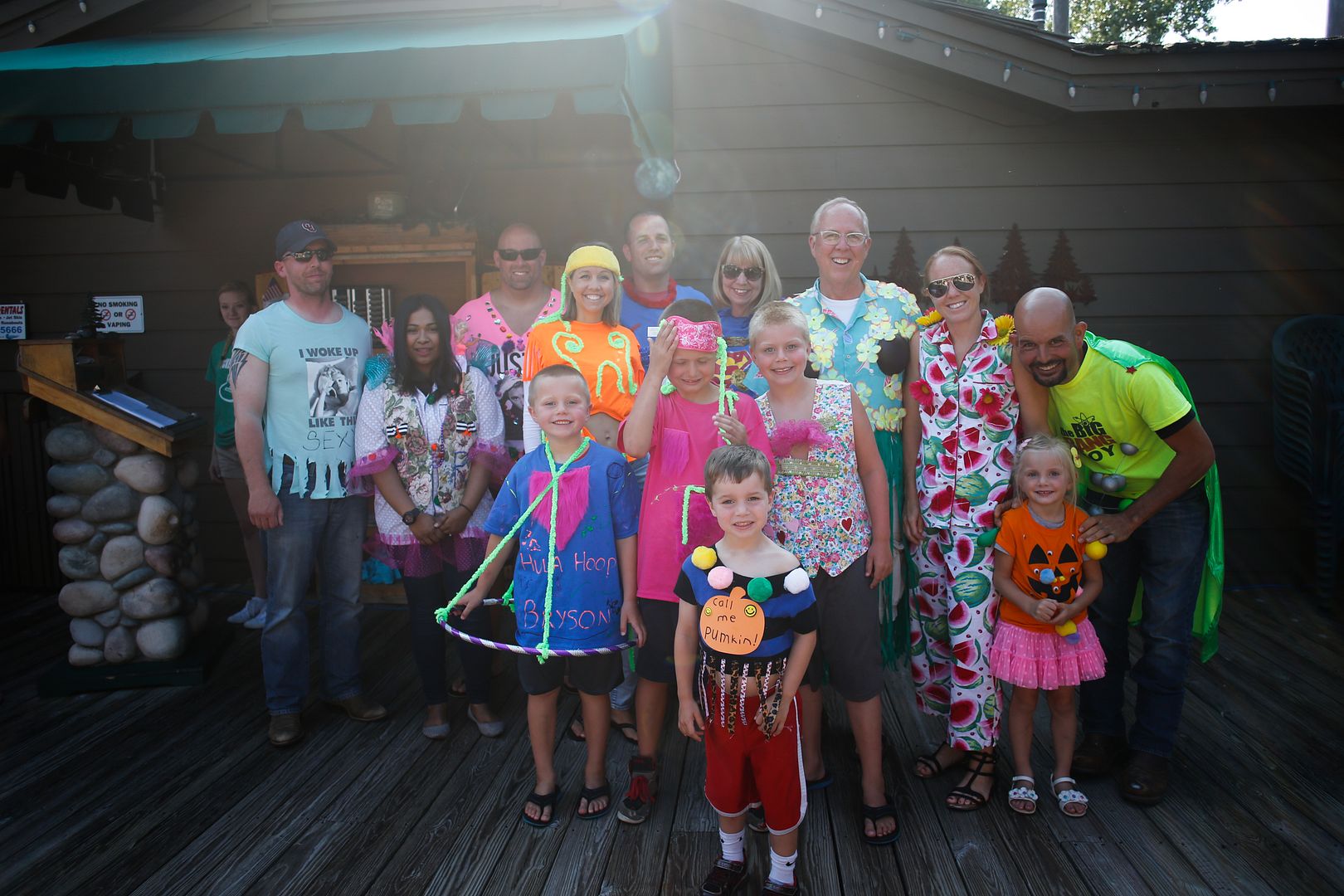 So much good art in this little town–not one speck of "My grandma went to Glen Arbor and all I got was this t-shirt" crap.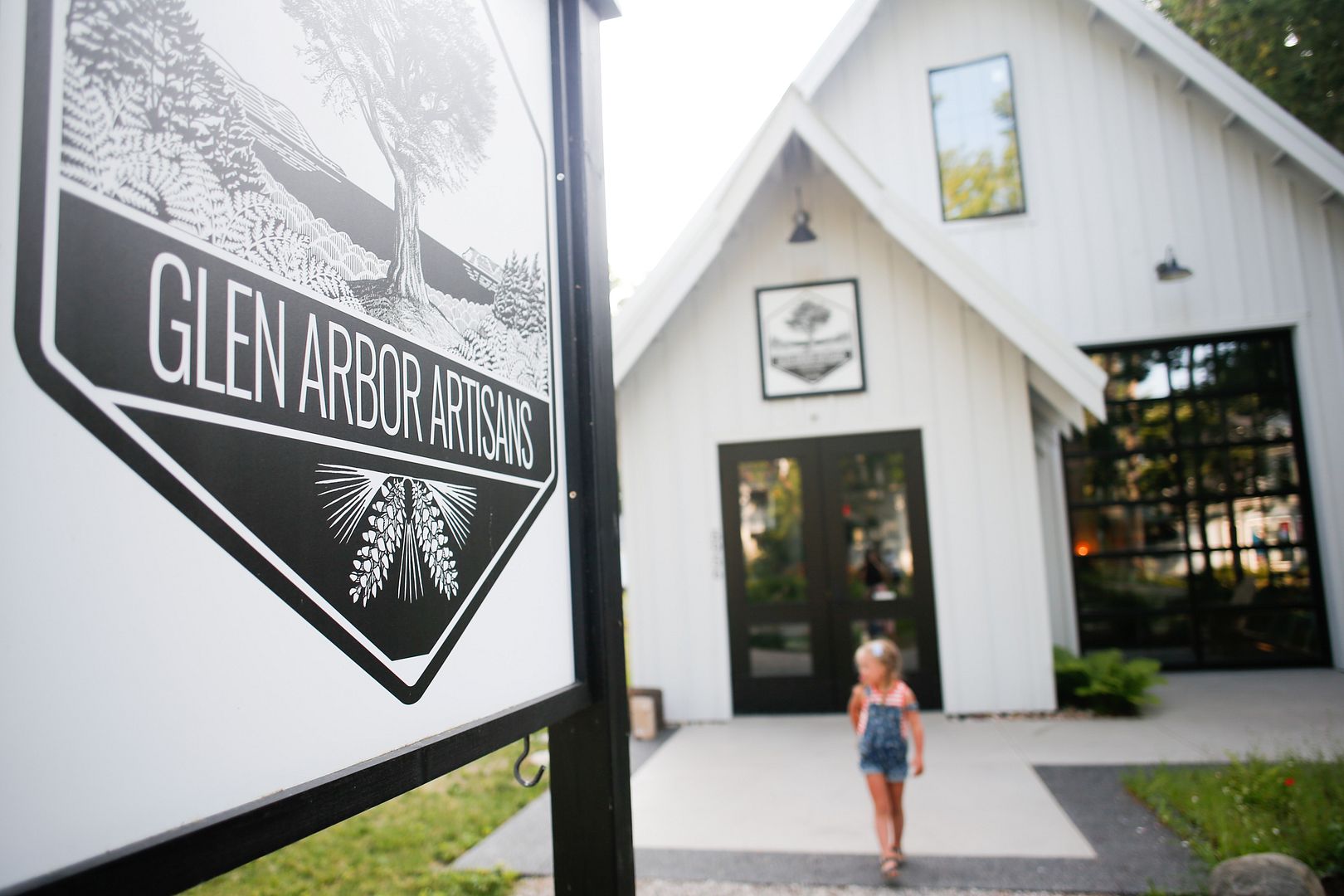 Why yes, that is a children's art studio, painted with rainbows, tucked beneath the sun setting in a pine. I KNOW.
All good fit days and hard motherhood prayers should end with soft serve at the Pine Cone where kiddie cones equal behemoth towers.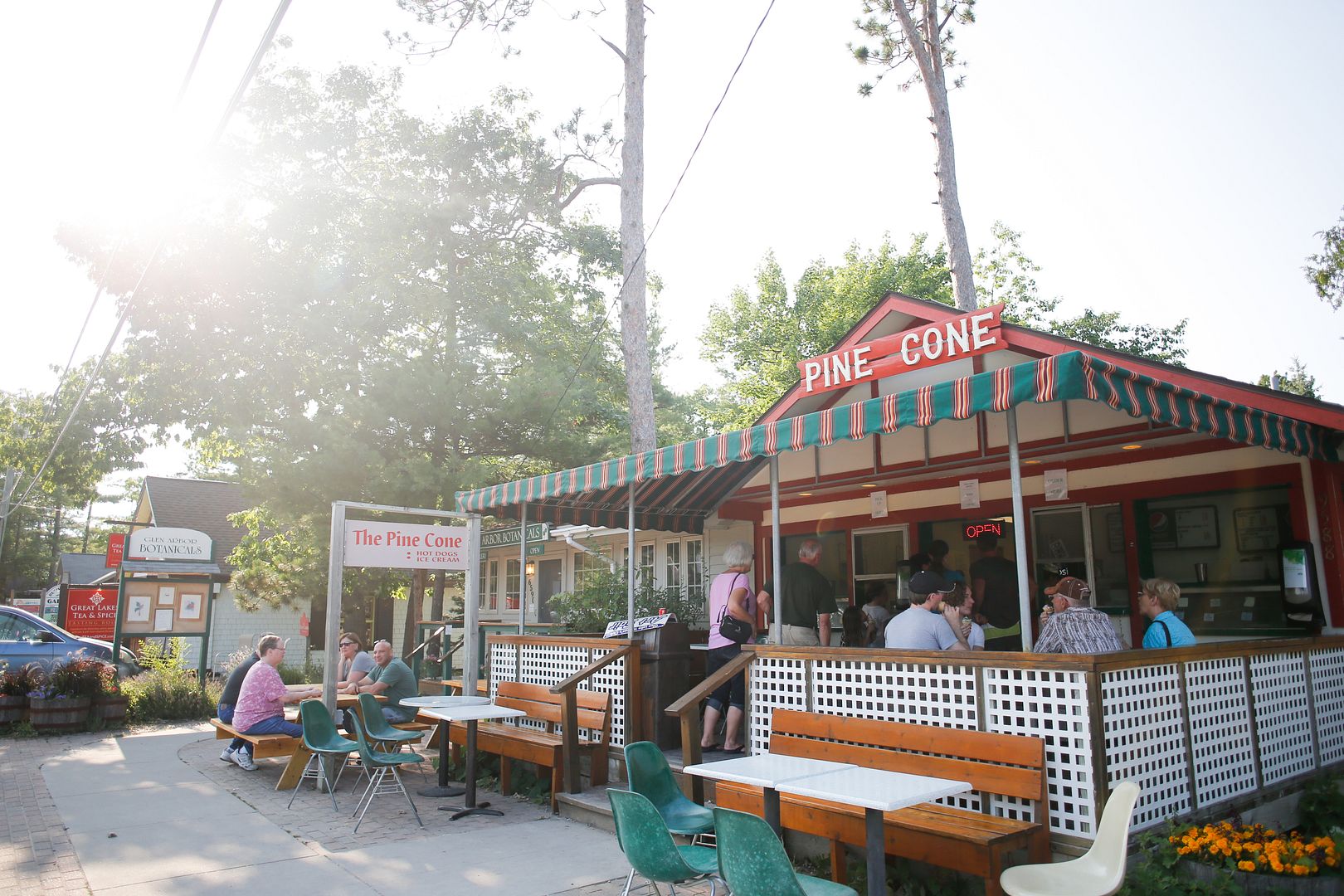 Summering hard with knee scrapes and bruises to show for it.